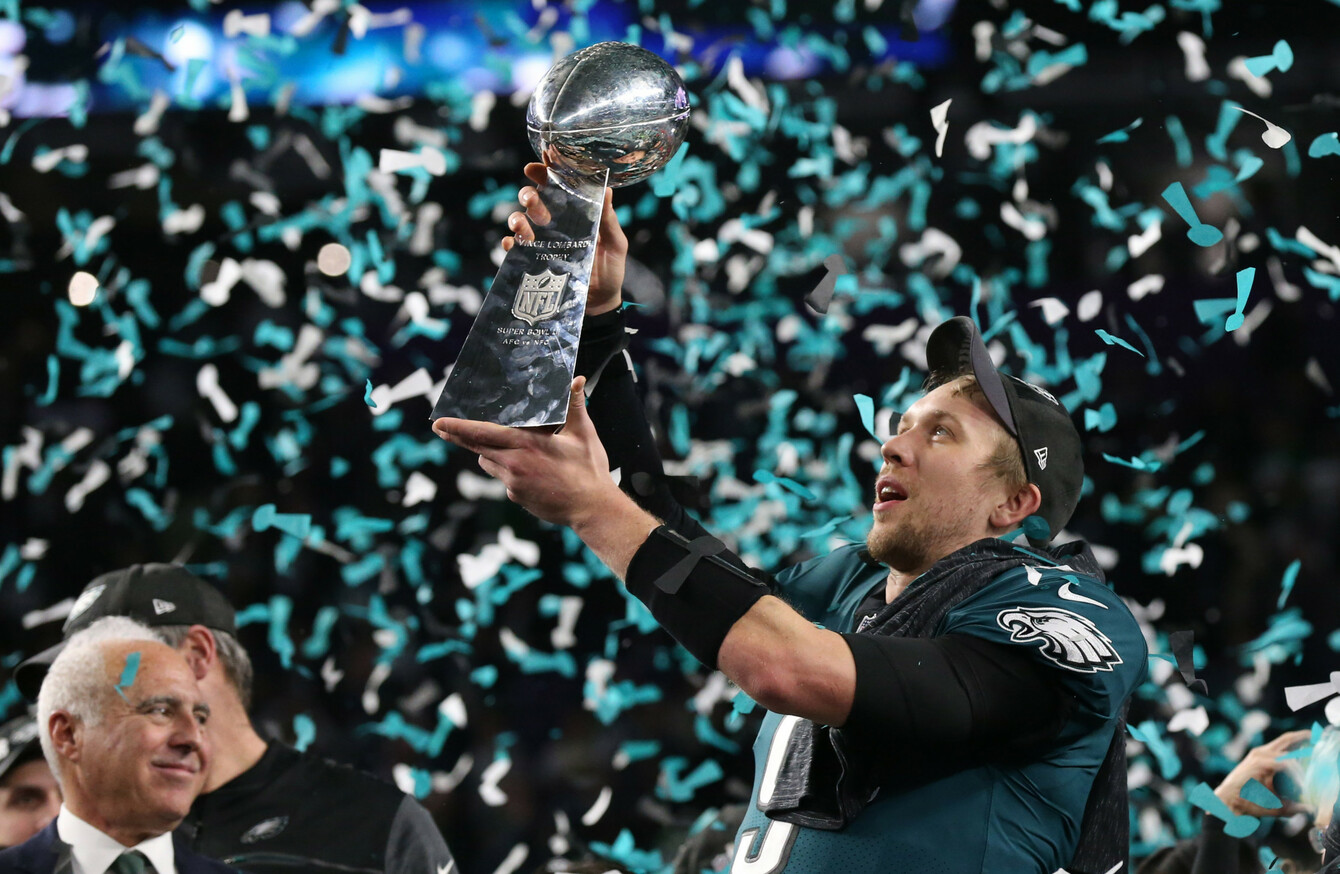 Eagles quarterback Nick Foles with the Vince Lombardi Trophy.
Image: SIPA USA/PA Images
Eagles quarterback Nick Foles with the Vince Lombardi Trophy.
Image: SIPA USA/PA Images
THIS TIME LAST year, I came so close to tipping the Eagles to go from last in the NFC East to winning the Super Bowl. But that's a bit like telling you about the time I put money on the 100/1 shot that won the Aintree Grand National.
Useless information now.
What separates the NFC from the AFC is that each year tends to present a very different storyline. Indeed, while the Patriots have been a familiar face in the championship game in the American conference, 2014 was the last time a team reached back-to-back deciders in the National.
However, few teams have been as well positioned to defend their NFC crown, not to mention the Super Bowl, as the Philadelphia Eagles.
But will they become the first team since 2005 to repeat?
NFC East
Dallas Cowboys
Despite being in charge since 2011, Jason Garrett has only managed to guide 'America's Team' to the playoffs twice, so this is a career-defining season. Dak Prescott and Ezekiel Elliott both suffered from sophomore slumps in 2017. If they can bounce back this year, the Cowboys might just be in the conversation for a wildcard spot.
Philadelphia Eagles
The Eagles did a better job than most defending champions in keeping hold of the spine of their team. Even better, they get to welcome back Carson Wentz — a player legitimately in the MVP conversation before his injury — at quarterback. The reality is, Philly may be even better in 2018 than they were last season.
New York Giants
Sure, Odell Beckham Jr might be the highest paid receiver in the NFL. Saquon Barkley may be one of the most exciting pass catching running backs to enter the league in years. Evan Engram — if he recovers from concussion — could be the heir to Gronk's tight end throne. But does any of that matter if Eli Manning is throwing the ball into the dirt five yards in front of them?
Washington
Jay Gruden and Alex Smith is actually an intriguing coach/quarterback combination but losing the safety net of rookie running back Derrius Guice to an ACL injury is far from ideal. On defence, the absence of Kendall Fuller and Bashaud Breeland will hurt more than most Washington fans would like to admit.
NFC North
Chicago Bears
After four consecutive losing seasons, Bears fans will be looking for anything close to .500 or above in 2018. Whether or not quarterback Mitchell Trubisky is the answer remains to be seen, but he should be helped by the arrival of Allen Robinson. It's easy to see Chicago left behind in the arms race that is the NFC North, however.
Detroit Lions
With a new head coach in Matt Patricia, Detroit look ready to take the next step after back-to-back nine-win seasons. With additions in the draft and free agency, the run game should be a lot better. That said, the biggest issue for former Patriots' defensive coordinator Patricia is fixing a defence that ranked 27th overall in 2017.
Green Bay Packers
Despite what a certain Sports Illustrated writer recently tweeted, Aaron Rodgers is a great quarterback and it's worth remembering the Packers were 4-1 before he went down with injury last year. Boasting a new coordinator in Mike Pettine, the defence should be better and Green Bay can be a real threat in 2018.
Minnesota Vikings
The defending NFC North champions enter this season with a new quarterback in Kirk Cousins and offensive coordinator in John DeFilippo. They also welcome back Dalvin Cook at running back which should make them one of the league's most exciting offences. However, it's their underrated defence that could take the Vikings one step further this season.
NFC South
Tampa Bay Buccaneers
No matter what way you paint it, 2018 looks to be the last year for both head coach Dirk Koetter and quarterback Jameis Winston in Tampa Bay. The latter is suspended for the first three games of the season, while the former comes into the year with a 14-18 record and possibly the worst roster of his tenure.
Atlanta Falcons
Despite Steve Sarkisian failing to live up to one of the most exciting offences we've ever seen — to be fair, it was a tough ask — the Falcons reached the playoffs last year. The team has great potential on the defensive side of the ball, but lack depth so any injuries are going to put paid to their chances.
Carolina Panthers
Luke Kuechly, Thomas Davis (post-suspension), and Shaq Thompson will ultimately form the backbone of one of the NFL's best defences. However, this team will sink or swim with the performance of Cam Newton and second-year running back Christian McCaffrey. They may just lack the firepower to live with the rest of this division.
New Orleans Saints
The Saints finally found a run game last season and came within a miracle play — or defensive brain fart depending on who you ask — of reaching the NFC championship game because of it. If anything, they should be even better this year and everything points to New Orleans playing meaningful football deep in January.
NFC West
San Francisco 49ers
In Jimmy Garoppolo keeps his streak going, the 49ers will finish the season 19-0 and he'll win the Super Bowl MVP, presidency of the United States, and a Nobel Prize. However, the reality is that his receiving corps is awful in San Francisco and six wins would be a good result this year.
Arizona Cardinals
Steve Wilks has a hell of a rebuilding job in Arizona though, on defence at least, there is some stability. He's not helped by a horrible offensive line or a brutal road schedule this season. The only bright spot for the Cardinals is they should avoid having to throw first round draft pick Josh Rosen straight into NFL action.
LA Rams
The defending divisional champions have one of the smartest coaches in the NFL at the helm so it's easy to forget they were a four-win team just two seasons ago. Having jumped from last to first in scoring in 2017, expect the Rams to fall back to the pack this year, making the divisional race a little tighter than most expect.
Seattle Seahawks
While I'm not as low on the Seahawks' prospects for 2018 as some, they're still likely playing for a wildcard spot this season. The fact Tom Cable is no longer coaching their offensive line is a good thing; the fact they still have only one decent player in that unit is not. Richard Sherman is the big name loss on defence but Earl Thomas will be missed more.
Playoffs
Philadelphia Eagles
Minnesota Vikings
New Orleans Saints
LA Rams
Green Bay Packers
Detroit Lions
New Orleans Saints to make the Super Bowl.
The42 is on Instagram! Tap the button below on your phone to follow us!