Updated 7.50am, 24 March
NIGEL CAROLAN HAS had chances to move into senior professional rugby before, but the time felt right now, with New Zealander Kieran Keane set to take over from Pat Lam this summer.
While Connacht haven't confirmed the exact job title Carolan will work under next season, his specialties are in the realm of attack, backs and skills coaching.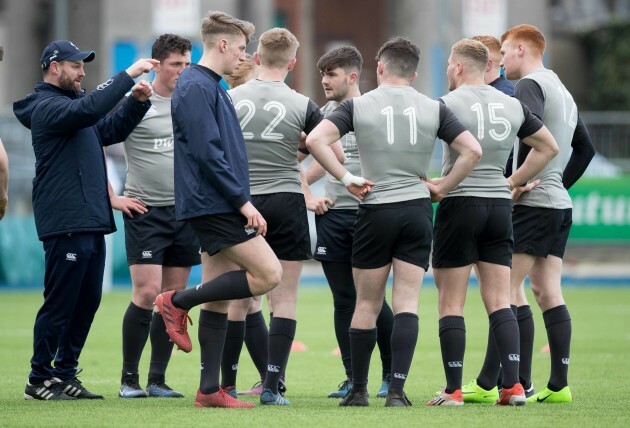 Morgan Treacy / INPHO Carolan with the Ireland U20 backs during the Six Nations. Morgan Treacy / INPHO / INPHO
On the evidence of the ideas behind the Ireland U20s' play in recent seasons, Connacht have an inventive and intelligent attacking mind joining alongside Keane, as Carolan moves up from his role as the province's academy manager.
It's obviously not ideal for the Ireland U20s to lose their head coach ahead of the Junior World Championship in Georgia in June, but Carolan will be convinced that he is leaving this promising crop in a good place.
Ireland finished this year's U20 Six Nations in fourth place, although they only missed out narrowly on a dramatic win over Grand Slam victors England on the final day of the championship in Dublin, which would have secured second in the table.
While there were frustrations in this Six Nations, and some key opportunities not taken in terms of scoring tries, Ireland were largely enjoyable to watch.
Indeed, one our our favourite tries across all levels of the Six Nations – senior men's, women's, and U20s – came from Carolan's side.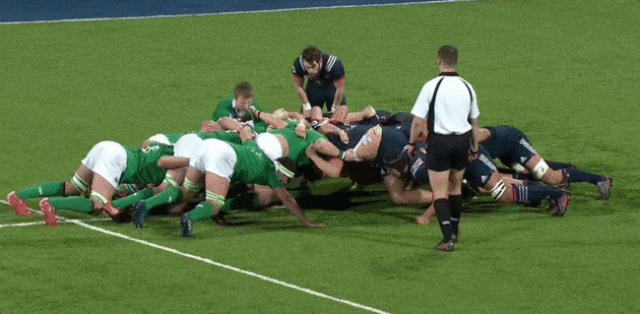 The score above comes during the 27-22 win over France in round three and it is delightful in its simplicity.
Simple, but not easy.
The key man to watch initially for Ireland is scrum-half Jonny Stewart, who feeds the ball into the scrum, moves towards the tail and then backs away sharply to the left.
Stewart and Ireland know France scrum-half Arthur Retière is going to be on that side of the scrum but, crucially, the Ulsterman's movement draws a second French player.
France wing William Iraguha has started just in behind the scrum, mimicking the position of Ireland's left wing Tommy O'Brien.
But as we see above, the movement of Stewart away from the scrum draws Iraguha back up to that right-hand side of the French scrum, as he suddenly fears the threat of an eight-nine break down that channel by Ireland.
However, it's a decoy from Stewart.
Iraguha's initial job as France set up defensively was to sweep in behind the frontline on the other side of the scrum, and as Ireland attack right with number eight Caelan Doris picking from the base and passing short to O'Brien there is now space in that exact zone.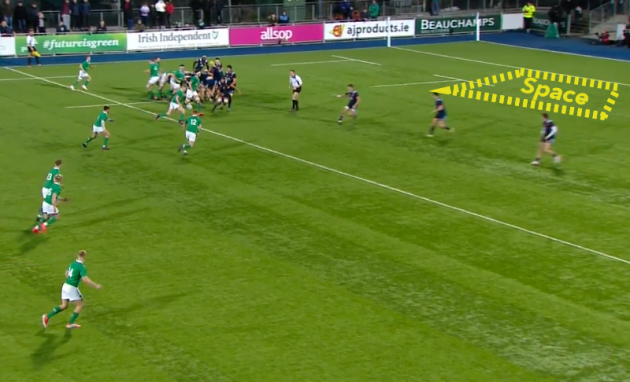 It still takes exquisite skill from O'Brien to find the space with a delicate grubber while on the move, but he has a head start on Iraguha, who realises what is happening and does his best to get back across.
But O'Brien's execution is perfect and he nudges the ball gracefully in behind on an ideal angle and wins the race to regather it.
France fullback Romain Buros is closing from O'Brien's right, but again the initial set-up from Ireland means he is reacting late too.
Ireland's attacking line on their right of the scrum is fully stacked, with fullback Jordan Larmour showing up beside centre Alex McHenry.
Buros moves across from the centre of the pitch to cover any attack out wide, and can't get back infield in time to stop O'Brien.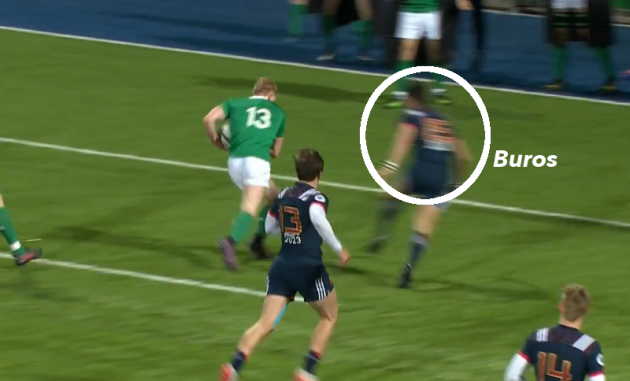 It's a superb pre-planned move from Ireland based on good analysis and it's perfectly executed by Carolan's side.
While Ireland did only score 12 tries in their five games, the second lowest total in this year's Six Nations, much of their attacking play was enterprising and ambitious.
As U20s coach, Carolan always understood the need to push his players into an expansive approach, with this age grade ultimately being about developing player' skills, rather than solely being about winning.
With Ireland often playing the 1-3-3-1 shape we have analysed before, we often saw forwards getting their hands on the ball in wider channels than they may have been previously accustomed to.
Below, we see tighthead prop Charlie Connolly waiting in the 15-metre channel and getting the opportunity to carry in more space than would be the norm.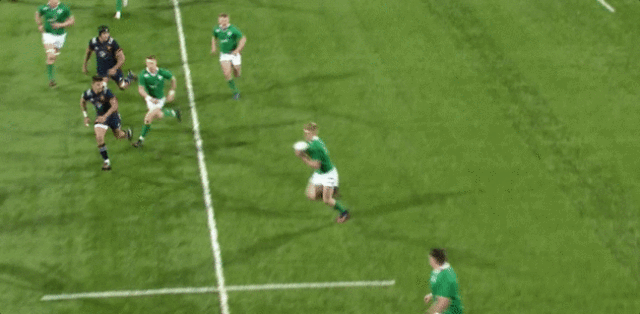 It's a positive that these players, and others since 2015, have been exposed to Carolan's philosophies, and he certainly has a fondness for width within his game plans.
Anyone sitting near the coaches' area during the U20 games in recent seasons will have heard the head coach's encouragement for his players to hit the width whenever opportunities opened up. That should sit well with Connacht fans.
And while they won't have Carolan in charge – Peter Malone is the interim head coach – the Ireland U20s will head into the Junior World Championship with confidence that they can impose their attacking game on other teams.
"There's a real belief, that's the biggest thing," said Carolan last Friday, after the U20s had come up short against England and before any announcement of his Connacht role.
"Regardless of the opposition, they've seen that if they play their own game, we have a chance against anyone. It was really tough to win the first two games on the road, it just generated that belief.
"To play in the manner they did against England and come so close, it copper-fastens that belief that they have in each other. That's the thing, but they're also learning about the margins in games. Mistakes are costly and some have got bigger consequences than others. That's all part of the development."
Larmour has been the star of this year's U20 crop so far, shining from the wing and fullback, but Carolan is certain that other players from the current squad will be making an impression in senior rugby sooner rather than later.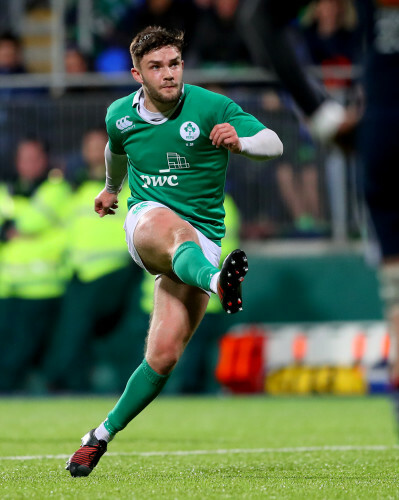 James Crombie / INPHO Bill Johnston has shown his promise again this year. James Crombie / INPHO / INPHO
"I think Caelan Doris, Oisin Dowling, Fineen Wycherley, Bill Johnston are guys that need that exposure at the next level, and pretty soon," said Carolan. "There are bits and pieces guys can improve on, but they're not a million miles away."
Beating New Zealand at last year's Junior World Championship and reaching the final is the obvious highlight of Carolan's time with the U20s.
The Kiwis are in Ireland's pool again this summer, as well as Italy and Scotland, and speaking late last week, Carolan felt the Irish squad was going to be in a good place to have another crack at the competition.
"There's real grit in the team and going to Georgia in June, they're going to need that, to be a tight bunch. Every game is tough there, but being a tight group is a good starting point. They know they're able to play rugby too."
Carolan's work with the Connacht academy has garnered him great praise in recent times, with Lam leaning on many young homegrown players during last season's run to the Guinness Pro12 title.
But as head coach of the U20s, Carolan had warned last year that Ireland's age-grade sides were 'physically and technically' behind their counterparts from other leading nations.
A year on, he believes that progress has been made.
Gary Carr / INPHO Carolan's progress through the IRFU pathway is encouraging for Irish coaches. Gary Carr / INPHO / INPHO
"Absolutely, there's a lot of work being done in the provinces and it's starting to bear fruit," said Carolan.
"To bridge that gap, particularly in terms of physicality, which I think happens particularly against England and Wales – they're big teams and very physical, and unless you adapt to that quickly, you're on the back foot in your tackles and set-piece work.
"But we're certainly bridging the gap and this team has real x-factor, real flair, and they have a mindset of 'I don't care who you are, we're going to play the Irish game.'"
They go their separate ways, but Carolan and the Ireland U20s have both shown the kind of ability that promises that greater things lie ahead.
The42 is on Instagram! Tap the button below on your phone to follow us!