NORWAY'S FOOTBALL ASSOCIATION has completed a new agreement which will see both its male and female international players receive equal payment for representing their country.
In a deal which is being hailed as the first of its kind on the international stage, the FA will double the remuneration pot for women from €329,000 to €639,000, which includes a €73,000 contribution from male players received through commercial activities.
"This is very good news that will make a big difference to the terms of the players in the national team," said international defender Ingrid Moe Wold.
"This comes at a very favorable time in view of the development of Norwegian women's football. Better frames will make it easier for more players to facilitate more training and increased focus on football in everyday life."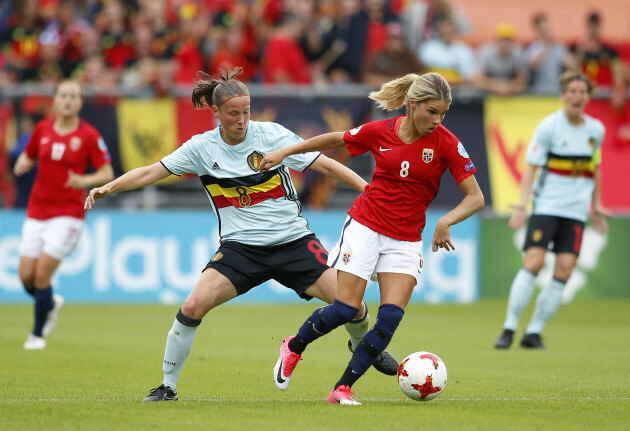 Xinhua News Agency / PA Images Belgium's Lenie Onzia competes for possession with Andrine Hegerberg of Norway. Xinhua News Agency / PA Images / PA Images
"In relation to the women's teams, we are very privileged from the beginning," noted former Celtic defender and Norway international Stefan Johansen. "It was not difficult to say yes to give some of the (men's bonuses)."
Joachim Walltinof of the Norwegian Players' Association federation said the agreement came at a time when the framework of women's football in Norway had dramatically increased, with the new funding model greatly aiding players who work and study alongside football.
"We are very pleased with the outcome of the negotiations for a new agreement for the national teams," he said.
"The women's framework has almost doubled. This agreement is probably unique also internationally — it is very positive that Norway is a pioneering country in this way."
Subscribe to The42 podcasts here: