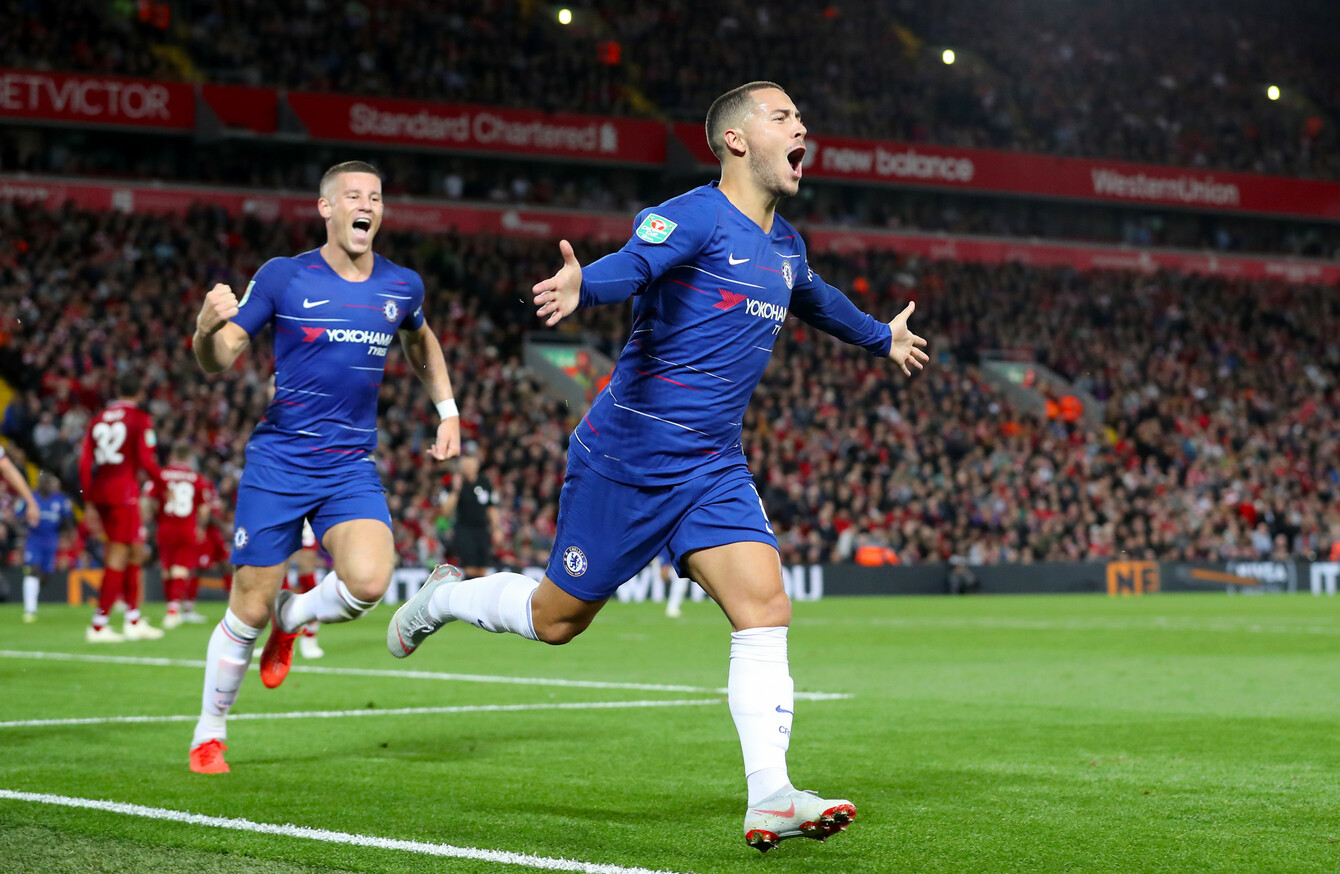 Eden Hazard celebrates scoring against Liverpool in the Carabao Cup on Wednesday night.
Image: Martin Rickett
Eden Hazard celebrates scoring against Liverpool in the Carabao Cup on Wednesday night.
Image: Martin Rickett
"THAT IS ABSOLUTELY phenomenal!," boomed the Sky Sports commentary as Eden Hazard scored what he later admitted might be the greatest goal of his career to date.
The forward danced through midfield, nutmegging Roberto Firmino (the neeeeckkk) before weaving past Naby Keita, putting the ball through Alberto Moreno's legs for good measure and then pulling the trigger to rifle a sublime strike past Simon Mignolet and knock Liverpool out of the Carabao Cup.
The goal needs no meticulous description. It's a goal you watch back repeatedly over and over, each time making sure to check… did he actually just slip the ball through Moreno's legs there? It was skill reminiscent of the old PS2 classic Fifa Street, and to a lesser extent it's underwhelming sequel Fifa Street 2.
There were so many aspects to the goal. It was scored in the 84th minute to win the match, it arrived off the bench at Anfield, against unbeaten Liverpool to end their perfect start to the season and ensure that Chelsea are the only team in the Premier League to have not lost a single game across every competition so far this season.
💫 @hazardeden10 💫

The Belgian is the star for @ChelseaFC once again as he cuts through the @LFC defence to put his team ahead!

Watch live on Sky Sports Football now! pic.twitter.com/z5wMuqvPPv

— Sky Sports Football (@SkyFootball) September 26, 2018
It was also a goal which made a lot of us jab a finger at our TV screens, explaining to anyone who would listen that, see, this is what Eden Hazard is actually capable of. Why can't he do that every single game? If he did he would surely be the best player in the world, we shout to no-one in particular.
Hazard has had brilliant seasons at Stamford Bridge and others where it looked from the outside that he just wasn't up for it on some weeks. Arriving from Lille in 2012 it seemed certain that the then 21-year-old would be a future Ballon d'Or winner.
Two Premier League titles, one Europa League, one League Cup, an FA Cup and a PFA Young Player of the Year award later, the Belgian has enjoyed immense, consistent success during his six full seasons in London.
This season, however, it just seems like the player has pushed himself onto another level. Wednesday's League Cup strike against Liverpool was his sixth goal of the season so far — it took the forward until the end of November last year to reach the same number.
Following a World Cup campaign in Russia where he looked in his element, leading Belgium to the semi-finals and picking up the Silver Ball for the tournament's second best player behind Luka Modric, he seems to be hitting his peak years.
The question now stands as to how good he can become. At 27, the forward arguably should have his best years to come very, very shortly. Building on a foundation of trophies, individual awards and top-level performances in the Premier League, Champions League and the World Cup across the last six seasons, the opportunity to now elevate himself towards a potential Ballon d'Or success is palpable.
The only person who knows if the best is yet to come, is Hazard, and his comments shortly after his goal-of-a-career strike against Jurgen Klopp's side at Anfield offer a very intriguing insight into the player's mentality, giving a glimpse into what motivates him and how he reflects on his own achievements and talent.
"I don't know if it's in my top five goals, but it's up there because it's versus Liverpool," he said. "It is good. I try to do what I can do when I am on the pitch. I am the same player as two years ago, three years ago.
"At the moment, I am just scoring goals, so that is why everyone is talking for me to be in the top three. It is a pleasure to be there. I just want to keep going."
Jamie Carragher confidently stated after his strike that Hazard is currently the best player in the Premier League, and comparisons with the worlds very best like Lionel Messi, Cristiano Ronaldo and Mohamed Salah have been consistent ever since.
The player admitted that he appreciates being compared to such players, but simultaneously strikes a very rare and genuinely unassuming modesty when speaking about his own achievements and performances.
Zlatan Ibrahimovic aside, most of today's footballers realise the futileness of being boastful in the aftermath of games. But with Hazard it seems very real and true to himself, as opposed to put on, faked or staged for the cameras.
"He doesn't care about his goals or past achievements," said journalist Kristof Terrreur speaking about Hazard on Second Captains this week. "He doesn't watch his own games or his own goals. In his house there are no trophies or pictures of him as a football player. 
"His trophies are in the kids' rooms — his kids play with his trophies. He brought back his FIFPro World XI trophy this week and gave it to his kids in the morning so that they had something to play with and so that they are happy.
"That is his mindset. He just doesn't care about himself. He's not self-obsessed, which is very rare in this game of football nowadays."
Liverpool and Chelsea meet again on Saturday for Round 2, with Maurizio Sarri's men looking to overtake the Premier League leaders by building on their midweek performance.
Klopp will naturally not lose too much sleep on making an early exit from the Carabao Cup — both he and his players have made it very clear that they have bigger fish to fry both domestically and in the Champions League.
Hazard will yet again play a central role this weekend, building on early-season indicators which point towards this being his best season in a blue shirt, hitting his peak right when critics might have perceived a downturn following a tough spell under Antonio Conte.
His strike on Merseyside will not be soon forgotten. But it seemed to give all of us a great insight into what motivations the forward to succeed, and offer a glimpse at what future success lies on the horizon if this form continues consistently into the near future.
His modesty and lack of thorough self-analysis on his own achievements in football so far seems genuine, a key to his mentality and in no way a fault to his success on the pitch. 
Premier League fixtures (all games kick-off at 3pm unless stated otherwise)
Saturday
West Ham vs Manchester United (12.30)
Arsenal vs Watford
Everton vs Fulham
Huddersfield Town vs Tottenham
Manchester City vs Brighton
Newcastle United v Leicester City
Wolves vs Southampton 
Chelsea vs Liverpool (17.30)
Sunday
Cardiff City vs Burnley (16.00)
Monday
Bournemouth vs Crystal Palace (20.00)
The42 is on Instagram! Tap the button below on your phone to follow us!