Munster mascot Oscar delighted the crowds at training this week.
Image: Cathal Noonan/INPHO
Munster mascot Oscar delighted the crowds at training this week.
Image: Cathal Noonan/INPHO
HAPPY EASTER, COMMENT fans. Here's the best of the best holy week had to offer.
Gianluigi Buffon wrote an open letter to his beloved goal this week. Phil O'Meara knows…
I'll bet he has a girls name that he uses for the goal………Annette?
News of Iain Dowie's new job led Frank van Esbeck straight to his favourite box set.
Assistant to the regional sales manager."
With Thierry Henry's fast-tracked coaching license under scutiny, Gary Sheehan just couldn't resist.
Thierry Henry breaking the rules? Seems very out of character.
Everyone loved the Crossmaglen Rangers documentary, including Lad
Fack yous were gonna win an All Ireland.
Leinster's Darragh Fanning announced he was hanging up his boots and picking up a burrito restaurant. James announced:
"I knew he had Mexican heritage in there somewhere. It's obvious.
Eoin Kelly's appearance on TG4 shoved Dave Meagher down memory lane.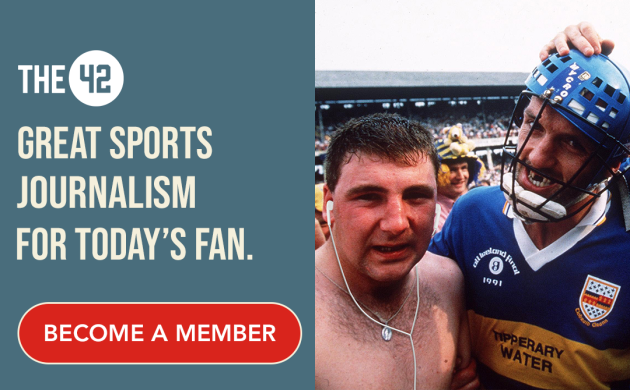 !As a Limerick man I can say we have suffered at the ends of Eoin Kelly a few times. His 14 points in 2006 still haunts us. But of all the memories the best I have is a point he scored over his shoulder against Cork in the 2005 Munster final.
He was running towards the sideline to gather the ball with 2 cork players in chase, he looked over his shoulder twice while running and when he got the ball he beautifully rose and struck the ball over all in one fluid motion, I was at an angle looking through the posts from the other side of the terrace, he had nothing to aim at. A perfect score… poetry.
Johan Cruyff left footballing mortals behind, and Robbie Doyle paid succinct homage:
Pythagoras in boots. Footballing dreamer in the best possible sense. Very sad news.
The42 is on Snapchat! Tap the button below on your phone to add!