Theo Smith and James Stafford: Stafford's late goal propelled Wicklow men to victory.
Image: Tommy Grealy/INPHO
Theo Smith and James Stafford: Stafford's late goal propelled Wicklow men to victory.
Image: Tommy Grealy/INPHO
RATHNEW CAPTAIN LEIGHTON Glynn insisted he wasn't surprised to beat St Vincent's and claimed the Dublin kingpins were shown too much respect inside their own county.
Former Wicklow and Ireland forward Glynn played a key role in what will go down as one of the great AIB Leinster club championship upsets.
Few gave Rathnew a chance of beating the back-to-back Dublin champions who were narrowing their focus on a fourth provincial title in five seasons.
And when Rathnew fell three points down after a slow start in Aughrim, the odds on them advancing stretched to a gigantic 66/1.
But Harry Murphy's men dug down deep and mined a performance of pure character to leave the Dubliners stunned, winning their quarter-final tie by 1-13 to 1-9 to secure a date with Moorefield.
Powerful midfielder James Stafford was the man who broke Vincent's with a dramatic 1-2 in the closing minutes.
"It's more happiness, just ecstatic to have won. I wouldn't say surprised," said Glynn.
"We had a good look at them. It's great these days that you can see all the games on TV. We had a good look at them and we thought that, in Dublin, teams probably paid them a bit too much respect, played a bit too defensively.
"We just said we'd go man to man and try to get our runners onto the ball and try to create some chances."
Stafford, who retired from Wicklow duty earlier last year, agreed that there was no room for being intimidated by the Marino men despite their Dublin, Leinster and All-Ireland wins in recent years.
"Without being big-headed or disrespectful, we didn't fear them," said Stafford.
"We saw the draw and we took Newtown Blues seriously first of all, knowing then that we'd have the All-Ireland champions of only a couple of years ago in Aughrim. So we did respect them but there was no fear, no.
"And we knew that if we were in it for the last 10 minutes that we'd have a great chance. Maybe it's Rathnew's spirit or pure ignorance, I don't know."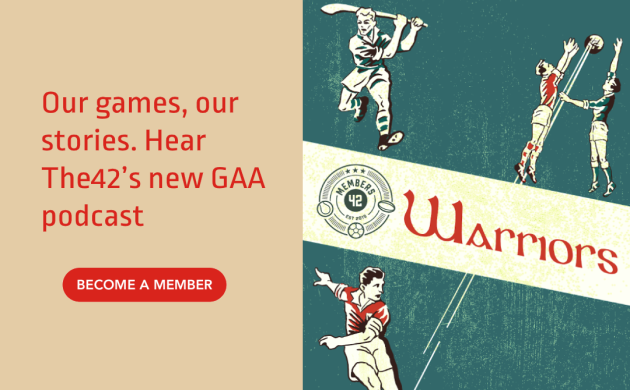 The game was deadlocked when Stafford scored his goal. It was a cracker, worthy of settling the contest as he rose up and got a hand to Ross O'Brien's long delivery before letting the ball drop down and kicking left footed to the net.
"That's a ploy we use, if you ask teams in Wickow they tell you that sometimes we let Staff drift in there to full-forward," said Glynn.
"He's 6'3″ or whatever, a big man, can catch the ball one-handed no problem. As soon as I saw the ball going in I said, 'We're going to get a goal here.' He's done it so many times."
Rathnew, like Vincent's in Dublin, have won more titles than anyone else in their county though Glynn said this was up there with their greatest triumphs.
"It's up there alright, this and winning Leinster in 2001, but certainly in more recent times with this group of players it's our greatest victory, 100%," said Glynn, who smiled at the huge odds on Rathnew to win.
"Yeah, we were 15/2, they were 1/16, you do look at these things. Someone said to me that 10 minutes into the game when Vincent's went 0-4 to 0-1 up that we drifted out to 66/1. If you had a hard neck, you would have won a few bob for yourself!
"Look, it's a great day and we'll enjoy it but our ultimate aim if you like is to win Leinster. I said it to the Vincent's boys that to do them justice we need to win Leinster. That's all we can try for now."
Subscribe to The42 podcasts here: