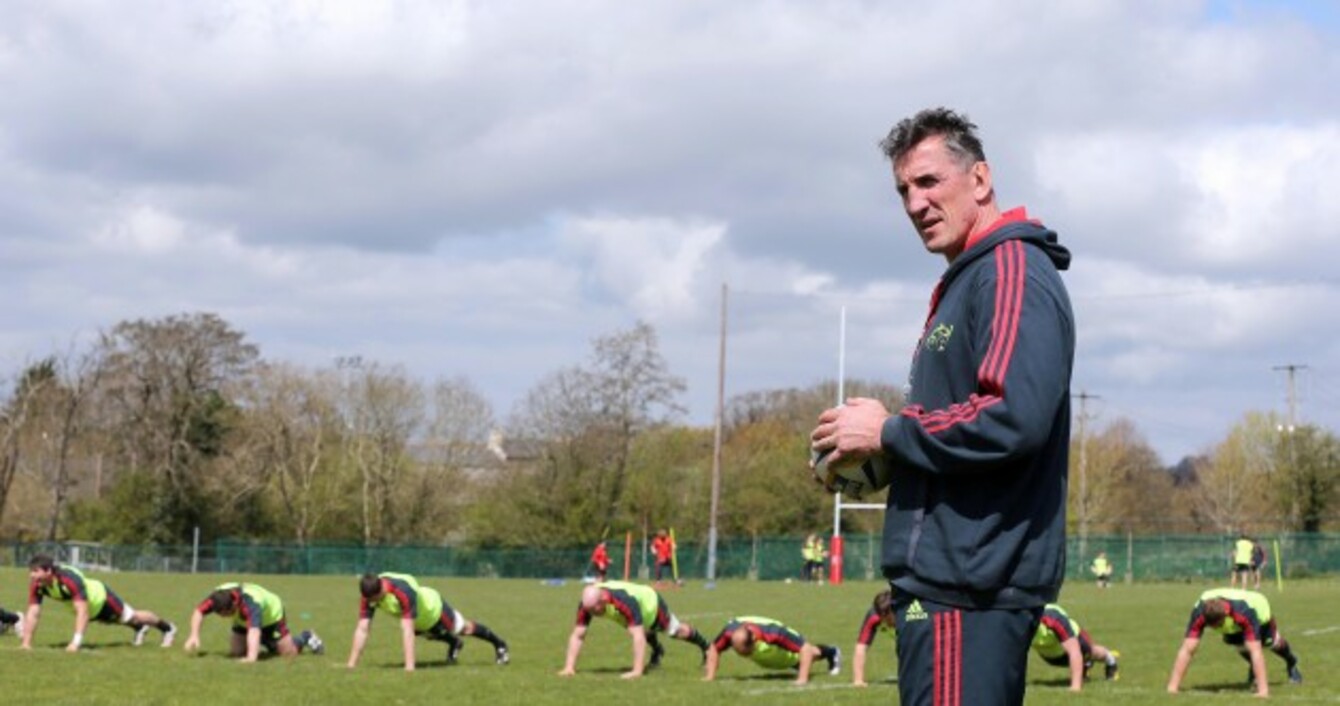 Image: ©INPHO/Cathal Noonan
Image: ©INPHO/Cathal Noonan
MUNSTER COACH ROB Penney, it could be argued, has a unique insight into how the change to rugby union's scrum engagement sequence has taken hold.
The trial of the 'crouch, bind, set' sequence began with the ITM Cup in New Zealand. And Penney will have had more recent direct experience of players in that competition than anyone else in this part of the world.
Perhaps imbued with this confidence, Penney issued a firm riposte to the suggestion that Munster were operating without a specialist scrum coach this season.
"I'm the scrum coach.
"So, we have got a designated scrum coach."
On the developments he has witnessed so far in southern hemisphere competition, Munster's head/scrum coach was mostly positive having viewed the number of collapsed set-pieces tumble and referees clamp down on crooked feeds.
"Initially I was really excited and that hasn't changed. I thought there was some great benefits for the game out of it and, like any alteration, there's going to be a bit of bedding into it.

"If you watched some of the stuff coming out of New Zealand and Africa, you'll see there's a lot more clean ball coming out of the scrums.
"I think that's great for the spectators which has got to be great for the games. But I think there are some teething problems around the appropriateness of the straight feed. It looks pedantic if they're pulling them up and the ball is already at the number eight's feet.
"I think once we get over those initial hiccups I think it will be really good for the game."
The Kiwi did admit that outside influence would be brought into the camp as a means of maximising the information available on the subject, but also said he was content with how the pack was progressing.
Rebel
One man who will not be chipping his ideas in for much longer is head of fitness, Bryce Cavanagh.
The Australian will return home to join up with the Melbourne Rebels after the second round of Heineken Cup fixtures in October.
Cavanagh has helped to oversee big changes in the province's strength and conditioning system culminating with the increased use of GPS technology this pre-season to tailor each player's individual programme and a regime Keith Earls last week called his toughest ever.
In a statement released yesterday, Cavanagh said he was "privileged to have experienced the unbelievable culture here. It is hard to walk away from such a group of dedicated players and staff but I know returning to Australia is the best thing for me and my family [wife Brooke and daughter Hudson] at this time."
Penney admitted that the timing of his departure was far from ideal, but was confident he would leave the S&C department in good shape.
Want to know what Munster have planned for the season ahead? Munster captain Peter O'Mahony is taking over Bank of Ireland's Twitter , @talktoBOI , from 6pm-7pm on Friday 23rd August.

Tweet your burning rugby questions to #boirugby.