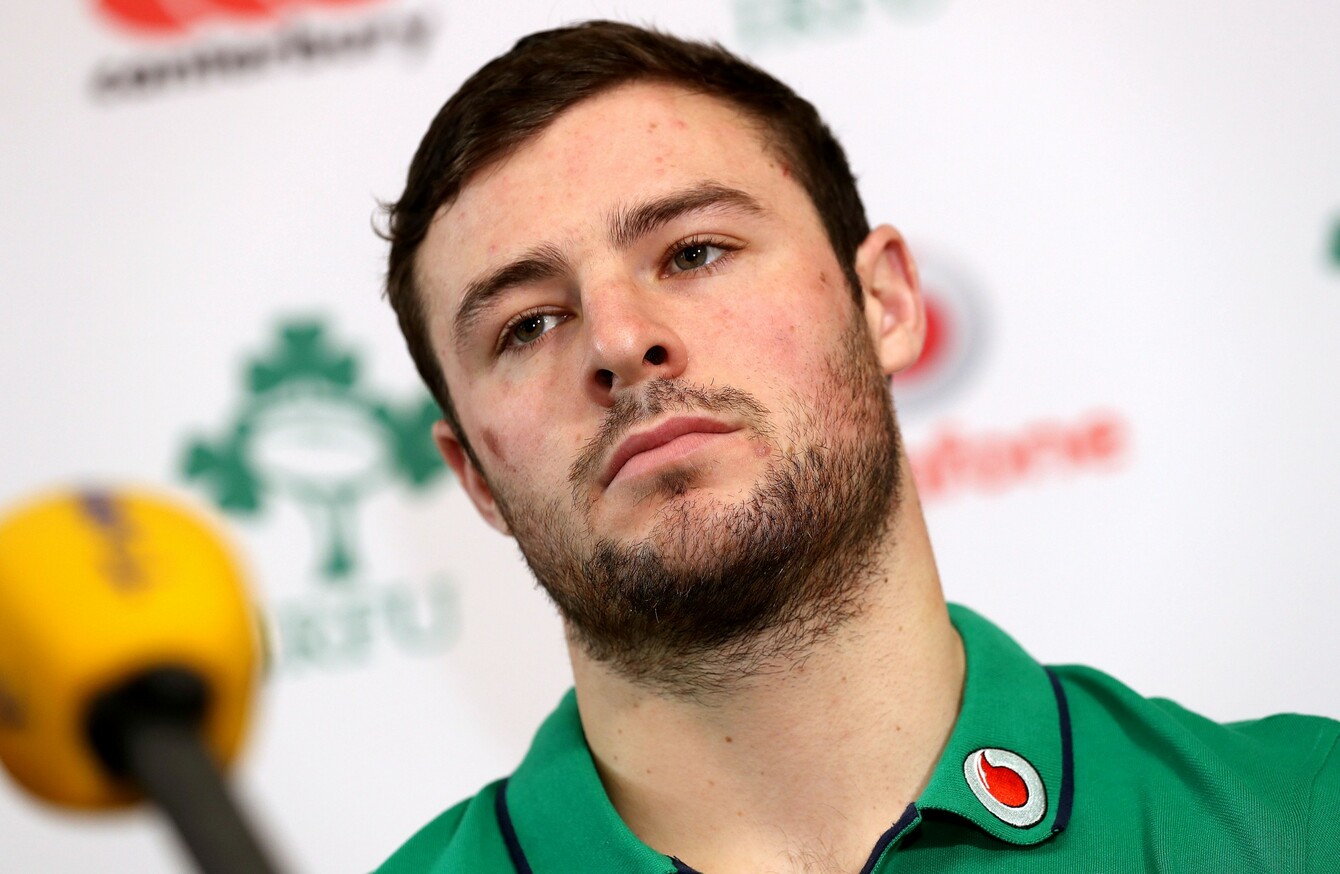 Henshaw speaking to media at Carton House earlier.
Image: Dan Sheridan/INPHO
Henshaw speaking to media at Carton House earlier.
Image: Dan Sheridan/INPHO
AS THE INQUEST into Saturday's false start to the Six Nations campaign began in earnest this morning, Robbie Henshaw says Ireland will look to channel their frustrations into producing a big performance in Rome.
Joe Schmidt began the review process into the Murrayfield disaster on Sunday evening and today's team meeting wouldn't have made for pretty viewing as Ireland looked to make some sense of their below-par display.
Bruised mentally and physically is how team manager Paul Dean described the squad and certainly there would have been a lot of soul-searching over the last 48 hours as Ireland's Grand Slam and Triple Crown tilt was derailed in Edinburgh.
The mood around the team's Carton House base was markedly downbeat compared to the excitement and giddiness of last week but Henshaw spoke of a determination to right the wrongs this weekend.
"I think it's a bit of frustration at the moment," the centre said. "But there's massive eagerness to get out there this weekend, perform as best we can and right the wrongs from last week.
"So it's massive eagerness within the squad, so looking forward to training today, getting back and doing what we do."
With no new injuries to report ahead of the trip to face Conor O'Shea's Italy, Schmidt and his players returned to the training paddock this afternoon under grey skies to try and rectify the areas which ultimately led to their downfall in week one.
Ireland's first-half defensive display and flat start was the big talking point and this morning's review session would have largely centered around that aspect of the game.
"As you can imagine it wasn't pretty viewing in some of the areas," Henshaw continued. "It's pretty frustrating looking back on it as a group, we're looking forward to this weekend to right a few wrongs.
"It was disappointing overall. It all comes down to the start and how we started the game. We felt a little bit flat as a group in the game.
"We gave that Scotland team a bit of time and space on the ball and they punished us in the wider channels with Stuart Hogg going over twice.
"Our spacing in defence was a bit narrow in the first-half and if you look at the second-half in fairness we got it spot-on and they didn't really threaten us.
"So it all came down to our start in the end, defensively we were very narrow in our spacing. We fixed that at half time but if we'd started the first half the way we'd started the second half I think the result would have been different.
"There's a number of things that didn't go our way, and we have ourselves to blame for that."
When pressed about the nature of Ireland's flat start and the potential reasons behind it, Henshaw added: "I'm not sure, it could have been a bit of nerves. It's a big step up to your first game in the Six Nations.
"It could have been that bit of nervousness in the group, I'm not sure. But it's a weird one and I can't put my finger on it, but when we got our tails up and when we owned the ball we showed what we could do.
"And that gave us that good confidence in the second half, we were playing better rugby, we were attacking them more and we were playing flat to the line. And we did beat them up in the second half."
Regardless, it was a performance that failed to reach the heights achieved in November and after victories over New Zealand and Australia, this result — and perhaps more specifically the performance — serves as something of a reality check.
All the talk pre-tournament was of Grand Slams and a potential decider with England on the final weekend in Dublin. Ireland are by no means out of this Championship but there is now no margin for error.
"Our main focus at this stage is performance and taking one game at a time," Henshaw says. "People are talking about bonus points this weekend – first and foremost it's to get the result first. Get the win and we'll focus moment by moment.
"So I think there is a confidence that this team can win the Championship.
"What this team did last year and in November, it's incredible, it's an incredible group, so I think if we get ourselves together we can go on and contest for a championship."
"We have to go out and win every game, and obviously chase the bonus point if it's there. So it applies a lot more pressure to the squad.
"The squad might not be used to that, but hopefully it can only help us perform and get the best out of us as a group."
Source: The42 Rugby Show/SoundCloud
Subscribe to The42 Rugby Show podcast here: