Liveblog
"A reality check" was Joe Schmidt's clinical verdict on last week's jolt by England in Dublin, and today he and his Irish side find themselves in an unfamiliar position of having to prove they can respond to a shocking home defeat.
Murrayfield is the stage, against a Scotland side that have won three-quarters of their home games since the last World Cup.
A win can reconfigure the England defeat as a blip; anything else and it will be difficult to ignore the question: have this team peaked a year too early?
Welcome to The42's live coverage of Scotland v Ireland in the 2019 Six Nations.
Get in touch by emailing gavincooney@the42.ie, tweet @gcooney93 or @the42_ie or leave a comment below the line.
Kick-off is an hour away.
Rory Best and Greg Laidlaw at the coin toss pre-game. The referee today is Roman Poite, the eponymous hero of The Roman Poite Factor.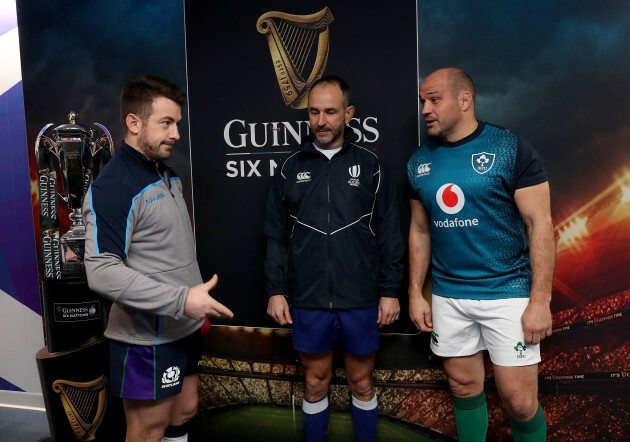 Source: Dan Sheridan/INPHO
Bus Watch: Ireland's arrived on time, and ahead of Scotland's, so we will be spared that theme should there be a post-mortem on this game.
Weather Watch: Storm Erik is making its presence felt at Murrayfield, and it's decidedly windy. It is likely to be the first Irish game surrounded by bluster since George Hook gave up the punditry.
Kick-off is at 2.15pm.
Joe Schmidt confirms that there were no bus issues en route, and says that Ireland will line out as selected.
Speaking to Virgin Media, Schmidt said that there ain't no time to be feeling sorry for themselves.
"We haven't had too much time for soul-searching. We were disappointed, we didn't get a lot of luck but we didn't make a lot of luck. We will hopefully be a bit more competitive this week."
Joe observed after the England game that his squad were oddly subdued pre-game last week, but that shouldn't be an issue today.
"There is a quiet determination. We don't get too outpsoken or visibilty wound up, but we are determined to right a few wrongs."
Thirty minutes to kick-off.
Joe Schmidt confirms Ireland line out as selected, so Sean O'Brien is good to go having sat out yesterday's Captain's Run.
Ireland:
15. Rob Kearney
14. Keith Earls
13. Chris Farrell
12. Bundee Aki
11. Jacob Stockdale
10. Johnny Sexton
9. Conor Murray
1. Cian Healy
2. Rory Best (captain)
3. Tadhg Furlong
4. Quinn Roux
5. James Ryan
6. Peter O'Mahony
7. Seán O'Brien
8. Jack Conan.
Replacements:
16. Sean Cronin
17. Dave Kilcoyne
18. Andrew Porter
19. Ultan Dillane
20. Josh van der Flier
21. John Cooney
22. Joey Carbery
23. Jordan Larmour.
Scotland, meanwhile, have dropped hat-trick hero Blair Kinghorn and have lost WP Nel to injury.
Scotland
15. Stuart Hogg
14. Tommy Seymour
13. Huw Jones
12. Sam Johnson
11. Sean Maitland
10. Finn Russell
9. Greig Laidlaw
1. Allan Dell
2. Stuart McInally
3. Simon Berghan
4. Grant Gilchrist
5. Jonny Gray
6. Ryan Wilson
7. Jamie Ritchie
8. Josh Strauss
Replacements:
16. Fraser Brown
17. Jamie Bhatti
18. D'arcy Rae
19. Ben Toolis
20. Rob Harley
21. Ali Price
22. Pete Horne
23. Blair Kinghorn
Joe Schmidt puts the Irish team through their paces.
Source: Dan Sheridan/INPHO
Source: Billy Stickland/INPHO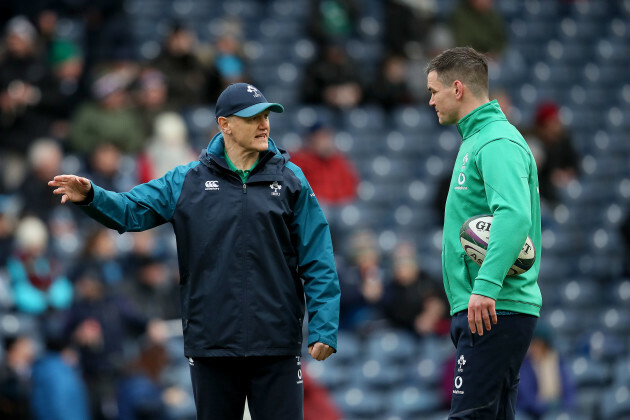 If you're just joining us - Gavin Cooney bringing you minute-by-minute, with Murray Kinsella and Ryan Bailey in situ for the game, too.
Get in touch – email gavincooney@the42.ie, tweet @the42_ie or leave a comment below the line.
The teams are out, and lining up for the anthems.
Conditions are more benign than anticipated: the wind is swirling but the sun is shining.
Flower of Scotland being belted out acapella. We're minutes from the start.
Flag
1 min: Scotland settle quickly, running the ball through their hands until Huw Jones kicks and forces Ireland into a line-out on their five-metre line.
James Ryan rises and takes it cleanly.
3 min: Johnny Sexton concedes a penalty for a high tackle on Ryan Wilson. It's all Scotland early on, and good scramble defence from Rob Kearney keeps them from the try line.
Scotland kick the penalty to touch…
5 min: Penalty! Scotland 3 – 0 Ireland (Laidlaw)
Bundee Aki is harshly penalised for hands in the ruck, which Laidlaw knocks over with ease. A deserved lead for Scotland.
7 mins: Sexton's restart is terrific, and it leads to Ireland's first attacking platform: a scrum wide left on the Scots' '22.
9 mins: Ugh, the Irish attack slowly loses ground in going nowhere, and then the ball is knocked forward and lost in a collision between Sexton and Stockdale.
10 mins: TRY! Scotland 3 – 5 Ireland (Murray)
11 mins: What a response! Ireland were quick in turning the ball over, it ran through Sexton to Stockdale whose kick in behind led to an almighty mix-up between Tommy Seymour and Sean Maitland. Seymour passed the ball over Maitland's head, and Conor Murray pounced on the loose ball.
After a long delay, Sexton pulls his conversion horribly wide. Cue cheers from the home crowd.
13 mins: Scots heard roaring "pressure" as Conor Murray as he sizes up a box-kick from his own 22, that goes out on the full. It hit Russell's hand on the way out, however.
15 mins: Ireland's line-out in fine fettle thus far, the most recent taken spectacularly by Peter O'Mahony. Sexton then kicks the ball away; an up-and-under gone awry and caught by Stuart Hogg.
16: TRY! Ireland 10 – 3 Scotland (Stockdale)
16 mins: Conversion! Scotland 3 – 12 Ireland

Woah. Stockdale finds a gap in midfield, is fed the ball by Sexton, and scorches clear. What a try!
Sexton took a bang for his troubles, so Conor Murray kicks the conversion. Sexton is good to play on.
17 mins: Scotland have lost Stuart Hogg to injury, replaced by Blair Kinghorn.
19 mins: Kinghorn immediately wins a penalty close to the Irish line, which Russell taps and takes quickly, hoping to catch the Irish defence off-guard. That didn't go to plan, and Ireland forced a knock-on.
20 mins: Ireland force a penalty from the subsequent scrum. After a rocky start, this is all going swimmingly. Fields of Athenry now ringing around Murrayfield.
22 mins: Lengthy phase play from Ireland is thwarted with a Cian Healy knock-on, and Scotland countered quickly, but ultimately made nothing of the opportunity.
Johnny Sexton has gone off, and has been replaced by Joey Carbery. Sexton has been subject to a lot of bone-shuddering hits just after the pass.
25 mins: The Irish defence is standing up well to everything Scotland are throwing at them thus far, and have won a scrum thanks to some sterling work from Peter O'Mahony.
27 mins: That scrum results in Sean O'Brien releasing Peter O'Mahony on the wing, whose kick-through is only gorgeous and forces Scotland into a defensive line-out, five metres from their own line.
Flag
28 mins: TRY! SCOTLAND 8 – 12 Ireland (Johnson)
29 mins: Conversion! Scotland 10 – 12 Ireland (Laidlaw)
Dear oh dear. Joey Carbery throws a pass that is intercepted by Finn Russell, whose sprint to the line is stopped just before the whitewash by Keith Earls. Sam Johnson was first to follow-up however, and take the pass to cross.
Laidlaw converts his kick. Two-point game, from nowhere. What a gift.
31 mins: Ireland have allowed a few errors creep into the last ten minutes or so, Carbery's the most egregious. Kicking – Kearney's in particular - has been loose, which is dangerous against this Scottish back line, even if they have now lost Hogg.
34 mins: All Scotland now, and they are definitely targeting Stockdale's win. They've now won a line-out five metres from the Irish line.
35 mins: The ball bounces around and off the corner flag, with Rory Best touching down behind his own line. Five-metre scrum for Scotland ahead…
38 mins: Scotland attacking, now through 15 phases, Ireland holding firm…
39 mins: Ireland survive! After 23 phases from Scotland, they sweep it wide and Seymour is stopped a metre from the line by Stockdale, having been hindered by a poor pass. Scotland then carelessly toss the ball away, and Ireland win the scrum.
Great defence from Ireland.
Flag
HALF-TIME: Scotland 10 – 12 Ireland
Ireland escape into the dressing rooms with a two-point lead. Ireland have been ruthless in attack, although the other side to that compliment is the fact they have spent very little time in the Scottish '22.
The Scottish back-line look razor-sharp, and might have been ahead had it not been for frustrating handling errors. Ireland have defended manfully, but will have to offer more in attack in the second-half.
It is unclear as to whether Sexton will return, or whether it will be for Joey Carbery to steer Ireland home from here.
Sexton makes way with a blood injury, and has yet to return.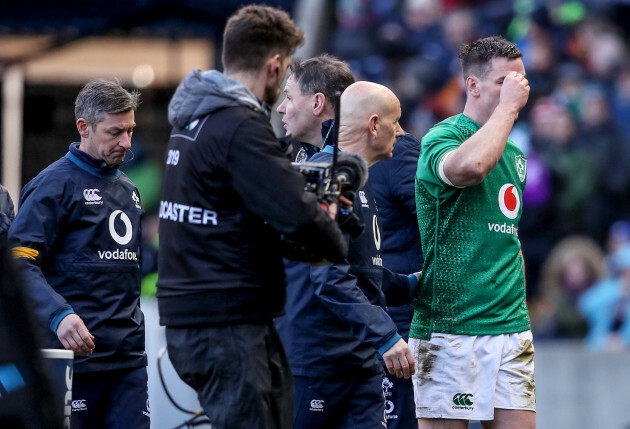 Johnny Sexton is forced off with a blood injury. Source: Dan Sheridan/INPHO
Flag
KICK OFF!
Second half underway at Murrayfield. Confirmed that Sexton isn't coming back. A big 40 minutes ahead for Joey Carbery.
41 mins: Cripes. Carbery tosses a dreadful pass behind Chris Farrell. Scotland can't gather and Ireland survive. He is jittery.
42 mins: Ireland have spent, er, 15 seconds in the Scottish '22 thus far.
45 mins: Ooof, Rob Kearney spurs a great try-scoring opportunity. Carbery floats a gorgeous pass into his chest, but rather than pop it left to Stockdale, he cuts infield and is tackled. Ireland had a penalty advantage, so they've kicked that for touch.
48 mins: Ireland finally spend some time in the Scots' '22, but it ultimately goes to nowhere, and they are eventually pinged for not releasing. Frustrating.
49 mins: Sean O'Brien forces a turnover. Man, Seanie.
51 mins: Irish line-out, in Scottish territoy. May be a strike play coming.
52 mins: It's come to nothing, and Furlong loses the ball in the tackle. Scotland now on the attack.
Flag
55 mins: TRY! Scotland 10 – Ireland 17 (Earls)
56 mins: Conversion! Scotland 10 – 19 Ireland (Carbery)
Brilliant from Carbery, who slips off a tackle in midfield to break through, and the picks out Earls with a looped pass off his right. Fantastic. He kicks the conversion, too. He has certainly steadied himself after his earlier errors.
58 mins: Dave Kilcoyne is on for Ireland, in place of Cian Healy.
61 mins: Penalty! Scotland 13 – 19 Ireland (Laidlaw)
Laidlaw is as unerring as ever to chop the deficit into single-score territory, after Ireland clumsily lose the ball in their own half.
63 mins: Carbery takes the ball from the skies superbly, and a poor Murray box-kick is inexplicably knocked on by Blair Kinghorn. They've been gifted a scrum inside the Scottish half.
Josh Van Der Flier replaces Sean O'Brien.
66 mins: Ireland through 24 phases of attack, without really going anywhere. They do, however, force a penalty with Josh Strauss pinged for not rolling away.
Quinn Roux and Tadhg Furlong are off; Ultan Dillane and Andrew Porter come on.
68 mins: Penalty! Scotland 13 – 22 Ireland (Carbery)
Carbery makes light of the boos from the crowd to kick the penalty and re-establish Ireland's nine-point lead.
70 mins: Ireland trundling up the field with a maul, but it splintered and the visitors are penalised.
Some more movement from the bench: Rory Best and Jacob Stockdale make way for Sean Cronin and Jordan Larmour.
72 mins: That scrum was an unholy mess, but Scotland came away with the ball, and the move ended with Price kicking into touch over Earls' head. Cronin's first dart has to be bang-on here.
74 mins: Dillane secure the line-out throw, Ireland slow the clock down a bit and Murray kicks clear. Jamie Ritchie then concedes a penalty for nailing Dillane from the side, which Carbery kicks to touch.
76 mins: Ryan takes the ball this time: Ireland's line-out hasn't suffered for Devin Toner's absence today. Ireland then spill the ball with a clumsy pass to Larmour, only for Scotland to make a mess of their counter-attack with a handling error of their own. Scrum Scotland.
John Cooney replaces Conor Murray for the final few minutes.
77 mins: Ireland concede a penalty for collapsing the scrum. Russell kicks to touch.
78 mins: Dillane steals the line-out! He has made a superb impact from the bench.
79 mins: Sean Maitland crowns what might be Scotland's last attack with a hilariously bad pass: batted tamely forward, at the ground. Ireland pack down for a scrum to see out the game.
Peter O'Mahony gets the nod for Man of the Match.
Flag
FULL TIME: Scotland 13 – 22 Ireland
All is well with the world. Ireland weren't at their best, but nonetheless got back to winning ways with a deserved victory. Having survived a few scares in a harum-scarum first-half, they dominated possession after the break and wound down the clock in effective if unspectacular fashion.
Joey Carbery steadied himself after a difficult first-half to guide Ireland home, with Ireland's line-out functioning well despite Devin Toner's absence.
The kicking game is still imperfect and there were an unusually high number of turnovers, so there will be plenty to work on ahead of the trip to Rome in a fortnight.
Thanks for reading, stick with The42 for the best reaction and analysis as Ireland got back on track.
Following a tough Six Nations opening defeat to England, Joe Schmidt will look to regroup against a dangerous Scotland side. This week, Murray Kinsella and Gavan Casey are joined by Bernard Jackman to assess the damage of last weekend and look ahead to the clash in Murrayfield:
Source: The42 Rugby Weekly/SoundCloud
Contribute to this story: