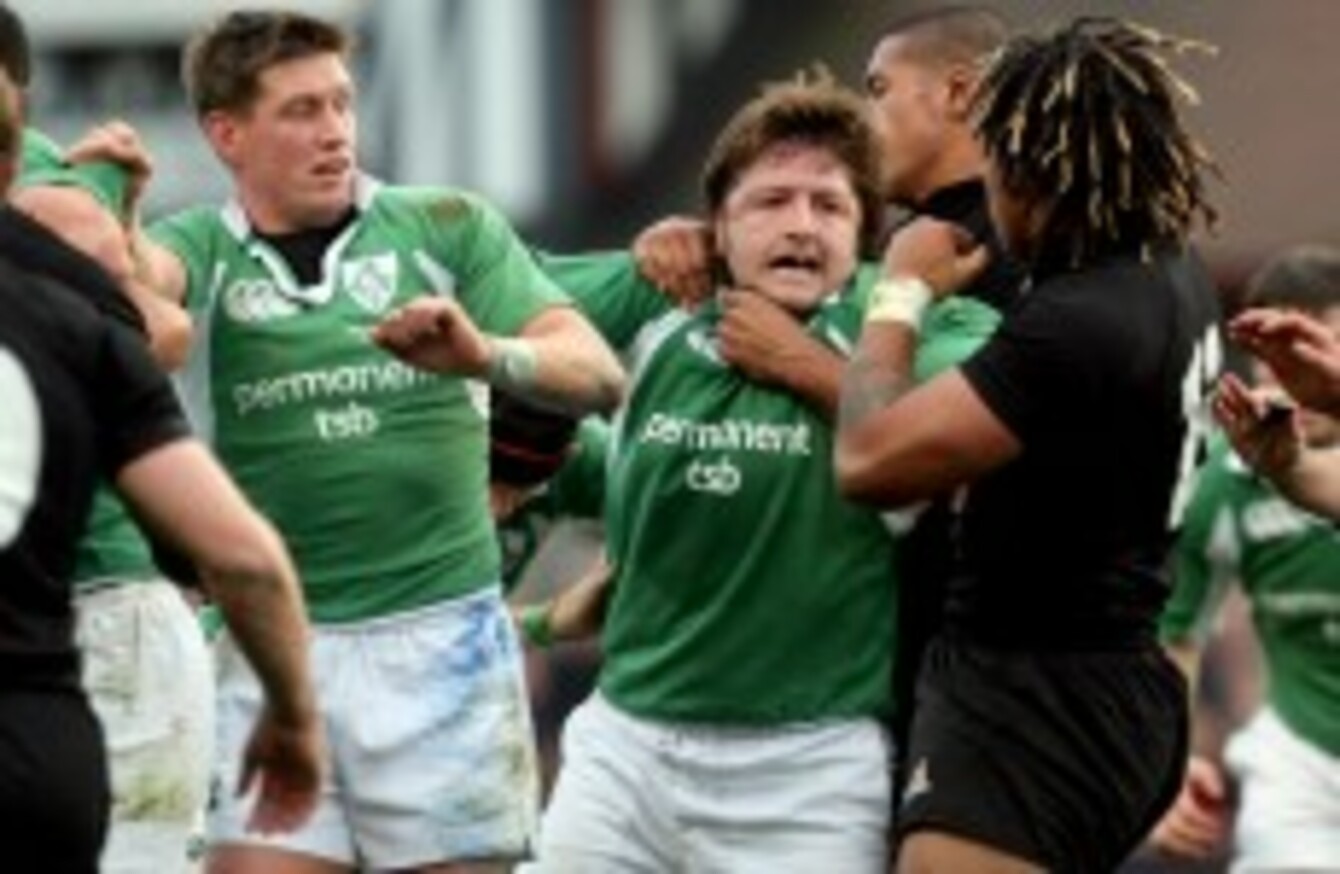 Byrne takes on Ma'a Nonu back in 2005.
Image: ©INPHO/Billy Stickland
Byrne takes on Ma'a Nonu back in 2005.
Image: ©INPHO/Billy Stickland
AS SOMEONE WHO has played against the All Blacks on numerous occasions, I would bloody love to see someone beating them, all the better if it's Ireland.
What we need is for them not to play well and for every Irish player to have the game of their lives. I'm confident that Ireland have the firepower to do it, but there are so many 'ifs' involved.
England showed how to beat the All Blacks last year. Steve Hansen's men don't like being forced to resort to Plan B when the pressure is put on them. They have struggled when met with performances as physical as the one from England, and something similar from Ireland on Sunday would be a huge boost for the Joe Schmidt era.
In terms of team selection, that Quade Cooper try last weekend sealed the deal in Schmidt's head as to who he would pick at 12 against the All Blacks. It was a simple lack of communication and cohesion, but with Sexton, D'Arcy and O'Driscoll back together, there will be improvement.
Isaac Boss has been playing as well as anybody this season, so he deserves a chance on the bench ahead of Eoin Reddan. There could have been an argument for bringing in someone like Shane Jennings to poach ball on the ground, but overall it's the team we were expecting.
80% of rugby is the mental aspect. The Irish players are well aware of who they're playing against this weekend, the history there. They want to be the first ones to do it, to taste victory against the All Blacks. You always want to prove yourself against the very best teams.
The thing that makes the All Blacks so special is the precision they bring to everything they do. Against South Africa for example, it's a physical test and the last man standing wins. But against the All Blacks you have to win the collisions and beat them technically. If you make mistakes, they will hammer you.
Cian Healy is not a big fan of the Haka, but I can understand why it's still part of the game. It's an entertainment sport, so it should be there as it's a great spectacle. However, I think teams should be allowed to react to it however they like. If they want to head off and do a warm-up, that's fine in my eyes.
How Ireland could use Stephen Ferris' physicality. ©INPHO/Dan Sheridan.
If they want to approach the All Blacks and challenge them, that's fine too. The Kiwis understand that too, they expect the opposition to return the challenge. To be honest, it didn't have any effect on me after I'd seen it for the first time.
The All Blacks are just men who have to be beaten. The Haka won't win them the game.
Defence is the key area for Ireland on Sunday, although the breakdown will be as important as ever. We didn't control the ruck last week against Australia and we can't let that happen again. But it's all about that defence against the All Blacks. We can't let them get their offloads going, and we have to force them into multiple phases.
Preventing the offloads is about working in groups. There is the main tackler and then the two guys on either side of him; they have to be aware of support runners. Ireland can't stop hunting in defence, even after a pass is gone. Stay sharp, keep working across the pitch.
You have to double team a guy like Kieran Read; one tackle low, one tackle high. The Irish players have the physicality to do that. Stephen Ferris' power is missed obviously, but Sean O'Brien, Paul O'Connell and Rory Best can set the standard.
When we have the ball, it's about not over-complicating things. We can't afford to make mistakes or they will score tries. There is nothing wrong with a simple game plan, but it must be carried out with aggression and technical precision. No loose passes and no loose kicks.
If there are errors, then Ireland have to snap back into defence mode immediately. There has to be a stronger kick chase than last weekend and generally just more desire to make tackles. Every single collision must be made to count.
The Irish players have to do exactly what has made them international players. They have the ability to compete with anyone when they are up for it. What we need is 15 or 23 Irish players playing the best game they've ever played for their country. That's the intention every time they set foot on the pitch in an Ireland jersey, it makes no difference who the opposition is.
Shane Byrne has teamed up with Focus Ireland to help tackle homelessness through a special appeal driven by Aviva to be made at tomorrow's game. The Ex-Leinster and Lions hooker Byrne will appeal to the sell-out crowd through a special message at half-time in which he'll ask fans to please text the word "TACKLE" to 50300 to donate €4 to Focus Ireland.  TheScore.ie has also teamed up with Focus Ireland to promote this appeal with a competition for one lucky person to win two tickets to the All Blacks game along with an overnight stay in the Sandymount Hotel and a rugby ball signed by Byrne. People who are entering could please text "tackle" to 5300 to donate to Focus Ireland and then go to https://www.facebook.com/focusirelandcharity and simply like and share the competition post to be in with a chance to win.  The lucky winner will be contacted by Focus Ireland and call collect their prize from a staff member before the big game at the Aviva on Sunday.