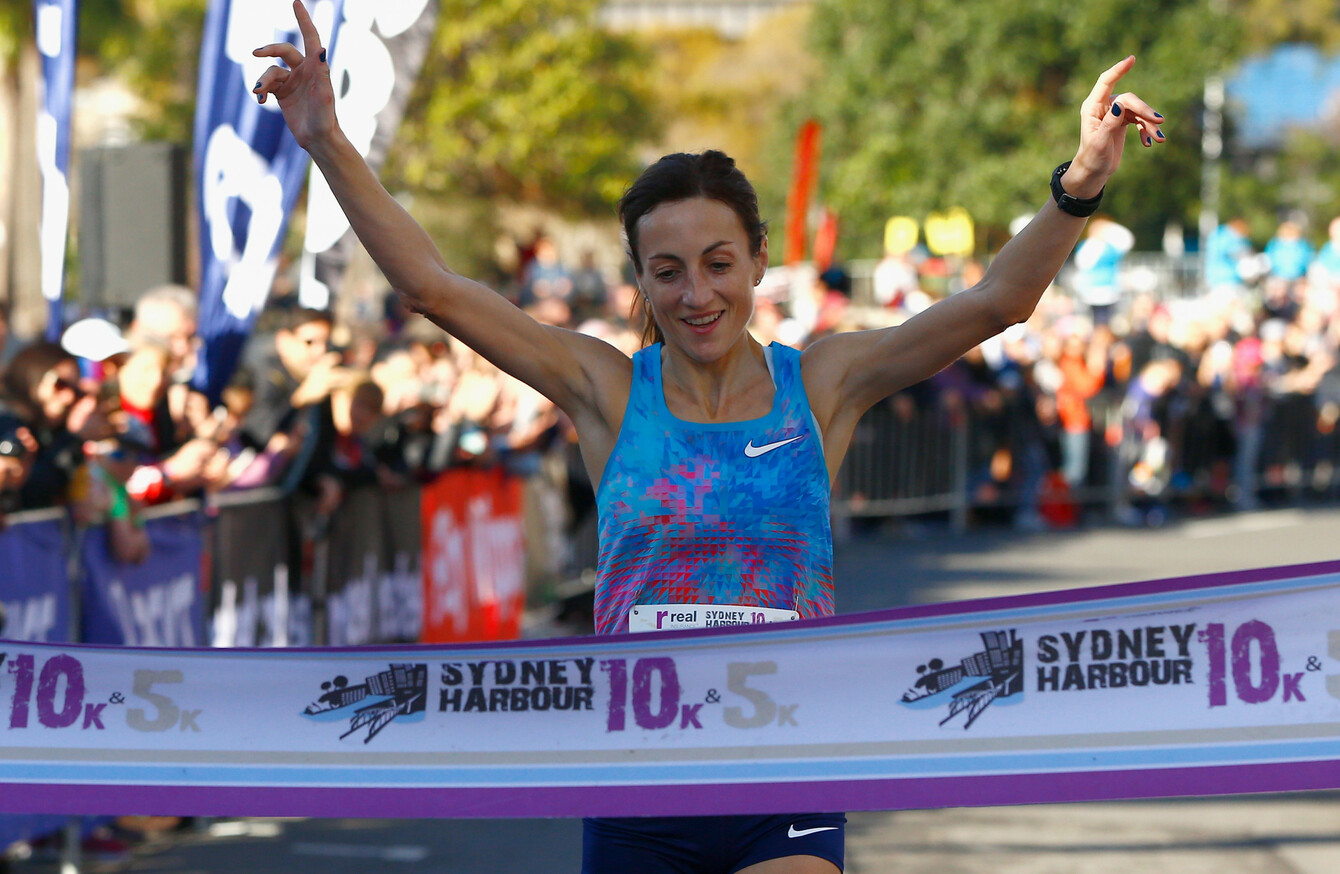 Sinead Diver pictured winning the Womens 10km race during Love Your Sister Run in Sydney last July.
Image: AAP/PA Images
Sinead Diver pictured winning the Womens 10km race during Love Your Sister Run in Sydney last July.
Image: AAP/PA Images
WHEN SINEAD DIVER left Ireland 16 years ago, she could hardly have imagined she would end up representing her adopted country at international level, breaking records and becoming good friends with Sonia O'Sullivan.
"It's a bit surreal," Diver tells The42, in relation to her triumph at the Melbourne Marathon last weekend, but the response could just as easily apply to her journey to get there.
For a start, the 41-year-old part-time IT worker had no experience of competitive running when she moved to Australia and only properly took up the sport eight years ago.
Growing up in Belmullet, a town with a population of around 1,000 people on the Mullet Peninsula in the barony of Erris in County Mayo, Diver was a very active child who enjoyed soccer and basketball among other sports during her schooldays.
Attending the University of Limerick, she earned a degree in Irish and Physical Education. After college, at the age of 25, she moved to Australia with her future husband Colin. Staying abroad long-term was not always the plan. Initially, it was supposed to be a "working holiday". After Colin's successful application for a work visa, they decided to stay "a bit longer". And before they knew it, the couple got residency and citizenship. Marriage followed as did the birth of two children, Eddie and Dara, now aged eight and five respectively.
So time has flown and Diver has lived for almost half her life outside of Ireland at this stage.
"We just kind of settled and once you have kids, you set up somewhere more permanently," she explains.
In Ireland, Diver explains, she "just never got into running," adding: "I didn't know anyone else doing it and didn't really think about it.
"It was a handy way to keep fit rather than joining a basketball team, although I did join a basketball team as well. I did a bit of running just for fitness."
One day, her sister Grainne encouraged her to partake in a corporate fun run.
One of the guys doing it said I was pretty fast and he was kind of surprised that I hadn't done any racing before that. He was saying I should go up and do some training with this running group. I met my coach, Tim [Crosbie], and it kind of went from there. It was the first time I learned about interval training and tempos and all that kind of thing. I was 33, which is I guess late coming into the sport, but better late than never."
Diver's progress since then has been nothing short of remarkable.
"My second race was a 5k on the track — I came second in that," she recalls. "I thought: 'God, I might be okay at this.'" 
After encouragement from her coach, she joined the local running club and began consciously entering races and in 2012, Diver won the Melbourne half marathon.
Melbourne Marathon @diversinead 2:25.17 - stunning !!

Diver's stats:

▶️4th Australian all-time
▶️PB by 6:20 minutes
▶️Course record
▶️4th fastest time ever on AUS soil only the Sydney 2000 medallists are faster.
▶️#48 on the 2018 world list#thisisathletics #getmoving pic.twitter.com/FVzlgnjiGj

— Athletics Australia (@AthsAust) October 13, 2018
With the benefits of increased training and knowledge of the sport, Diver was improving year-on-year, despite approaching an age where many athletes are considered past their peak.
"It wasn't as if I wasn't that fit or active and suddenly took up running," she says. "I was always into fitness and doing some kind of sport or other."
Another landmark moment came in 2014. Her time of 2:34:15 saw her finish second in the Melbourne Marathon. The impressive achievement also made her eligible to represent both Ireland and Australia, thanks to her dual nationality. A month later, however, Athletics Ireland altered the qualifying standard, meaning Diver was 45 seconds short of the necessary time to compete for her country of birth.
"I'm not sure why they did that," she says. "It was a bit unclear at the time. The communication wasn't great."
Despite no longer qualifying to run for Ireland, Australia got in touch and offered her the chance to represent them at the 2015 World Championships in Beijing. It was an opportunity Diver did not have to think twice about.
It was my first time racing at a World Championship, it was such an amazing experience, it would be silly not to go."
Diver still considers herself Irish but is fully committed to running for Australia now. She finished 21st in Beijing with a season's best time of 2:36:38, while improving on that achievement at the same event two years later in London, coming 20th with a time of 2:33:26. 
An ankle injury cut short her dream of competing at the Olympics in 2016, but she is determined to make up for that disappointment by performing at Tokyo 2020, with qualifying for the marathon event due to get underway in January.
If Diver can maintain her current level of form and avoid further mishaps, she should surely have no problem getting to Japan. Last weekend, in the early hours of Sunday morning Irish time, the athlete produced what she describes as "definitely the best run of my career so far" on her third attempt at the Melbourne Marathon.
The feat saw her take more than six minutes off her previous personal best and meant she became the second-fastest ever Irish-born woman over the marathon distance with a time of 2:25:19.
The run was the fourth-fastest in Australian history and the fourth-fastest on Australian soil, with only the three medallists from the 2000 Olympics in Sydney holding better times.
She also broke Lisa Weightman's previous course record (2:26:05 in 2013), earning Diver AUS $40,000 prize money in the process.
To put this astonishing achievement into further perspective, the current Irish record holder, Catherina McKiernan (2:22:23), is only seven years older than Diver, yet produced her time 20 years ago.
"Going into the race, I knew what the [course] record was," she explains. "My goal was to beat the record. I knew I was in that kind of shape, or I felt I was. You can never tell with the marathon.
"But all my races this year indicated I was going to do well if I raced well. The only problem was that the weather was looking really bad, so we weren't sure if I should continue with that plan or back off a bit. It was really on race morning where I thought: 'I'm going to go with the initial plan, and then if it feels too hard, I'll pull back.'
"At halfway, we were bang on target to break the record, but then at 30k, I started to get worried, because conditions got really bad. At 33k, I was just like 'this is going to be a fight for home'.  I knew I'd get a PB, but I didn't think I'd get the record at that stage.
"I had no idea what time I was at, because I couldn't bring myself to look at my watch. 
"When you're a runner, you do calculations in your head when you're struggling that much. The final 300 metres are in the MCG [Melbourne Cricket Ground], so as soon as I turned into it, I looked at my watch and knew that I had the record. That was pretty cool."
Given the feeling that the intensely warm and windy conditions slowed her down somewhat, Diver feels she is capable of better. Having previously not considered it, now less than three minutes short of McKiernan's record, she is hopeful of eventually breaking it.
If, in my next marathon, I'm as fit and conditions are right, I'll be pretty excited to see how fast I can go."
The fact that Diver has a busy life too outside of running — working three days a week as an IT consultant — renders her achievements all the more improbable.
Diver's day often begins at 5.30am with training prior to work, while she does more after dinner and "once the boys are settled". When training for marathons, she can do up to 280km per week, while her social life frequently "takes a hit".
She continues: "It's full-on, but nobody's making me do it either, it's my choice. I absolutely love running. I'm really lucky that I have a bit of flexibility to do that, I can fit it in."
Diver has also struck up a friendship with another dual Irish and Australian citizen who is no stranger to feats of incredible endurance.
"I wasn't into athletics when I was younger, but everyone knew Sonia. She's still one of the best athletes that's come out of Ireland. Her times are unbelievable. I had been running a couple of years before I realised that Sonia was here.
"After I did the first marathon, she got in touch. We met for coffee and had a few catch-ups [thereafter]. Her husband Nic Bideau coaches Melbourne Track Club, so I've joined them for training this year and I've gotten to know Sonia and Nic a lot better.
"We're good friends now, we chat a fair bit, and she wrote that article in The Irish Times about me, so she made everyone at home aware that I was racing this marathon, which was great. Since then, I've been getting loads of messages of support and everything. So she's brilliant, so supportive and everything, which is awesome."
While enjoying the life she has made for herself abroad, Diver still misses family and friends back home. She manages to get back every few years, but flights are so expensive that she cannot afford to visit Ireland too often, while bringing two young boys on a 24-hour plane ride is not done lightly. The Irish sense of humour also does not quite translate in her current location
"You know Waterford Whispers? I get such a laugh out of that. People who aren't from Ireland read it and go: 'I don't even get that.'"
And despite her fantastic achievements, it feels somewhat reassuring to discover that Diver is mortal like the rest of us and has the type of common concerns that most people who have prepared for a big race, even at a relatively casual level, will be familiar with to a degree.
I enjoy the build-up in training, but the day before, the lead in, especially for the marathon, I don't like that time at all. I get really nervous. You can psych yourself out worrying about weather and things you can't really control. The day before most races, I'm like: 'Why am I doing this?' I usually don't sleep that well the night before, but the morning of, I'm usually okay. If I'm fit, I'm ready to go and I'm relieved that I haven't got sick or something hasn't happened."
But perhaps the most important lesson to take from Diver's story is that high-level sport is not necessarily the sole preserve of prodigious twenty-somethings with plenty of time on their hands who have been training meticulously for their day of glory since birth practically. With the right mentality and the support of others, the possibilities can be limitless long after athletes have passed their supposed 'peak'.
"Building up your training in manageable chunks [is important]," she adds. "Injuries are the main thing that holds people back. Have patience with it, definitely don't try to achieve everything when you're younger. Your career can be really long if you do it well and you don't have to achieve everything 'now'. Each year, if you just build on your training, you can get better and better. If you put the effort in, you'll get the outcome."
Subscribe to our new podcast, Heineken Rugby Weekly on The42, here: