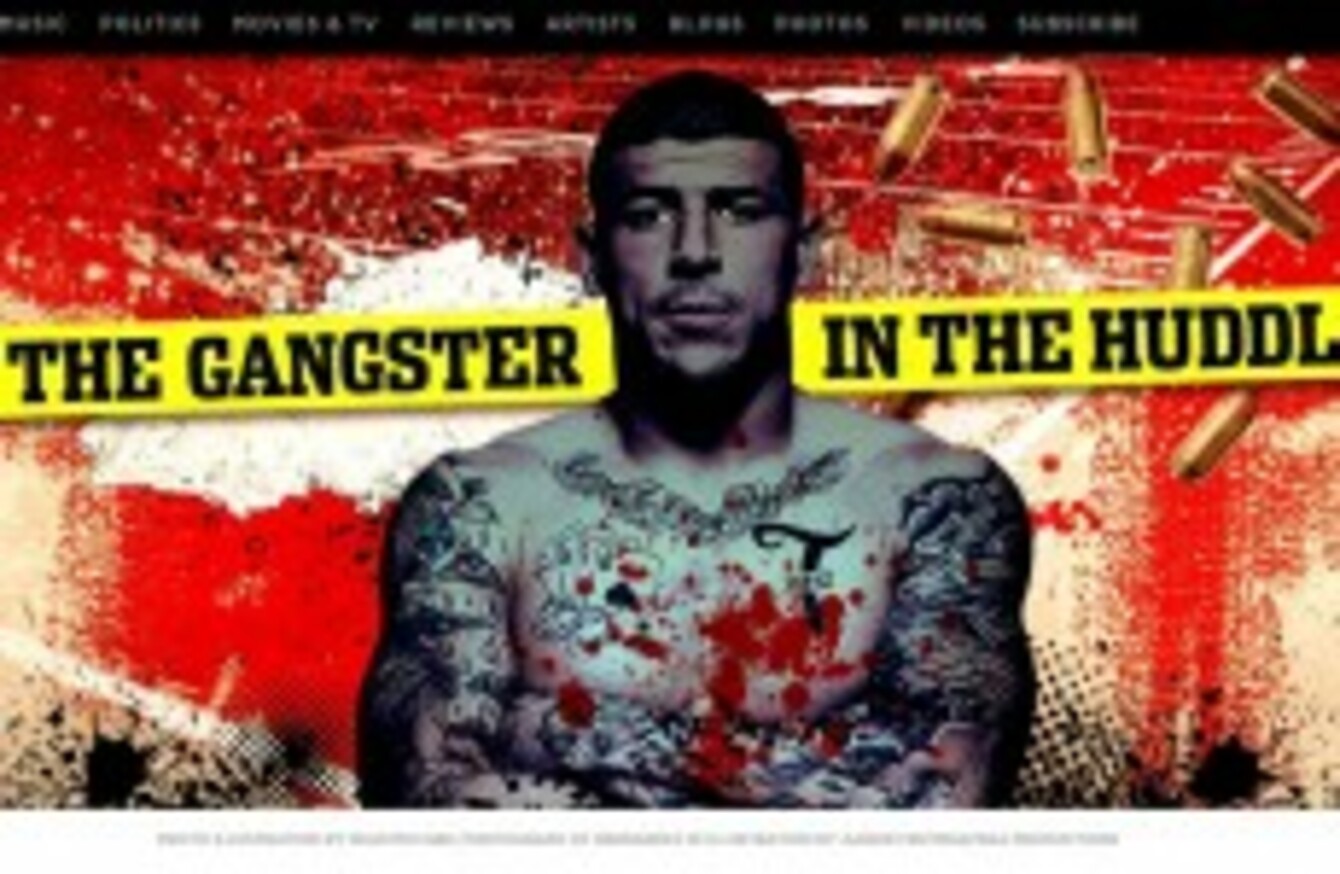 Cover story: Former New England patriot, Aaron Hernandez.
Image: ESPN screengrab.
Cover story: Former New England patriot, Aaron Hernandez.
Image: ESPN screengrab.
1. "Neymar is just five years younger than Messi, but he belongs to a different era. It doesn't sound like a lot, but as the speed and volume of human communication increases toward infinity, half a decade now constitutes a massive generation gap. Neymar's Instagram account has 2.4 million followers and more than 1,600 posts. Online at least, Neymar likes to share. We can see him playing with his 2-year-old son, hanging out with teammates, posing with fellow members of the Nike family, barbecuing with Dani Alves, shivering in ice baths, modelling gear from sponsors. There are memes, action shots, inspirational sayings.
Most of all, there are selfies—so many selfies. Laughing, pouting, gurning, yelling,eyebrows up, eyebrows down, tongue in, tongue out. For every conceivable human emotion there exists somewhere a selfie of Neymar expressing it, wearing a combination of hat and shades you haven't seen him in before.
There is only one post on Lionel Messi's 2-week-old Instagram account. It's a video of Messi meeting the Pope."
Those of us who watched the second leg of the Spanish Super Cup will have realised things are going to be… interesting at the Nou Camp this year. Second Captains' Ken Early wrote this great piece on Messi, Neymar and more before that.
2. "Dear Most Holy Chairman of the County Board,
I know you are probably inundated with letters from so-called fans now that we have reached the All-Ireland final. Obviously, you don't know me unless you remember that time I roared "you useless bollix" at you after our ignominious departure from the provincial championship last year. Or unless you've traced my IP address in order to discover who's been posting that stuff about you on message boards. But, look, that's all in the past now. I need to be in Croke Park and I deserve to be too. Why? Well, let me count the ways."
We've all — with a bit of luck — been there. Dave Hannigan on the hunt for an All-Ireland final ticket.
3. "And so here we are now, a year out from trial, and the open-and-shut case against Aaron Hernandez probably won't be as easy to prosecute as it seems. Without the gun used in the shooting, a persuasive motive or a witness to the crime and its planning, the state's chances of winning a conviction on murder in the first will depend entirely on circumstantial evidence. There's no shortage of that, of course, and much of it is compelling: the security tape seems to show Hernandez with the black .45 the night of the crime; the videotapes that track his car's movements, from the time he picked up Lloyd at his house in Boston to the second they entered the industrial park before the shooting; the shell casing recovered from the rental car that matched the ones found beside Lloyd."
This is probably one you should make time to read. Paul Solotaroff of Rolling Stone's story on the 'gangster in the huddle',  Aaron Hernandez. The former NFL star is facing murder charges and life behind bars.
4. "Shaw's workroom was about 20 feet from the men, who sat at a circular table. Through the window to the darkened bag room door, he could see them, but they couldn't see him. Shaw says he was "petrified" as he tried to remain completely still, worrying that the men would find him lurking there. Then Shaw heard something he'd keep secret for the next 40 years: Bobby Riggs owed the gangsters more than $100,000 from lost sports bets, and he had a plan to pay it back."
This one made plenty of headlines this week too. The story of tennis's battle of the sexes between Riggs and Billy Jean King on ESPN and questions over the event's integrity, many years later. What do you think?
5. "After a couple of years of harum-scarum goalfests between the big sides, Monday's meeting between Manchester United and Chelsea was a return to attrition. It's dangerous always to read too much into one game, but the indications are that defending is back at the top level of the English game — and it may be that that leads to improved performances in the Champions League. Many will suggest that is the influence of the return of Jose Mourinho, and it is true that he has no qualms about playing reactive football, but the stalemate at Old Trafford was just as much to do with the approach of David Moyes.
Jonathan Wilson sat through Monday night's United v Chelsea stalemate like many of us. And he broke down the managers' tactics for Sports illustrated afterwards.