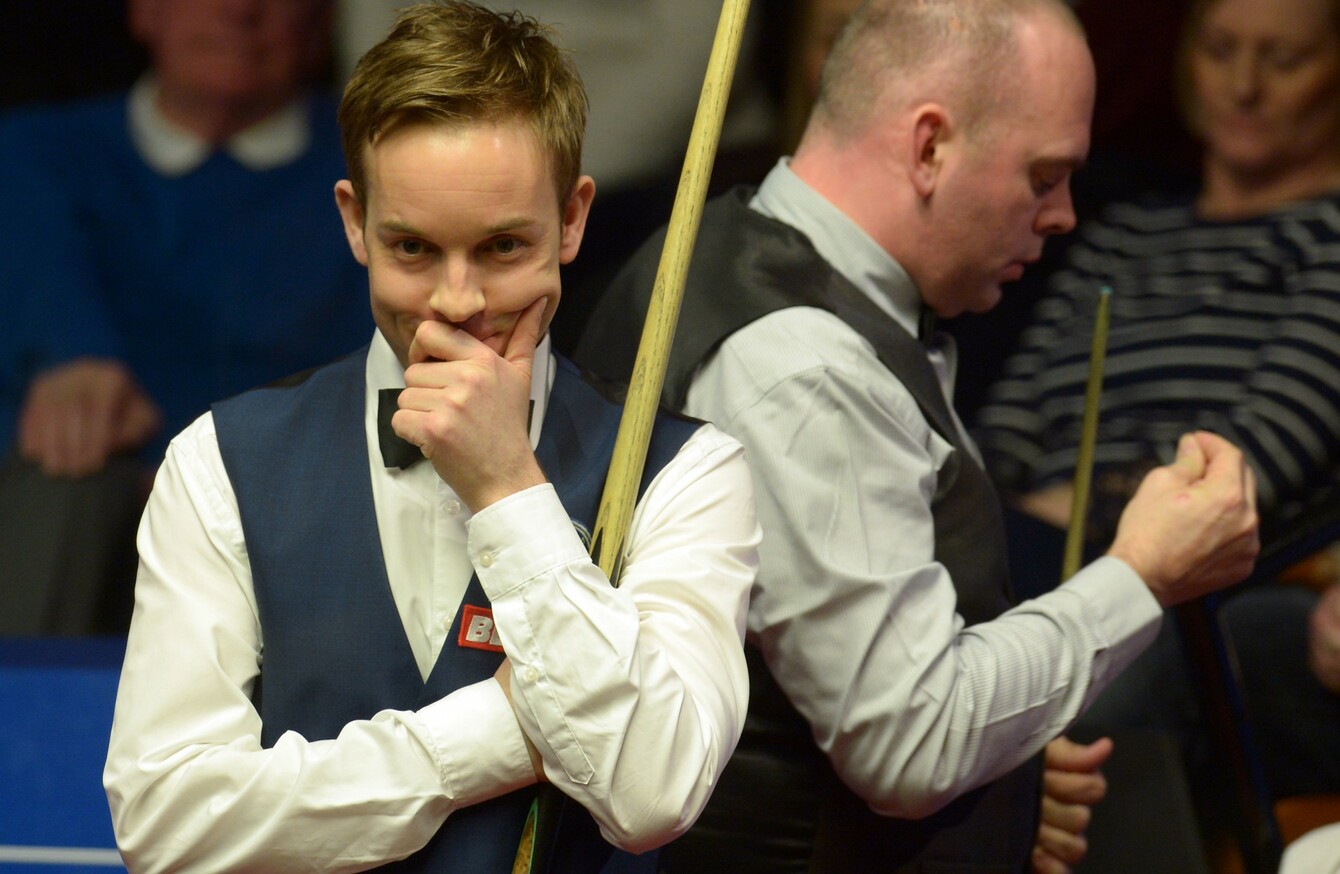 Image: Anna Gowthorpe
Image: Anna Gowthorpe
STUART BINGHAM SUFFERED the "curse of the Crucible" on Saturday after a 10-9 first-round defeat by Ali Carter meant that no first-time world champion has yet to win back-to-back global titles since the World Championship moved to the Crucible in 1977.
Meanwhile, Hong Kong's Marco Fu knocked Peter Ebdon out with a crushing 10-2 win.
Ebdon, world champion in 2002, was largely powerless as Fu made short work of victory at the Crucible Theatre in Sheffield, northern England.
Fu, a former semi-finalist, surged into a 6-2 lead over the Englishman during the first session thanks to breaks of 81, 111, 138, 84 and 50 before two contributions of 71 after the match resumed sealed a comfortable win.
"I didn't really expect to win 10-2 against Peter," Fu said.  "I'm playing much better this year than in previous years. I think there are at least 12 players who can win this tournament and I believe I'm one of them."
An impressed Ebdon added: "It's one of the best performances anyone's ever put up against me at the Crucible. "You have to think that if he could continue to play like that for the next two weeks he'll have every chance of winning the World Championship."
The 17 players who have succumbed to the "Crucible curse":
Terry Griffiths (WAL) (1979 champion): 1980, lost 13-10 to Steve Davis (ENG), second round
Cliff Thorburn (CAN) (1980 champion): 1981, lost 16-10 to Steve Davis, semi-finals
Steve Davis (1981 champion): 1982, lost 10-1 to Tony Knowles (ENG), first round
Dennis Taylor (NIR) (1985 champion): 1986, lost 10-6 to Mike Hallett (ENG), first round
Joe Johnson (ENG) (1986 champion): 1987, lost 18-14 to Steve Davis, final
Stephen Hendry (SCO) (1990 champion): 1991, lost 13-11 to Steve James (ENG), quarter-finals
John Parrott (ENG) (1991 champion): 1992, lost 13-12 to Alan McManus (SCO), quarter-finals
Ken Doherty (IRL) (1997 champion): 1998, lost 18-12 to John Higgins (SCO), final
John Higgins (1998 champion): 1999, lost 17-10 to Mark Williams (WAL), semi-finals
Mark Williams (2000 champion): 2001, lost 13-12 to Joe Swail (NIR), second round
Ronnie O'Sullivan (ENG) (2001 champion): 2002, lost 17-13 to Stephen Hendry, semi-finals
Peter Ebdon (ENG) (2002 champion): 2003, lost 13-12 to Paul Hunter (ENG), quarter-finals
Shaun Murphy (2005 champion): 2006, lost 13-7 to Peter Ebdon, quarter-finals
Graeme Dott (SCO) (2006 champion): 2007, lost 10-7 to Ian McCulloch (ENG), first round
Neil Robertson (AUS) (2010 champion): 2011, lost 10-8 to Judd Trump (ENG), first round
Mark Selby (ENG) (2014 champion): 2015, lost 13-9 to Anthony McGill (SCO), second round
Stuart Bingham (ENG) (2015 champion): 2016, lost 10-9 to Ali Carter (ENG), first round