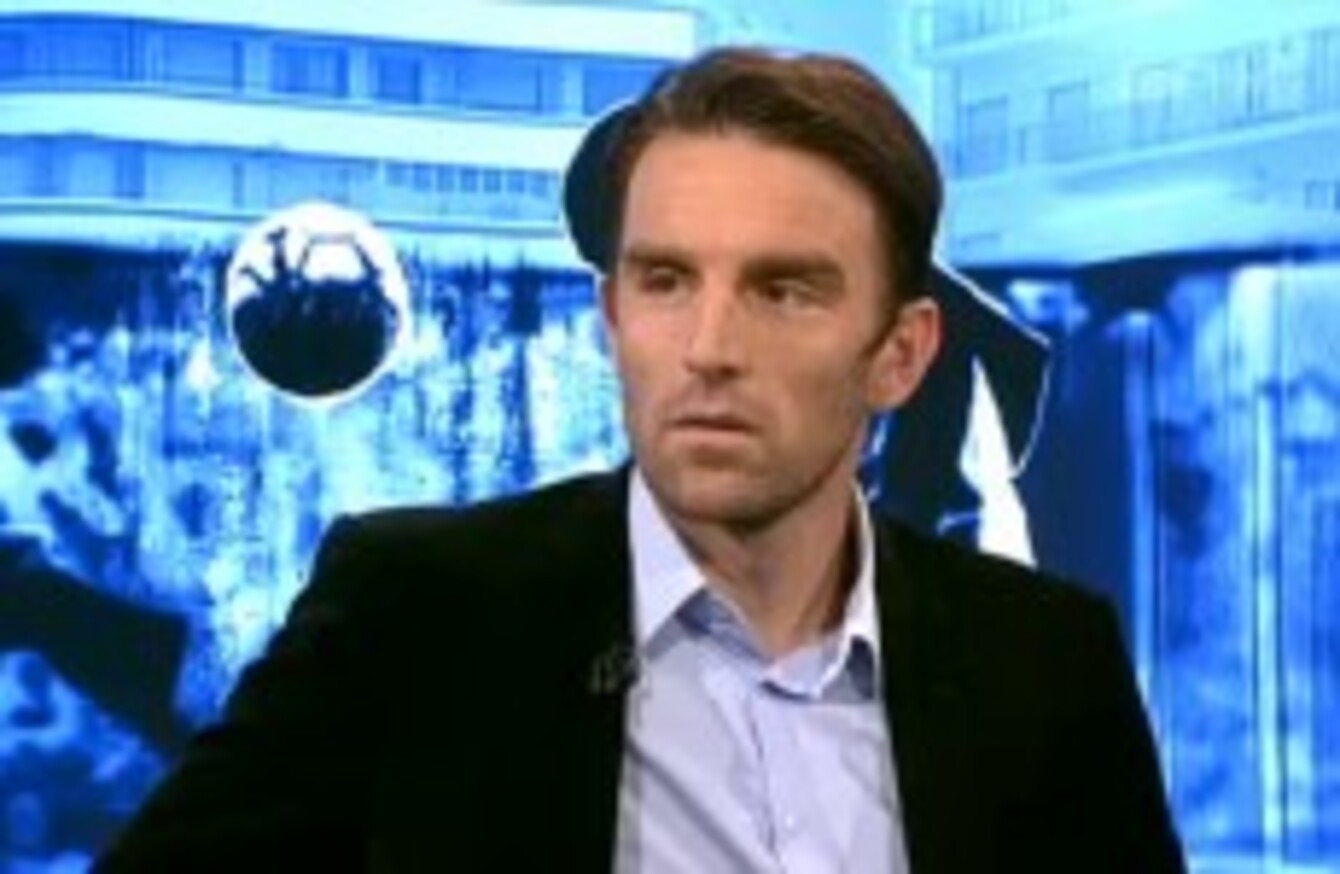 Byrne says he will don a St Pat's jersey on the MNS couch.
Image: RTE Player
Byrne says he will don a St Pat's jersey on the MNS couch.
Image: RTE Player
LEAGUE OF IRELAND fans will recognise a familiar face among the 15,000 runners expected to take part in tomorrow's Dublin Marathon.
Former Shelbourne midfielder Stuey Byrne is set to test himself in the 26-mile road race for the first time in the hope of raising funds for a worthy cause that is particularly close to his heart.
Since it was revealed that Drogheda United's Gary O'Neill had been diagnosed with testicular cancer back in September, the football community has been doing its bit to help the popular striker through his battle.
And, having played alongside O'Neill at Shels, Byrne will donate whatever he receives to his former team-mate.
"Gary is the kind of person that if you played with him you would become friends as he is a wonderful guy," Byrne told The Score. "We're both from Finglas, he has got a great attitude to life and makes you laugh.
"He's a terrific player too and not many players could separate a partnership like Jason Byrne and Glen Crowe.
"It's something I've always wanted to do and is on my bucket list. I couldn't do it when I was playing football as it generally clashed with the season run-in. Since retiring, I thought I would like to do it. I wasn't doing much about it over the last while and was just ticking over and keeping fit.
That changed when I heard about Gary. It really puts everything into perspective."
In early September, the 37-year-old upped his training schedule. As well as a 26km daily cycle to and from work, he has been getting in 22+km runs once a week.
As an added incentive, he has also promised to wear the jersey of old club St Patrick's Athletic live on air during RTE'S Monday Night Soccer if he reaches €2,000.
After Byrne questioned whether St Pat's had what it takes to win a title earlier in the season, the Saints players reminded him by posting this picture on Twitter last week:
Credit: Twitter/ConorKenna
"I deserve it, don't I," Byrne says. "I would have played with a few of them and I know what it takes to win a league title.
It is all part and parcel of it. You're dying to prove people wrong and when you do it's the best feeling in the world."
Is there any chance we will see him in a Saints shirt during the race?
"You have to get your gear right and there is no way I'm running that far in a heavy jersey. Maybe if I get €5,000 I'll do it!" he joked.
To contribute to Stuart's run, go to icharityu.com