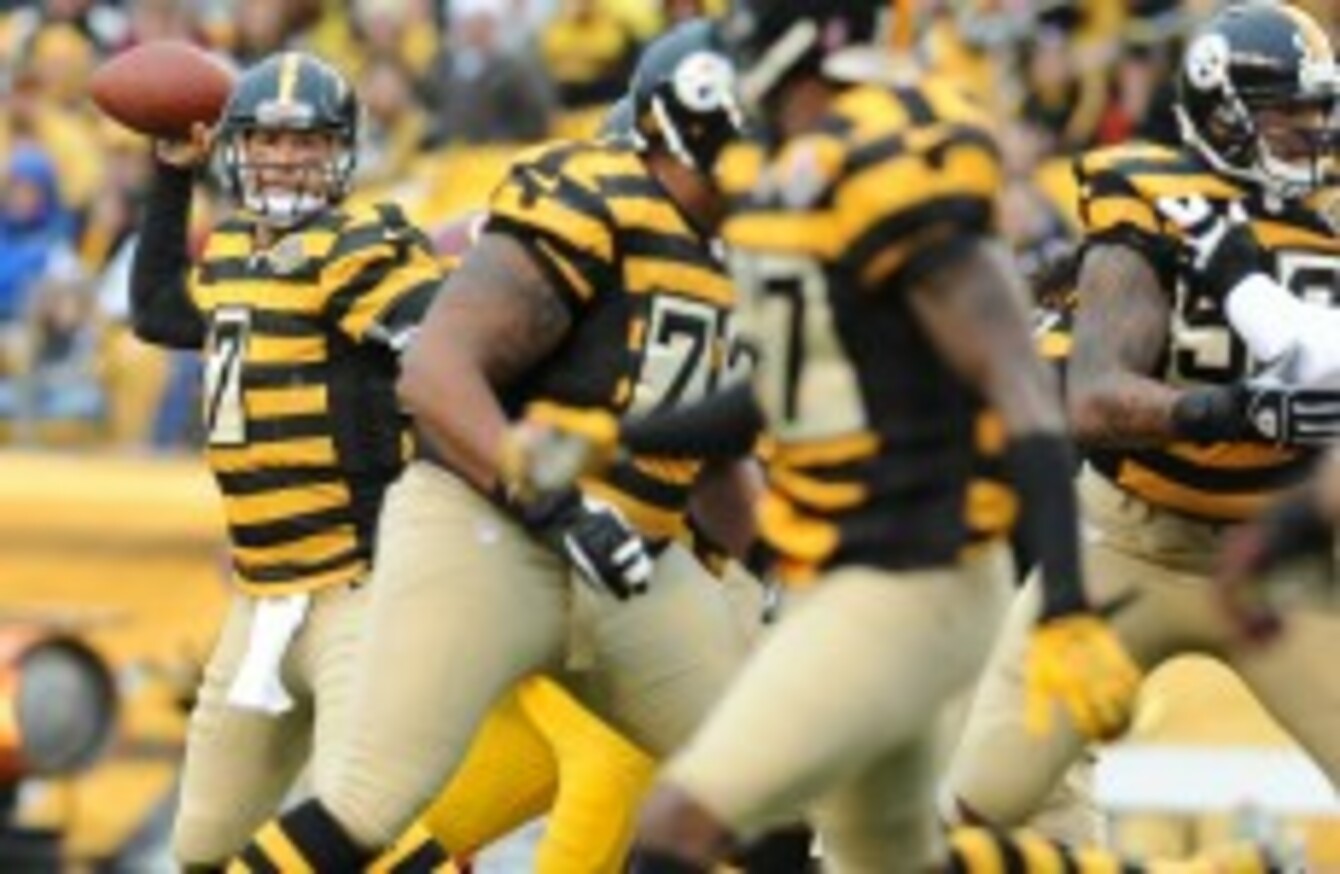 Pittsburgh Steelers quarterback Ben Roethlisberger (7) looks to throw down field against the Washington Redskins last weekend.
Image: Don Wright/AP/Press Association Images
Pittsburgh Steelers quarterback Ben Roethlisberger (7) looks to throw down field against the Washington Redskins last weekend.
Image: Don Wright/AP/Press Association Images
ON THE FACE of it, you wouldn't think golf and American football would have much in common.
However, as we enter November — when the evenings draw in, the leaves fall off the trees and shopping centres around the world ruin Christmas by playing 'Let it Snow' 38 times a day for two months — the NFL becomes very similar to a golf tournament.
Through the first couple of months, many teams have battled for the lead.
Some, like the Packers and 49ers struggled on the opening day but seem to be getting into the swing of things by round two. Conversely, others such as the Bengals and Cardinals looked potential winners in round one but have carded over-par rounds on day two.
Luckily for the Lions, Jets and Saints, this tournament has no cut. However, they're so far back it's very unlikely we'll be mentioning their name much over the weekend unless, of course, New York allows Tim, their caddy, to hit a few for the laugh.
And like Saturday is 'moving day' in golf, November is moving month in the NFL. Right now, a team that none of us have really been talking about, is getting set to make a charge to the top of the leaderboard.
There are a few potential contenders. The Bears, for example, are being overlooked by most pundits. The Raiders and Buccaneers might well figure too given their schedules. However, if I were the Falcons, Texans or Patriots, it's the Pittsburgh Steelers who I'd be expecting to put some red numbers on the board this month and put themselves right back in contention.
Pittsburgh Steelers @ New York Giants
You know the Giants will be up for this game. After the devastation of Hurricane Sandy, they'll want to give the people of the Big Apple something to smile about again; especially as the Jets aren't playing so they've nothing to laugh at.
However, this is a team that rank 24th in total defence and gave up a whopping 437 yards to Tony Romo, a man who looked like he didn't know what team he played for at one stage given the plethora of interceptions he threw. The fearsome front four, which ranked third in sacks last season with 48, have just 21 for the Giants through eight games this year (7th).
If they fail to get to Big Ben Roethlisberger and he has the time to find the likes of Antonio Brown, Mike Wallace and Heath Miller, even Eli's proven never-say-die attitude may not be enough. The Steelers will have to establish a run game with Jonathan Dwyer though and do much better than the Cowboys paltry 19 rushing yards last week.
Verdict: The emotions tied up in this game for New York make it really hard to call. It could work for them, it could work against them. That said, since the loss to the Titans, the Steelers look intent on winning out and making a playoff splash. Pittsburgh by 6.
Philadelphia Eagles @ New Orleans Saints
If you're a quarterback, and you've been handed one last game in which to save your career, you couldn't even dream that it would come against the league's worst defence. That, however, is exactly the situation Michael Vick finds himself in on Monday Night Football.
Given his past, it's not easy to feel sorry for Vick. That said, there is no way the Eagles' situation or 3-4 record are his fault. Nor were they  fault of former defensive co-ordinator Juan Castillo. No, all the Eagles' woes lay firmly at the feet of Andy Reid and his ridiculous play calling. I told you last week that if LeSean McCoy runs the ball more than 20 times the Eagles win. Reid called his name just 16 times versus the Falcons and they lost.
The Saints, meanwhile, are lucky to be even 2-5 and will be worried by the fact Drew Brees was held to just 213 yards on 42 throws last week against the Broncos. Even the return of Joe Vitt as interim head coach after suspension didn't help and the Saints really can't get Sean Payton back soon enough.
Verdict: The Saints are the second worst team in the NFL against the run, giving up 170.1 yards per game. If Andy Reid doesn't call McCoy's number 25 times in this one it's his future he should be considering, not Michael Vicks. Philadelphia by 3.
Tampa Bay Buccaneers @ Oakland Raiders
Going back to my golf analogy, this is like highlighting a guy on the third page of the leaderboard when Tiger and Rory are battling it out at the top but, a win this weekend, and both these teams suddenly become relevant again.
The Raiders have been a different team since the bye week and were unlucky not to hand the Falcons their only defeat of the season. If you look at the stats, both Carson Palmer and Darren McFadden look like they are having average seasons. However, McFadden will be key in this one and, coming off a season high of 114 yards last weekend, it's worth pointing out that the Raiders are 9-2 when he rushes for more than 100 yards in a game.
What makes this so intriguing is that the Buccaneers are at their best when defending the run, allowing just 3.5 yards per carry, tied for number one in the NFL. Their defence is undoubtedly helped by the fact they come up against Doug Martin in practise every day. The rookie had 214 yards from scrimmage and two touchdowns last week but with the Raiders giving up just 3.9 yards per attempt themselves, this makes for a fascinating battle.
Verdict: This is a must win for both teams if they are to have any chance of making the playoffs. The Raiders are 2-1 at home this year while the Bucs are just 1-2 on the road. That could be the difference here. Oakland by 3.
All fixtures and predictions:
Kansas City Chiefs @ San Diego Chargers – Chargers
Denver Broncos @ Cincinnati Bengals – Broncos
Baltimore Ravens @ Cleveland Browns – Browns
Arizona Cardinals @ Green Bay Packers – Packers
Buffalo Bills @ Houston Texans – Texans
Miami Dolphins @ Indianapolis Colts – Colts
Detroit Lions @ Jacksonville Jaguars – Lions
Chicago Bears @ Tennessee Titans – Bears
Carolina Panthers @ Washington Redskins – Redskins
Minnesota Vikings @ Seattle Seahawks – Seahawks
Dallas Cowboys @ Atlanta Falcons – Falcons