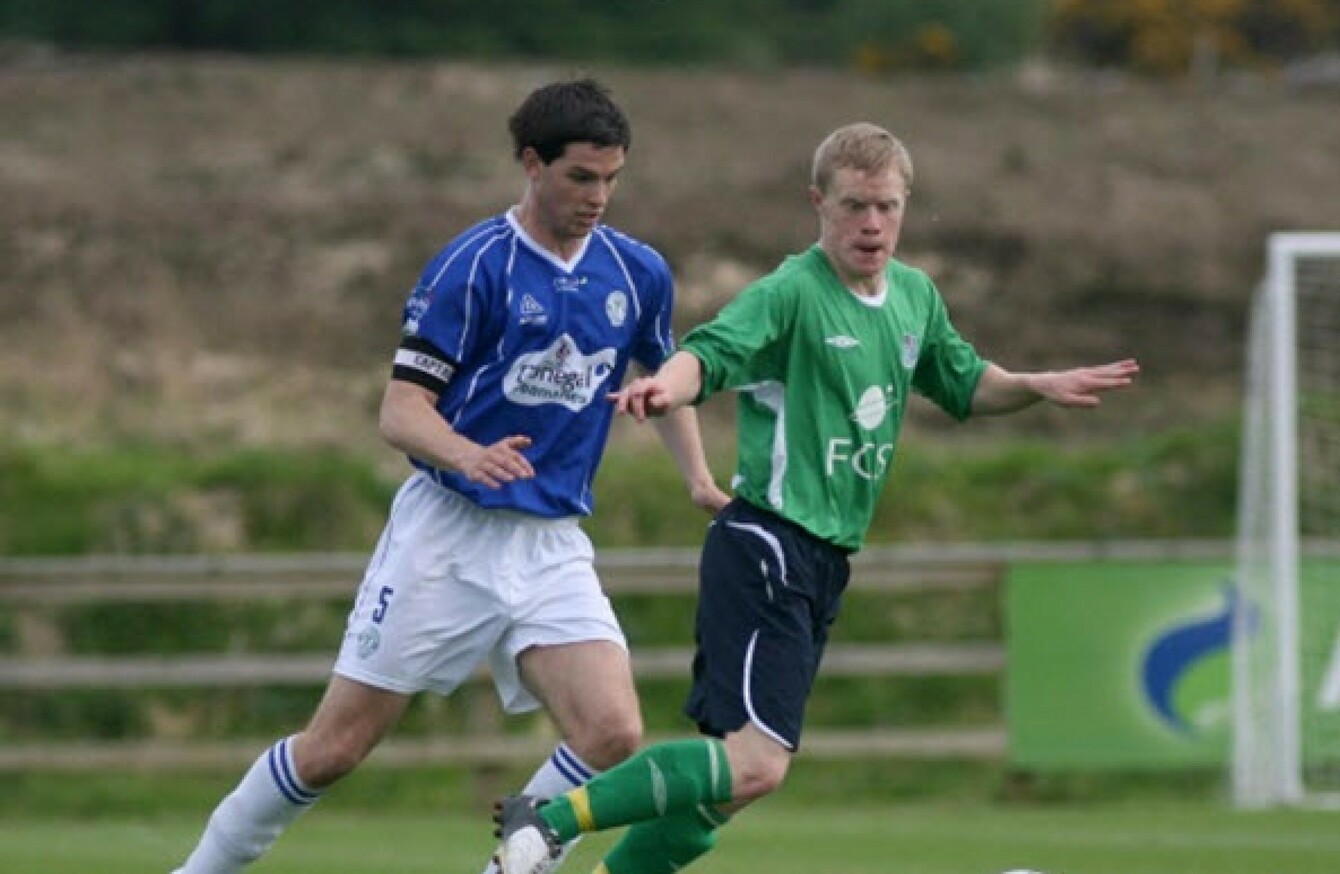 Daryl Horgan pictured during his younger days with Salthill Devon.
Daryl Horgan pictured during his younger days with Salthill Devon.
PETE KELLY WAS a proud man on Tuesday night.
"It's been my pleasure to watch Daryl Horgan since he was 8," he tweeted.
Kelly was in attendance at the Aviva Stadium as Horgan made his international debut from the bench in the 63rd minute of the Ireland-Iceland friendly.
Though the Galway native wasn't on the field too long, he certainly made an impression in the brief enough time he was afforded, with manager Martin O'Neill afterwards singling him out among the many debutants and fringe players as someone who had impressed.
The Aviva encounter continued what has been a remarkable journey for the 24-year-old, whose form with Dundalk last year prompted O'Neill, ahead of November's World Cup qualifier with Austria, to take the unusual move of calling both himself and Lilywhites teammate Andy Boyle up to the Ireland squad — a rarity for a League of Ireland player, especially in more recent times.
His stunning form with Stephen Kenny's side, in which he was among their most effective players in a memorable Europa League campaign, saw him help the club to win a third Premier Division title on the trot last year, before earning a move to Preston along with Boyle in the January transfer window. It was all part of a steady progression for Horgan — in his final four seasons in the League of Ireland, each campaign had ended with a nomination for either the young or senior PFAI player-of-the-year award.
The last 12 months could scarcely have gone better for the player that Kelly — a founding member of Galway-based football club Salthill Devon — remembers as a young child.
When Daryl was seven or eight, we would have run street leagues in Knocknacarra — he just lives up the road from there. He would have only lived about a quarter of a mile from where I am," he tells The42.
"My memory is of this little guy with a big shock of white-blonde hair, running around like crazy. It wasn't just running around — he had this phenomenal ability to dribble the ball. Even then he had an incredible engine… He would have always been the standout player."
While not the most physically imposing of footballers even then, Kelly — a long-time coach at Salthill Devon — was struck by the youngster's attitude.
He would have been one of the smallest guys in any team he played on, but that never seemed to be of any consequence.
"He was the sort of guy that he would never have had a wilful streak to the point where if he got chopped down by a bigger, stronger guy, because he had just made a fool of him, he'd just get up and play — he'd never throw tantrums on the pitch or anything like that.
That isn't to say he wouldn't get mad on the pitch if things didn't go right for him. But in the nicest possible way, he wasn't one of those toys-out-of-a-cot type of guys every time something went crazy, which is great — it made him a lot easier to play with and to deal with as a manager."
Horgan's small stature, Kelly believes, counted against him early on, meaning he was sometimes overlooked by coaches at the very elite level in his age group.
He was quite small. At that time, it depends who's looking at you. He wouldn't have made the Ireland U15 team — I was always astonished by that. He would have played in the Galway Cup here with an Ireland development squad, which would have been kind of like an U15 second string.
"When they picked the top 20 in the country, he was always in the next 20. But it never fazed him. We always had good underage teams in Galway, so we would have been challenging.
The group that he was with at underage level, we got to FAI Cup finals. We played St Kevin's in an Irish final in one of those age groups, and I'm pretty sure that Brady and Hendrick were playing for them, and they gave us a good thumping."
Before joining Preston, Horgan had been previously linked with a move to England. In between his stints at Cork and Dundalk, the winger had trials at Torquay and Barnsley. And even in his younger days, there was talk of a move across the water, though nothing ever came of it.
Perhaps, in hindsight, it was a blessing in disguise. Horgan didn't have to deal with the prospect of homesickness at a young age. He didn't get lost in the academy of a mega-rich Premier League club. He instead completed his Leaving Cert and was in the process of undertaking a teaching degree before opting to become a full-time player with Dundalk.
Though the fact that Horgan wasn't snapped up by an English side is still somewhat of a surprise.
"He wasn't in one of the big, pivotal positions," Kelly explains. "John O'Shea when he was a youth player was this big six-foot-two-inch centre-half, or young (Conor) Masterson that's at Liverpool now, or the goalkeeper from Cork (Caoimhin Kelleher) that's there.
They're standout players because they standout in very specific positions, whereas Daryl could play wide left, wide right, in the middle. There are tonnes and tonnes of those players and unless you are much better, then you're better off not going (to England) and just becoming a statistic.
"So I think it proved from his perspective that it was better to stay."
Source: CR's Video Vaults/YouTube
Kelly also feels Horgan's size and tendency to take risks and always try to beat players would have worked against him in some coaches' eyes.
Guys who pick players to go to other teams are only thinking about winning things as opposed to taking a player at 15 or 16 and saying: 'What is this player going to be like when he's 19?'
"They're thinking: 'Will I win the youth cup?' But in the scheme of things, who cares who wins the youth cup if your team (can later) get promotion from the Championship to the Premier League?
You have to indulge young players who are gifted. If you're going to put them out on the pitch, they'll always do well, but they'll get better.
"Some coaches are risk-averse. That's a problem for a player of that type of ability."
One other benefit of Horgan staying at senior level is the sheer amount of game time he got.
After a decade with Salthill Devon in the underage set-up, the winger made his senior debut with the club while still a teenager during their short-lived stint in the League of Ireland's First Division.
Since then, he has made 214 appearances at senior level in the league alone. While they have not been at the highest level, it is still a very impressive feat for someone who is still only 24.
By contrast, his Irish teammate Robbie Brady, at 25, is on 179. Jack Wilshere, also 25, has made 141 senior appearances, while Daniel Sturridge at 27 is on 179 appearances, and these include loan stints at weaker teams, even if they have been generally playing at much better levels than Horgan.
Unfortunately for Salthill though, because they are not a professional club, they did not receive any compensation for developing Horgan over the course of more than 10 years, aside from a "very modest" fee when he signed for Sligo Rovers in 2011.
That's the way it is, unless there is some kind of sell-on clause, which there wasn't," Kelly explains.
Still though, the thrill of watching Salthill's first-ever senior Ireland international was satisfaction enough.
There would be a bit of nervousness, but you just sensed the confidence that the guy has," Kelly says of watching him on Tuesday night. "He's gone to Preston and he's done so well in the first few weeks, because he had done so well for Dundalk. He doesn't play with arrogance, he plays with confidence. So when he came on, I was delighted I was there and it was just wonderful."
Horgan's "very level-headed" family would have been similarly ecstatic, especially given their strong footballing background. His father Tom actually coached Daryl for a few seasons at Salthill. His three younger brothers all came through the youth system there, while two of them — Colm, who is club captain at Galway United and Kevin, a goalkeeper at Shamrock Rovers — are currently on the books at League of Ireland clubs.
They are not the only ones to make the successful transition from Salthill at youth level to the League of Ireland, and in some cases, beyond domestic football. Former players include ex-League of Ireland star Colin Hawkins, a considerable number of current Galway United players including Vinny Faherty and Alex Byrne, and Joe Shaughnessy, who is currently plying his trade with St Johnstone in Scotland having previously spent a few seasons at Aberdeen.
However, both Salthill and another top Galway-based club, Mervue United, probably won't be able to hold on to players of Horgan's quality for so long in future. FAI High Performance Director Ruud Dokter's shake-up of the underage set-up will see an U15 league in place shortly in tandem with the already existing League of Ireland U17 and U19 competitions. Galway United will be the county's sole representative in these leagues, meaning all the best players at youth level in the area are set to end up there.
I'm not 100% sure if Galway United are ready for that," Kelly adds with a note of caution. "Ultimately, it's the right plan if the League of Ireland club is in good shape, then it's the absolute right thing to do.
"Essentially now, if there's going to be a good youth international in Galway, he's going to be playing for Galway United U17s.
From a career development point of view for the player, that may be the exact right thing to do. That's assuming the League of Ireland club would look after the player properly and that it works, but it's going to be a struggle for them I think."
The county has seen some exciting talent emerge in recent years. Stephen O'Donnell has become a key player with Dundalk, while Ryan Manning is an exciting prospect at QPR and Greg Cunningham was Preston's player of the year last season and remains on the fringes of the Ireland squad.
One player that the football community in the region is particularly excited about is Brighton's Aaron Connolly, who starred in Ireland's recent qualification for the UEFA U17 Championships Finals with seven goals and who certainly has the potential to go on to big things.
Nevertheless, despite the aforementioned positives, getting scouts' attention in Galway is not always easy. More than anything, Horgan's mentality and perseverance as much as talent got him to where he is currently, while players in general tend to have quite a small window of opportunity to impress the necessary people.
If you're scouting and I would have done a little bit myself at Ipswich academy, a big event is the Galway Cup every year. Daryl would have played in it a few years back and actually, he was one of the players of the tournament.
"So that's in August every year in Galway, which we run. That's a big event that the district league teams are all in. Scouts come and look at the players in that environment.
If you see a guy playing for Salthill or Mervue here in Galway and they're playing against a much weaker team, there's no point in a scout looking at a player in that game, because you would expect him to be dominant. It's when he plays for the inter-league team or is on an Ireland trial, in development or emerging talent squads, it's where you see the guy competing at that element where the pace is higher, the speed of thought is higher and the players he's playing with or against are much better. That's worth looking at because that's when you see how he adjusts. It's very easy to be a big fish in a small pond.
"It'd be the same in any district, even in Dublin to a certain extent, except with the Premier League U14 in Dublin, all the games are hard. There are a couple of guys who are outstanding out there, but it's still only a tiny percentage of them who are going to get into the international squad. It's a measure of how quickly guys can step up and how well they can compete at the next level up."
So for a player to even get to the level that Horgan is currently competing at in the Championship is a rarity. The winger's next step will be to follow in the footsteps of Rory Ginty, the first Salthill graduate to play in England. A winger like Horgan, he made a handful of appearances for Crystal Palace in the Premier League between 1997 and 1998 after making his debut off the bench as a 20-year-old against Liverpool.
Now coaching the U14s back at Salthill Devon, his experience abroad is the kind of cautionary tale that is sadly not unusual for young Irish footballers.
He had two seasons there and then when Terry Venables took over and brought in a bunch of players like (former Italy international Attilio) Lombardo, he (overlooked) all the young guys.
"He came back, he was going to play a bit of League of Ireland, but it didn't really work out for him. He picked up an injury. So he said 'sod it,' he went back to school and he now works with Aviva Group Ireland (insurance company) in their IT department. He coaches back at the club and he played in the Premier League, which is a big deal. He was the first guy (from Salthill) to play at that level.
I'd recommend him to any player aspiring to go down the professional route. Every 12-year-old thinks he wants to be a professional footballer.
"But it's about saying 'what are the good times and what are the bad times, what to look out for.'"
Stephen Folan, a young centre-back now playing at Galway United, also had what proved to be a disappointing experience across the water.
Stevie picked up a couple of bad injuries. He signed from Salthill Devon and I went over with him when he went over to get the initial contract offer, as did John Brennan who played in the League of Ireland for years but is also a product of Salthill Devon. He was coaching at the club at the time, he coaches the NUIG guys now. Our main thing that time was to go over and see the set-up at Newcastle United. Big Sam (Allardyce) was doing the first team at the time.
"I wanted to see from a Salthill Devon perspective: 'Is this a club that I'd recommend a kid to go to?' Just because they're a Premier League club, that doesn't necessarily mean it's somewhere you'd want to send your son. We needed to understand that he'd be properly looked after. We were there on behalf of his family.
So that's a long-winded way of saying that the same rule doesn't apply to every player (in terms of going away to England). There are some 16-year-olds that are very mature. They're level-headed – young Connolly at Brighton, he's smart enough to go. There might be another kid at the same age and you wouldn't let him go down to the shops for the paper.
"You couldn't send him away because it'd be like a death sentence, he'd make an idiot of himself.
Stephen got a two-year scholar and a one-year pro. At the end of that, he had picked up two consecutive injuries that kept him out for five-to-six months at a time. I think if he had been able to play through (the contract), he might still be at Newcastle. He had very bad luck.
"He did very well for Galway last year, he played one full year with Limerick. He's in Galway now again and if it's the full-time game, he'll embrace it, and if it isn't, he just wants to enjoy his football and get to play."
Such tales are a sobering reminder to any parent of an aspiring player that no matter how talented their child might be, there will inevitably be countless obstacles on the journey towards potential football stardom. They also make stories such as Horgan's all the more remarkable.
The42 is on Instagram! Tap the button below on your phone to follow us!