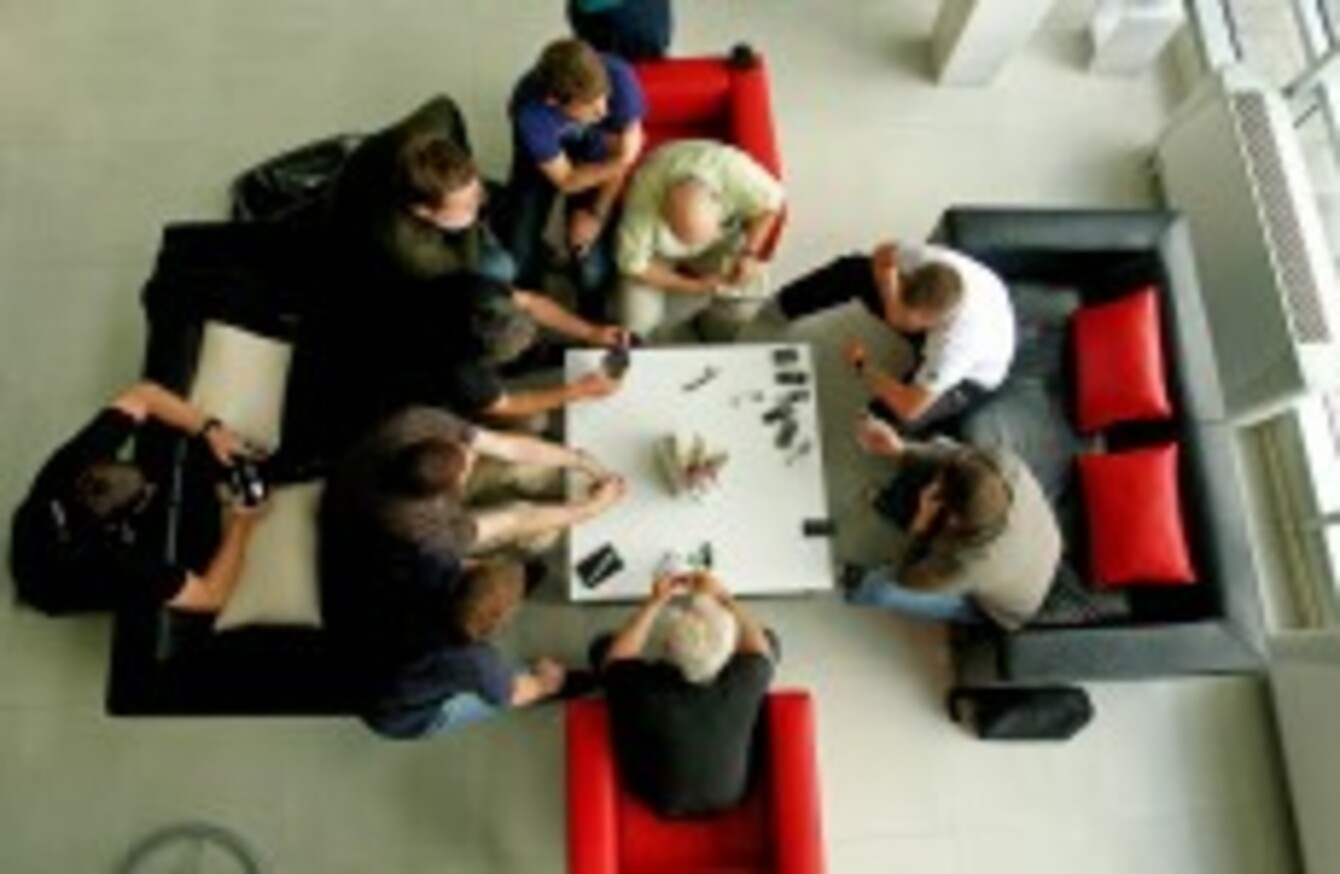 James McCarthy speaking to journalists in the Holiday Inn Hotel in Belgrade this week.
Image: NPHO/Donall Farmer
James McCarthy speaking to journalists in the Holiday Inn Hotel in Belgrade this week.
Image: NPHO/Donall Farmer
1. "Man, was he angry. It wasn't just his language, it wasn't even just his furious tone, it was the noise coming down the phone line and booming out of the speaker as he screamed and roared for 20 minutes. It was probably better that Jack O'Connor was in Kerry and I was sitting at home at my desk in Dublin because to be close to the manager may not have been safe at that point in time. At one stage I took the mobile away from my ear, laid it flat on the table and could still clearly hear every furious word bouncing around the room and into my punch-drunk mind."
Ewan MacKenna — friend of TheScore — bids farewell to departing Kerry boss Jack O'Connor at experiencemore.ie.
2. "Scott Paterno was the first in the family to understand that the Pennsylvania grand jury presentment that indicted Jerry Sandusky could end his father's career. This wasn't surprising; Scott tended to be the most realistic—or cynical, depending on who you asked—in the family. He had run for Congress and lost and along the way tasted the allure and nastiness of public life. He had worked as a lawyer and as a lobbyist. He would sometimes tell people, 'Hey, don't kid yourself, I'm the asshole of the family.' When Scott read the presentment, he called his father and said, 'Dad, you have to face the possibility that you will never coach another game'."
Joe Posnanski is one of my favourite writers and has appeared in this column many times. He's left Sports Illustrated in recent months however and is set to release a controversial biography of disgraced former Penn State coach Joe Paterno in the coming weeks. This excerpt from GQ might give some insight into it's tone and content.
3. "Imagine, for a second, that you are in a casino in Las Vegas. You have been in town for a few days, spent too much and slept too little, and recently found out the hard way that you are not as good at poker as you had thought. Now would be a good time to find a wager where the odds, like a tipsy bartender, are tilted in your favour. Here's a hint: find your way to the sports betting parlor. If you're in luck, the next Monday Night Football game listed on the board will be a matchup pitting a team from the West Coast against a team from the East Coast. For most gamblers, deciding which team to bet on comes down to factors such as hometown loyalty, the trend of the last few games, or which team is on the road. But there's a much easier way to beat the odds: just put money on the team from the West Coast."
Deadspin — God bless Deadspin — explain how sleep patterns benefit certain NFL teams. Good piece by David K Randall.
4. #G – Greatest Ever

On the morning of the 2010 All-Ireland hurling final (September 5th) the Sunday Times' Michael Foley (

@MickFoley76

) wrote "in so many ways, Kilkenny have no case to answer today. There is nothing to argue over; no questioning of their status as the greatest group of hurlers assembled to play the game. Winning five-in-a-row isn't required as a riposte to any doubt or slight inflicted on them. It would simply represent a wonderful adornment to an epic story: a tangible, visible expression of their greatness".

Kilkenny lost that final, but the 

Sunday Times

team remained convinced of their greatness and on July 10th 2011, in "The stuff of legends", Denis Walsh described the modern Kilkenny as the very "greatest". In a terrific feature the merits of Kilkenny were compared to Tipperary (1961-68), Cork (1941-47), Kilkenny (1971-75), Limerick (1933-40), Cork (1976-78), Wexford (1953-56), Galway (1985-90), Offaly (1994-2000) & Clare (1995-99).
Brian McDonnell previews his today's All-Ireland SHC semi-final with an A-Z of the Tipp/Kilkenny rivalry.
5. "Although he may be known by TV's younger demographic as the grumpy patriarch who tolerates his extended family's erection-pill schemes and publicity stunts on Keeping Up with the Kardashians, Jenner has mined a diverse career in his own right since his record-breaking decathlon win at the Montreal Games in 1976. The year after, the Kansas City Kings selected him as the 139th pick of the N.B.A. draft. Later, he appeared in the 80s disco movie Can't Stop the Music, guest-starred onCHiPs, pursued an auto-racing career, founded an aircraft-supply company, and has appeared on a smattering of reality shows".
When I die, maybe they'll write something similar about me. Vanity Fair catches up with some Olympians from the past, including Brice Jenner.