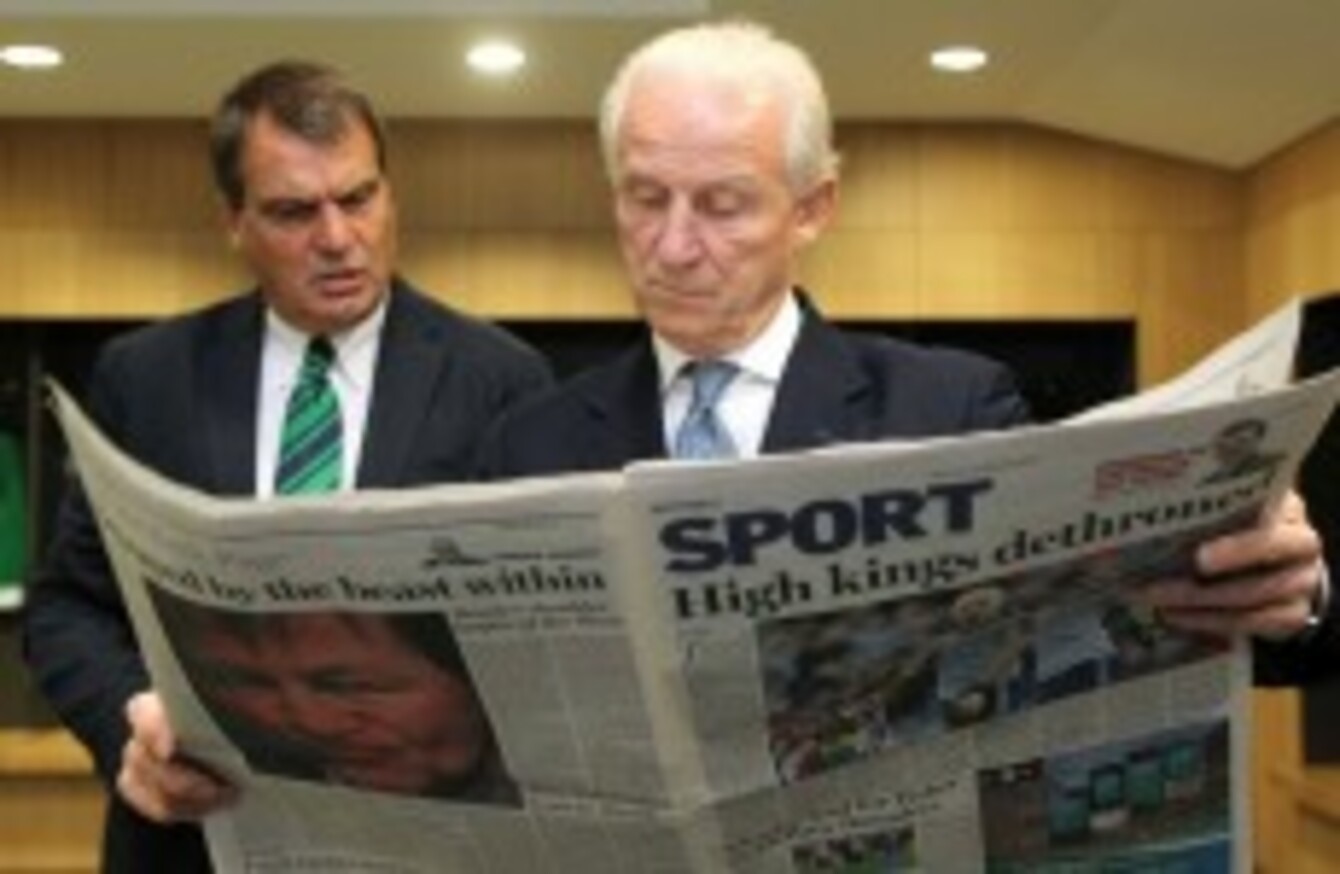 Trap and Marco know how to spend a Sunday morning.
Image: ©INPHO/James Crombie
Trap and Marco know how to spend a Sunday morning.
Image: ©INPHO/James Crombie
1. "Jay Paterno is in the basement bar of an Italian restaurant owned by a friend of his, pretending he's taking a shower. He's standing purposefully, uncomfortably close to the guy he's talking to, and one of his arms is raised, and he's pretending to soap his armpit, and he's saying that the showers in the football building aren't so cramped, that you wouldn't be forced so close together there. You can take a shower with somebody there and it wouldn't be like you were necessarily invading their personal space. It wouldn't be like that. And don't misunderstand him, he's not saying that terrible things didn't happen. That kids weren't probably hurt. And that that's not a tragedy. He's just saying that sometimes taking a shower is just taking a shower. That sometimes it's not a criminal act."
As the Jerry Sandusky trial opens in Pennsylvania, Esquire Magazine's Luke Dittrich goes back to the ruined blue and white footballing empire of Penn State University.
2. "His wife died, his son too, and then his father passed away. He got knocked down but he got up again. And again. And again. "I could," he said, "have shot myself or I could have carried on." So he carried on. He brought Sporting de Gijón back to the first division for the first time in a decade and kept them there for three seasons, somehow scrambling clear year after year. The axe hovered forever over his neck, glistening malevolently, but he took them to an improbable draw with Barcelona and a historic victory against Real Madrid, achieving what no coach had done in nine years and 151 games, beating José Mourinho in his own stadium- the same José Mourinho with whom he had a bust-up in the car park."

The sudden death of Manolo Preciado on the eve of his appointment as Villarreal manager stunned the world footballing community on Wednesday. In the Guardian last January, Sid Lowe wrote his final article on a man who was, in his words, " a survivor."
3. "'What was the coldest day you've ever spent in Croke Park?' is not a conversation you should be having at the start of June in the Croke Park press-box. But there we were on Sunday, discussing the 2006 All-Ireland club finals, and coming to some sort of agreement that the aforementioned occasion was the sort of day that would have prompted Tom Crean to say – 'right, that's it, time to open this pub I've been talking about.'"
It may (technically) be summertime but the Jones' Road press box is still stuck in the winter months, as TheScore.ie columnist Ciarán Murphy discovered in this week's Sideline Cut.
4.

"Len Boogaard also obtained pharmacy records for his son through various drugstore chains. They provided store-by-store accounts of Derek Boogaard's prescriptions, with dates, doctors, medications and dosages. After discovering the four-digit number used to identify Derek Boogaard to the drug-testing lab used by the N.H.L.'s substance-abuse program, Len Boogaard was sent his son's drug-test results. He obtained a stack of notes from Derek's stays at two California rehabilitation clinics. He had hundreds of pages of Derek's cellphone records. He organized the phone numbers of doctors and substance-abuse program officials to determine Derek's day-by-day contacts with them. He had Derek's bank and credit-card records, showing everything from fast-food purchases to binges of ATM withdrawals totaling thousands of dollars, believed to be used when Derek bought more painkillers from dealers."

The New York Times' John Branch wrote a brilliant three-part series on the death of NHL enforcer Derek Boogard last year. Now he's helping Boogard's father to trace the trail of his son's addiction to prescription drugs.
5. "Stately, trim Giovanni Trapattoni puts down his razor and surveys the face looking back at him in the mirror. He allows a brief moment, eye to eye, with his image and turns away. His heroic minute complete, he is ready to face the day with all the memories it will bring. The day is June 18, 2012, in just under 16 hours Italy play Ireland in Poznan."
If you need to psyche yourself up ahead of tonight's big game, read this piece by Nick O'Prey for Liverpool fansite The Anfield Wrap.
6.

"He was certainly the Next Big Thing [capital 

N

, capital 

B

, capital

T

] amongst the Irish rugby media. And why wouldn't he be? The guy was creating a huge stir in senior rugby as a teenager. This wasn't a case of a brilliant schools player looking phenomenal against kids his own age; this was a teenager absolutely tearing it up against some of the best players in the entire country."

Remember Jeremy Staunton? Rugby blogger Demented Mole looks at how Ireland failed one of the most talented players of his generation.
7. "Among the grand prix headliners was Michael Phelps, the 14-time Olympic gold medalist and one of the sport's wealthiest and most prominent athletes. There was Ryan Lochte, a two-time Olympian and seven-time college champion; there was the out-of-retirement Olympic veteran, Janet Evans; and there was Laure Manaudou, nicknamed the "French Mermaid," whose most popular images can be found by removing the parental block in your Google search settings. The most anticipated of the group, though, was the Regis Jesuit High School junior who held two world records, three world titles, and wore a purity ring on her left hand. To her coach, she was "Miss"; to her father, "The Missile"; but to everyone else, she was "Missy," as in: "Missy, can you sign my shirt?" or "Missy, can my daughter get a photo with you?" or "Missy, will you endorse our product?""
Missy Franklin likes texting, dancing in her basement, and having sleepovers with her friends from Regis Jesuit High School. She also happens to be the best female swimmer in the world, writes Robert Sanchez in 5280 Magazine.
8. "Of the 16 teams in this competition, Croatia are one of the hardest to define. They seem trapped between a few different ways of playing, and don't have a specific footballing identity. They are clearly not as good as the excellent side of 2008, despite retaining a few of the key players, and a hint of the same formation and style. The loss of Niko Kovac, the excellent holding midfielder, has never really been compensated for, and while their current defensive midfielder Tomislav Dujmovic is hard-working, he lacks the positional intelligence of Kovac. When that is combined with a centre-back duo that badly lacks pace, Croatia are forced into a much more conservative style than four years ago. Slaven Bilic's reputation has fallen sharply in that time, but he still has a chance to go out on a high before joining Lokomotiv."

Before tonight's game, make it your business to read Michael Cox's tactical preview of Croatia on Zonal Marking. And then read all of his other Euro 2012 material.