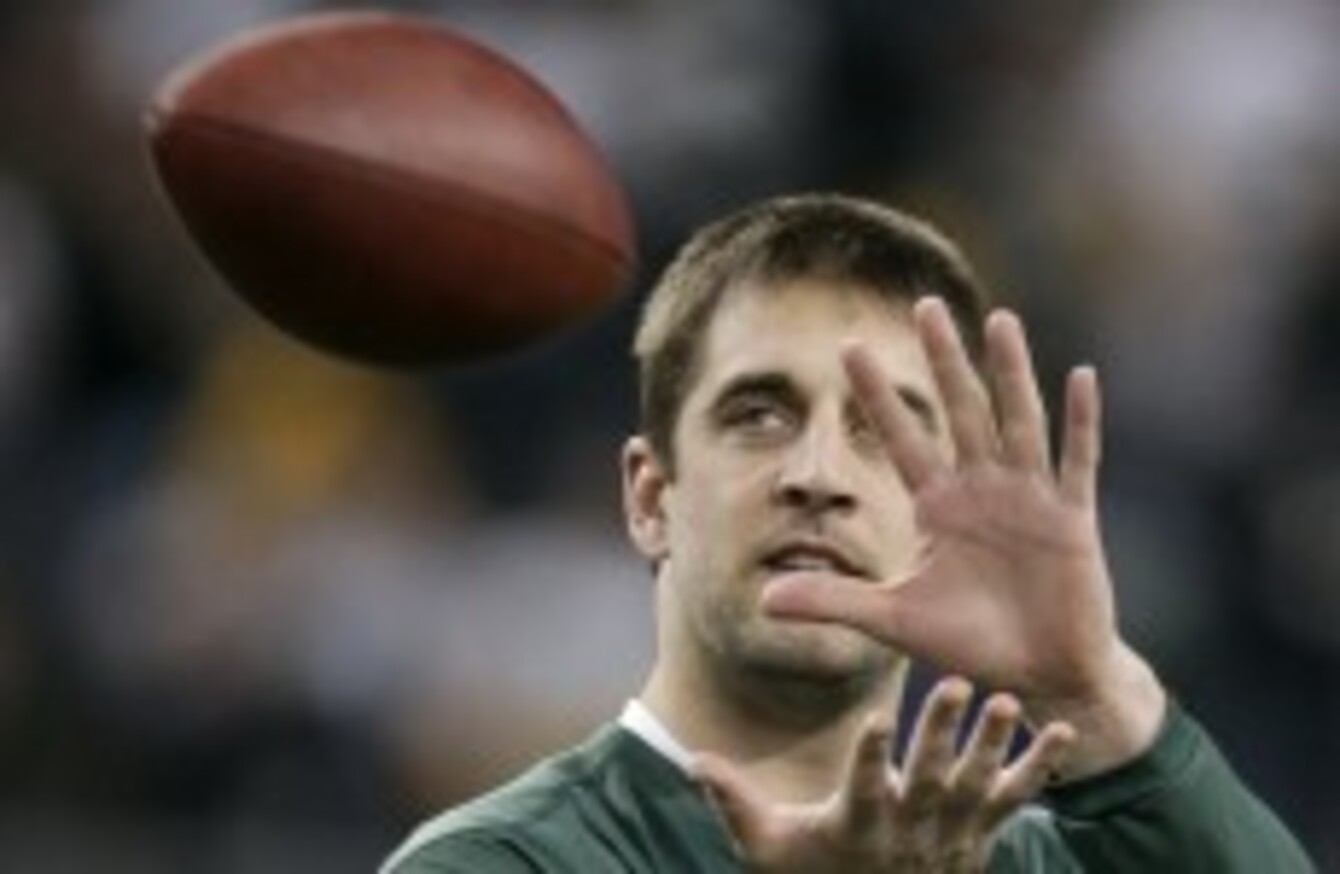 Can Aaron Rodgers steer the Packers to back-to-back Super Bowl titles?
Image: Matt Slocum/AP/Press Association Images
Can Aaron Rodgers steer the Packers to back-to-back Super Bowl titles?
Image: Matt Slocum/AP/Press Association Images
PERHAPS IT WAS the threat of the lockout spilling over into the regular season, but I can't remember as much excitement around the build up to an NFL season in quite some time.
For most teams, they have every right to feel optimistic. They may have a new coach, a new quarterback or, if you're the Eagles, a new team. Right now, regardless of whether you're the Carolina Panthers or the Denver Broncos, your record is equal to that of the Patriots or the Packers.
It won't last, of course, and pretty soon Raiders fans like myself will be wondering just why we bother with the late nights. But, for now, Jason Campbell has the same 2011 QB rating as Aaron Rodgers. That's really as good as it gets.
New Orleans Saints (0-0) at Green Bay Packers (0-0)
This will be the tenth edition of the NFL Kickoff Game and only once has a team that won the Thursday night opener gone on to win the Super Bowl that season.
The Packers come into this game with a whole host of players back from injury which many believe gives them a huge chance of repeating last year's success. However, they now have a target on their backs and this will be the first test of how their young squad can cope with being favourites.
While I don't expect the Saints to make a run to the playoffs this year, I do believe they've something to prove after last year's embarrassing wild card loss and that will include a fast start and the first away win in the Kickoff Game since 2002
Verdict: Saints by 3
Detroit Lions (0-0) at Tampa Bay Buccaneers (0-0)
There are a huge amount of people jumping on the Lions bandwagon but, as regular readers of this column will know, I've been waxing lyrical about Detroit since the middle of last season.
This game features two of the best young QBs in the game in Josh Freeman and Matthew Stafford and for the Lions, their offensive line needs to keep the latter on his feet if they are going to match my playoff expectations.
The Bucs were the most improved team in the NFL last year and harbour playoff ambitions of their own. In Freeman, they have the closest thing to Michael Vick outside Philadelphia.
Verdict: Lions by 6
Pittsburgh Steelers (0-0) at Baltimore Ravens (0-0)
It's always more interesting when two teams genuinely hate each other and that's certainly the case in this AFC North match-up.
In my season preview yesterday, I predicted the Steelers would miss out on the postseason this year. Key to that is two losses against the Ravens this year. If they win this, the North is wide open again.
For the Ravens, Joe Flacco needs to ensure he finishes the game with no interceptions. It's hard enough to beat the Steelers without beating yourself. To many Ravens fans the Steelers have cost them two Super Bowl wins, reason enough for revenge.
Verdict: Ravens by 7
Other Fixtures and winners
Atlanta Falcons at Chicago Bears – Falcons
Buffalo Bills at Kansas City Chiefs – Chiefs
Philadelphia Eagles at St. Louis Rams – Eagles
Indianapolis Colts at Houston Texans – Texans
Cincinnati Bengals at Cleveland Browns – Browns
Tennessee Titans at Jacksonville Jaguars – Titans
Carolina Panthers at Arizona Cardinals – Cardinals
Minnesota Vikings at San Diego Chargers – Chargers
Seattle Seahawks at San Francisco 49ers – 49ers
NY Giants at Washington Redskins – Giants
Dallas Cowboys at NY Jets – Jets
New England Patriots at Miami Dolphins – Patriots
Oakland Raiders at Denver Broncos – Raiders
Steven O'Rourke is the Offensive Co-ordinator of Tullamore Phoenix American Football Club, winners of the IAFL DV8s national title in 2010 and 2011. Tullamore are always recruiting new players so, if you'd like to play football and not just read about it, Steven would love to hear from you.