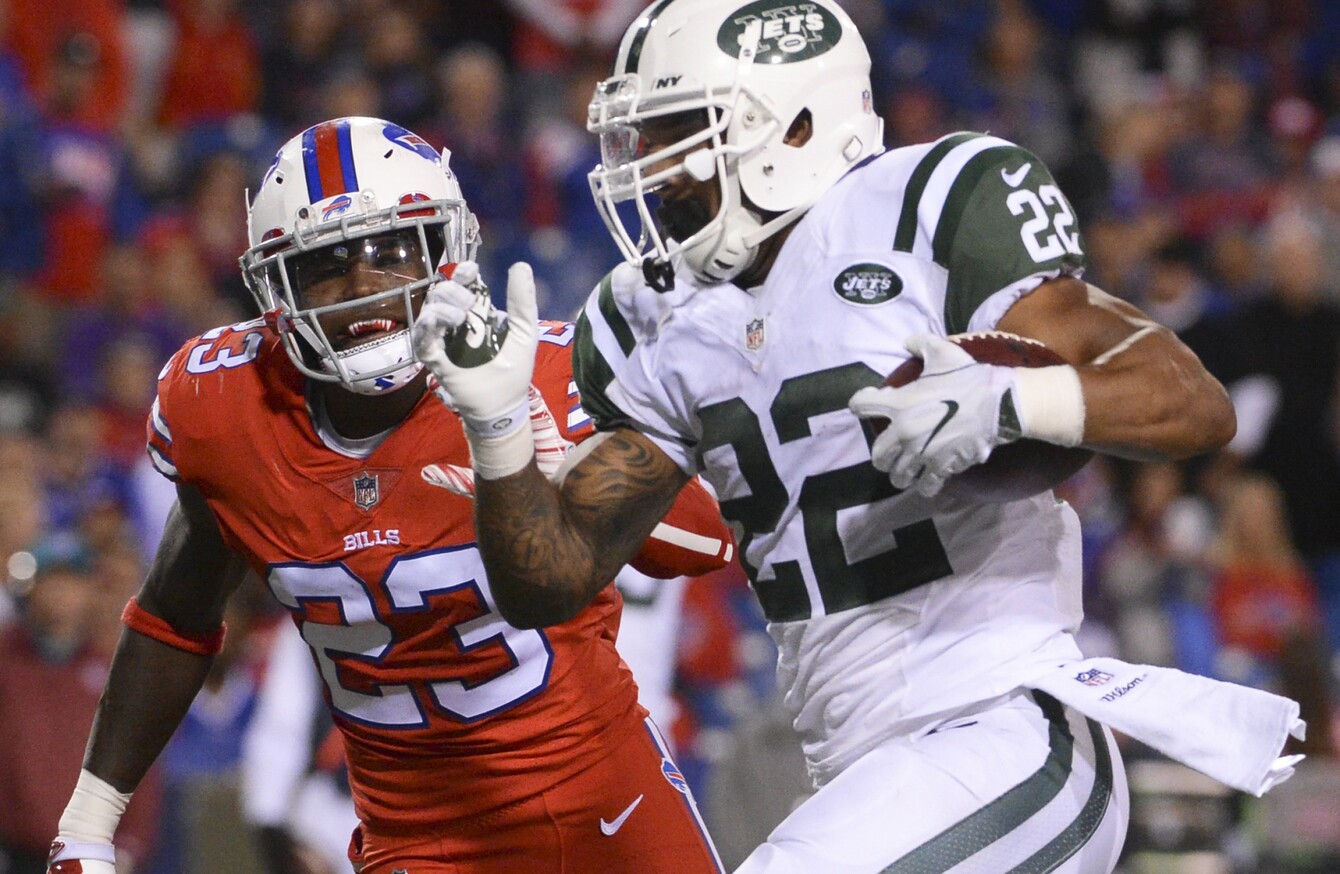 Matt Forte runs in for one of his three touchdowns.
Image: Adrian Kraus/AP/Press Association Images
Matt Forte runs in for one of his three touchdowns.
Image: Adrian Kraus/AP/Press Association Images
THE NEW YORK Jets turned the page quickly on a slow start, rebounding from a disappointing first-week loss with a 37-31 victory over the winless Buffalo Bills on Thursday.
Just four days after a season-opening 23-22 loss to Cincinnati, the Jets captured their first win of the season in a match-up of two AFC East Division rivals.
Matt Forte rushed for 100 yards and three touchdowns to help the Jets snap a four-game losing streak to Buffalo which included a loss in the final week of the 2015 season that knocked them out of National Football League playoff contention.
"It was a big game," said Forte. "Coming back after a close game last week, to come back and get a win here in a hostile environment against a division rival is huge. It was a must-win."
Jets quarterback Ryan Fitzpatrick completed 24-of-34 passes for 374 yards and a touchdown against his former team. Fitzpatrick threw for more yards than he compiled in the January 2 season finale (181) and last week's season-opening loss to the Bengals (189).
Eric Decker caught six passes for 126 yards and a touchdown and Brandon Marshall made a half dozen catches for 101 yards in front of a crowd of 70,200 at New Era Field in Buffalo, New York.
Quarterback Tyrod Taylor passed for a career-high 297 yards and three touchdowns, but also threw an interception as Buffalo dropped to 0-2 for the first time since 2010 when they lost their opening eight matches.
Forte's third touchdown of the contest on a 12-yard run stretched the Jets' lead to 13 points with 4:02 left in regulation.
The Bills got within a touchdown on Mike Gillislee's 18-yard scoring pass from Taylor with 77 seconds left.
Marshall recovered the Bills' onside kick attempt and Forte ran the clock down to 10 seconds before the Bills got the ball back. A pass got the Bills to midfield but they ran out of time.