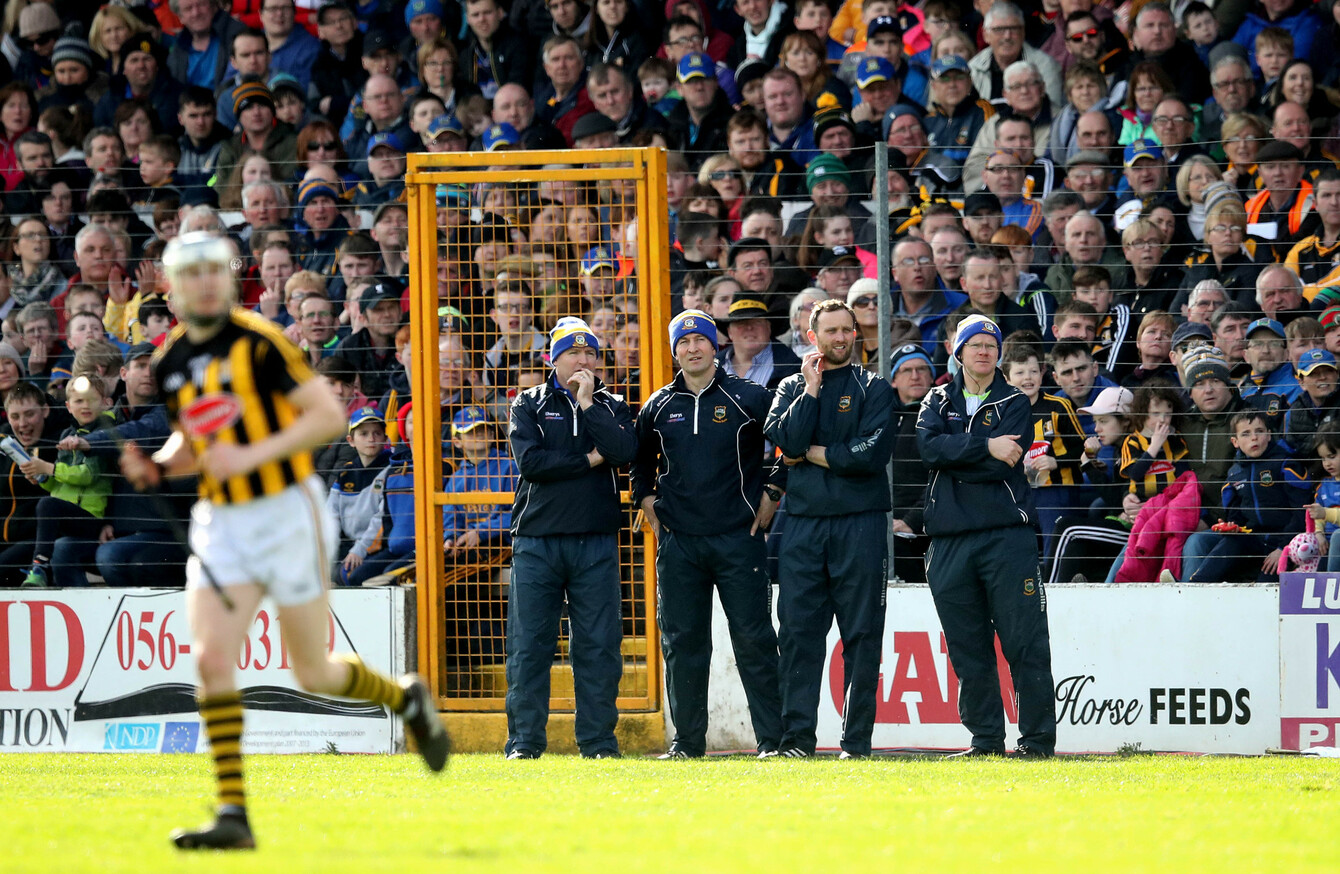 The Tipperary management watch on during yesterday's clash with Kilkenny.
Image: Ryan Byrne/INPHO
The Tipperary management watch on during yesterday's clash with Kilkenny.
Image: Ryan Byrne/INPHO
IT IS A familiar feeling for Tipperary hurling and their current sideline leader.
Five times since 2009 they have closed out the league with a defeat in the final, Kilkenny their conquerors on four occasions.
In various roles Michael Ryan has been at the coalface with Tipperary during those defeats, working alongside Liam Sheedy and Eamonn O'Shea before assuming the managerial reins for their last two league final outings.
Last April he termed the 16-point hiding they suffered against Galway as 'the worst performance' during his time at the helm. After shipping a league decider loss for the second time in less than a year, Ryan did not deliver such sharp criticism yesterday. He was keen to point out that 2017 was 'a non turn up' and that in 2018 they had created a contest in the opening half.
But the problem for Tipperary lay in their second-half production and the myriad of doubts it now creates.
They were outscored 1-9 to 0-4 in the third quarter as Kilkenny exerted a stranglehold on this encounter. They were obliterated on their own puckout, sourcing possession from only three of the 17 that Darragh Mooney delivered in the half.
And they did not sufficiently penetrate in attack. A goal from the opportunity that saw John O'Dwyer's 40th minute snap shot saved by Eoin Murphy may have altered the course of the encounter but hitting only a point from play and striking a single wide was proof of Tipperary's difficulties in the second half.
The home fans raised the decibel level when Conor Fogarty's goal clinched Kilkenny's victory but while Tipperary did manage to halt the scoring concession then and snatch a goal through Jason Forde, the eventual six-point loss left them with plenty to ponder in terms of their selection.
The manner in which Walter Walsh ran amok in the second half and made life so uncomfortable for James Barry raises the question as to who Tipperary will select in their full-back line and how they will seek to protect their inside rearguard.
Is Michael Breen, a forceful and commanding number three as a minor in 2012 and U21 in 2015, an option worth exploring? Can they afford to take Padraic Maher away from the heartbeat of their team in the half-back line?
In goal Tipperary were long accustomed to assurance as Brendan Cummins lengthy career was followed by a spell of Darren Gleeson standing between the posts. But that experience has been removed with Darragh Mooney, Brian Hogan and Paul Maher all auditioning this spring and it will be a new era whoever Ryan entrusts with the responsibility this summer.
In attack Jason Forde and John McGrath demonstrated their telepathic understanding when they combined for that first-half goal yesterday. Forde has looked a rejuvenated figure this year with 2-12 bolstering his sizeable league scoring tally further and McGrath's threat is always evident.
Apart from that duo Tipperary's attack lacked a killer touch yesterday. They have players like Seamus Callanan and Noel McGrath to return to add scoring qualities with Patrick Maher, Dan McCormack and Niall O'Meara all capable of solving the ball-winning dilemma that they were presented with against Kilkenny.
But managing their schedule over the next six weeks will be important though as they return from injury, face club assignments and seek to regain their sharpness before Tipperary fire their opening shots in Munster against Limerick on 20 May.
In the aftermath yesterday Ryan returned to the theme of how testing the new provincial format will be. He's seen Tipperary teams slump to championship opening defeats after these league final losses before – undone by Limerick in 2013 and 2014 and then staved off by an emerging Cork side last May.
The knockout element may be removed in Munster yet the Limerick tie is the start of an intense schedule before 10 June.
It's only eight months since Tipperary lost to the eventual All-Ireland champions by a wonder Joe Canning score and nineteen months since Tipperary were sweeping Kilkenny aside on a September Sunday.
The memory of those feats should insulate Ryan from undue criticism and a fully stocked panel will give him a stronger hand to play with.
But turning things around after damaging league final losses is not straightforward. Ryan has been down this road before with the Tipperary hurlers and knows more than most how challenging it can be.
The42 is on Instagram! Tap the button below on your phone to follow us!