Liveblog
Result
All-Ireland senior football Super 8s
Dublin 1-14 Tyrone 0-14
*********************************
Evening all and welcome to a massive night of Gaelic football action. When the Super 8s was introduced, these were the sort of occasions that fans and players alike looked forward to. Two of the marquee teams in the game facing off in a provincial venue. It's All-Ireland champions Dublin on the road, heading into Healy Park, the home of Tyrone football. Throw-in at Omagh is 7pm and we'll be counting down to the action.
The fans have landed early and the players are also in Healy Park.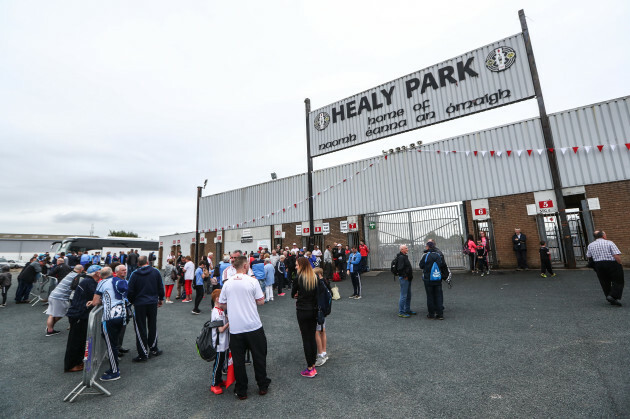 Source: James Crombie/INPHO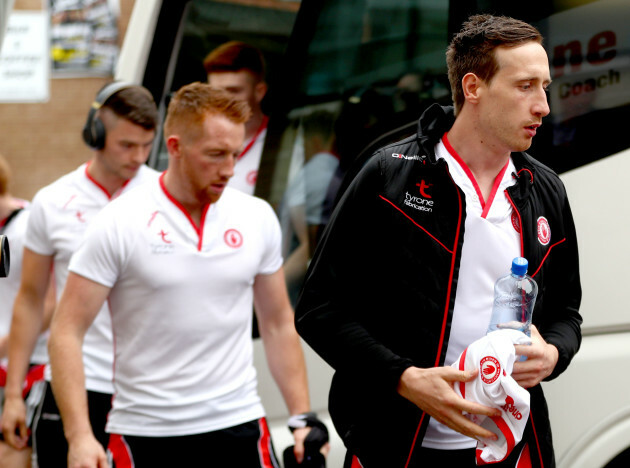 Source: James Crombie/INPHO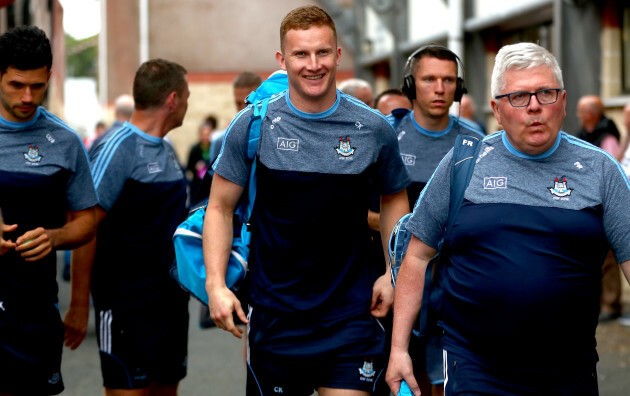 Source: James Crombie/INPHO
Tyrone selected their team on Thursday night and there was one enforced change in the side they announced with Hugh Pat McGeary into the defence for Cathal McCarron.
Tyrone
1. Niall Morgan (Clonoe)
2. Michael McKernan (Coalisland)
3. Ronan McNamee (Aghyaran)
4. Hugh Pat McGeary (Pomeroy)
5. Tiernan McCann (Killyclogher)
6. Frank Burns (Pomeroy)
7. Peter Harte (Errigal Ciaran)
8. Colm Cavanagh (Moy)
9. Padraig Hampsey (Coalisland)
10. Mattie Donnelly (Trillick)
11. Niall Sludden (Dromore)
12. Conor Meyler (Omagh)
13. Cathal McShane (Eoghan Ruadh)
14. Richard Donnelly (Trillick)
15. Connor McAliskey (Clonoe)
Dublin announced a starting side today which stated Philly McMahon and Paddy Andrews would play instead of Eoin Murchan and Jack McCaffrey.
There'll be no surprise if there's changes to that line-up, we'll keep you posted.
Dublin
1. Stephen Cluxton (Parnell's)
2. Michael Fitzsimons (Cuala)
3. Cian O'Sullivan (Kilmacud Crokes)
4. Philly McMahon (Ballymun Kickhams)
5. Brian Howard (Raheny)
6. James McCarthy (Ballymun Kickhams)
7. Jonny Cooper (Na Fianna)
8. Brian Fenton (Raheny)
9. Michael Darragh Macauley (Ballyboden St Enda's)
10. Niall Scully (Templeogue Synge Street)
11. Ciarán Kilkenny (Castleknock)
12. Con O'Callaghan (Cuala)
13. Dean Rock (Ballymun Kickhams)
14. Paul Mannion (Kilmacud Crokes)
15. Paddy Andrews (St Brigid's)
Dublin are in the ascendancy in the recent history between this pair after that 2-17 to 0-11 success in last year's All-Ireland semi-final in Croke Park while Tyrone also fell to defeat in the league last February, 2-13 to 1-11 the result on that occasion.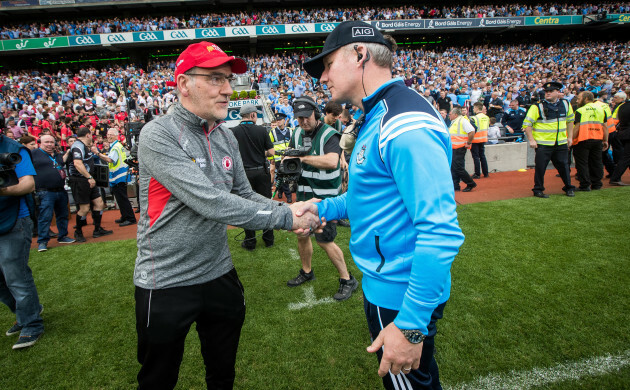 Mickey Harte and Jim Gavin shake hands after the All-Ireland semi-final last August. Source: Ryan Byrne/INPHO
So as expected we've had some late Dublin changes. Looks like Jack McCaffrey, Eoin Murchan and John Small in for Michael Fitzsimons, Michael Darragh MacAuley and Paddy Andrews.
No late changes for Tyrone. The referee for this one is Meath's David Coldrick.
Right we're closing in on throw-in, hopefully this will be a cracker after the underwhelming fare in Croke Park last Saturday when both triumphed. Let's see how this unfolds.
Plenty Dublin supporters have descended on Omagh for this novel fixture.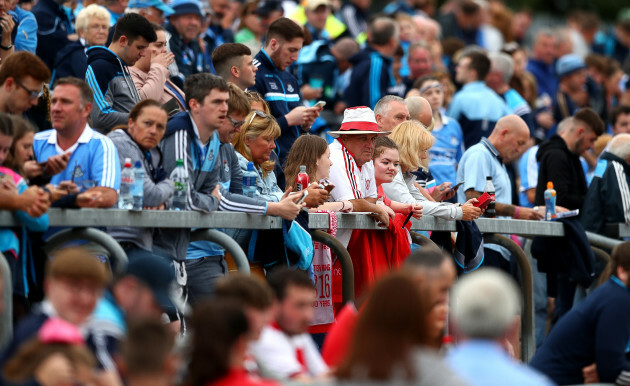 Source: James Crombie/INPHO
First scoring chance after Mattie Donnelly's run sets up Richie Donnelly but his shot doesn't curl in enough to register a point for Tyrone.
Dublin 0-1 Tyrone 0-0
And the first point of the day is supplied by Dean Rock, capping off a patient passage of play from Dublin.
Second wide of the day for Tyrone, Niall Sludden knocking it off target after he shoots from the right wing.
Tyrone 0-1 Dublin 0-1
All square. Cian O'Sullivan puts in a heavy challenge on Tiernan McCann and the resultant free is pointed by Peter Harte.
It's as cagey and cautious as we expected so far. Both sides well set up at the back and depriving attackers of space.
Tyrone 0-2 Dublin 0-1
And now Harte scores from play. It's a lovely shot with his right but credit to Ronan McNamee for his support run in injecting pace into that Tyrone attack.
Mickey Harte and his coaching sidekick Gavin Devlin. Source: Ryan Byrne/INPHO
Tyrone 0-2 Dublin 0-2
It's level once more, Dean Rock popping over a simple close-range free.
Chances at both ends. Ciaran Kilkenny's shot off balance hits the post, unlucky not to register a point. Then a great block by Jonny Cooper halts Connor McAliskey's attempt to point.
Another point attempt is denied by the upright. This time's McAliskey from a free for Tyrone. Midway through the first half, the teams are level and defences on top so far.
Dublin 0-3 Tyrone 0-2
There's a point from play and it's a great individual effort by Jack McCaffrey. He slipped past a couple of Tyrone challenges when it looked like they had him covered, ran into space and kicked over in a composed fashion.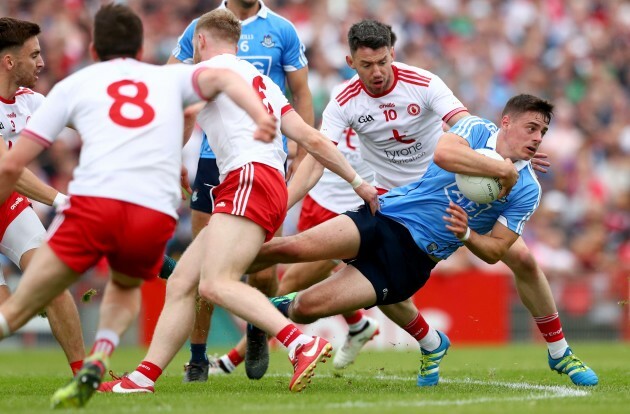 Dublin's Brian Howard is swarmed by the Tyrone rearguard. Source: James Crombie/INPHO
One thing is evident anyway, Tyrone don't want a repeat of last year's game in Croke Park where they fell behind early on and were chasing the game as Dublin sprinted clear.
Tyrone 0-3 Dublin 0-3
And Tyrone get a point of their own from a marauding wing-back. Tiarnan McCann gets by Paul Mannion are stepping in off the left wing and he points.
Dublin 0-5 Tyrone 0-3
What a superb score by Brian Howard! The Raheny man gets away from the cover and slots over a point. Then Tyrone win the kickout and there's half a goal chance as the ball is punted into space for Cathal McShane but Paul Mannion gets back to make a brilliant dispossession. Another point for Dublin from deep by Philly McMahon and they're two to the good now.
Dublin 0-6 Tyrone 0-3
Rock hoofs a free wide from distance but the play is called back for a discretion spotted by referee David Coldrick and he gets another placed ball closer to goal. He makes no mistake on this occasion and a gap is developing on the scoreboard.
Dublin 0-6 Tyrone 0-4
That is such a good point from Frank Burns, jinking in and lofting over a shot after a fine break by Tiarnan McCann. Tyrone needed that.
https://twitter.com/Laura_Fitzer/status/1020734246422499329
Key tackle at the other end by Colm Cavanagh to rob Con O'Callaghan of the ball as he surged through. Should that have been a free? It looked a borderline challenge but Tyrone get away with it.
Dublin 0-6 Tyrone 0-5
And Tyrone avail of that break as Michael McKernan bombs over a great point! Suddenly this game is heating up.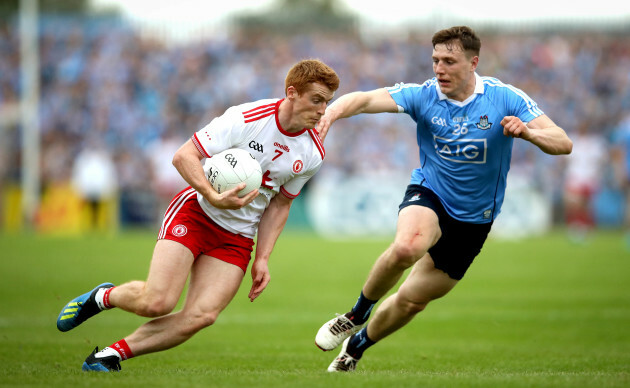 Tyrone's Peter Harte and John Small of Dublin. Source: Ryan Byrne/INPHO
Dublin 0-7 Tyrone 0-5
Dublin hit back with a point and it's a fine effort by John Small. Two in it as we approach half-time.
Sub: Ronan McNamee forced off through injury for Tyrone, in comes Rory Brennan. That'll prompt a positional reshuffle in the Tyrone team.
Half-Time: Dublin 0-7 Tyrone 0-5
Right we'll grab a break after that. It's tight and tense, Dublin just about edging it.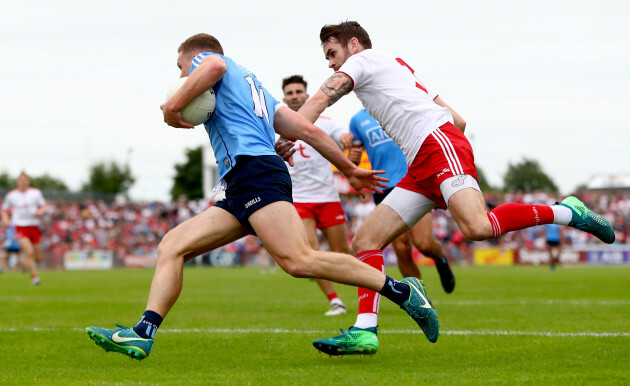 Dublin's Ciaran Kilkenny and Ronan McNamee of Tyrone. Source: James Crombie/INPHO
Second-half action is under way.
Dublin 0-7 Tyrone 0-6
Great score from Connor McAliskey, that should really boost Tyrone.
Mattie Donnelly made a brilliant run to kickstart that move for Tyrone.
Dublin 0-8 Tyrone 0-6
Dublin rip the ball from Tyrone, counter-attack after a Colm Cavanagh mistake and Ciaran Kilkenny clips over a point off his left.
Goal for Dublin from James McCarthy!
Dublin 1-8 Tyrone 0-6
What a crucial score that is likely to be! James McCarthy cuts straight through the heart of the Tyrone defence, great sidestep and his shot is well-blocked by Niall Morgan, but the rebound is flicked home to the net by McCarthy.
Dublin 1-8 Tyrone 0-8
To Tyrone's credit they have have responded really well to the concession of that goal. Cathal McShane sweeps over a point from play and then McAliskey booms over a '45.
Dublin 1-9 Tyrone 0-8
Another patient and clever passage of play by Dublin, they work the ball to the right person and Dean Rock notches the point.
Sub: Cormac Costello in for Dublin for Paul Mannion into their attack.
Source: Ryan Byrne/INPHO
Dublin 1-10 Tyrone 0-8
Another example of how reliable a free-taker Dean Rock. He shoots over and Dublin go five clear.
Subs: Kevin McManamon in for Dublin for Scully, Tyrone replace McAliskey with Mark Bradley.
Dublin have really stifled the influence of Niall Sludden so far as his shot there drifted wide from the left wing. Tyrone bring in Kieran McGeary for Frank Burns.
Yellow card for Tyrone's Conor Meyler.
Rock pulls a free wide on this occasion for Dublin.
Tyrone really cannot spurn chances like that. Padraig Hampsey in a good position but shoots wide.
Dublin 1-11 Tyrone 0-8
Dublin don't make a mistake at the other end, McManamon shooting over after surging into space. This match is moving towards an inevitable conclusion now.
Dublin 1-11 Tyrone 0-9
A really neat piece of work there by Mark Bradley to grab a point for Tyrone.
Subs: Paul Flynn in for Dublin for Brian Howard, Tyrone bring on Declan McClure for Colm Cavanagh.
Dublin 1-11 Tyrone 0-10
Another for Tyrone. Cathal McShane on this occasion, they're still battling on.
Dublin 1-13 Tyrone 0-11
A pointed free by Peter Harte cuts the gap to three but then Dublin just counter again and up the ante. Jack McCaffrey skips clear to place Ciaran Kilkenny for a point, then Rock knocks over a free. Five in it once more.
Sub: Harry Loughran in for Tyrone for Conor Meyler.
Dublin 1-13 Tyrone 0-12
That's a really good point by Kieran McGeary for Tyrone. Sense they'll need a goal to stage a big comeback here.
Dublin 1-13 Tyrone 0-13
Three points in it now! Harry Loughran shoots over Tyrone.
This could be an interesting finale.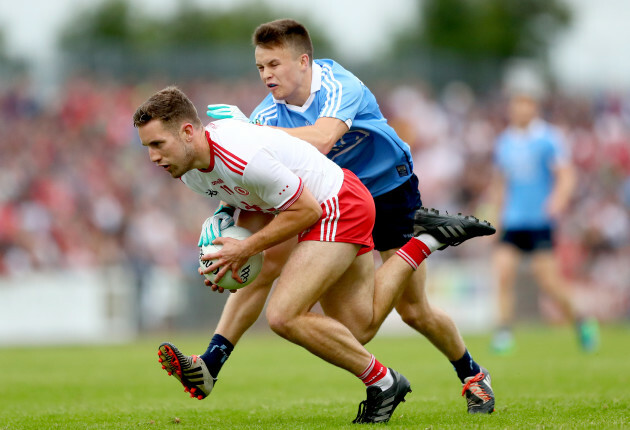 Source: James Crombie/INPHO
Sub: Michael Darragh MacAuley in for Dublin for James McCarthy.
Entering injury-time, still three-point advantage for Dublin.
Five minutes of injury-time will be played.
Chance for Dublin to point but Costello is denied by a brave late block down.
Sub: Ronan O'Neill in for Tyrone for Sludden.
Dublin 1-13 Tyrone 0-14
Super score by Kieran McGeary, two in it now!
Free in for Tyrone, chance to cut the lead to a point! Tyrone completely on top now, putting big pressure on Dublin's kickout.
But Ronan O'Neill's kick is poor and the ball flies wide.
That was O'Neill's first kick after coming on.
Deep in injury-time now, Dublin hanging on to a two-point lead.
Dublin just hanging onto the ball now and running down the clock.
Paul Flynn point for Dublin, that should be the insurance score!
Full-Time: Dublin 1-14 Tyrone 0-14
So the James McCarthy goal proved the difference in sealing Dublin's three-point victory. They're through to the All-Ireland semi-finals from Group 2 of the Super 8s and it means their clash with Roscommon on the August Bank Holiday weekend will be a dead rubber.
For their part Tyrone must be pleased with how they battled back towards the finish after the game was drifting away from them during the second half. Substitutes Kieran McGeary made a big impact. Quite a contrast with the decisive beating they suffered last August in Croke Park. It sets it up very nicely for a clash with Donegal in Ballybofey on Sunday 5 August. The winners of that game will reach the semi-finals, a draw would suffice for Tyrone as they would qualify on scoring difference.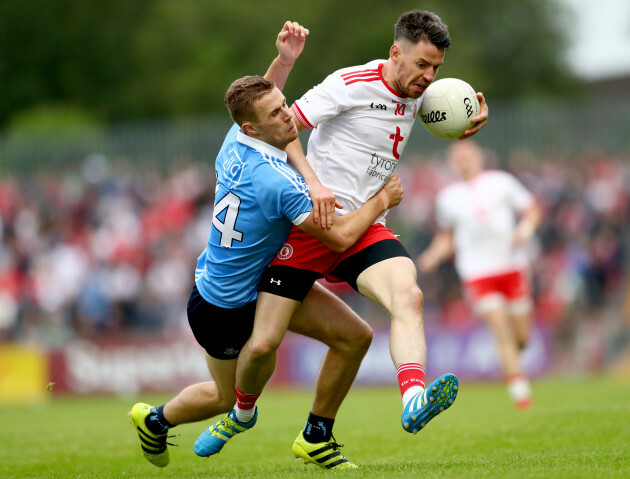 Dublin's Paul Mannion and Mattie Donnelly of Tyrone. Source: James Crombie/INPHO
So a victory for Dublin as the Jim Gavin machine rolls on to the last four stage. Still Tyrone should take a lot from this, they've clearly closed the gap from the setback of last August in Croke Park. They could have a big say yet in this championship and it sets it up nicely for their clash with Donegal.
Thanks for joining us for our coverage then. We'll be back tomorrow with the Group 1 clashes in Newbridge at 2pm as Kildare take on Galway and in Clones at 4pm as Monaghan face Kerry.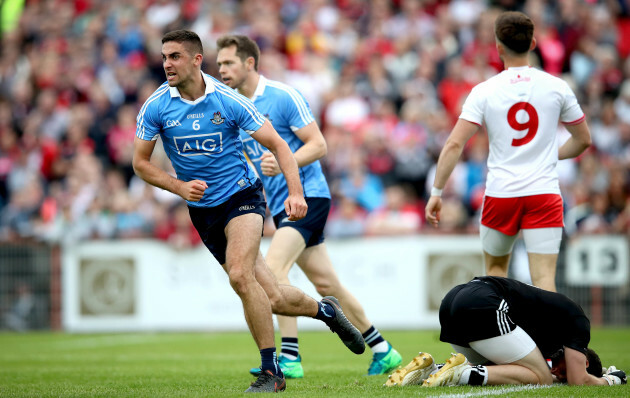 Dublin's James McCarthy celebrates scoring their goal. Source: Ryan Byrne/INPHO
Contribute to this story: