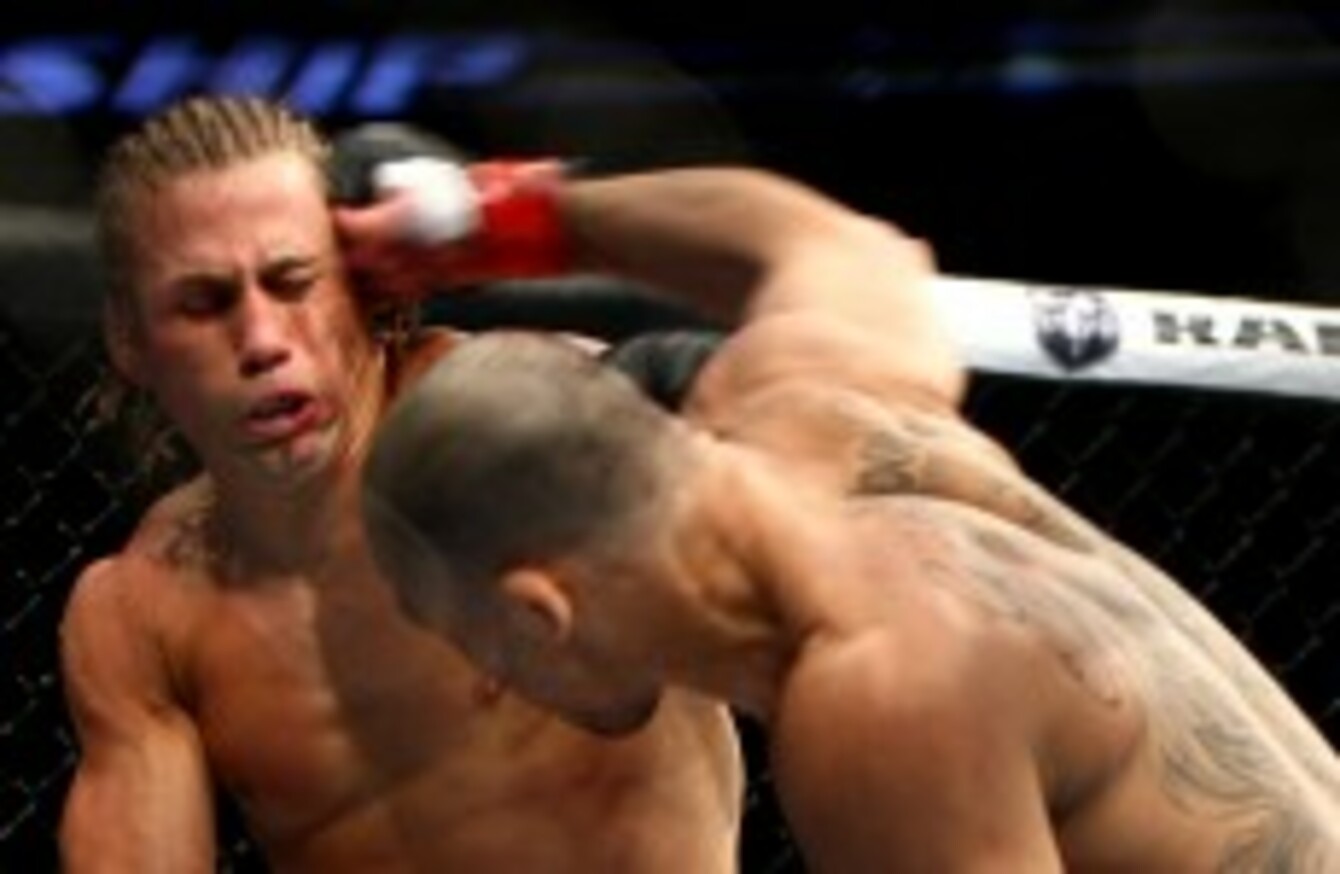 Renan Barao lands a knockout on Urijah Faber.
Image: TIM LARSEN/AP/Press Association Images
Renan Barao lands a knockout on Urijah Faber.
Image: TIM LARSEN/AP/Press Association Images
AFTER BACK-TO-back events the UFC takes some time to catch its breath this week so now is the perfect time to look back on some highlights over the past few weeks.
UFC on FOX 10 lived up to the hype with a number of really close fights mixed in with some great knockout action. Ben Henderson snuck a close split decision win over Josh Thomson and Stipe Miocic and Jeremy
Stephens also picked up decision victories, so it was left to Donald Cerrone to provide the fireworks on the main card.
After being so erratic recently it was difficult to know which "Cowboy" Cerrone would turn up to fight here but he took less than one round to stamp his authority over Adriano Martins to prove that he still has what it takes to compete in the lightweight division.

YouTube credit: Rodrigo
Alex Caceres upset the odds and picked up the "submission of the night" bonus cheque as he choked out Sergio Pettis on the undercard while Daron Cruickshank looked impressive as he finished Mike Rio in spectacular style.

YouTube credit: christian kistler
Last weekend's UFC 169 was littered with fights that went the whole way and while the event wasn't a complete let-down, it didn't produce as many finishes as expected beforehand.
The main event was over quickly as Renan Barao finished off Urijah Faber in the first round although the finish was somewhat controversial as it seemed as if it was an early stoppage from referee Herb Dean.
While Faber was never completely out and was still intelligently defending himself, the number of unanswered shots that Faber received forced the referee to step in. Dana White believed it was a mistake on the referee's part and although it may have been a little quick it was hard to see how
Faber, however durable, could have escaped and recovered from that position.

YouTube credit: Tralli Costa
The judges certainly earned their money at UFC 169 as 10 of the 12 fights went to the scorecards as Alistair Overeen was unable to finish Frank Mir and Jose Aldo once again came out of top of a five rounder while Ali Bagautinov picked up a notable victory over John Lineker.
On a card devoid of any submission and just 2 KO's, the bonus cheques were there for the taking and it was left in the hands of Abel Trujillo who picked up "KO of the night" and "fight of the night" bonuses after his epic tussle with Jamie Varner.

YouTube credit: Braddal01