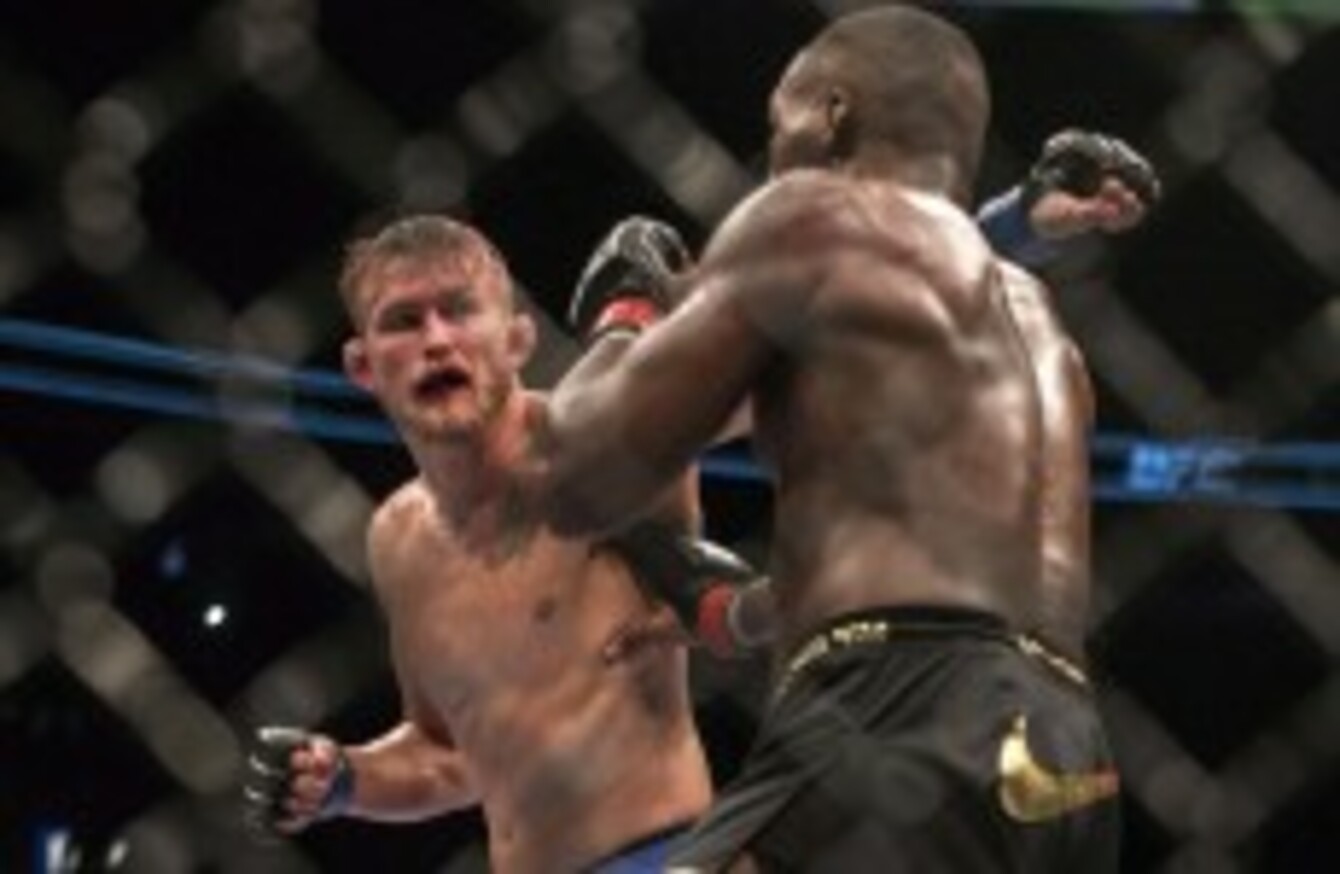 Gustafsson in action against Jon 'Bones' Jones in September of last year. The Swede faces the unbeaten Jimi Manuwa in London tonight.
Image: Chris Young
Gustafsson in action against Jon 'Bones' Jones in September of last year. The Swede faces the unbeaten Jimi Manuwa in London tonight.
Image: Chris Young
WHILE THE MAIN event of Alexander Gustafsson against Jimi Manuwa is the star turn of UFC Fight Night 38, all eyes will be on the long awaited debut of Dubliner Neil Seery as he takes on Brad Pickett on Saturday.
After a well-placed and concerted social media campaign by local fans and journalists to get Seery his break in the organisation, the day has come for the Irishman to show his mettle albeit against a very tough opponent.
There is some more Irish interest on the main card as SBG Ireland trail-blazer Gunnar Nelson makes his long awaited return to action a year on from his last bout as he faces Omari Akhmedov in the welterweight division.
The strong main card is topped off by a very close to call battle between two American lightweights in Michael Johnson and Melvin Guillard.
Seery's chance to shine
After Conor McGregor's breakthrough to the big-time in the UFC last year it was only a matter of time before more Irish fighters were going to be snapped up and there aren't many more deserving of a place than the hardworking, down to earth Dubliner Neil Seery.
A hardened veteran of the tough Irish and UK circuit, the 34-year-old has excelled in the past few years since his drop to flyweight and move to Cage Warriors where he captured the belt and racked up an impressive 6-1 record.
The disappointment in not getting to defend his title against Ulysses Gomez on New Year's has been well softened by this call up to the UFC and a testament to his mentality of simply wanting to fight.
In terms of the matchup, he certainly has his hands full. Brad Pickett was the number six ranked bantamweight before his drop to flyweight and has a host of "Fight of the Night" awards under his belt. His nickname, "One Punch" alludes to his strongest attribute: KO power.
Everything points to this being a stand-up war as Pickett is by no means afraid to stand and bang while Seery has a strong boxing background. Seery would be more than capable of holding his own if this is the case but a smart game-plan from the Englishman would be to try and take it to the ground.
His superior grappling and wrestling means he holds an advantage in that area and could be key to him winning the fight.
This is a baptism of fire in every sense for Seery. The fact that he took the fight on short notice, and that this is his first time in the UFC against an experienced and well-ranked opponent, means that he is really up against it here.
One thing is for sure. He will give it his all and will not be simply a walkover. He may just fall short this time but expect him to find his feet soon and make a big impact as a UFC flyweight in the future.
Source: BT Sport/YouTube
Gustafsson to prove he is the real "Poster Boy"
By rights Alexander Gustafsson should probably be preparing to face Jon Jones again after his mauling of him last time out but instead he must prove himself worthy of another shot with a good performance against the unbeaten prospect Jimi Manuwa.
Manuwa's unblemished record shows that he has had 14 fights with 14 finishes (13 KOs and one submission) but strangely each of his three UFC fights have been stopped due to an injury to his opponent, although he was winning in each of those bouts.
All this means that he poses a significant threat to Gustafsson's plan of getting another shot at the light-heavyweight title.
Some thought the Swede had done enough to dethrone Jones last time out and although the judges didn't think so, his performance proved that he is definitely the real deal.
He must avoid the power of "The Poster Boy" early on in their fight but his long limbs will help him keep on the outside so that he can pick and choose his shots wisely as he so often does inside the cage. His experience against Jones will boost his confidence no end and his more rounded skill-set means that he is favourite to inflict Manuwa with the first loss of his career.
Source: Demtexx/YouTube
Best of the rest
A knee injury forced Gunnar Nelson to miss a year of action but it seems like he is being eased back into action against the relative unknown Dagestani fighter Omari Akhmedov.
The ice-cool unbeaten Icelandic Nelson has looked supremely comfortable in his two UFC fights to date and is riding an 11 fight win-streak. Akhmedov has only one appearance in the UFC but that was an impressive KO win over Thiago Perpetuo in Brazil in November.
Akhmedov's record suggests that he is quite well rounded but it would be a mistake to try and take this to the ground as Nelson will make quick work of him. A win here for Nelson seems almost inevitable.
The Michael Johnson-Melvin Guillard bout is such a close fight to call as both men are in good form, winning tough bouts back-to-back respectively. Guillard's explosiveness on the feet might just give him the edge but this one is on a coin flip.