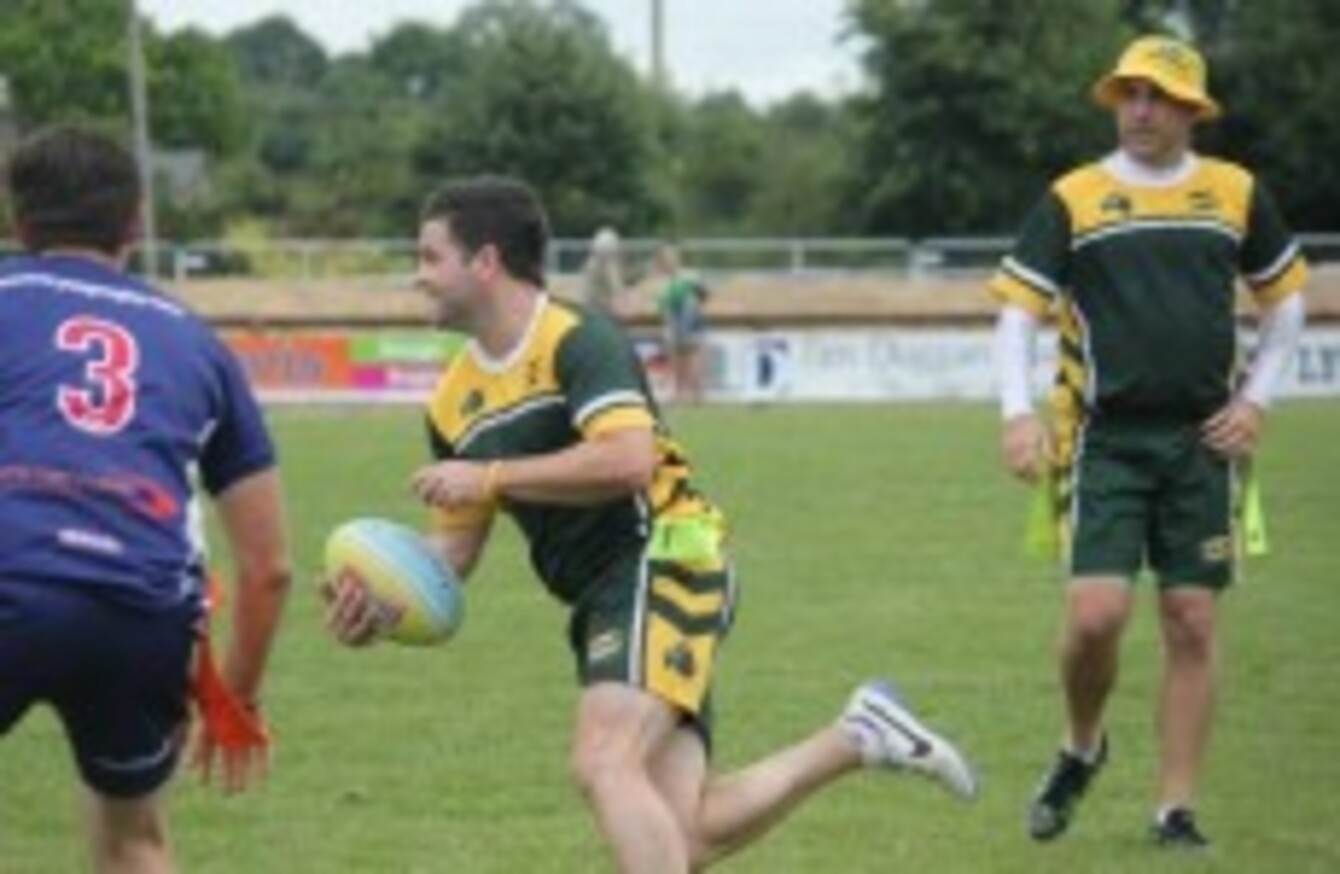 The Tag Rugby World Cup takes place this December in Australia.
The Tag Rugby World Cup takes place this December in Australia.
Updated at 21.30
SINCE ITS FORMATION in 2000, the Irish Tag Rugby Association (ITRA) has enjoyed considerable growth in this country.
In December later this year, just how much Ireland has embraced the sport will effectively be put to the test.
The Tag Rugby World Cup has been confirmed for the Sunshine Coast near Brisbane Australia on 3-6 December, with Ireland among the teams competing.
The Irish side have registered their intention to enter teams in five categories for the World Cup: Mixed Open, Mixed Seniors (female players over 30 and male players over 33), Men, Ladies and Men over 30.
A significant number of players have already been chosen out of the 100 that will travel to Australia for the tournament, however there are still spots on the plane available. The vacant places will ultimately be decided at the Regional Championships on Saturday 27 June in UCD. The regionals will have representative sides from Galway, Limerick, Cork, Kildare, London and Dublin competing across four categories (mixed, mixed senior, mens and ladies) to establish who the best tag players and regions are.
While experience in the sport is an obvious advantage, Barry Keary — a member of the Irish set-up who also manages one of the top club sides, KPMG Exiles — says that anyone who attends the try-outs could conceivably earn a place on the plane to Australia.
"It's open to any player really be they an existing social team player or an elite team player provided they are selected via the open trial or elite Spring Leagues and register for an elite team in Summer League in Dublin," he tells The42. "There was an open trial for Dublin recently where basically, anyone could try out to represent Dublin at the regional championships. So a lot of new players came along and tried out for Dublin and several were selected and have now being placed with elite club sides."
Regional spots are also still available to players competing in the Elite Leagues, which takes place in UCD on Mondays (Ladies) and Tuesdays/Thursdays (Mixed) during the summer.
"If you're on a side that's playing in those leagues, then you're eligible to be selected on a regional team and from there you can be selected for the national side," Keary explains.
"So effectively, if you were brand new and hadn't tried out before, that would be one way that you could try out and ultimately reach the national side. The other way is that most of the regions are holding their trials around now, so there's been a significant turnover from those that would have played regionals last year to this year. So if you are playing Tag around the country, get involved with your regional team."
"The regionals are the last chance though. We need to finalise the national squads more or less after it, because obviously, there are significant costs involved in going to Australia."
And while earning a place in a Tag Rugby World Cup squad if you're new to the sport may sound like an impossible task, there is at least one strong contender hoping to defy this assumption.
(Australia are seen as the team to beat in tag rugby)
Katie Lydon, a former sprinter, has only been playing for a very short space of time, but has made a big impact thus far. While she had played camogie, handball and basketball, until the end of February this year, she was not accustomed to competing in any form of rugby.
"I only moved to Dublin last October, and it was friends of mine that got me involved," she says. "They'd been playing in Sydney Parade and I said I'd give it a go.
"I'd just joined tag for exercise purposes and to meet people — I didn't realise it would go this far.
"I think I've made a bit of an impact, and hopefully, I continue to do so. Obviously, the World Cup is something to aspire to and work towards. It pushes you in the right direction and you get great mentorship from the guys."
She continues: "The social aspect is a big part of it, as is the camaraderie between individuals. I've raced internationally, where everything is very intense, and although we have that in a lot of our games, it's more the teamwork. And also it's a new skill — something to work towards."
Lydon, who works in Tallaght Hospital, also believes the success of both the men's and women's rugby team's in full-contact rugby have had an influence in terms of tag's popularity.
"The women's team have done phenomenally well, as have the men. It has a knock-on effect for young people interested in the sport. And although tag is new to me, it probably has had an effect on me joining the sport, although not directly.
"So I definitely think it has positive repercussions nationally and it obviously serves to give the sport more exposure, whether it's tag or full contact."
Yet Ireland still has a long way to go if it wants to compete with the world's top teams — Australia and New Zealand.
"They're trying a couple of pilot projects in Limerick to see if they can get the competitive part of the sport off the ground in schools," Keary says. "In Australia, they play the sport from 16-up. In the World Cup, there will be a boys' U16 and a girls' U16 category, so that's where we need to get to eventually to truly compete."
"One of the players in the men's open has been playing the sport for less than two years, but when he goes to the World Cup, he'd be coming up against players who'd have been playing it for eight or nine years."
(Australia in action on their recent tour of Ireland and Britain)
One player who could play an important role for Ireland this December, however, is Paul Jenkins, who hopes to make the men's over-30s side that will travel to Australia.
Jenkins was first introduced to tag at a pre-season training session during his time as a full-contact player for Clontarf in the early 00s.
"We thought it was a good idea, but maybe couldn't see how it would progress further," he recalls. "Then there was a phone call from one of the lads I knew saying 'there's a work thing here — we need you guys to play, do you mind joining us?' I think I played out in St Marys in Templeogue and everyone really embraced it."
More than one dislocated shoulder put paid to Jenkins' career in full-contact rugby prematurely, but the realisation that he could realistically play tag up until his 50s ensured he would not be giving up on rugby entirely just yet.
Moreover, Jenkins, who works as an architect, only recently returned to Ireland, having lived in Australia for the past four years.
"I definitely would have a good insight from being over there and training with some very good coaches who would have experience of representative level for 15 years, if not more. You're actually seeing proper tag coaches. I've been lucky enough to have been trained by a few guys who would know the game inside out and I was able to pick their brains.
"The main insight I could offer coming over would be saying to the lads, 'don't think of everything in terms of union'. There are some guys standing at first centre and outside centre, and we have to scrap all that and go 'you're a middle, you're a link'. But I couldn't say if I'm guaranteed a spot [on the Irish squad] or anything like that. I can only put my hand up and hopefully someone sees something to put me on the plane back to Australia."
While acknowledging that the standard of tag in Australia is far higher owing to the fact that they play it from schools level up, Jenkins feels tag in Ireland has improved immeasurably since he's been away.
"You're starting to see a bit more strategy coming into the game," he says. "Some of the teams are starting to train and they'd probably train just as much as your local rugby team — more than two evenings a week. There's also a lot of young lads coming through who are really taking it seriously."
(Jenkins' team the Bondi Chiefs celebrate winning the Celtic Cup for the third time. He has started a Dublin branch of the Bondi Chiefs, becoming the world's first Global Tag Team)
What appeals to Jenkins most about the sport is the festival atmosphere that tag events invariably entail. In a sense, it is akin to a "throwback" of the way full-contact rugby used to be before it became ultra-professional.
"Over in Sydney, people go away for weekends and they do the National State Cup and you have teams over from New South Wales, down from Melbourne, from Western Australia. It's a bit like Kinsale, but on a larger scale.
"They would start on Friday at two o'clock and they won't finish until Sunday. So they'll have 17-18 games going and 40-minute rotations. It just has that carnival feel. You see the same guys over and over, and you have beach parties and everything afterwards."
Jenkins therefore feels that tag can only get "bigger and better" in the years to come, and Keary agrees that forward steps are being made.
"The growth has tapered off a bit this year but they've more or less maintained last year's significantly increased numbers and they would hope significant growth will arise again when they get the schools project off the ground.
"It is also highly likely that the sides selected to represent Australia in the World Cup in December will subsequently tour Ireland in the Summer of 2016. So anybody not involved yet should strongly consider getting involved if they want a crack at the Australians next year."
For more info on the Tag Rugby regional championships, click here.
– First published 11.00, 24 May