WILLOUGHBY HAMILTON WAS already an international footballer, cricketer and the number one tennis player in the world when, in 1890, after three failed attempts, he became the first Irishman to win the Wimbledon men's singles title.
Then, at 25 and with the world seemingly at his feet, he virtually disappeared, destined to become little more than a footnote in Ireland's rich sporting history.
As the 130th edition of the Wimbledon Championships gets under way this morning, we still don't really know why Hamilton stopped competing but the worlds of tennis and Irish sport suffered for his loss.
Early history
Hamilton was born in Monasterevin, Co. Kildare in 1864, the seventh of nine children of William and Catherine Hamilton. He lived there for three years before his family moved to Dundrum in Dublin.
This is no rags to riches story and though little is known about his early life, there are suggestions that Hamilton received a boarding school education in England which goes some way to explaining the broad scope of his sporting interests.
Interestingly, the sport we know today only came into existence when he was nine-years-old after Walter Clopton Wingfield applied for a patent for "a new and improved portable court for playing the ancient game of tennis" and lawn tennis, as it was known then, was born.
The world-reknowned Fitzwilliam Lawn Tennis Club was founded three-years later in 1877 as the sport — played mostly on cricket grounds — quickly grew.
Hamilton was 18 when he won his first tennis tournament and, in 1884, made his debut at the fifth-ever Irish Championships which, at the time, were considered almost equal to Wimbledon. Aged 19, he reached the quarter-finals.
Having proved himself to be the best player in Ireland, Hamilton took part in his first-ever Wimbledon singles event in 1886 where he lost in straight sets to Herbert Lawford — the inventor of topspin — in the quarter-final (8-6, 6-1, 8-6).
Hamilton would go one step further in 1888 before losing to Earnest Renshaw (7-5, 7-5, 5-7, 6-3) in a closely fought final-four encounter. The following year would see the Irish born player emerge as a real star, however.
Despite reaching the final of the Irish Championships in 1886, 1887 and 1888, Hamilton didn't actually claim the title until 1889 when he showed his dominance by also picking up the mixed-doubles title while he and his partner reached the doubles decider.
While there were no official world rankings at the time, by adding the Welsh Championship and Northern Tournament (held that year in Manchester) to his list of successes in the following weeks, Hamilton went into that year's Wimbledon tournament widely regarded as the best tennis player in the world.
He would, however, lose a five-set semi-final to Harry Barlow (3-6, 6-3, 2-6, 3-6, 3-6) vowing to come back stronger the following year.
Finally
By the time the 1890 Wimbledon championships came around, Hamilton was ready to show the world he meant business.
In the opening round, he annihilated future three-time Wimbledon champion Arthur Gore 6-0, 6-1, 6-1 before blasting past William Taylor (7-5, 6-1, 6-1) in similar fashion in the second.
The quarters saw Hamilton easily best another future Wimbledon winner in Wilfred Baddeley, 6-3, 6-0, 6-1.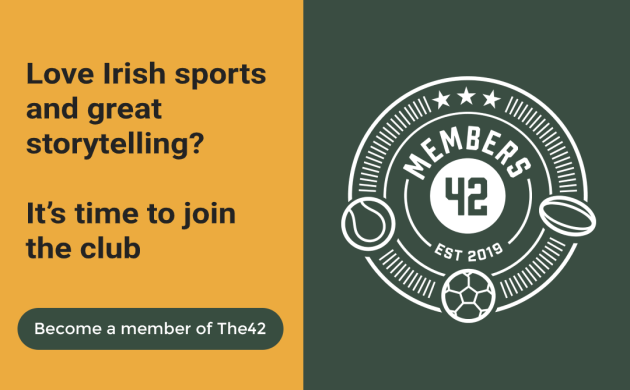 Despite dropping the first set of his semi-final with fellow Irish player Joshua Pim without winning a game, Hamilton won in four sets (0-6, 6-4, 6-4, 6-2) with a reporter at the match describing his performance as "sensational".
In the so-called All-Comers' final, Hamilton met Barlow, his conqueror from the 1889 semi-final. After a five-set tussle, it was the man from Monasterevin who came out on top (2-6, 6-4, 6-4, 4-6, 7-5).
However, under the competition's rules, even this win did not make him Wimbledon champion.
At this time, a Challenge Round existed whereby the previous year's winner could sit out the tournament and retain their title by winning one match against the winner of the all-comers final.
Imagine the number of Grand Slam titles some of today's top players would have were this still the case?
Hamilton's opponent was William Renshaw who had picked up an incredible seventh Wimbledon title the previous year and reports at the time describe him as the greatest player to ever play the game.
However, after a losing two of the first three sets, Hamilton fought back to become the first Irishman to claim an Wimbledon singles title (8-6, 6-2, 3-6, 6-1, 6-1).
And then, aged 25, he virtually disappeared from the sporting world.
Mystery
A number of reports suggest a serious illness, perhaps even blood-poisoning, put paid to Hamilton's chances of competing in any events in 1891 but doesn't explain his failure to return to the sporting arena ever again.
What we do know, thanks to census records, is that Hamilton married Sophia Thompson in 1895 and was working as a stockbroker as of 1911.
And then the records go blank until Hamilton — the man known as 'The Ghost' not just because of his pale complexion but also how he moved around the court — died in Dundrum on 27 September 1943, aged 78.
As you probably realised, Hamilton's victory failed to mark a run of success for players from this island at SW19 but Ireland's only women's singles champion Helena Rice also happened to win the title in 1890 while the Kildare man's success was followed by Joshua Pim and Harold Segerson Mahony who, while born in Scotland, is said to be this country's last ever Wimbledon singles champion.
Match statistics via Wimbledon and Tennis Archive.