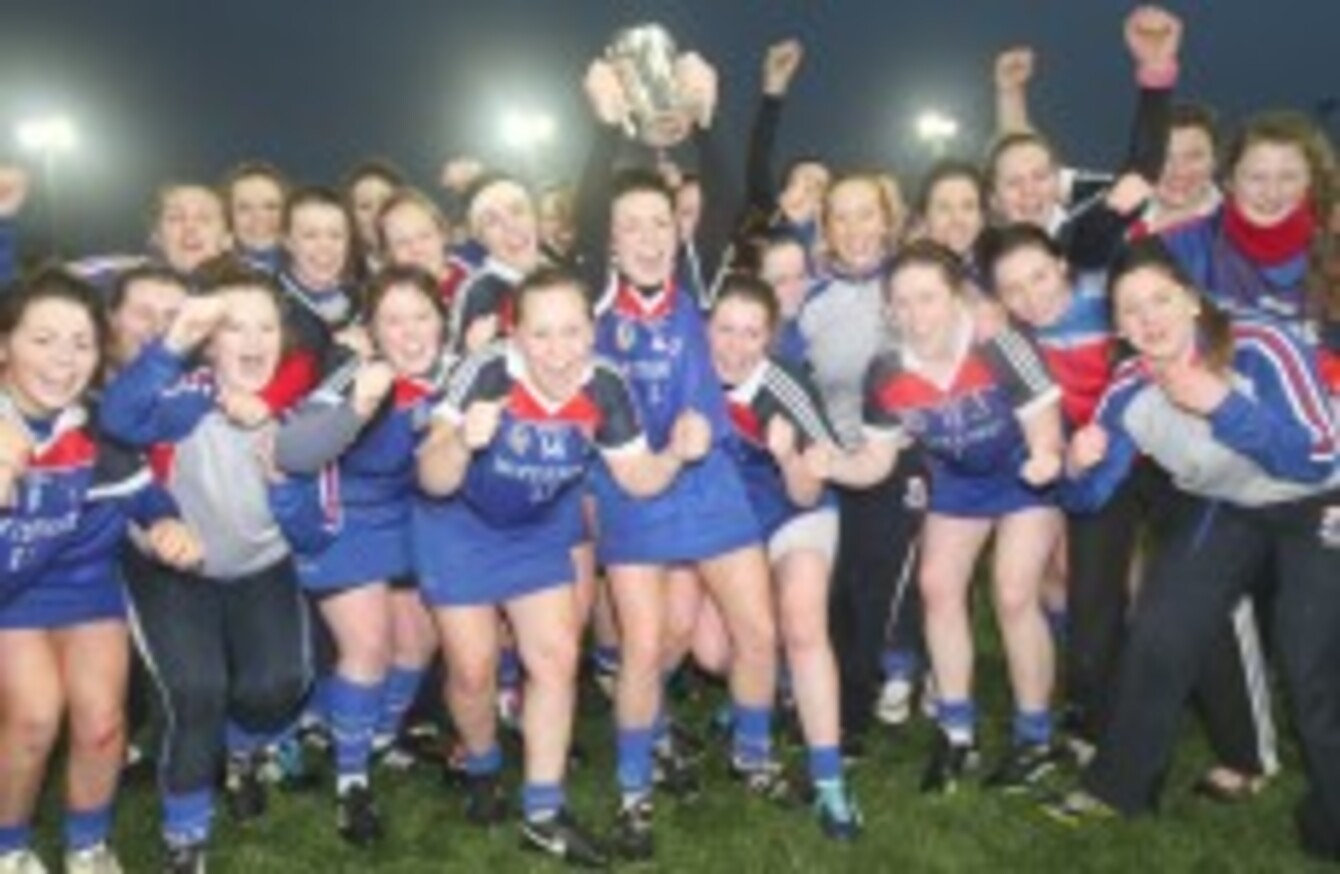 Waterford IT celebrate their Ashbourne Cup win.
Image: DCU GAA Club
Waterford IT celebrate their Ashbourne Cup win.
Image: DCU GAA Club
WATERFORD IT REIGN supreme in third level camogie again after they came out on top at the end of the Centenary Ashbourne Cup weekend at DCU.
The decider was delayed as the Purcell Cup final went to two periods of extra time and even then, there was no separating Mary Immaculate and DIT, who will meet in a replay.
This was the fourth consecutive meeting of WIT and UL in the Ashbourne Cup final, with the Limerick crew denying Waterford a remarkable six-in-a-row last year.
WIT were clearly motivated by the memory of that loss however, and with Waterford rock, Trish Jackman providing another thunderous performance on her way to being named Ashbourne player of the tournament, they chiselled out a 2-12 to 0-12 success.
First-half goals from Marie Morrissey and Ciara Quirke were central to the annexation of a sixth title in seven seasons and an eighth in total. Indeed it was a lightning double-strike as the goals came in the first and sixth minutes to rock UL on their heels.
Jackman supplemented her general dominance with four points from placed balls and Emma Comerford added three.
UL were largely reliant on Tipp sharpshooter, Cáit Devane although former Cork captain Julia White and Gráinne Egan did add scores to Devane's six first-half points.
That left it 2-8 to 0-8 at the change of ends and given the horrible start, UL could not have been too dissatisfied. They could never eat into the deficit in a very tight second half though.
Both sides scored four points each, with Comerford bringing her tally to six points and last year's heroine, Devane accumulating a total of nine.
They needed goals though and the WIT rearguard remained steadfast to confirm the return of the old order.
A sensational Fr Purcell Cup final ended 3-14 for DIT to Mary I's 1-20 after two periods of extra time. Katie O'Dwyer was outstanding for DIT while Caoimhe Costello shone for Mary I. It was 2-12 to 1-15 at the end of normal time and 2-14 to 1-17 at the end of the first period of extra time.
Meanwhile, UCD launched a stunning second-half comeback to deny fellow Dublin outfit DCU and claim a 4-7 to 3-3 victory in the Ashbourne Shield final.
Jackie Quigley gave the victors a wonderful start with an eighth minute goal to establish an early four-point lead but DCU hit back with Emma Walsh and Mary O'Connell raising green flags to make it 2-2 to 1-2 at half time.
Aoife Bulger stretched DCU's lead with another goal, two minutes into the second half but UCD found another gear to wrest the silverware from their opponents' grasp. Quigley picked up her second major towards the end of the third quarter and the sides were level when Aoife Wilson made the game-changing contribution with two goals in the final six minutes to cement a memorable win.
Gaelic games are flourishing in IT Carlow at the moment and in the week when the footballers booked their place in the Sigerson Cup for the first time, their camogie team claimed the Fr Meachair Cup for the second year in a row with a 2-10 to 1-10 defeat of St Mary's University.
It was 1-6 to 1-4 at half time but player of the tournament, Siobhán Flannery of Offaly fame grabbed her second goal from a free to decide the match.
In the Fr Purcell Shield final held on Saturday, Maynooth University beat Queen's University, 2-10 to 2-7.