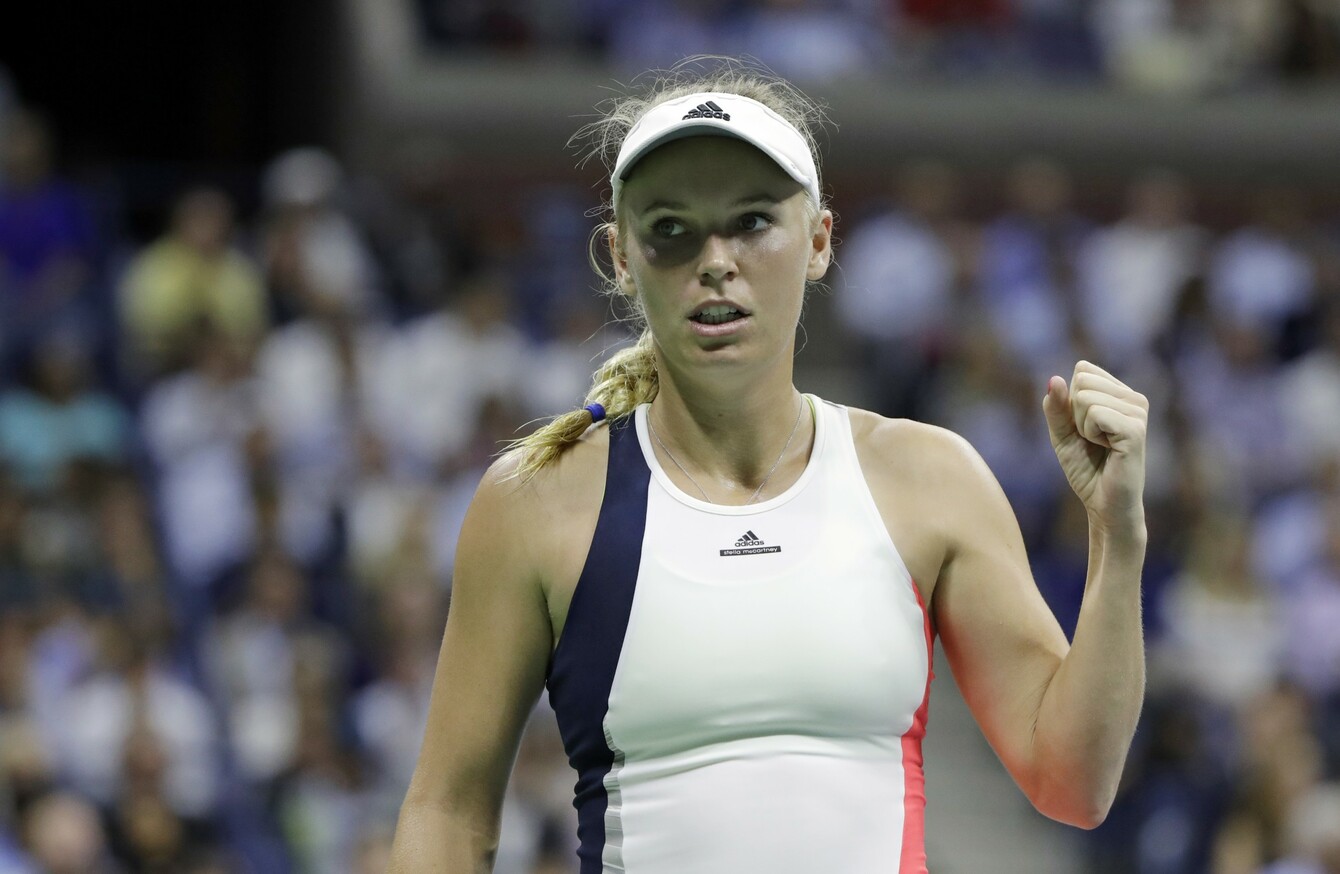 Caroline Wozniacki, of Denmark, celebrates a point against Anastasija Sevastova, of Latvia.
Image: Darron Cummings
Caroline Wozniacki, of Denmark, celebrates a point against Anastasija Sevastova, of Latvia.
Image: Darron Cummings
CAROLINE WOZNIACKI AND Angelique Kerber are joined by friendship, Polish roots and cosy coffee chats, but on Thursday they'll be ruthless in pursuit of a place in the US Open final.
It's an intriguing semi-final clash between a former world number one who has never won a Grand Slam title and the current number two who claimed a first major at the Australian Open in January.
"We are similar in that we are both hard working. I think that hard work pays off. She's obviously very passionate," said Wozniacki.
"Angie's had a great year and I'm happy for her."
The two friends' paths have been heading in dramatically different directions this year.
A right ankle injury sidelined 26-year-old Wozniacki for the best part of three months and her enforced absence from the French Open ended a streak of 36 successive appearances at the majors.
He ranking coming into New York was 74.
In contrast, Kerber has appeared in two of the three Slam finals, her success in Melbourne followed by defeat to Serena Williams in the Wimbledon championship match.
The German, two years older at 28, could be number one in the world next week, five years after Wozniacki last held the position.
Wozniacki, Kerber as well as sisters Agnieszka and Urszula Radwanska have all grown up on the tour, all boasting Polish blood.
The Radwanskas are Polish-born. Kerber has a Polish father and German mother.
- Polish roots -
Piotr and Anna Wozniacki left Poland to settle in Denmark when he secured a professional football contract with top Danish side Odense. Caroline was born in the city in 1990.
The four players' Polish bond is evident in holiday photos and they remain as close as they can be in the cut-throat environment of professional tennis.
We would still go on vacations, but the problem is like Aga is getting married, so then all of a sudden we're like, we just want a girls trip, but it's tough when everyone has their own thing," said Wozniacki.
"But we hang out and we have coffees and sit and talk and have a good time.
I think the great thing about our little group is that we have hung out for years and it doesn't matter who is No. 1 or who is lower ranked, we always have our little clique. We chat and have a laugh."
There hasn't been a lot to laugh about for Wozniacki in recent months.
This week, her father even suggested that she was close to retirement despite her reaching a semi-final at the majors for the first time in two years.
Her carefree hitting at the US Open has been interpreted as a sign that for someone with 23 career titles and $20 million in the bank, there are few challenges left — apart from that elusive first major.
Being injured and being away from the game you kind of put things in perspective. You're like, I could get injured again tomorrow and I won't have another shot out there," said Wozniacki.
"I'm enjoying it much more now than I was then. Back then I was just trying and grinding for staying at the top of the rankings for as long as possible," added the Danish star who keeps a second home in New York.
Now obviously I want to win every match, but it's different. I'm not the favourite. I'm just going in there as the underdog and going out doing my thing."
Kerber leads Wozniacki 7-5 in career meetings but they have never met at a Slam.
If the German prevails on Thursday and goes on to dethrone Williams as world number one, Wozniacki will be one of the first to congratulate her coffee club friend.
It's something that very few people in the world have ever achieved. I mean, how crazy is it to say that you're the best in the world at something?
"Doesn't matter if it's tennis, football, being a lawyer, whatever it is. It's really special."
Meanwhile, defending champion Novak Djokovic booked a 10th straight US Open semi-final appearance when Jo-Wilfried Tsonga retired trailing 6-3, 6-2 in their marquee quarter-final on Tuesday.
It was the third time in five matches that an opponent's injury has worked to Djokovic's advantage, after his walkover into the third round where Mikhail Youzhny retired after just six games.
Ninth-seeded Tsonga gave him more of a workout, but even before an apparent left knee injury began to trouble the Frenchman in the second set Djokovic had the match well in hand.
Be part
of the team
Access exclusive podcasts, interviews and analysis with a monthly or annual membership.
Become a Member
The Serbian world number one will face another Frenchman, Gael Monfils, for a place in Sunday's championship match after the 10th seed pummelled compatriot Lucas Pouille 6-4, 6-3, 6-3.
It was the first time in 89 years that three French men had reached the quarter-finals of the US championships.
Tsonga was the highest seed among them, but his challenge ended with a whimper.
Down two breaks at 2-5 in the second, he called for the trainer, wincing as his knee was manipulated.
A merciless Djokovic then served out the set at love, firing a 118 mph (189.9 Km/h) ace — his first of the contest — on set point.
After Tsonga opened the third set with a double fault he called a halt.
I really wish Jo a quick recovery," Djokovic said. "He's a fighter, he's somebody that loves the big stage."
But Tsonga wasn't able to shine on that stage. Despite an entertaining array of shots, the longer the rallies went the more he missed, his unforced errors eventually climbing to 37.
He gifted a break to Djokovic with three double faults to fall behind 2-4 in the opening set, and while he regained the break he dropped his serve again in the next game and suddenly Djokovic was serving for the set.
A break for 2-1 in the second was the only opening Djokovic needed. He backed up the break with an emphatic hold at love, broke again for 5-2 and didn't face a break point in the second frame.
It was an encouraging performance for a player who arrived in New York off a third-round exit at Wimbledon and a first-round exit at the Rio Olympics.
Although he won the Toronto Masters, he pulled out of Cincinnati with a left wrist injury.
"I thought that I came out with the right intensity," Djokovic said.
The quality of my game and level of performance has risen in last couple of days, which obviously encourages me prior to the last four.
"I put myself in a position again to be one match away from the finals. As the tournament progresses, I feel like I'm getting better."
- Monfils ends long wait -
In Monfils, 12-time Grand Slam champion Djokovic will face a player whose only prior semi-final run at a major came back in 2008 at the French Open.
Monfils was in control throughout against the 22-year-old Pouille, who was coming off an epic fifth-set tiebreaker win over 14-time major winner Rafael Nadal.
That marked the 24th-seeded Pouille's third straight five-setter. Whether it was a let-down after the biggest win of his career or sheer fatigue, his 44 unforced errors meant he never stood a chance against a dialed-in Monfils.
Of course I was a bit tired today," Pouille said. "It would have been better if I played a bit less time on court. Gael was playing very good. He was better than me today."
Dictating from the baseline, Monfils took charge with seven of his 13 aces in the opening set, gaining the only break he needed in the seventh game.
Pouille conceded a break with a stream of errors to fall 1-2 down in the second, and a break of more than 15 minutes to close the new Arthur Ashe stadium roof, with Monfils up 4-3, did nothing to change the momentum.
After holding with back-to-back aces, Monfils broke the error-prone Pouille at love to take the set.
I was lucky because I had a break so it was easy in my mind," Monfils said of coping with the delay. "I just felt so good (and) it was going to be even better because it was going to be indoors. I just kept going with my game plan."
One break was all he needed in the third, as he wrapped up the match without facing a break point.
The remaining quarter-finals take place on Wednesday with Wimbledon and Olympic champion Andy Murray of Britain facing sixth-seeded Kei Nishikori of Japan and third-seeded Stan Wawrkina of Switzerland facing Juan Martin del Potro, the 2009 champion whose career was nearly derailed by a series of wrist injuries.
The42 is on Snapchat! Tap the button below on your phone to add!