As always, we'd love you to get in contact, so send us your thoughts by emailing paul@thescore.ie, via Twitter@thescore_ie, find us on Facebook, or leave a comment below.
You may need to refresh to see videos and images.
Zebre 10-19 Connacht (FT)
Hello, and welcome to this afternoon's liveblog. Here are the teams:
Zebre: D Halangahu; G Venditti, M Pratichetti, G Garcia, S Sinoti; L Orquera, T Tebaldi; S Perugini, D Giazzon, L Redolfini; Q Geldenhuys, J Sole; N Belardo, M Bergamaso, D van Schalkwyk

Replacements: C Festuccia, M Aguero, C Fazzari, M Van Vuuren, F Ferrarini, L Martinelli, R Trevisan, L Sarto.

Connacht: R Henshaw; T O'Halloran, E Griffin, D McSharry, F Vainikolo; D Parks, K Marmion; D Buckley, E Reynecke, N White; M Swift, M McCarthy; J Muldoon, W Faloon, G Naoupu

Replacements: A Flavin, R Ah You, R Loughney, D Gannon, J O'Connor, D Moore, M Nikora, M Fifita.
Zebre's stadium barely looks half full, which is unsurprising really, given how Italian teams have fared in this competition over the years.
Consequently, the Connacht support can be heard loud and clear in these opening stages.
Zebre 0-3 Connacht: Dan Parks gives Connacht the lead with a straightforward penalty in front of the posts, after some sustained early pressure from the visitors (5 mins).
That's three more points than Connacht registered in their most recent encounter with Ulster.
Zebre 3-3 Connacht: Halangahu responds immediately for the hosts with a similarly easy penalty in front of the posts (6 mins).
Connacht will be kicking themselves, letting their opponents back into the game so easily, having dominated the opening stages.
Halangahu this time drags his penalty narrowly to the right of the posts, as Zebre pass up an opportunity to take the lead.
It's been a quite sloppy start from Connacht – they've committed far too many basic errors, which must be of concern to Eric Elwood, especially since they're hardly facing world beaters.
Zebre 3-6 Connacht: Dan Parks again makes no mistake, after some intensive pressure from Connacht forces their opponents to concede a penalty (17 mins).
Henshaw, who has looked a player of huge promise in his brief Connacht thus far, started off that attack, with a superb break.
Connacht continue to probe and are enjoying the majority of possession, though a killer touch in the final third has eluded them thus far.
Meanwhile, a spirited performance of 'The Fields of Athenry' can be heard from the away fans.
It's now Zebre's turn to enjoy a good spell of pressure in the Connacht half it appears, as a break from Garcia brings them into the visitors' 22.
However, the Connacht defence is up to this particular test, and they subsequently win back possession, allowing Parks to clear.
The Connacht scrum looks less than convincing, as Marmion just about manages to retrieve the ball, and pass to Parks, who clears once again.
The Italians, perhaps sensing an unexpected level of weakness in their opponents, have clearly upped the intensity of their game, and are currently playing the better rugby.
Just over five minutes now until half-time.
Shocking miss by Halangahu from a penalty that was more or less straight in front of the posts, as the hosts again fail to capitalise on a good opportunity.
They could be left to rue the kicker's profligacy come the final whistle.
It's been a very scrappy first-half, with the abundance of stoppages not exactly great from a neutral's perspective.
Zebre 3-9 Connacht: Dan Parks maintains his 100 percent record from kicks – a performance in stark contrast to the one he gave against Ulster the other week. (40 mins)
In the build-up, Bergamaso is penalised for a dangerous dump tackle on O'Halloran, which prompted the penalty, and led to the former's sin-binning.
HALF-TIME: ZEBRE 3-9 CONNACHT
My Italian isn't great, but I'm pretty sure the Sky Italia commentators are saying that Connacht were "not superior" in that first half.
And even the most die-hard supporter of the province would struggle to dispute that assessment.
The Irish side will count themselves lucky to be leading by six points. Having started reasonably well, putting their opponents under sustained pressure, they gradually faded as the half progressed, with a number of elementary mistakes creeping into their game.
Zebre, on the other hand, looked threatening at times, and they'd be at least drawing at the break had Halangahu brought his kicking boots.
In truth it hasn't been the best game in terms of quality or entertainment. Both sides look somewhat short of confidence, and therefore, it's unsurprisingly been a very stop-start game so far.
The second half is underway…
A good run from Marmion brings Connacht into the opposition 22, but an ill-advised attempt at a drop goal from Parks is then charged down, bringing the attack to an abrupt end.
Connacht undoubtedly have some talented backs, but they've been relatively lacklustre today.
They've struggled to break the Zebre defence down, despite being afforded numerous opportunities to do so.
Another really poor error, as the ball seems to inexplicably slip out of the Zebre player's hand, despite being under no real pressure.
Bergamasco is back on the field now – Connacht will be disappointed not to have made more of their temporary man advantage.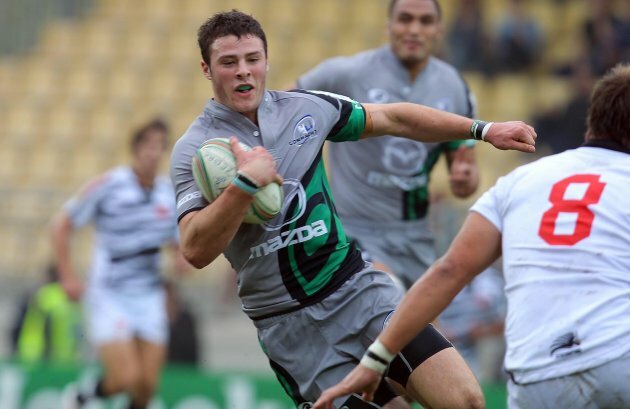 Henshaw has been one of Connacht's better performers today (INPHO/Francesca Soli).
Zebre 3-12 Connacht: Parks again does the business with another relatively straightforward penalty, after some sustained Connacht pressure.
It hasn't been the most convincing of performances, but Connacht are getting there slowly but surely, and probably just about deserve their nine-point lead.
Zebre 3-19 Connacht: John Muldoon takes a clever quick tap and go in the Zebre 22, and powers his way over the try line thereafter (63 mins).
Parks then makes no mistake with the penalty in front of the posts, and that looks to be game over.
Connacht are well in control now.
The last ten minutes of the game look likely to be a bit of a damp squib.
Zebre 10-19 Connacht: The substitute Ferrarini shows impressive strength to force his way over the try line despite being held by two Connacht players, following a rare Zebre attack (73 mins).
Halangahu then converts to make the final few minutes interesting.
Parks has missed a kick for the first time this afternoon, dragging the ball horribly wide in the process.
Still, a Zebre comeback is surely too big an ask at this stage.
FULL-TIME: ZEBRE 10-19 CONNACHT
John Muldoon has deservedly won the Man of the Match award, partially thanks to his opportunistic try.
Connacht's John Muldoon has told Sky Italia that it was a difficult match for the side.
"We obviously expected a tough game," he said. "Zebre are a good side, getting better every day, and the win will come soon."
He also praised the contribution of the Dan Parks in the game.
"He's got 66 caps for Scotland and it showed today. He's a good talker and he organises us on the field."
And Muldoon added that he isn't expecting it to get any easier for Connacht in the future, given the formidable nature of their upcoming opponents.
"It's a strong group – Harlequins were top of the Premiership last year, and everyone knows who Biarritz are."
So all in all, not the most convincing performance from Connacht against an ordinary Zebre side.
They committed far too many basic errors throughout and often looked lacklustre and short of ideas in attack.
However, regardless of such flaws, it's ultimately mission accomplished for Eric Elwood, who will feel somewhat relieved to escape Italy with the win.
Zebre, meanwhile, will presumably rue the simple kicks that Halangahu missed in the first half.
Had they gone over, then it might have been a different story entirely.
Right, that's it from me.
Thanks for reading and commenting, and enjoy your weekend.