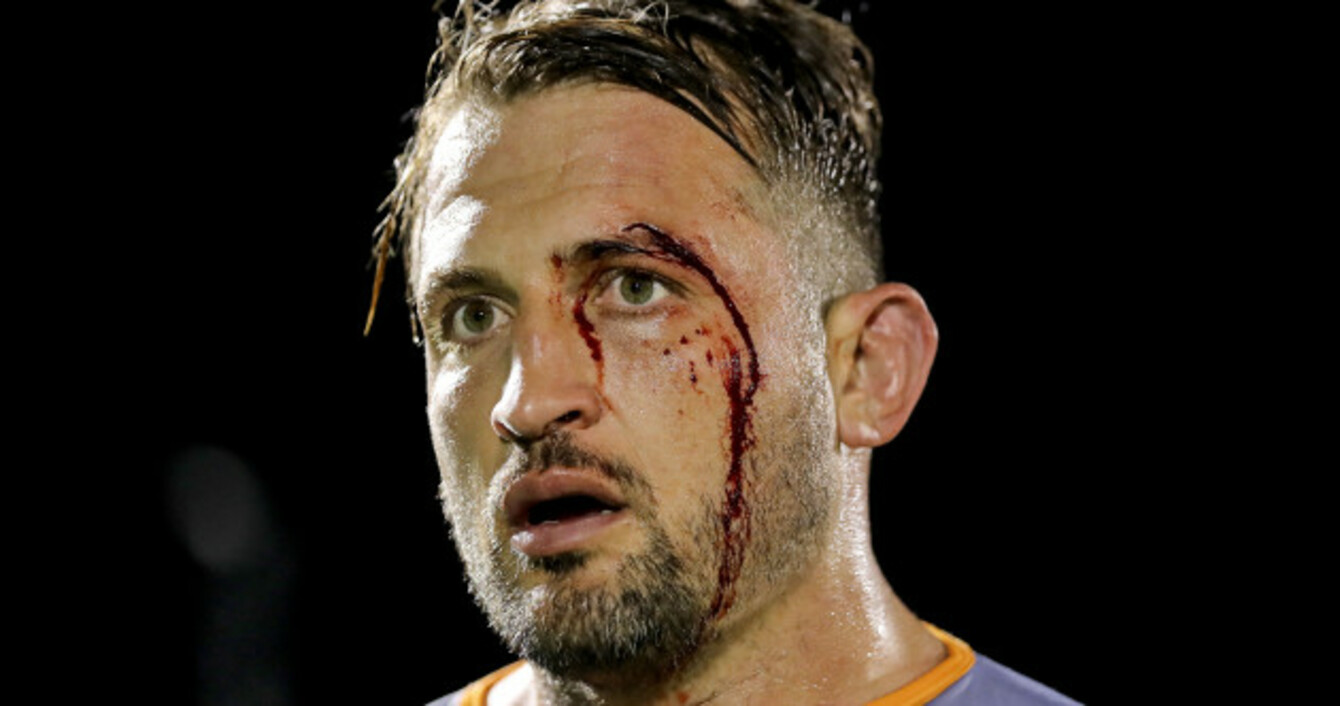 Schalk Ferreira of the Kings after his side's defeat to Connacht.
Image: Dan Sheridan/INPHO
Schalk Ferreira of the Kings after his side's defeat to Connacht.
Image: Dan Sheridan/INPHO
WE'VE BEEN TOLD the Toyota Cheetahs and the Southern Kings will get better as the season progresses. We've been told they will be a different proposition on home soil. And we've been told their addition to the Guinness Pro14 will raise the competition's standards.
It's still early days, but from 320 minutes of rugby we wait for any semblance of evidence to suggest the bold expansion to 14 teams and two conferences is an experiment which will work.
For all the brouhaha from tournament organisers, even they must have watched the Cheetahs being ruthlessly torn apart by Munster with gritted teeth at a half-empty Thomond Park on Saturday evening. There wasn't anything competitive about it.
In total, the Cheetahs and the Kings have conceded 182 points over the opening two weekends and barely mustered anything close to a challenge in their respective games in Ireland and Wales.
Granted it was always going to take them time to settle into northern hemisphere rugby and the fixtures weren't exactly kind when you consider they faced three of the provinces and the defending champions in Scarlets between them first up.
But the abject, and half-hearted, nature of the Cheetahs' performance in Limerick at the weekend not only raised questions about what they'll bring to the party, but their poor technical ability and game management is all the more alarming. Tackles were missed, the kicking from hand was inaccurate and passes were flung to nobody in particular.
"It was always difficult to gauge it, we were entering into the unknown, we hadn't played in this competition," Rory Duncan said, when asked to assess his side's two-week stay in Ireland, during which they were dispatched by both Ulster and Munster.
"We'd watched the team's pre-season games, the semi-final and final from last season, and we knew Ulster and Munster would play a relatively direct game, come hard at us, and we needed to stop momentum in defence.
"Munster in particular have a great defensive system, so to try and penetrate that, our execution wasn't as clinical as it should have been.
"Obviously when we go back home there will be different conditions, but we're still facing the same 15 men on the field, so I anticipate it will still be tough back home. We've got to take some learnings from these last two games.
"We were having a chat as a coaching team about how we'd analyse these games and put in place some measures to help us going forward."
The Kings didn't fare much better. An eight-try defeat to Scarlets wasn't exactly surprising given they lost the bulk of their squad after being axed from Super Rugby and then they were swatted aside by a Connacht side who themselves are nowhere near full throttle.
While both South African sides possess an undoubted threat with ball in hand — we saw that from the Cheetahs in Belfast — they are all over the place defensively to such an extent that they give Zebre and Treviso are run for their money in those stakes.
To be fair, they've been thrown in at the deep end but conditions have been conducive to free-flowing rugby over the opening two weekends. How will they deal with the weather in the depths of winter here?
Indiscipline and defensive vulnerability has been exposed while both sides have been dominated at scrum time, essentially giving them no real chance of being competitive in this hemisphere for the entire 80 minutes.
"There were some big guys out on the pitch today," Duncan said of the Munster forwards, who completely obliterated the Cheetahs set-piece.
"We have always played the type of rugby where we can move the ball and we always put athletes in the team who can obviously keep up with the pace of the game.
"Having the heavier guys on the pitch up front, it's always a difficult one to comment one because up until now, we've got by with the guys that we've got.
"It's something that we will have a look at in terms of our recruitment, in terms of the players we are working with but at the same time, I don't want to discount the performance of our lighter guys."
Even still, Duncan describes their first trip of the season as a 'good experience' for his players as they prepare to head back home ahead of games against Zebre and Leinster.
How both desperately need a victory to find their feet.
"I think we will see the Cheetahs competitive next week," Rassie Erasmus insisted after watching his current side score eight tries against his former club.
"I think you'll see different results. They will get used to different things here. "They might struggle in the beginning and they might only find their stride next season to be honest, but I think the Cheetahs will surprise guys. I know they are going to get it together somewhere.
"The Kings are a different story and they might take a little longer but the Cheetahs will be competitive and I am serious. I am not just saying that because I am from there."
Duncan, meanwhile, believes his side can take advantage of home conditions when both Zebre and Leinster visit the Toyota Stadium over the next fortnight.
"Coming to Bloemfontein this time of the year, it's starting to get quite warm," the Cheetahs coach added. "We've experienced 30 degrees plus this week. Obviously playing at altitude is always an adjustment.
"As far as the game is concerned, we're in the middle of a drought so we are expecting dry conditions and that generally means a faster moving game.
"Our traditional style of rugby is to move the ball around. We're obviously going to do that at home and I'm hoping that the South Africans can give them the same hospitality that we have received here in Ireland."
The Cheetahs received a warm ovation after their historic first appearance in Belfast last week, but the reception after they meekly rolled over in Limerick was a little more charitable. It was tough to watch, and as the weeks progress and the firsts run out, the novelty of all of this will wear off.
But it's only fair to reserve judgement until both teams have at least had the advantage of playing at home. Maybe then the playing field will be levelled, but until then the enthusiasm is waning.
Subscribe to The42 podcasts here: