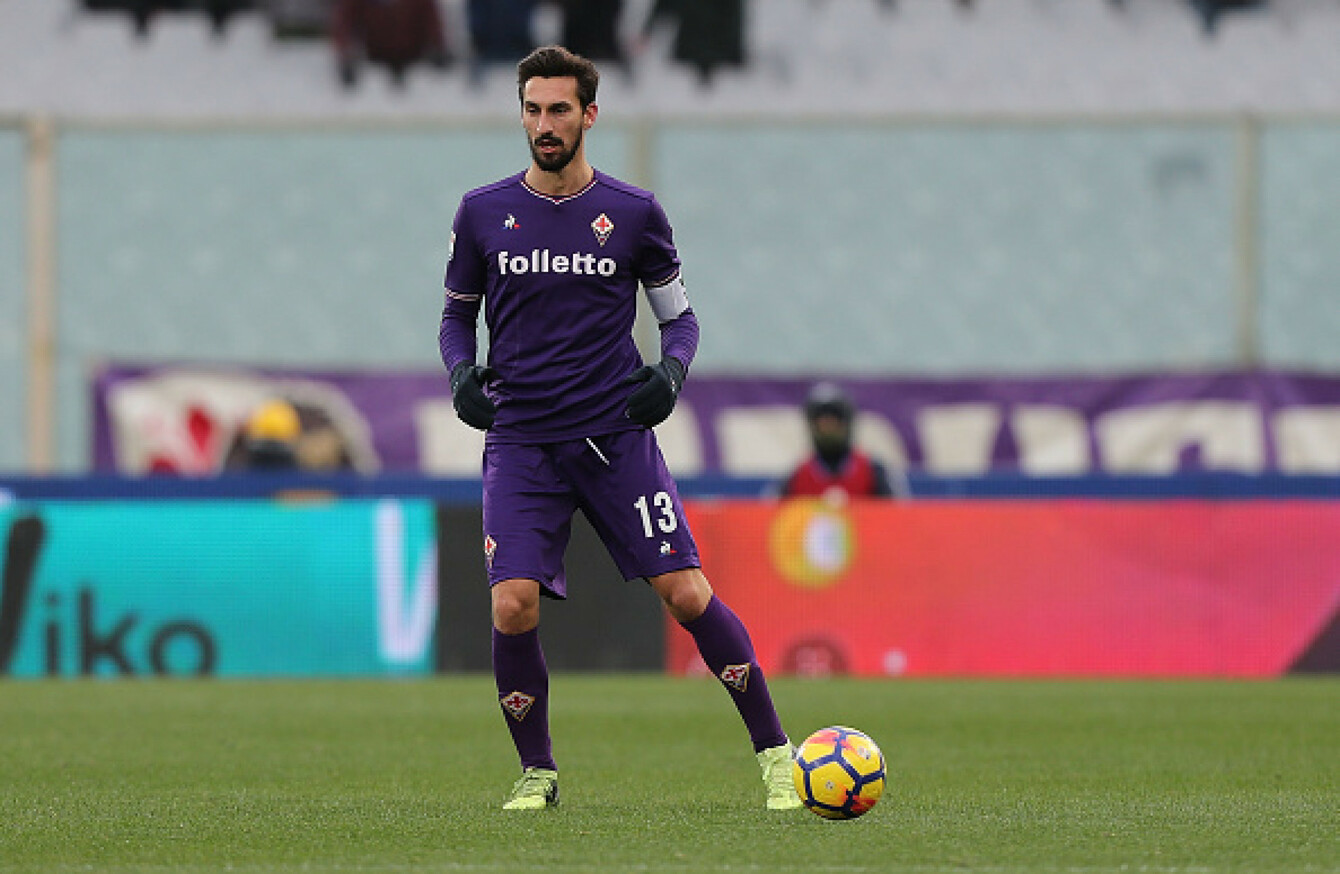 Image: Gabriele Maltinti
Image: Gabriele Maltinti
FIORENTINA HAVE CONFIRMED that club captain Davide Astori has passed away suddenly on the eve of his side's trip to face Udinese in Serie A.
The 31-year-old centre-back had been capped 14 times by Italy and had enjoyed a professional career spanning 12 years.
Astori was in Udine with Fiorentina to prepare for Sunday's match against Udinese when he passed away.
All of today's Serie A fixtures have been postponed.
"Fiorentina are profoundly shaken and forced to announce that their captain Davide Astori has died," a Fiorentina statement reads.
"For this terrible and delicate situation, and above all out of respect for his family, we appeal to the sensitivity of the media."
The defender started his career at AC Milan, where he never played a Serie A match, before moving to Cagliari, the club where he made his big breakthrough.
He turned out 174 times for the Sardinians in a six-year spell, during which he made his national team debut.
In 2014, Astori was sent on loan to Roma than a year later made a similar transfer to Fiorentina, but with an obligation to buy at the end of the season.
Astori had established himself as a vital member of the squad and had turned out 27 times for the side ranked 10th in the Serie A standings this term.
In addition to the Fiorentina game, Sunday's match between Genoa and Cagliari, one of his former clubs, was called off just before its 11.30am kick-off.
When Astori's death was announced on the stadium video screen, many of the players warming up walked off the field.
Club press officer Arturo Mastronardi says Astori's body was found in his room after he did not arrive for breakfast with the team on Sunday morning.
He added that an autopsy is due to be conducted and the rest of the squad will fly back to Florence, where club directors have visited Astori's family.
"There was a deadline to show up for breakfast, at 0930," Mastronardi told the media in Udine.
"He usually arrived first. When he didn't turn up before the deadline, they went to check on him and, unfortunately, they found him in his room.
"The cause [of death] is not yet known. A magistrate came and they have taken him to the hospital for an autopsy. I think it will be done by the end of the day, but I don't know the technical details.
"The last to see Davide was Marco Sportiello. The medical staff and Sportiello will be talked to. As far as I know, Astori was not under any special medical controls.
"The team will return to Florence by a charter flight at around 1500. The family has been informed by the directors: the parents by telephone, while in Florence his partner has been visited by directors who were in the city.
"We have no other news at the moment."
The42 is on Instagram! Tap the button below on your phone to follow us!