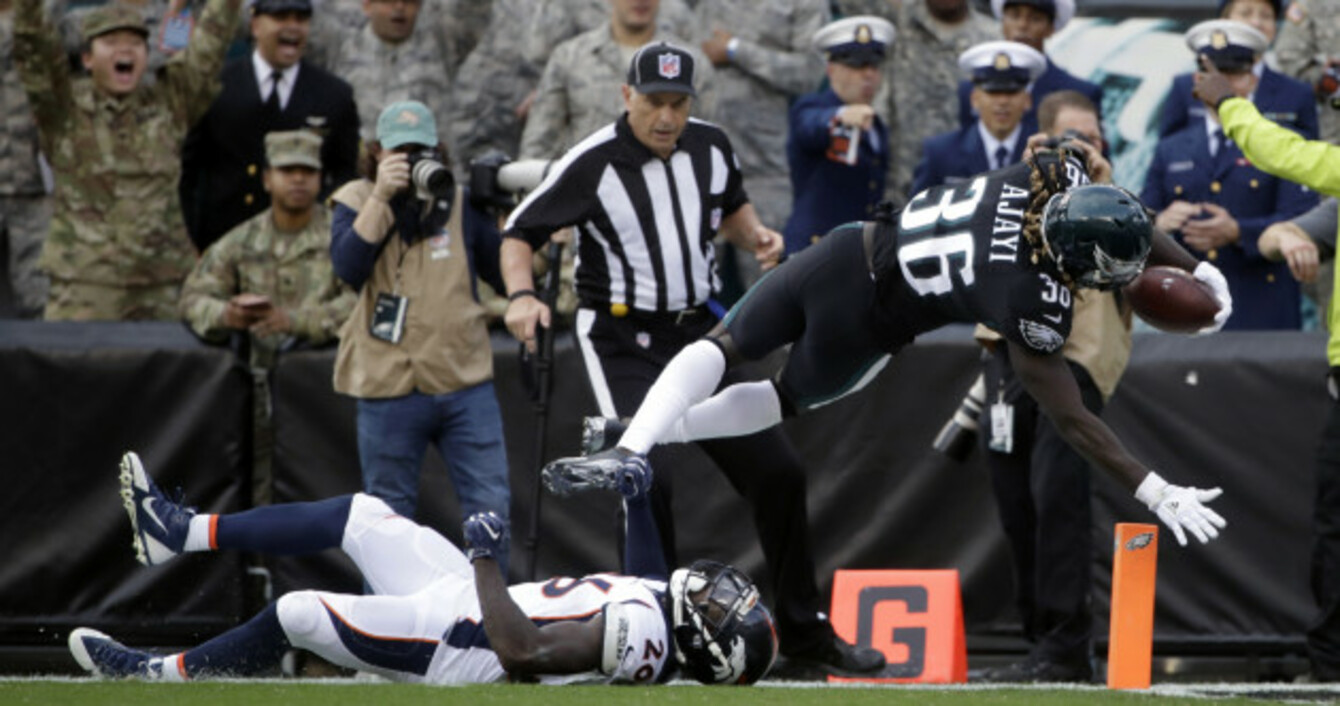 Image: Matt Rourke
Image: Matt Rourke
CARSON WENTZ THREW four touchdown passes and Jay Ajayi ran for a 46-yard score as the Philadelphia Eagles won their seventh straight game by steamrolling the Denver Broncos 51-23 last night.
Wentz has now thrown at least three touchdown passes in four of the last five games as the Eagles improved their record to 8-1, the best in the NFL.
"Touchdowns are all great," Wentz said. "Being 8-1 is what it's all about."
Wentz also became the youngest player to throw at least 23 touchdown passes through nine games since Dan Marino had 27 in 1984.
Running back Ajayi, who was acquired from Miami just before the trade deadline, paid immediate dividends with his new team. He rushed eight times for 77 yards, including a 46-yard touchdown run.
"No, not nervous," Ajayi said of his debut. "I'm confident in my talent and ability. It's just about, like I said, whenever I got my chance, just making sure that I took full advantage of it."
The reeling Broncos fell to 3-5 and 0-4 on the road.
Elsewhere, quarterback Dak Prescott completed 21 of 33 passes for 249 yards and two touchdowns to lead the Dallas Cowboys to a 28-17 win over the Kansas City Chiefs.
"Seeing him every week, he's someone that can beat you a lot of different ways," Dallas head coach Jason Garrett said.
"He makes plays in the pocket and he makes plays out of the pocket. He makes plays with his feet. He did that all throughout this ball game."
The Cowboys improved to 5-3 on the season thanks to the trio of Prescott and wide receivers Terrance Williams and Cole Beasley who proved to be an unstoppable force against the Chiefs.
Williams made nine catches for 141 yards and Beasley had two touchdown grabs.
Ezekiel Elliott, playing while he appeals his six-game suspension by the NFL, rushed for 93 yards on 27 carries, including a touchdown in the third quarter to put Dallas ahead 21-17.
In East Rutherford, quarterback Jared Goff threw four touchdown passes, including three in the first half, as the Los Angeles Rams routed the New York Giants 51-17 at a MetLife Stadium.
The 51 points allowed by the Giants was the most they have given up at home since 1999.
The Rams, who won their third straight game, scored on five of their first six drives in the first half, with two of their scoring drives set up by Giants turnovers.
In a frantic finish in Seattle, Kirk Cousins led a late, late drive as Washington edged the Seahawks 17-14 in a frantic finish.
Sunday Night Football saw the Oakland Raiders improve to 4-5 with a 27-24 win on the road in Miami.
NFL – Sunday's results
Baltimore Ravens 20 @ 23 Tennessee Titans
Tampa Bay Buccaneers 10 @ 30 New Orleans Saints
LA Rams 51 @ 17 New York Giants
Denver Broncos 23 @ 51 Philadelphia Eagles
Atlanta Falcons 17 @ 20 Carolina Panthers
Cincinnati Bengals 7 @ 23 Jacksonville Jaguars
Indianapolis Colts 20 @ 14 Houston Texans
Arizona Cardinals 20 @ 10 San Francisco 49ers
Washington 17 @ 14 Seattle Seahawks
Kansas City Chiefs 17 @ 28 Dallas Cowboys
Oakland Raiders 27 @ 24 Miami Dolphins
Subscribe to The42 podcasts here: