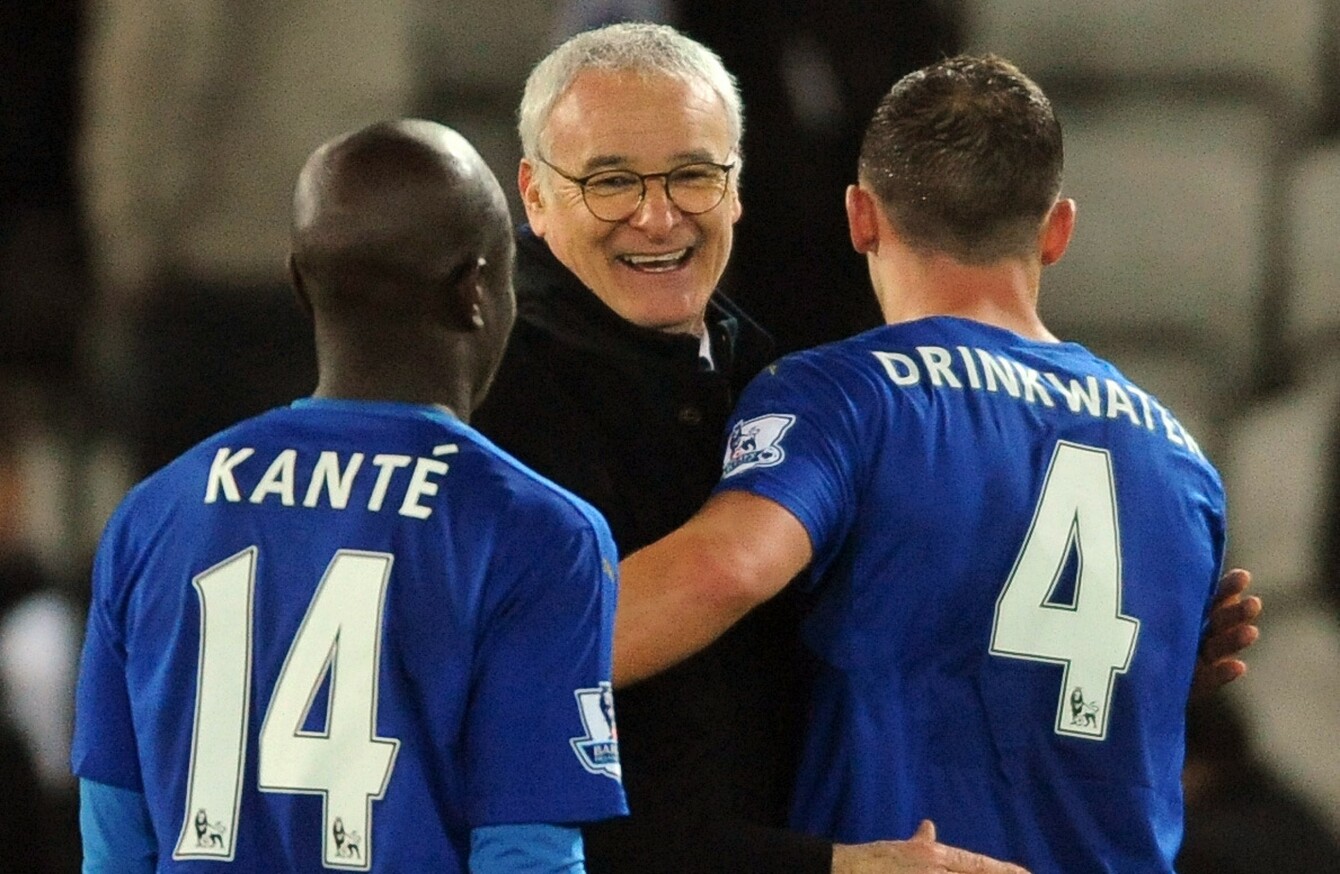 Image: Associated Press
Image: Associated Press
1. "We started the season very well. But our goal, I repeat, was to save the club from relegation. The first nine games, we were winning, but we were giving up many goals. We had to score two or three goals to win every game. It concerned me very much.
Before every game, I said, "Come on boys, come on. Clean sheet today."
No clean sheet. I tried every motivation.
So finally, before the game against Crystal Palace, I said, "Come on boys, come on. I offer you a pizza if you get a clean sheet."
Of course, my players made a clean sheet against Crystal Palace. One-nil.
So I stood by our deal and took my players to Peter Pizzeria in Leicester City Square. But I had a surprise for them when we got there. I said, "You have to work for everything. You work for your pizza, too. We will make our own."
Writing in The Players' Tribune, Leicester City boss Claudio Ranieri reveals the secrets behind the Foxes' success.
2. "The issue couldn't be more urgent. In January, the International Olympic Committee (IOC) altered its rules. Men transitioning to women are no longer required to have gender reassignment surgery; instead, they have to declare themselves female and keep their testosterone levels below 10 nmol/l for a year. Arne Ljungqvist of the IOC's medical committee described this as "more flexible and more liberal".
This may sound progressive and enlightened, but what about the effect on competition? Critics, such as my colleague Janice Turner, have pointed out that the normal testosterone range in women ranges from 0.2 to 3 nmol/l. That could mean that some trans women have testosterone levels three times higher. Given that testosterone boosts strength and endurance, this seems like an unfair advantage.
"I've never felt so overpowered in my life," Tamikka Brents, a female mixed martial artist, said after being pummelled by Fallon Fox, who was born as Boyd Burton. "I've fought a lot of women and have never felt the strength that I felt in a fight as I did that night."
In The Times, Matthew Syed delves into the complex world of trans-gender athletes and what it means for sport.
3. "In March, Day said that his father began striking him with closed fists when he was 10 or 11. If his father believed Day was capable of breaking 50 for nine holes and he did not, he would beat Day in the car on the way home.
Dening remembered the first time she saw the evidence.
"When I dressed him one weekend, I noticed some bruises on his chest," she said. "And I said, 'What happened to you?' He said, 'Dad.' "
She said she confronted her husband. "From now on, don't you ever touch our children again, and from now on if you want to take him to golf, I'll be going with you," she said she told him.
Dening started going to the golf course. Sometimes she dragged Day's pull cart. She said she believed the abuse happened only once, but Day disputed that.
"Every weekend, it was sort of that way," he said, adding: "I loved golf so much when I was a kid, I'd go through that. I loved playing golf more than I hated the punishment."
Dening and Yanna bore the brunt of Alvyn's verbal abuse. Yanna said she understood her father better after he shared a story from his childhood of a goat that he treated like a pet that his parents slaughtered without telling him. Her father, she said, was a product of a "circle of violence," one that she and her siblings have broken.
"Dad's intention was pure for Jason's success," Yanna said, "and although Dad wasn't right in many aspects, and though it's a cop-out, he was trying the best he could."
A complicated family background but Jason Day has risen from that to become the best golfer in the world, as Karen Crouse details in the New York Times.
4. "The huge leak also shows the extent to which modern football is afloat on an ocean of offshore cash. From players salting away image rights income to agents using complex structures to conduct their business, to football executives accused of corruption such as Figueredo.
The snapshot of the activities of this one large firm – which amounted to 11m files – reveal the extent to which large chunks of the proceeds of football's boom have ended up in tiny jurisdictions such as Niue or the British Virgin Islands.
From the world's most famous player, Lionel Messi, to owners of Premier League football clubs, to agents, administrators and the assorted layers of middle men and hangers-on who have got rich on the back of the game's broadcasting and sponsorship boom – this is where much of that money ends up. In secret, offshore accounts. While not illegal to hold such accounts it does raise questions over transparency.
Now disgraced football executives such as Jérôme Valcke (who used an offshore company to buy a lavish yacht) and Platini (whose company – Balney Enterprises – was registered in 2007 and remains active) crop up in the files. Both men said that they had done nothing wrong.
The issues of transparency raised by the use of offshore accounts feel analogous to many of the other challenges facing Fifa and the confederations such as Uefa that sit beneath it. It is far from out of intensive care."
The always-excellent and comprehensive Owen Gibson of The Guardian wonders just how new is the new Fifa in light of the Panama Papers scandal.
The42 is on Snapchat! Tap the button below on your phone to add!