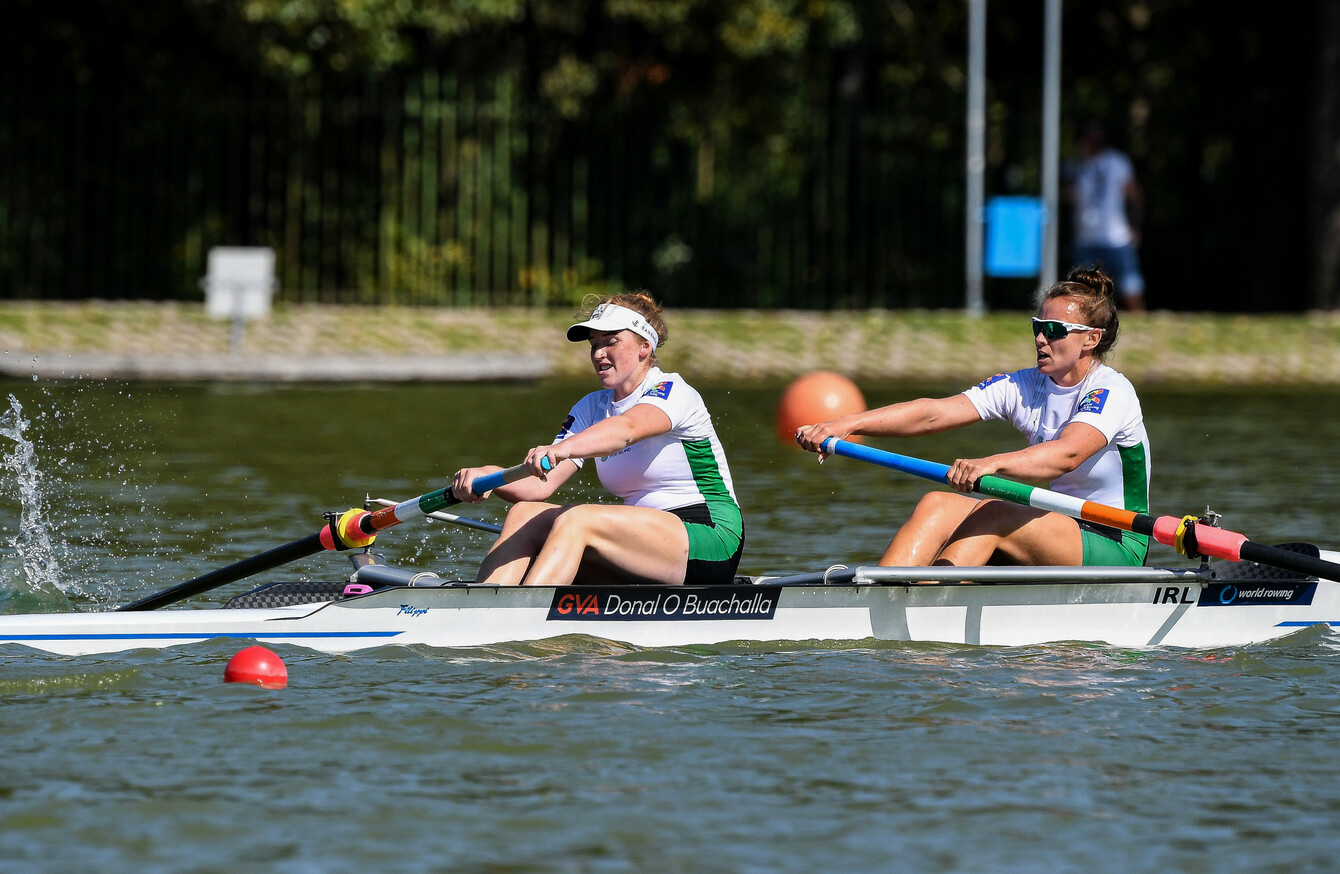 Aifric Keogh (right) and Emily Hegarty on their way to finishing sixth in the World Rowing Championships in September.
Image: Detlev Seyb/INPHO
Aifric Keogh (right) and Emily Hegarty on their way to finishing sixth in the World Rowing Championships in September.
Image: Detlev Seyb/INPHO
IT'S A WELL-known fact that the life of an Olympic athlete can be a lonely one.
Your days are filled with early morning training sessions and the demands of life, before it's back to the track, gym or pool for an evening workout.
Mentally you're tested, physically you can be drained. But in most cases it's never forced upon the athlete.
It's the path they choose to find fulfillment. It's a path that, for people outside the bubble, can be difficult to understand. Aifric Keogh and Emily Hegarty became the latest in Irish rowing's talent pool to emerge at the World Championships in Plovdiv as genuine contenders on a global stage.
This was their first major championships rowing alongside one another and the pair made history by becoming the first Irish female pair to qualify for a world final.
Despite a sixth-place finish, both Hegarty and Keogh gave the public another reason to believe that rowing is evolving into one of Ireland's most successful sporting endeavors.
"The belief is starting to grow within the country that we can do it," Keogh tells The42.
"For me anyway, watching the success grow – whether it was Gary and Paul [O'Donovan] or Sanita [Puspure] – I've always had them on a pedestal. "I always just thought: 'Oh that's them, they're obviously very talented and train very hard.'
"But as the years progress, you do start to see that it isn't necessarily anything special, it's just hard work. Anyone can do it if they put their mind to it.
Gary and Paul used to say it all the time: 'If you've two arms and two legs, you can do it. There's nothing stopping you.'
"In my head I would see them as superhuman and in the last year, the one thing I've learned is that they are right. It is just hard work. "A lot of time goes into that, but once you commit and put your head down, you will start to see the results.
As the success has started to come in 2015, 2016 and 2017, people really started working and we're starting to see the pay-off for that now."
Ireland's team from the 2018 World Championships landed two gold medals – Olympic silver medalists, the O'Donovan brothers in the lightweight men's double sculls and Sanita Puspure in the single sculls – and the team appears to be taking shape as we enter the second half of the Tokyo 2020 Olympic cycle.
What this means for Keogh is that all her efforts will now be on securing a place at the Games. "I decided this year I'd take the step back to train full-time.
"I had it timed in my head with the Olympic cycle – work for the first two years of the cycle, then for the final two just focus on the training.
"I do a few part-time hours to keep my brain active and to have something else away from training.
It's good to have something else as well. There are a lot of athletes who are just full-time athletes. You can go a bit crazy. It's hard to switch off from training all the time.
"Last year was touch and go for a while. I was training in the morning, going to work, training in the evenings.
"I thought to myself if I can make it to the end of the year, I'll be doing well. It was non-stop. "Staying fuelled with food and staying on top of everything in work. They were very understanding, but you have to get your work done.
Last year I was burning the candle at both ends. I felt for a while I was trying to survive. Not even to do well in either, but to get everything done as well as I can.
"Now I can see the difference in my training. I'm better prepared, mentally and physically. I'm getting a lot more sleep and I'm able to look after the food side of things. "It's all of those small things that make a big difference."
Working now in UCC keeps her immersed in the hotbed of Irish rowing in 2018. It appears that if you want to scale the heights of Irish rowing, Cork is the place to be. Namely, Skibbereen.
As a Galway native, Keogh admits the shift in attitudes when she decided to base herself in Cork took her training and dedication to new levels.
"There were a good few of us training hard [in NUIG] and representing Ireland at the World Championships. But the majority of the club didn't take it as seriously.
You feel like the anti-social one when you're turning down nights out. It was harder to say no to all of the social things on the weekend.
"When you're down here, you're surrounded by people of a similar mindset. It's easier because you don't feel like you're missing out as much.
We'll all go and do things together that won't affect our performance – like going out on the piss every night.
"It's easier when there are people around you doing the same thing. If you're having a bad week, they can pick you up. Next week, it might be them having the bad week.
"It comes in cycles. We're always there for each other and work." Support is an important theme for the 26-year-old, who inadvertently found herself in a mentor role to Hegarty – six years her junior. "I almost didn't realise it was happening," she admits.
"Yes, I have gone to senior World Championships, but I'd never gone in an Olympic boat class. "Last year I didn't feel as experienced, but this year I definitely do. Looking back, I never felt like I had that [mentorship], so I'm not drawing on 'when I was Emily's age and I was working with so-and-so'.
"I never had it so I feel like I'm making it up now as I go along. "You end up picking up all these things without even realising, everything you've learned throughout the years."
In her role as the 'experienced oarswoman' of the pair, Keogh subscribes to the philosophy of KISS – Keep It Simple, Stupid.
"Make sure you're looking after the basics all the time. When it comes raceday, you won't need to change anything. Stay consistent with food and recovery.
"You keep everything simple. One thing that maybe she looks to me for is reassurance. "When I feel she's getting a bit stressed or worried, I remind her that she can only focus on her own performance.
"I always say 'I hope you never feel that I'm there pointing the finger at you saying you're not pulling your weight because I know you're giving your best.'
"That's all I can ask of her."
The blossoming partnership between the two is bedded down by the fact that the pair share a strong mutual respect for one another.
Their performances on the world stage and in training since they began working together last year, have meant that there will be those who look to dislodge them from their place on the national rowing team.
"There are a big group of girls in training at the moment. They can see that the girls beside us are sixth in the world and that if they can beat us on a given day, theoretically they can go out and do the same thing.
"No seat is safe."
But for now, Keogh is following her own advice. Control what variables you can. Focus on her own team. Find the positives in the team she has around her and, most of all, enjoy it.
Those cold dark mornings get a little easier when you have people around you who make it worthwhile.
"Emily has a lot of experience, I feel like we're working well together. There's no personality clash, we have a good time and get on well.
"That's so important. When you're out there training, of course it's serious and yeah we're working hard, but during those breaks you can have a laugh."
With Olympic qualification at next August's World Championships in Austria looming, Keogh is confident the work in the coming months and the pair's 'A' final finish at this year's championships will give them the platform to achieve glory in Tokyo.
"We're the ones to beat. Ours are the seats to get for the upcoming year."
And, undoubtedly, the team setting will go a large way toward making the fledgling pair believe in themselves.
"We train beside Sanita and we do the same training programme as her.
"If she can be a world champion doing these same sessions, surely it can make us faster too.
"There are the pressures, but it's something Emily and I deal quite well with. There's no point putting pressure on myself. It's the same as every other race.
When we go out to race, we line up and say to each other that instead of thinking Australia and America are on our left and right, it's just Sanita and a few of the girls in the group.
"It's nothing different. It's the same race. We want to draw on the days we spend training together as a group.
"You have to acknowledge that you're at a serious event, but you don't want to dwell on it. "And we know if we're beating Sanita, we're doing well."
Subscribe to our new podcast, Heineken Rugby Weekly on The42, here: