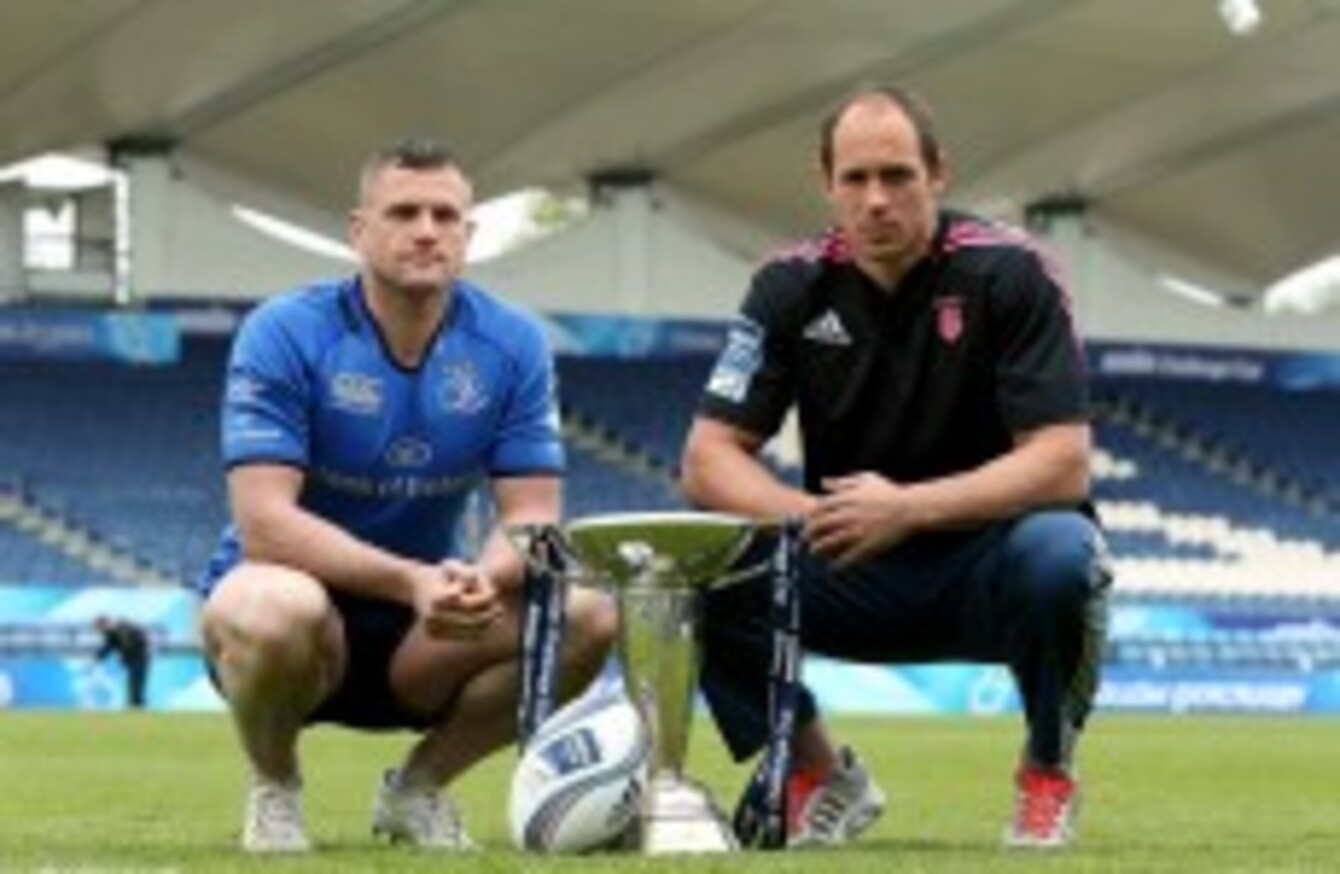 Jamie Heaslip and Sergio Parisse at the RDS.
Image: ©INPHO/Billy Stickland
Jamie Heaslip and Sergio Parisse at the RDS.
Image: ©INPHO/Billy Stickland
L'EQUIPE ASKED STADE FRANCAIS' back coach Christophe Laussucq what he made of Leinster's injury-hit starting XV to face them at the RDS on Friday.
A hand-written list of names was placed in from of Laussucq and he scanned it quickly before reading out the centres 'Madigan, McFadden' aloud. There was no hint of a smile to betray his feelings but the coach soon shared his thoughts.
He told TheScore.ie, "We were waiting for Brian O'Driscoll… we are not too unhappy that he is not there. He is the player that we know the most of."
Laussucq added, "Leinster are the ones that have the H-Cup, we know their quality. No Gordon D'Arcy, no O'Driscoll but we know it is a bloody good team."
With Leo Cullen on the replacements bench, Jamie Heaslip will lead Leinster out at the RDS. He fielded questions from the media, at the same venue, this afternoon and waxed lyrical on his opposite number, and rival captain, Sergio Parisse. "He's a great player," said Heaslip, "I can only say high words about him.
"The leadership he shows for Stade and Italy is clear. It is a huge challenge, for me, personally, and the back row to face Sergio and his back row unit."
Parisse was informed of the praise he has received, moments earlier, from Heaslip and returned the favour by describing the No.8 and Sean O'Brien as 'two of the best back-rows in the world'. Nonetheless, insisted that kind words meant nothing to him if his team was to return to France without a trophy in-tow. Parisse told TheScore.ie:
Of course it is nice to hear Heaslip, as captain, say nice things but, as far as I am concerned, it is not the type of compliment that will change my attitude for the final… For the whole team, it is terribly important that we win the title."
Stade need to claim the Challenge Cup to ensure a place in next season's Heineken Cup, following a poor domestic season in the Top 14. Writing the name 'Stade Francais' on the trophy is the main motivation, Parisse argues, come kick-off.
The Italian declared that it was important for his side — a mix of French youth an experienced internationals — to 'show their guts' in an effort to upset the favourites.
*TheScore.ie will be liveblogging all the action at the RDS from 7:30pm on Friday.