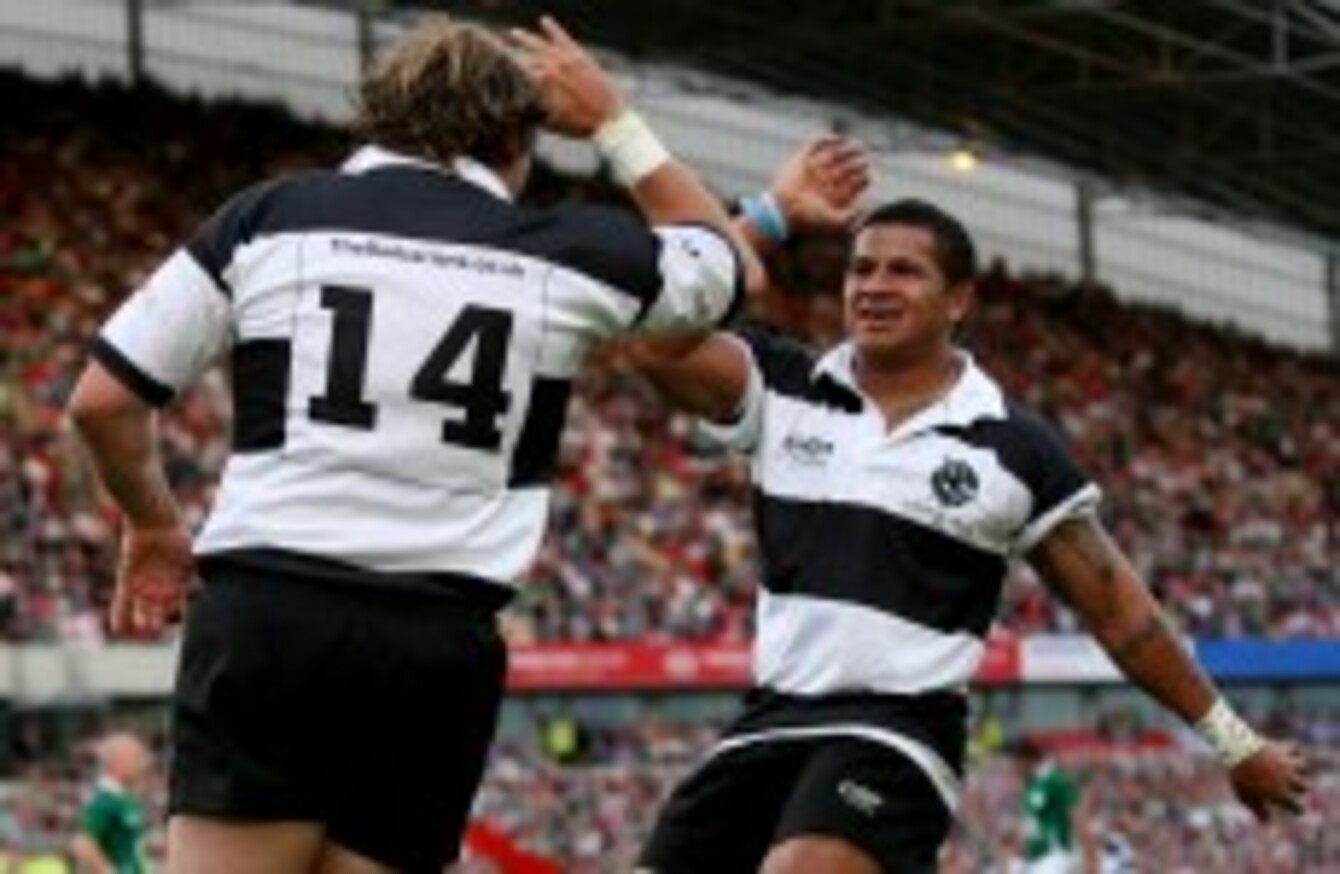 The Barbarians look pretty good for 125.
Image: James Crombie/INPHO
The Barbarians look pretty good for 125.
Image: James Crombie/INPHO
125 YEARS AGO today a group of men gathered in Leuchters restaurant in Bradford and changed rugby history.
No, they didn't sit around downing pints of bitter and scoffing pasties on the way to creating the bish-bosh-bash Bradford Bulls. Instead, they conjured an invitational XV that would be committed to playing rugby the right way.
And the Barbarians have provided rugby fans with plenty of entertainment over the following years. Win or lose, whoever is in the side always give supporters a fantastic game to watch, stuffed full of offloads, linebreaks and absurd trick plays.
Players from over 25 countries have played in the black and white over the last century and a quarter, and remarkably, an Irishman holds the record for most caps and tries.
Former Ireland international wing (and former billionaire) Tony O'Reilly scored 38 tries for the Baa-Baas in 30 appearances.
If you take a look at the team's Twitter account today you will see a lot of messages from former players remembering their time lining out for the Barbarians.
And here is WP Carpmael, the man who founded the team. You could pierce a suit of armor with that moustache!
And Ireland and Leinster centre Gordon D'Arcy also sent the Baa-baas a 'come and get me' plea. Maybe he could be in the team when Ireland face the Barbarians at Thomond Park on 28 May.
We decided to pay tribute to one of our favourite rugby teams by bringing you five great Barbarians tries that you might not have seen before.
The first one will be a welcome sight for Leinster fans as it features Isa Nacewa gliding through the Welsh defence like Voldemort en route to snatching a Baa-Baas win at the Millennium Stadium.
It is somewhat similar to the try the Fijian picked up against Leicester in the Heineken Cup quarter-final in 2011, although he had to dodge significantly more traffic at the Aviva Stadium.
Our next Barbarians cracker is from a 1990 clash with England. Two things stand out here:
David Campese's blind over-the-shoulder offload.
Neil Back's bouncing bowl haircut (he is the marauding blonde flanker in the loose).
Phil Davies ends up touching down after some sensational close-quarters offloading (apologies for the grainy GIF – this is what television looked like in 1990).
Our next entry makes it in because it showcases one important element that makes the Barbarians great: forwards playing like backs. In modern rugby, forwards are more focused on the tight exchanges but in 2011, second row Joe Tekori showed exceptional pace to blow a hole in the England defence.
Another reason professional players love joining up with the Barbarians (besides the afterparty) is that they get to play rugby from very, very deep. Not worrying about the score gives the players the freedom to attack from their own line.
They play every game as if they are Yoann Huget and Ireland are about to win the Six Nations.
We thought we would throw in a classic Barbarians try to round it off. Almost every rugby fan has seen a video of THAT Gareth Edwards try against the All Blacks so we decided to dig up one from when the Baa-Baas played the Lions in 1977.
This offload from Ray Gravell to JPR Williams happens so fast it almost beats the speed of light.
You don't want to get all syrupy/cheesy/gooey but that sort of rugby is really the way it should be played in an ideal world.
But we don't live in an ideal world – ours is full of kick-chase battles where the Barbarians style is the exception (Six Nations finale) rather than the rule (almost everything else).
What is your favourite Barbarians memory?