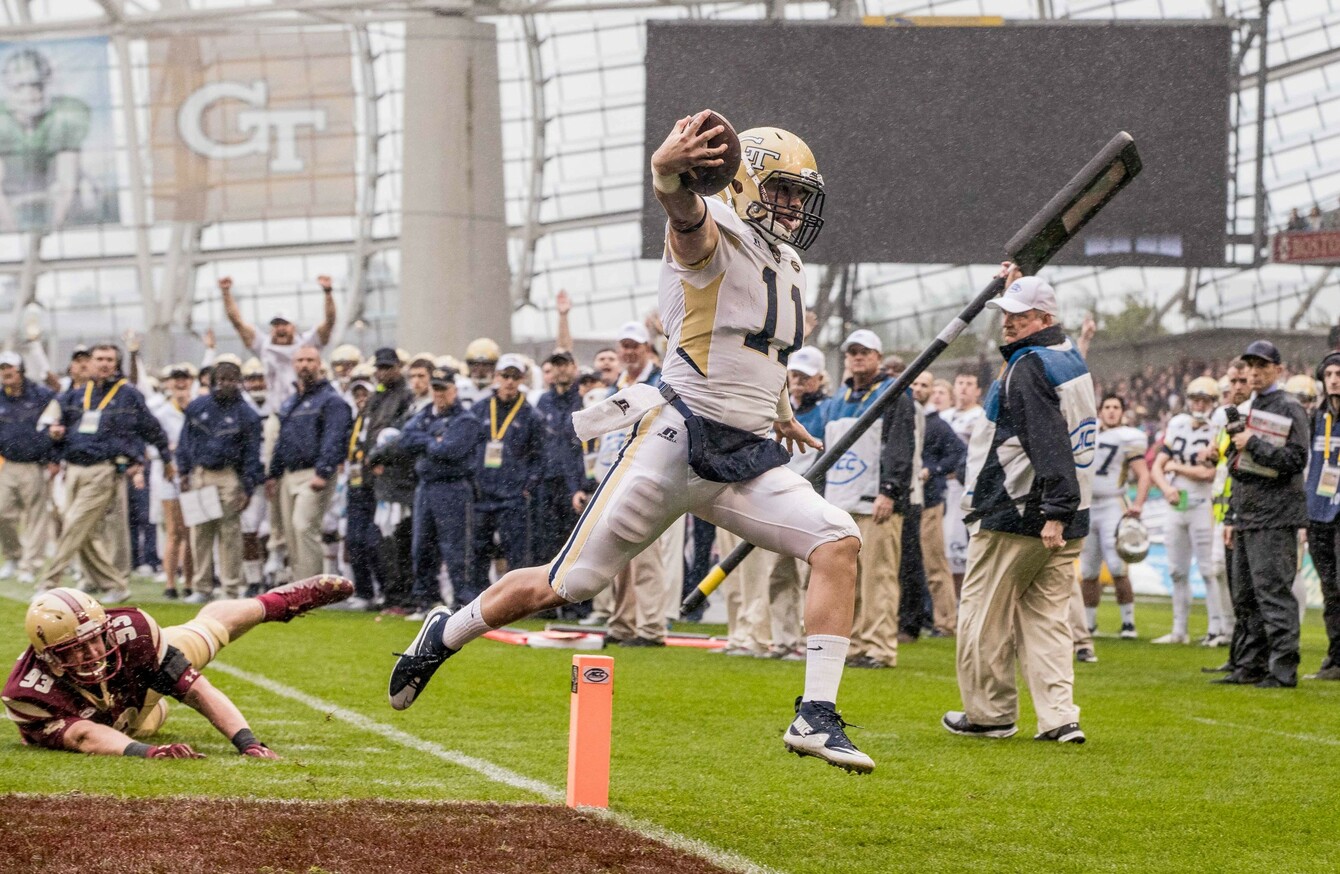 Matthew Jordan scores the game's opening touchdown.
Image: Morgan Treacy/INPHO
Matthew Jordan scores the game's opening touchdown.
Image: Morgan Treacy/INPHO
IT WASN'T ALWAYS pretty but Georgia Tech took victory over Boston College in today's Aer Lingus College Football Classic with a late touchdown; Dedrick Mills running home from four yards out with 35 seconds left on the clock to give his side a 17-14 win.
After a week of decent autumn weather, the kids were back to school afterall, the rain decided to fall heavily on the Aviva early on, meaning the run game was always going to dominate proceedings.
Boston College got the game under way but a turnover on the their opening drive, after a less than ideal pass by new recruit Patrick Towles was picked off by Corey Griffin giving Georgia Tech excellent field position with 10 minutes to go in the first.
The Yellow Jackets made them pay with some gutsy play calling giving them first and goal. On second down, Matthew Jordan — subbed into the game in place of regular quarterback Justin Thomas on the play — kept the football and ran in for the game's opening score with three minutes left to play in the first quarter as the rain started to fall again.
Both teams struggled to get anything going on their next offensive series but when Boston decided to open up the passing game, they looked like much more of an attacking threat. However, they had to settle for a field goal attempt from the 33, which was blocked, keeping the score at 7-0.
Once more, Tech's offence could get nothing moving and despite getting their best field position of the day, another ill-timed turnover cost Boston College any chance of putting points on the board before the break.
The half-time show featured the usual mix of Irish dancing that you've come to expect at these affairs and, rather oddly, a 1916 commemoration featuring 'Ireland's Call' of all things.
Boston College were much better to start the second half and, on their first offensive play, watched John Hilliman take off on a brilliant 73-yard run leaving half a dozen Tech players trailing in his wake.
After a Yellow Jacket fumble deep in Boston College territory, Towles used his arm and feet to take the day's designated home team deep into opposition territory but, once more, they had to settle for a field goal attempt only to see Colton Lichtenberg miss again, this time dragging his effort wide left.
With Georgia Tech having yet another fruitless offensive possession, Towles again led his side down the field, this time trusting his feet to run in for touchdown with just under 12 minutes left in the fourth, giving Boston College the lead for the first time.
The Yellow Jackets came back within four points — 14-10 — on their next drive, Harrison Butker with the game's first successful field goal and a great defensive stand gave Georgia Tech the ball back with just over three and a half minutes remaining.
After struggling on the first three downs, a pin-point pass on 4th and 19 into the arms of Qua Searcy gave Tech a new set of downs to play with. Another big catch, this time by Ricky Jeune, moved them into the redzone with 1.20 on the clock.
With 47 seconds remaining, Thomas took off and ran out-of-bounds at the six-yard-line. That set up Mills for the game-winning score.