AN OPENING DAY review of Cheltenham 2023 was planned in chronological ranking.
After Honeysuckle's success that prompted a surge of emotion, order can only be abandoned.
True – she lost her unbeaten record this season. But when she went perhaps half a length down after the last of the Mares' Hurdle, all I could think of was Dawn Run – the mare is beginning to get up.
Then all I could summon was Jack de Bromhead, who can only be up there looking down and making us all smile at his own beautiful smile before he was so cruelly taken last year.
For Henry and Heather de Bromhead, nothing will ever be the same again. But Jack loved racing, loved Honeysuckle and Rachael Blackmore, who has done more for racing than a million bookmakers' incentives.
Cheltenham may have tinkered and diluted, trialled and refuted – this was as good as it gets and maybe will ever get.
If heaven were a place on earth.
Tom Maher / INPHO Henry de Bromhead and Rachael Blackmore celebrate Honeysuckle's win. Tom Maher / INPHO / INPHO
The day began with the Supreme Novices' Hurdle and an Irish angle to grab the eye.
Barry Connell and I are worlds apart and further now but we still have a mutual friend.
Connell was an idol of his long before he became a jockey, not to mind a trainer, and I asked what he made of his buddy's first British runner becoming his first Cheltenham winner in the first race on the first day of the greatest show on earth.
"Barry is a very cool, calm, analytical guy," our mate replied, and "that's the most animated I have seen him in 25 years."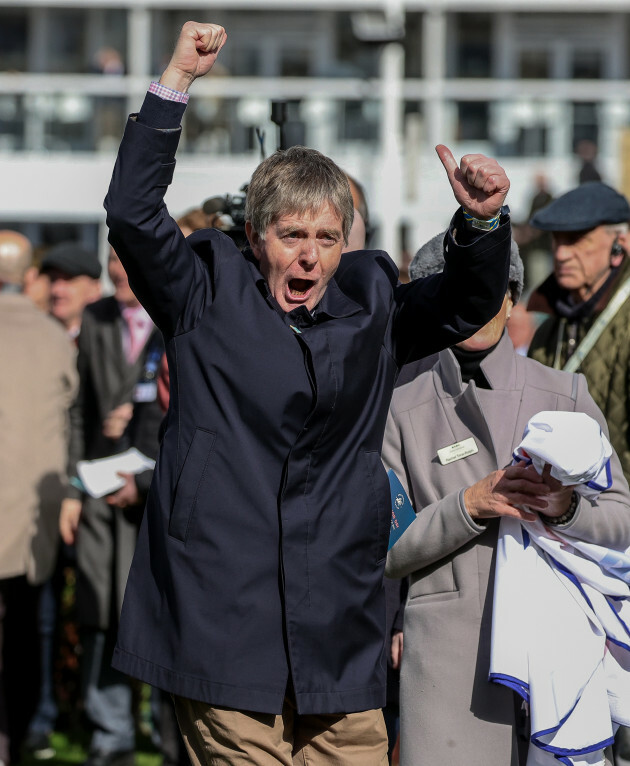 Tom Maher / INPHO Barry Connell celebrates winning with Marine Nationale. Tom Maher / INPHO / INPHO
Cheltenham will do that to you. I recently asked the trainer what he made of Marine Nationale's chance in the Supreme and that of Good Land (runs tomorrow) in the Ballymore.
"I'd be disappointed if both don't win," he said. That is all.
The story of how young rider Michael O'Sullivan went from a relative unknown to beating Facile Vega in today's opener is endearing.
"I was home bringing in the cows last summer and they were slow walking in the same evening. So I was on my phone looking at entries," O'Sullivan recalled last week.
"I just rang Barry, had never met him, and looked for the ride on Marine Nationale in the bumper at Punchestown. It fairly paid off. Afterwards, Barry asked me to ride a couple of mornings in the summer."
Nobody else has ever ridden Marine Nationale. Nobody has ever beaten Marine Nationale. Nothing will beat that buzz for Barry Connell – unless Good Land prevails tomorrow.
O'Sullivan wasn't done with his output for the day. Later he steered Jazzy Matty home for Gordon Elliott to win the Boodles Juvenile Handicap Hurdle.
Tom Maher / INPHO Michael O'Sullivan celebrates winning with Jazzy Matty. Tom Maher / INPHO / INPHO
Still, as the day developed, Constitution Hill clawed at your attention like a smartphone dangled before a toddler. I am writing this sentence before the race: was he going to emerge as the greatest hurdler we have ever seen?
On this very card last year, Constitution Hill's rout in the Supreme suggested as much. There's a Simpsons episode about the time the show was regressing where the Springfield residents dig up what appears to be the bones of an angel.
Lisa understandably scoffs at it all but, right at the moment of reckoning (it was a marketing gimmick), she grabs her mother's hand because even she can be moved by the supernatural – or what it may seem to be.
You can have a love-hate relationship with racing, even sport itself, but when you see Constitution Hill lining up in the Champion Hurdle, you are right back in thrall again. Lost in the moment.
I have never seen anything remotely like what he did here. State Man was like that cocky young footballer who thinks he's the best until one Saturday he is destroyed by his marker and is never the same again.
The most ridiculous aspect of Constitution Hill's Champion Hurdle romp was that he was value for far more than nine lengths. That jump at the last! If heaven were a place on earth.
Whatever about heaven and God, if I were Punchestown, I'd offer Nicky Henderson every Bloody Mary under the sun to come to County Kildare. Come on old boy, you know it makes sense.
At this stage, we'd seen it all – and we were just beyond halfway on day one. Never was there a better advertisement in the 16-renewal Mares' Hurdle than today's as there was no point in any of them taking on Constitution Hill so the gals' event was utterly absorbing.
And Honeysuckle delivered for the de Bromhead family and Rachael Blackmore.