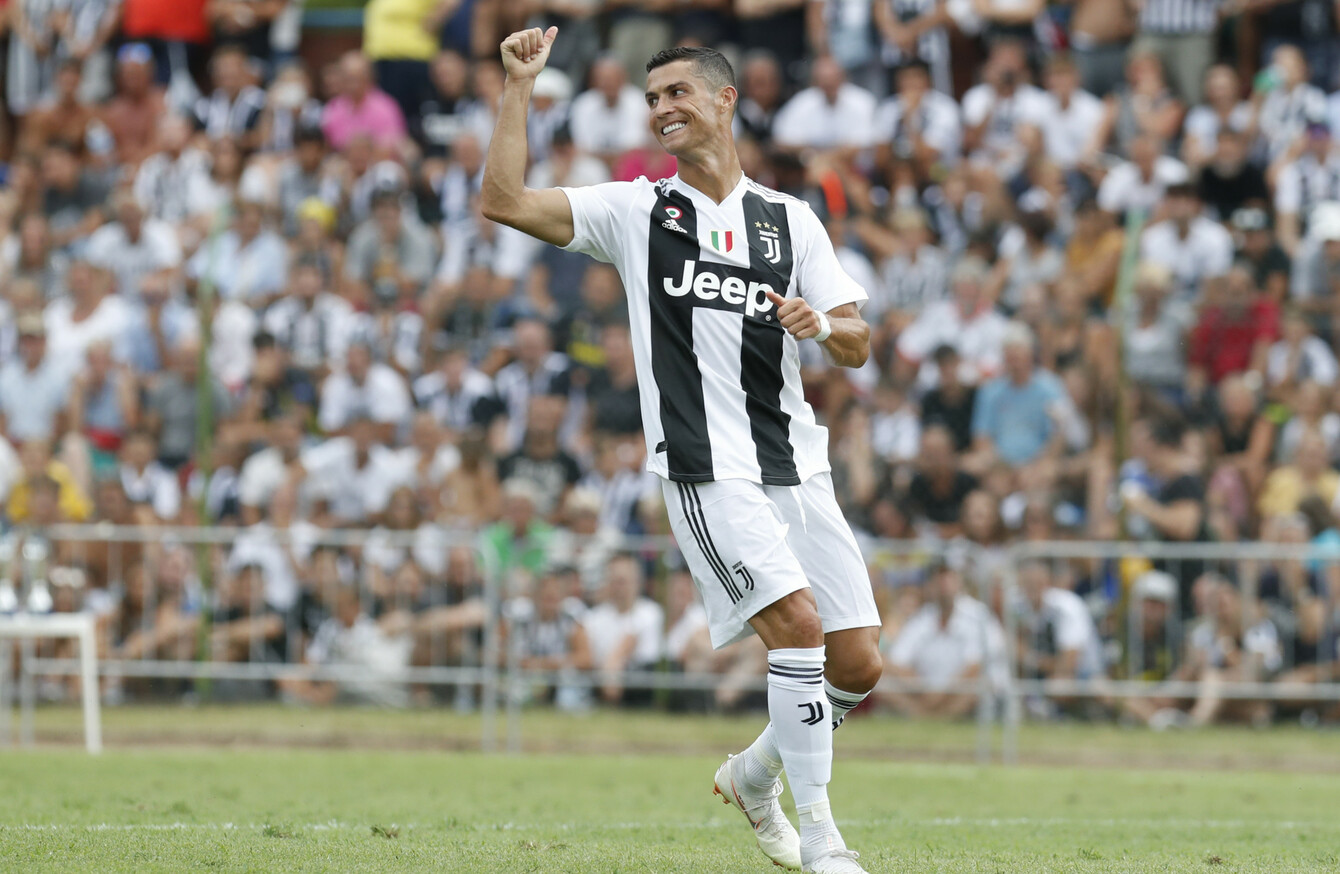 Juve's new signing during the game.
Juve's new signing during the game.
CRISTIANO RONALDO GAVE a display of star power in his debut for Italian champions Juventus, showing his class on and off the pitch at the club's traditional alpine curtain-raiser.
Nearly 5,000 fans crammed into the compact "Gaetano Scirea" stadium in Villar Perosa at the foot of the Italian Alps, as supporters descended on the small town in order to catch a glimpse of the superstar attacker in his first appearance since signing for €100 million a month ago.
They were rewarded with a goal in the friendly between Juve's first XI and a youth "B" team from their new hero, who also took the time out to sign autographs and pose for selfies while many of his team-mates sloped off to the dressing room.
Chants of "Ronaldo, bring us the Champions [League]" filled the air as supporters worked their way through a locked-down mountain town in which 600 police officers were called to a place with a population of just over 4,000 and road blocks stopped anyone entering without a match ticket or proof of residence.
Source: FootballMinds/YouTube
Ronaldo proved good value for the hype, scoring in the 10th minute with a neat finish after breaking a loose offside trap and closing in on goal completely unmarked.
The chants of "Cristiano, Cristiano" had barely died down when the five-times Ballon d'Or winner provoked Juve's second by forcing the unfortunate youth team defender Riccardo Cappellini to poke past his own goalkeeper three minutes later.
The 33-year-old proved too much for Juve's youth players, laying on winger Douglas Costa for a shot that crashed off the post and creating the first of Paulo Dybala's brace thanks to a shot that was well saved by young stopper Leonardo Loria.
Come the half-time whistle, Ronaldo shot off the pitch — followed by one ambitious fan who had to be held off by security after dashing towards and trying to hug his new hero — and towards delirous fans waiting near the dressing rooms, for whom he patiently signed autographs and posed for selfies.
However he didn't come out for the second-half of the match, which was eventually won 5-0 by the first XI and came to an end with around 20 minutes left when supporters piled onto the pitch and got a piece of their heroes.
The42 is on Instagram! Tap the button below on your phone to follow us!