THE CARLOW FOOTBALLERS know they're on the cusp of a major breakthrough, and they're not afraid to articulate it.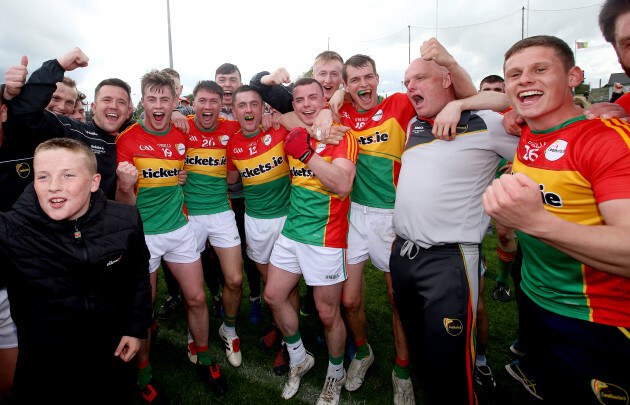 Tommy Dickson / INPHO Carlow players celebrating their victory over Wexford in last year's Leinster SFC. Tommy Dickson / INPHO / INPHO
Sportspeople who find themselves in this position are often afraid to go down this route. Maintaining a modest demeanour and adopting a keep-the-head-down mentality is the more common approach to handling this kind of unexpected rise through the ranks.
It might work for some people but Carlow are staying clear of convention. Their recent promotion out of Division 4 banished 33 years of hurt and it triggered a wave of celebration in the county.
The team's official Twitter page, along with the personal accounts of some members of the squad and backroom team, portrayed the scenes in a colourful and absorbing way.
Promotion party 🎉 has started #weareactuallygoingup 🍻🍻 pic.twitter.com/j3vHcj6xcZ

— Steven Poacher (@Stevie_Poacher) March 18, 2018
Tears of joy, oh Lord, OH LORD what a day, what a day for our little County🇬🇳
Turlough, Stevie Poacher, every single last one of these players & management are so, so special HISTORY MAKERS 2018 #CARLOWRISING🇬🇳🇬🇳🇬🇳 pic.twitter.com/xe4CbsfvEB

— Carlow GAA (@Carlow_GAA) March 18, 2018
This is huge, this is our All Ireland, we are Carlow ❤️💛💚 https://t.co/o6pD4gh4Hd

— Brendan Murphy (@BrendanMurphy17) March 18, 2018
"Some people might be sick of Carlow but the guys who look after social media for Carlow GAA are brilliant," Carlow forward Darragh Foley tells The42. "Some of the stuff that was up there was unreal."
Foley scored a vital goal in that victory over Antrim which sealed his county's promotion out of Division 4 for the first time since 1985, and he was one of those who published a tribute message on Twitter to mark the occasion.
He remembered former players Mark Carpenter and Brian Murphy in his post, who paved the way for the current crop of players to get Carlow over the line.
"I could have mentioned many, many more names but they were just two who had a huge impact on my career when I first started. They really looked after me and the likes of them lads led the way and showed real example and perseverance to keep going year in year out when things mightn't having been going so well.
They were the lads who always picked us up and said there would be a day when we'd get out of this division.
"Unfortunately that time didn't come when those lads were playing but I was talking to the two of them after the game and they were just as happy as anyone, they were just delighted for us as a group."
It was a memorable occasion for the travelling supporters too, who have soldiered alongside the players through the barren years and were there to witness the joyous scenes that unfolded after the final whistle. Many Carlow fans however, were unable to make the journey up North due to the snowy conditions around the country that day.
As for the atmosphere in the dressing room after the game, it's something that Foley and his teammates will never forget.
"The dressing room scenes were unreal. I think Turlough O'Brien had a video up on Facebook of some of the chants that were going on. Stevie Poacher the coach was leading the way. It was unbelievable, the excitement in the dressing room and just to see the smiles on all the lads faces was unbelievable.
"It's taken a while to sink in but it's a brilliant feeling and them scenes in the dressing room will live long in my memory."
Most GAA relegation and promotion stories are worthy of reporting, but Carlow was a special case and it seemed to capture the imagination of most GAA fans. Their achievement even led to them getting their own hashtag — #CarlowRising — trending on Twitter, which represents everything that the footballers are about right now.
Tommy Dickson / INPHO Darragh Foley leading out the Carlow team ahead of their Leinster quarter-final clash against Dublin last year. Tommy Dickson / INPHO / INPHO
For years they have been the perennial underachievers and have enjoyed little success. Poor results followed by early elimination from competitions was a regular occurrence, and they seemed destined to be shackled to the bottom division.
Those who argue for the introduction of a second tier inter-county football championship would often use Carlow as an example to justify the need for it.
But Carlow are changing the tide themselves.
Their fortunes have improved in recent seasons, including their shock win over Wexford last year to claim their first victory in the Leinster championship since 2011. That result was preceded by an encouraging league campaign in which Turlough O'Brien's charges came close to securing the second promotion spot, but were incidentally edged out by Wexford on the table.
With Foley captaining the side, they proved to be a tough assignment for Dublin in the Leinster quarter-finals, and went on to enjoy a successful run in the qualifiers where they scored wins over London and Leitrim.
It was the county's first time to claim three championship wins in one season in 73 years, before they bowed out against Monaghan on the back of a gutsy performance.
Times are good now, but the footballers had to endure many difficult days before reaping those rewards. And if things had transpired differently in Foley's life, he might never have joined the Carlow cause at all.
His ability as a goalkeeper in soccer might have taken him off onto another direction.
"I played a good bit of soccer when I was younger, from underage right up to when I was U16s. It was probably my first love back then, I had a couple of trials in England but they didn't work out so when I came back from there I just said I'd focus on the football.
It's been a decision that I'm happy with. Soccer is a hard one to break into and you need a bit of luck to get a contract over in England so I'm happy with the way Gaelic football has gone for me anyway.
"I was with three clubs over there; Crewe Alexandra, they're a small club over there but they've a really good youth set-up. And I was with Swansea City and Hull City as well."
League of Ireland clubs were also keen to avail of Foley's goalkeeping skills, and the temptation to take up those offers was naturally in his mind.
Foley eventually did commit to the Carlow footballers, although there were times when it was difficult to keep going and it would have been easier to down tools and walk away.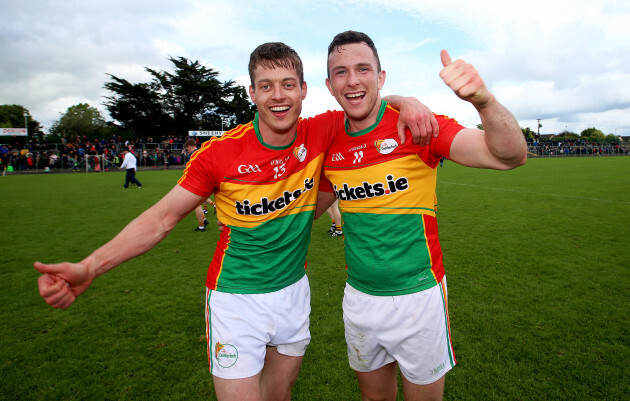 Tommy Dickson / INPHO Tommy Dickson / INPHO / INPHO
But GAA is in his blood, and persevering through those tough times has been worthwhile in the end.
"I just saw how professional the county set-ups were and I just said, 'county football is for me' and it's something I really enjoy. The friendships I'm after making from the football in Carlow is unbelievable.
All my best friends are on the county team. There's a group of lads there, we've been together a long time. It's just the camaraderie and the bond there between them is unbelievable. It's something I wouldn't have had if I had pursued soccer a bit more.
"I'm very happy with the decision now.
"There's a group of lads there that always stuck there through thick and thin. The respect I have for all them lads.
"Even during the dark days, the craic and camaraderie we had just made me want to keep coming back and try and bring Carlow football on and over the line."
Manager Turlough O'Brien has been credited with much of what has transformed this Carlow team, while coach Steven Poacher has also been widely praised for his contribution to the squad.
Foley says O'Brien is well informed about all the footballers in Carlow as well as their strengths and weaknesses. And if a player needs to take a night off from training, O'Brien will be the first to identify that they are in need of a rest.
Speaking about Carlow's promotion on RTÉ's Allianz League Sunday show recently, retired Down footballer Marty Clarke said that Carlow were a team who had made a decision to get out of Division 4 this year.
Foley admits that league promotion has always been a priority in Carlow at the outset of every season, but the momentum they built up last year generated a real desire to achieve that goal this time around.
From the run we got last year in the championship and the confidence that brought, there was a real sense this year that 2018 will be our year. Lads were coming back early, wanting to get fitter and stronger. The competition for places grew.
"We had 50 lads in at the start of the year and had to cut that down to 35 whereas years beforehand, you'd be ringing lads in January to come in. In November, everyone was in ready to go and put in the hard yards. It really has paid off and it's just a big knock-on effect from the run last year that really gave us confidence.
"Lads are really believing now that we can compete against the best teams in the country."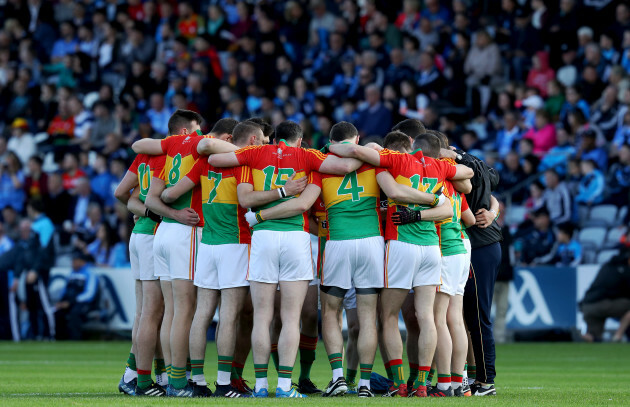 Tommy Dickson / INPHO Tommy Dickson / INPHO / INPHO
Having already secured their spot in Division 3 for next year, Carlow are also looking to finish this historical league campaign with silverware, as they prepare to face neighbouring rivals Laois in Croke Park later today [Throw-in 3pm, TG4].
Laois are the current table leaders after defeating Carlow last weekend and there's a long-existing rivalry between the counties. It stretches back to 1995 as recalled in this article in the Irish Times, when both sides were embroiled in a controversy after their Leinster championship meeting produced a dubious winning point at the end of the game.
Laois substitute Michael Turley hit a close range shot which was believed to be the decisive score, but many disputed that it had gone wide.
There were some heated exchanges on the sidelines and video evidence on the Sunday Game later confirmed that the ball did go wide. Laois offered Carlow a rematch which they won, and their county board was later presented with a 'Fair Play' award for their act of sportsmanship.
At 27 years of age, Foley has no clear memory of that incident, but always enjoys a bit of banter and slagging with those from the border town of Graiguecullen on the outskirts of Carlow town, with some of them inquiring as to when the Carlow team will be parading the Sam Maguire cup, such was the extent of their promotion celebrations.
But Foley has suffered defeats at the hands of Laois in the past, and is focused on correcting that when the sides meet at GAA headquarters today.
Beyond that, they have a Leinster championship date with Louth in May, where Carlow will be looking to build on the progress they made in that competition last year.
Times are good in Carlow now. Their hurlers were recently crowned Division 2A champions following their victory over Westmeath, and the footballers know they're heading in a similar direction.
They're not afraid to express their confidence about that either.
Bring it tomorrow lads, bring every single thing you have. We are behind your every step, every kick, every score & every second on the way.
A County awaits..................#CarlowRising 🇬🇳🏆🇬🇳 pic.twitter.com/cV1nOn7tpF

— Carlow GAA (@Carlow_GAA) March 30, 2018
"Getting promotion to Division 3 is step one for this team. We want to push on and win this league final.
We want to get a bit of silverware under our belts and then hopefully progress on through the leagues and when the time does come to hang up the Carlow jersey that we'll be hanging it up in a lot better place than when we got it.
"We want a younger generation coming along and taking over from us to push it on even further.
"Laois have had the upper hand on us the last couple of years and it would be really nice to turn that table around.
"We just want to continue our winning ways and long may it continue."
The42 is on Instagram! Tap the button below on your phone to follow us!