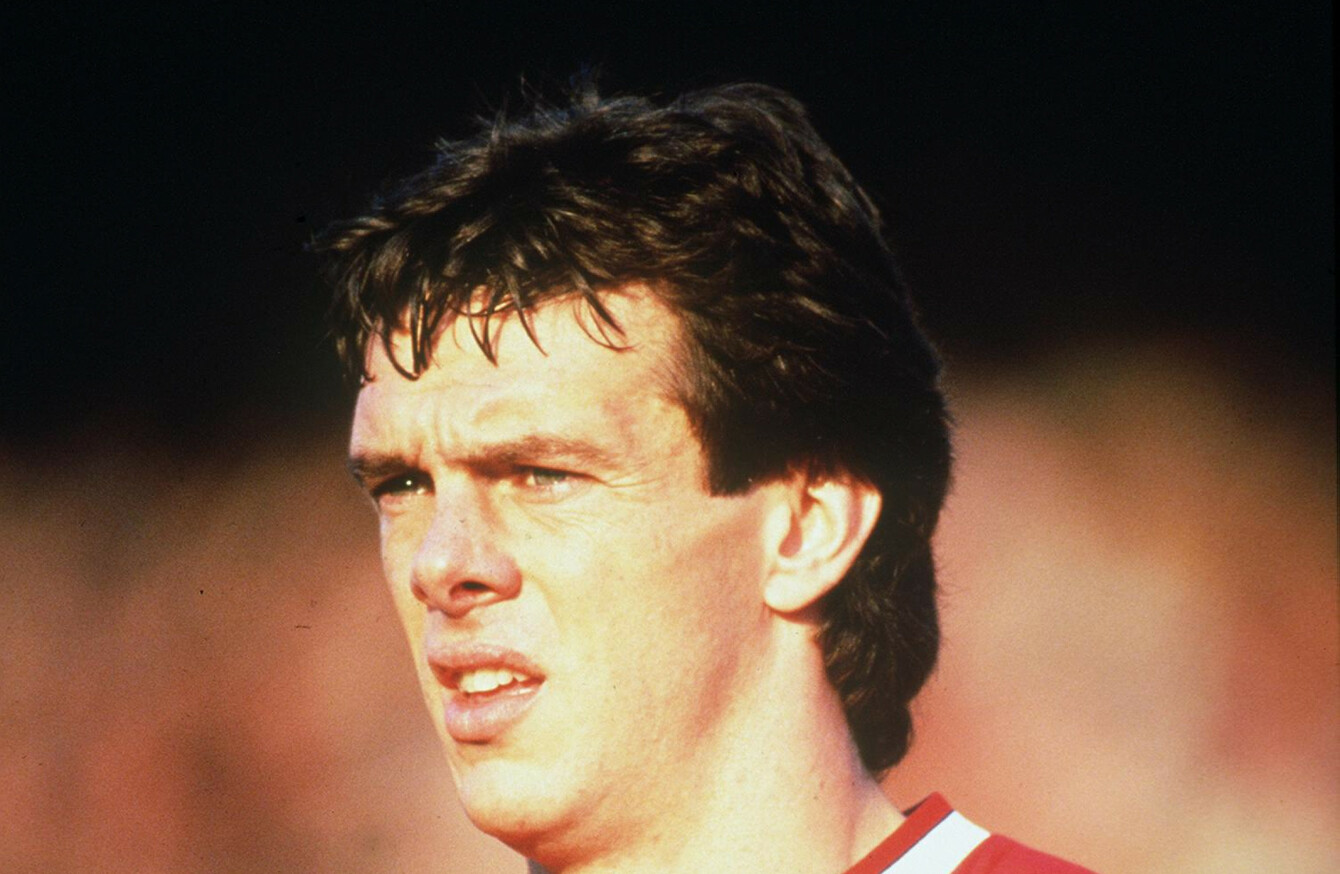 David O'Leary appeared a record 722 times for Arsenal.
Image: Allsport/INPHO
David O'Leary appeared a record 722 times for Arsenal.
Image: Allsport/INPHO
OF THE 80,000-plus spectators who will be in attendance at today's Carabao Cup Final, not many will have first-hand experience of what the players are going through.
One exception, however, is David O'Leary. He knows full well of the agony and the ecstasy that a big day out at Wembley can create.
Between 1978 and 1980 alone, the former Ireland international was part of a side that competed in four cup finals and lost three (one Cup Winners' Cup and three FA Cup showdowns).
Overall though, his career has had far more peaks than troughs. His achievements as a player with Arsenal include two league titles (1989 and 1991), two FA Cups (1979 and 1993) and two League Cups (1987 and 1993). Individually too, he stood out, featuring in the PFA First Division Team of the Year on three separate occasions — 1979, 1980 and 1982.
When asked about today's big game, he speaks with the same enthusiasm that first prompted his love for the game growing up in the streets of Dublin. Manchester City, he admits, are "a better team" than Arsenal, but he is still hopeful his beloved Gunners can pull off an upset, as they did in last season's FA Cup final against reigning Premier League champions Chelsea.
"Sunday's game is going to be very interesting," he tells The42. "You've got an outstanding Man City, who are fantastic to watch, and Arsenal on their day can be the same, but they have too many off days. Man City don't have too many of them and that's how you win the league."
The club has come full circle in a sense since O'Leary's time at the club. Back then, they were frequently derided as 'boring, boring Arsenal'. They were successful, though didn't generally please the neutrals owing to the manner in which they played. If anything, the opposite is the case now. They are often fantastic to watch going forward and filled with flair players, but all their good work is regularly undermined by a brittleness down the other end of the pitch in the big games, such as last season's embarrassing 10-2 aggregate loss to Bayern Munich in the Champions League.
You get the sense that the current Arsenal side could do with a player like O'Leary shouting instructions at the back.
Arsenal have always looked exciting going forward [under Wenger], they play really good football on their day but concede too many goals and give too many silly goals away," he says.
"That's definitely got to be improved and that to me is where they're vulnerable."
It has been a far from perfect season for the North London side. They are currently sixth in the Premier League, eight points off the Champions League spots, with 11 games to play. Many pundits now believe a Europa League triumph is their best hope of ensuring they do not miss out on competing in Europe's premier club competition for a second successive season — something that would provide a much-needed financial boost, particularly considering their struggles to compete with the fees that rivals such as Manchester City are continually prepared to pay.
Even another cup final triumph, which would be their fourth in the past five seasons, would not entirely appease the skeptics, who feel Arsene Wenger has already outstayed his welcome at the club where he has worked for over 20 years as manager.
O'Leary, though, remains a firm supporter of Wenger, given all the Frenchman has achieved at Arsenal.
"They treat their managers with a bit of class here, they do things in the right way.
People on the board appreciate what he's done, but I think he's appreciated the board as well — they're not trigger-happy, they want to stick by their manager and that's what Arsenal FC will do. They know how well Arsene Wenger has done.
"When the time comes [for him to leave], I'm sure it'll be mutual and suit both parties personally."
1. Starting out
One person who rivals Wenger for longevity at the club is O'Leary himself. As a player, he arrived from Dublin as a promising teenager in 1973. 20 years on, he finally departed for a short spell at Leeds United, as his career was nearing its end.
Yet for all he achieved and on a week when another ex-Arsenal centre-back, Sol Campbell, made headlines for proclaiming himself to be "one of the greatest minds in football," there is a refreshing sense of modesty about O'Leary.
At the highest level in football, talent and endeavour are not always enough to get you by. His former Ireland international team-mate, Jim Beglin, had plenty of the latter two ingredients, but saw his career cut short prematurely owing to a gruesome leg break. Luck is a crucial aspect of the game too, and as well as a number of other great attributes, O'Leary had this quality in spades.
To this day, he remains the all-time club record holder with 722 appearances for Arsenal, having largely avoided serious injuries over the course of his career. Since O'Leary left, only two Irish players, Eddie McGoldrick and Graham Barrett have represented Arsenal in the Premier League, and neither had anywhere near the success of the cultured centre-half.
For a lad coming over from Dublin at 15 to say you'd be at Arsenal for 20 years, you'd play the most games and all that, you look at that and think: 'Good God, I got very lucky really,'" he says.
"It was a fantastic club to play for all those years, it really was. It's great that some of the same people are still there, getting older, like myself. And it's nice to share lots of things with them still."
2. London Irish
The son of Irish parents, on 5 May, 1958, he was rather fittingly born in Stoke Newington, less than a mile from Highbury, Arsenal's much-missed old ground.
O'Leary always considered himself Irish though, and his family moved back to Dublin shortly after his birth, as his Arsenal-supporting father got a job there.
"It was just unique that I ended up back [in London], which they were delighted about.
"I could have gone to Manchester United and thought they were really tremendous, but when I came to Arsenal on trial, I really liked them and just felt it was the right place, and it proved to be."
His younger brother Pierce was a talented centre-back in his own right, enjoying successful stints at Shamrock Rovers and Celtic, while his nephew Ryan, also a defender, is a former Scotland U21 international and has lined out with a number of clubs including Aberdeen and Kilmarnock.
"I played football with [Pierce] growing up, playing around Dublin, it was fantastic watching football on TV," O'Leary recalls.
"On the odd occasion, an English team would come over for a pre-season friendly and you'd get a chance to watch them. We just fell in love with the game, I got lucky and the dream happened for me. I got scouted playing for an Irish schoolboy international team, I was invited across."
These days, O'Leary lives in Yorkshire and works in an ambassadorial role for Arsenal, travelling to various games with the club's directors.
Last November, he was part of the travelling contingent who saw the Gunners secure a hard-fought 1-0 Premier League victory over Burnley at Turf Moor. During this trip, O'Leary felt a tinge of nostalgia. He was, after all, back at the place where he made his English top-flight debut, over 40 years previously (16 August 1975 to be precise), with the nerve-ridden 17-year-old featuring primarily due to an injury crisis at the club.
I was sitting there thinking: 'Good God, I'm sitting having lunch with the Arsenal directors and the Burnley directors,' and I thought to myself: 'If anyone told me years and years ago I'd still be around the place, I'd shake my head a little bit,' because nothing's really changed much at Burnley.
"I was out with [former Arsenal and Northern Ireland player] Pat Rice a couple of weeks ago for the Tottenham game at Wembley. The night before, him and the club secretary were out with the wives. We were just talking about 'how long ago,' just talking about the Burnley game and being up there and saying: 'Jeez, after all these years…' And Pat was a great help on that day. I was a young kid coming in from Dublin and he was a senior player at right-back. He was a great help in those early days particularly.
"Everybody thought because of the injuries you got in, they were thinking maybe of myself potentially getting in at the end of the season for the odd game, but I got in [early on]. I was nervous, I had a great bunch of people [around me] — Alan Ball, Terry Mancini, Sammy Nelson, Pat Rice and Liam Brady would have been in the team.
"We played 42 games in the league and I think I played 40 games that season. I stayed in, I couldn't believe it, they couldn't believe it. But I felt fine and I enjoyed it. Nobody could believe I played 40 games before my 18th birthday really.
"From playing at Burnley, then thinking, the players [who were out injured] will be back. I think we were playing Sheffield United on the Tuesday night away, I played in that, I think my debut for the home game was against Stoke the following Saturday, stayed in for that, and it just went on and on like that really."
Source: MrFandefoot/YouTube
3. Glory
In addition to the cup successes, the two league triumphs stand out as great moments in O'Leary's career, and both were made all the sweeter due to the fact that they came as he was approaching the twilight of his time at the North London club.
For the famous 2-0 defeat of Liverpool at Anfield, arguably still the most dramatic end to an English top-flight season ever as Michael Thomas' last-minute winner won the Gunners the league, O'Leary played a pivotal role. The Dubliner featured as a sweeper behind Tony Adams and Steve Bould, back when Arsenal had an embarrassment of riches in defence. Nigel Winterburn and Lee Dixon were given license to burst forward in the wing-back positions and these tactics proved astute, as George Graham's team produced a considerable upset to stun the home crowd.
Source: Tribesmen Hurling/YouTube
"'89 was unique," he says. "As a kid growing up, I used to watch games at Anfield on the box in Dublin. To go there and to say we had to win by two clear goals, I thought it was asking a bit too much. To go to Anfield in those days and get any sort of result with the great players they had [was difficult].
I knew we were in a good team, but it was a special, special night. Michael Thomas, the goal he scored, my brother and my dad were behind that goal. It was fantastic when we won it to see them there afterwards. It was a very special night in a very special ground against a very special club."
4. Mentor
Meanwhile, O'Leary likens Graham to Alex Ferguson in terms of his management style.
"Both from Scotland, both very demanding people, they wanted things done right, and were successful," he adds.
The respect was clearly mutual. As one of the club's senior players, the Arsenal boss sometimes sought O'Leary's counsel on key issues. The Irish defender once told the memorable story of how Graham came to him with the news that he was strongly considering dropping Tony Adams, widely considered to be the best English defender of that era. The promising centre-back's morale was at an all-time low, after he had been made somewhat of a scapegoat for England's disappointing performance at the 1988 European Championships. O'Leary urged Graham not to deal what he thought would be a hammer blow to Adams' confidence. The manager eventually came round to his way of thinking and instead opted to drop the Irishman from the team.
Despite O'Leary not being too happy with the Scottish boss in that particular instance, he accepts such tough love was an inevitable facet of life at a top club.
At Arsenal, you survived on competition," he explains. "Lots of lads couldn't cope with the pressure of it season in season out. But at Man United and all these clubs now, it's about performing, performing, performing. That suited me, it kept you on your toes, I was always competing against somebody, because there was a big squad with good players and that was the way Arsenal was for 20 years. If you didn't like it or couldn't cope with the pressure, you went somewhere else.
"I was very lucky and played with a lot of really top-class centre-halves and top-class players around me as well, which helps."
5. 'Fairytale stuff really'
One manager who certainly appreciated O'Leary's quality was John Giles. During his time as Ireland boss, the Leeds legend handed the 18-year-old defender a debut at the same venue he will attend today — Wembley — with the inexperienced centre-back acquitting himself admirably under the circumstances, as the Irish team secured a creditable 1-1 draw in a place where few away teams leave with a positive result.
"It was very special, because for a Saturday cup final, I'd watch it in Dublin [growing up], I'd think Wembley — amazing. To make your debut for your country, which would have been special anywhere — to make it at Wembley against England was really special.
"The night went really well — we had a good team with good players and I was very lucky that I got a good result and did okay. Everybody said so and I didn't let anybody down."
Long before players such as John Stones were even born, O'Leary was being praised as 'a footballing centre-half'. Sure, he was well schooled in the art of defending, but he could play too. And while success on the international stage took a while, the 1980s — perhaps more so than any other decade — was a golden age when it came to producing Irish footballers of supreme natural talent and technical ability.
[John Giles] was a football person, so it suited me," he says. "You had people in that midfield like him, Gerry Daly, Liam Brady, so as a footballing centre-half, it was good to be able to pass it to people like that, and Giles was an absolutely great player."
Both better and worse times were to come for O'Leary on the international stage. He was part of the qualifying campaign for the 1982 World Cup under Eoin Hand, when Ireland narrowly missed out, with a controversial loss to Belgium (a game which O'Leary was not involved in) proving costly.
Source: sp1873/YouTube
He struggled in the demoralising 4-1 loss to Denmark — the last game of Hand's reign and found himself ostracised from the team shortly thereafter.
After initially not being selected for an end-of-season mini-tournament in Iceland at the beginning of Jack Charlton's tenure as national coach, several withdrawals meant O'Leary was belatedly called up. By that stage, he already booked a family holiday, and opted against cancelling it, leaving the new Ireland boss furious.
The falling out between the pair lasted two years. When the rest of the country was celebrating as the team achieved unprecedented feats at Euro '88, a despondent O'Leary watched on with great sadness at the thought of what might have been.
Redemption was to follow, however. O'Leary was recalled to the squad in November 1988 and went on to achieve hero status in the country, as he scored the winning spot kick in the 5-4 penalty shootout victory against Romania to book Ireland's spot in the quarter-finals of the 1990 World Cup, before bowing out after a 1-0 loss to tournament hosts Italy.
6. A moment to last a lifetime
This famous penalty, which has come to define O'Leary's career, was last December voted Ireland's greatest sporting moment. I am almost reluctant to ask about it, given that O'Leary has inevitably been providing a variation of the same answer on countless occasions for close to 30 years now. Yet unexpectedly, there is still a genuine sense of enthusiasm as he speaks about it for the umpteenth time.
I more think now: 'Thank God I didn't miss it,' because I probably wouldn't have been allowed back in the country. I'm reminded, and bought drinks, coffees, this, that and the other, the amount of places in the world I've been and an Irish person has come up and said: 'Well done, I was in such a place when you were taking that.'
"It's still amazing that I'm still reminded about it, but it really does shake me up when I think 'thank God I scored that,' because I'd have been carrying it around with me if I hadn't: 'That's the fella that missed it.'
"I'd got into [a falling out] with Jack [before]. Arsenal were involved with it and it was stupid really at the end of the day. Jack was stupid and stubborn, but that's life, we move on.
"I got picked again and to say you scored a penalty in a dream place for your country, it was fairytale stuff really.
How I ended up on the fifth penalty, everyone on the day said 'I want to take one, I want to take two, three…' It didn't bother me which one and I ended up taking the fifth one, which was the glory one really. There was no intention, just everybody else wanted to take a certain penalty. The fifth one was left and I was delighted for my mum and dad at home.
"Everybody says 'back in Ireland, the whole place just went mad for that World Cup,' there was nobody on the streets when we were playing the matches — it was a unique time.
"I still remember sometimes sitting in the taxi going into Dublin going through a line of people welcoming us back. It was fabulous, they're great memories."
7. Leading Leeds
Yet a whole generation of people now exist who weren't around for 'Timofte against Bonner' and all the ensuing shenanigans it prompted. Younger Irish football fans including this author remember O'Leary primarily as a manager of the brilliant young Leeds side that came to prominence around the turn of the century.
In a manner reminiscent to how O'Leary came to make his Arsenal debut at 17, there was an element of fate or fortune to how the whole saga transpired depending on your perspective.
Just as he had been during his playing days, O'Leary was working under ex-Arsenal boss Graham, offering him advice this time in the role of assistant manager. After two years performing this job, in 1998, the Scottish coach did the unthinkable — he left his position at Leeds and took over as manager of the Gunners' most bitter rivals, Tottenham. He even asked O'Leary to join him, but unlike his mentor, the Dubliner could not bring himself to make the switch to Spurs, which was probably a wise move, as the Scot was never fully accepted at White Hart Lane despite overseeing a rare 1999 League Cup triumph during his time there.
Source: Filbert Street/YouTube
Following Graham's departure, Martin O'Neill, who had been working minor miracles as a manager at Leicester City, was heavily linked with the Leeds job.
O'Leary was appointed as caretaker boss, but the speculation was so intense that even he believed O'Neill would eventually succeed him in the hotseat.
What felt like a pivotal moment was Leicester City's match with Tottenham. Thousands of impassioned fans turned out with banners that read: 'Don't go Martin.'
A late Muzzy Izzet winner in that game prompted jubilant scenes at Filbert Street, and whether it made any difference has never been confirmed, but ultimately, O'Neill did not take over at Leeds.
Instead, having impressed in the temporary role, a 40-year-old O'Leary was given the job on a permanent basis, and he proceeded to oversee one of the most exciting periods in the club's history.
I thought: 'Right, George is going to Tottenham,' the way people were talking, Martin O'Neill was the one Leeds wanted. I was asked to take charge of the team for a few weeks and I thought: 'I'll be there for a couple of weeks until Martin O'Neill and his staff come in.'
"Then, I don't know why, but Martin O'Neill changed his mind and stayed with Leicester. In the few weeks, people felt: 'You're popular, you're doing a good job there,' they kind of asked this rookie: 'Do you want to be the Leeds manager?' It shocked me, but I had no doubt that: 'Yes, I'd like to do it.'
"Working under George Graham, in the reserve team, I'd seen a bunch of young lads, who I felt like myself when I was being put in young, I thought they could handle it."
Source: WOODDDDDDDYALUFC/YouTube
8. 'Babies'
In four seasons at the club under O'Leary, Leeds never finished outside the top five — an impressive feat given the number of inexperienced players he had put faith in. But it was in Europe where they enjoyed their most memorable nights. In the manager's first full season in charge, they reached the semi-finals of the Uefa Cup, before bowing out to a talented Galatasaray side that included Brazil's World Cup-winning goalkeeper Taffarel as well as other top-class players at the time, including Gheorghe Popescu, Gheorghe Hagi, Emre Belozoglu and Hakan Sukur. The game, which the English side lost 4-2 on aggregate, was marred by off-field violence involving the two clubs' fans.
It was the Champions League during the following season, however, that was to provide O'Leary and his so-called 'babies' with their finest hour.
With a team of individuals who were largely untried at that level, Leeds improbably managed to get all the way to the semi-finals of the competition. After beating 1860 Munich in the preliminary stages, they finished second to Milan in a group that also included Barcelona and Besiktas, before overcoming Deportivo 3-2 on aggregate in the quarter-finals.
Eventually though, they were outclassed by a Valencia side that included world-class stars of the era, such as Pablo Aimar and Gaizka Mendieta.
"We went to places like Milan. Barcelona," O'Leary recalls. "And there were a group of lads, young lads, and they weren't in awe when we went to warm up on the pitch and all that. They didn't freeze over. They relished the occasion and went out and did their best.
"We went on this adventure and ran into Valencia, who were a better team than us. They were probably more experienced in terms of how they could handle the occasion over two legs. We were so near and the same thing the year before in the [Uefa Cup]. We got to the semi-final, ran into a very good Galatasaray team, who over two legs had much more experience than us."
What was special about that Leeds team also was the fact that it was one of the last great English sides to be filled with a solid core of British and Irish players, with Gary Kelly, Stephen McPhail and Ian Harte part of their squad. O'Leary had also bought Robbie Keane for £12 million from Inter in December 2000, though the Irish striker was ineligible for their Champions League run, as he had represented the Italian side in the competition earlier that season.
Funny enough, I just spoke to Ian Harte a few weeks ago," O'Leary says. "It was nice to hear from him again, but I'm planning to play a bit of golf with him soon, because I haven't seen him in a while.
"Stephen McPhail, a lovely midfield player, probably I don't know the reasons after I left, he didn't go on again. But he was a really good midfield player. Gary Kelly was a really good attacking full-back.
"So there was a really good mixture of Irish lads there, which was great.
"We had a really good group. Lee Bowyer was an outstanding midfield player in my time there. Mark Viduka was [excellent] up front at the time, we had a young Alan Smith. Jonathan Woodgate was special. He suffered with injuries throughout his career, but a fit Woodgate was an outstanding centre back.
But the outstanding one of them all was Rio Ferdinand, without a doubt. He proved it. He went on, played for Man United and won loads of things with them. He was very classy and could have played for any team, he was that good.
"One thing I do know about is centre-halves, and he was a top-class centre half. He went on to Manchester United and there was absolutely no doubt he was going to be outstanding for them.
"He could handle the pressure, he was a top-class player, was good in the air, quick and great on the ground, could pass the ball, the right build, everything about him was classy."
9. Falling slowly
Unfortunately, it was as good as it got for O'Leary and his side. Players such as Seth Johnson and Robbie Fowler were brought in for big money but struggled to justify their price tags. After spending close to £100 million on new players during his time in charge, a fifth-place finish, which meant no Champions League football, ultimately cost O'Leary his job.
In the summer of 2002, the Irish coach was replaced as manager by Terry Venables. The club were by then in dire straits financially, as the heavy spending proved unsustainable, and they have not really recovered since. As it stands, they are battling to regain their place in the Premier League amid 13 seasons and counting out of the top flight.
Primarily because of what happened afterwards and its inextricable links with the O'Leary era, recollections of that period tend to be bittersweet. The Irishman, however, can hardly be blamed for these off-field mishaps, and he says the fans at the club still treat him with great respect.
"I go to the odd Leeds game now and I can't believe how well received by the supporters [I am]. It amazes me [the esteem in which] you're held by them, which I really appreciate.
"They're a team I look at and think hopefully they'll come back up into the Premier League because for the city and for the Premier League, it would be great. They're unique in a way that they're not sharing the city with any other football club, so if a Leeds United is doing well, the whole city comes and watches it."
O'Leary has managed in the Premier League just once since then, taking over another club who have since fallen on hard times — Aston Villa.
It started off well, with O'Leary guiding the club to a sixth-place finish in his first season there. Their form declined thereafter though, coming 10th the following season before finding themselves 16th at the culmination of the 2005-06 campaign. It was then that O'Leary was replaced as manager by O'Neill, nearly a decade after the Derry native had almost taken over from him at Leeds.
While the Villa experience ended in disappointing fashion, O'Leary's managerial record overall is not bad by any means. In seven seasons as a coach in the English top-flight, he has finished outside the top 10 just once. Given that he has not had a high-profile job in more than 10 years now, does he feel underappreciated to a degree?
I don't really know and to be perfectly honest, I don't really care," he says. "I know the record's there and can't be taken away from you.
"That's down to [other] people to judge. It's the way it is, [but] the records don't lie."
10. Arabian nights
Nevertheless, he has landed one managerial role since Villa. In June 2010, he took charge of United Arab Emirates club Al-Ahli Dubai, where the players he worked with included legendary Italian World Cup-winning defender, Fabio Cannavaro.
The experience ended badly. O'Leary was sacked less than 12 months into a three-year term. A dispute was eventually settled by Fifa's players' status committee in May 2013, when the former defender received over £3 million in compensation for the early termination of his contract.
"It was a fantastic project, which really interested me, [offered by] a man who said that he'd heard I'd been good with young kids, developing them. He wanted to develop a club out there that if we developed it right, other clubs around UAE would copy it years after I've gone.
"I went there with great intentions and a three-year project, and that's the way it was sold. After a year, because of the people who he was working for, they grew impatient and I think they wanted ultimate success straight away, which was never going to happen.
"I'd have loved to have stayed for the three years to see could we have laid down something for the future years, and that was a disappointment, but I actually enjoyed the adventure.
"It was dealing with a completely different culture, different players, their mentality, and even the heat and playing games late at night that you'd never thought you'd dream [of playing]. You had to immerse yourself into all those ways."
11. The next chapter
It is coming up to seven years since O'Leary, who turns 60 in May, last worked as a manager. Could he ever see himself taking on such a challenge again?
"I never had an agent, so I probably should have put myself out there much more, looking for jobs, but I've never ruled it out.
"I have been approached for jobs, quietly I've turned them down, because I didn't think they were the right ones for me
"Some days you do miss it, some days you don't miss the aggravation of it.
I enjoy going to games now, I enjoy listening to the experts on TV — some are very good, some talk the biggest load of bunkum, they're good wafflers, it sounds good on TV. You'd love them to put it into practicality, put them on a pitch, have 20 players, 'you look after them,' and say the same thing. But they're good at talking a good game on the TV. There are other pundits who are excellent and know what they are talking about without a doubt.
"But believe you me, there's knowing what you're talking about, but to actually be in charge of a group is a hard thing. Managing is a hard thing, without a doubt. It's getting harder. The people who you work for are more demanding and it's a massive results-business, because the money is just phenomenal in it now."
But even if O'Leary never takes charge of a club again, he can have few regrets about his time in football at the end of the day.
"When I go to the stadium [the Emirates], they've put big things up for famous Arsenal players, there's one there of myself, a massive mural and I think: 'Jeez, I'd never think a lad from Dublin would have this,' so you think: 'I must have done alright.'"
The42 is on Instagram! Tap the button below on your phone to follow us!