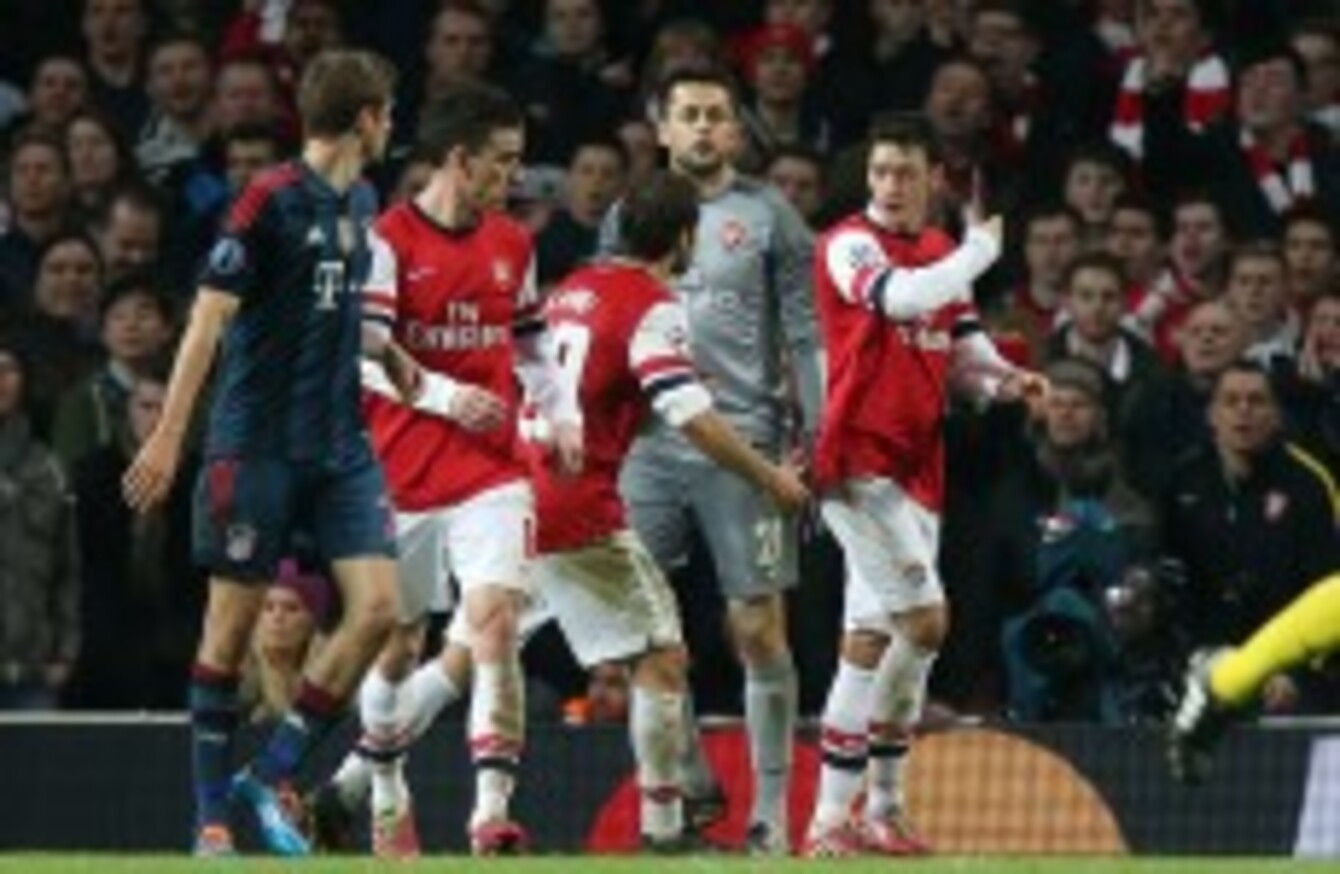 Arsenal's Mathieu Flamini and Mesut Ozil (right) have words with each other
Arsenal's Mathieu Flamini and Mesut Ozil (right) have words with each other
AFTER WITNESSING MESUT Ozil's "disgraceful" Champions League performance during the week (h/t Eamon Dunphy), I made a vow in relation to TheScore Machine.
Unlike that "failure" Arsene Wenger (h/t Jose Mourinho), I refuse to accommodate footballers whose hearts aren't really in it.
Instead of luxury players like Ozil, this team is filled with individuals willing to die for the cause and run all day long for the team, such as Adam Lallana, Charlie Adam and erm, Yaya Toure.
Meanwhile, up front, we have that bastion of diligence and selflessness, Emanuel 'keeping the head down' Adebayor.
Yup, there's just no room in the Premier League for players of Ozil's ilk, ruining the good name of the honest vast majority represented by the Adebayor's and Ashley Cole's of this world.
Anyway, with one free transfer to use this week and not much of an inkling of what to do with it, we went for the default choice of changing the goalkeeper.
We weren't particularly dissatisfied with Brad Guzan, but then got angry upon remembering that he more or less ended Shay Given's career as a respected goalkeeper.
In his place came Simon Mignolet — if proof were needed that goalkeepeers are insane, you need only examine one of the numerous instances of dodgy moments that Mignolet has experienced this campaign.
That said, the Reds are playing at home against Swansea this week, so barring Jonjo Shelvey improbably coming back to haunt them again, their minimal competence at the back should still be enough to earn them a clean sheet against the Swans.
Moreover, we were considering filling our team with United players this weekend, given that they're in action against Palace. It would normally be a banker three points, but then nothing is a banker with United these days, is it?
Suarez, meanwhile, needs to get his act together, or we might just have to drop him as captain. One goal in seven games is coming dangerously close to reminding Liverpool's fans of Emile Heskey — or indeed, Fernando Torres, after he left Liverpool.