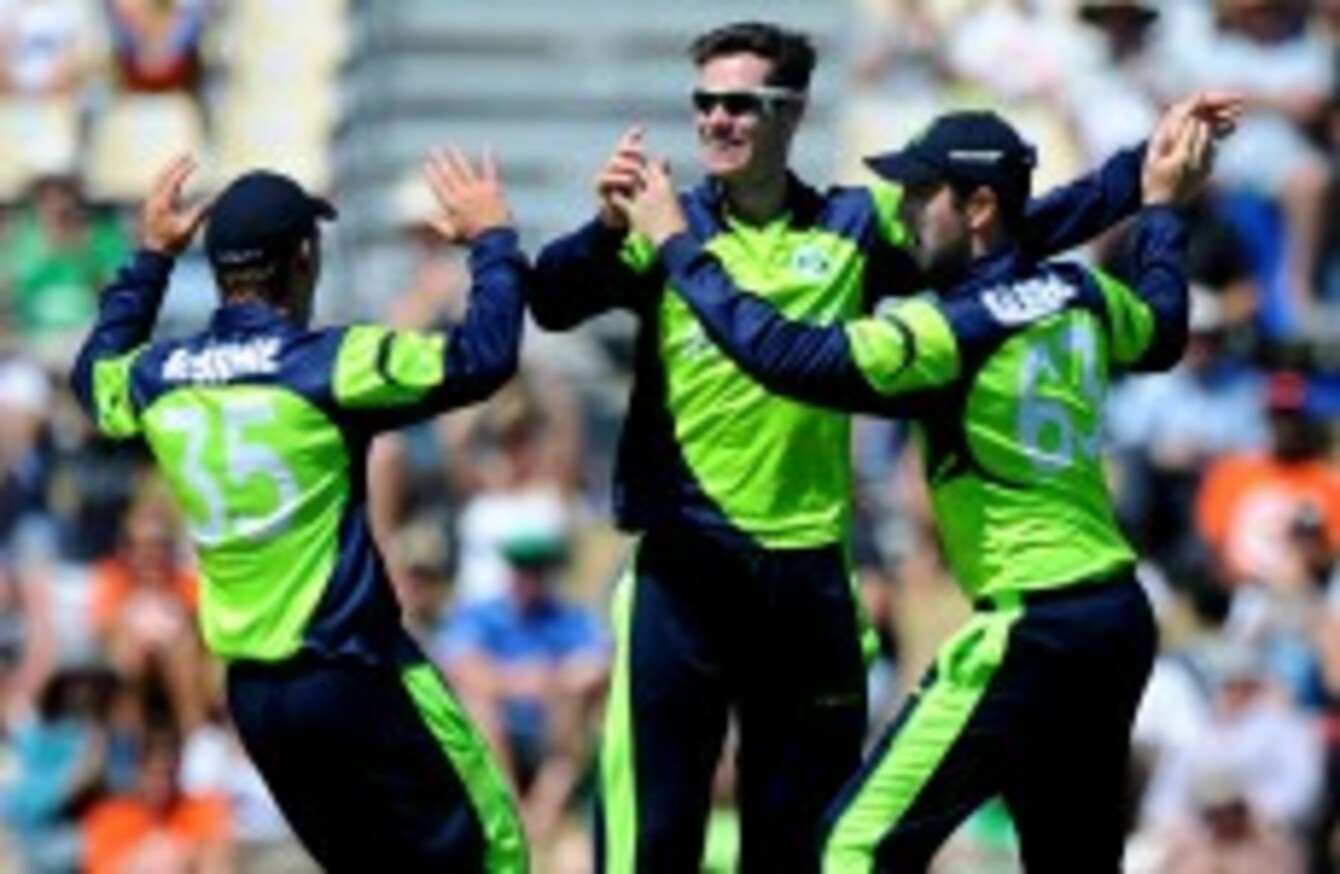 Image: PHOTOSPORT/Chris Symes/INPHO
Image: PHOTOSPORT/Chris Symes/INPHO
THIS MORNING'S BRILLIANT win over the West Indies got Ireland off to a flyer at the Cricket World Cup.
However, there's still plenty of work for Phil Simmons' men to do to reach the business-end of the competition.
Ireland secured a four-wicket victory against the two-time world champions in Nelson overnight to set them up nicely for qualification from Group B.
The win was Ireland's fourth against a Test nation in a World Cup, having also previously beaten Pakistan, Bangladesh (both 2007) and England (2011).
What does it all mean?
Ireland are now in a very strong position to join the big guns in the quarter-final stages of the World Cup. Having also reached the last eight in 2007, it's something we've done before.
As well as contributing significantly to the ever-increasing profile of the sport on these shores, qualification for the knockout stage is also pretty lucrative for Cricket Ireland.
Each quarter-finalist will receive a minimum of (US) $300,000, compared to just $35,000 for teams eliminated after the group stage. There's also $45,000 for each group-stage win.
What's next?
This morning's game was Ireland's first in the group stages, but they still have five more to play. They'll now switch to Brisbane to face the United Arab Emirates a week on Wednesday, 25 February.
Like Ireland, the UAE have associate status as an International Cricket Council (ICC) member and they'll play their first game of this World Cup against Zimbabwe on Wednesday night (10pm Irish time). The lowest-ranked team in the competition, the UAE are playing in their first World Cup since 1996.
Here's the schedule for Ireland's five remaining Group B fixtures (all Irish time):
vs. United Arab Emirates — Wednesday, 25 February, 3.30am
vs. South Africa — Tuesday, 3 March, 3.30am
vs. Zimbabwe — Saturday, 7 March, 3.30am
vs. India — Tuesday, 10 March, 1.00am
vs. Pakistan — Sunday, 15 March, 3.30am
How do we progress to the next stage?
While a lot depends on how the other results go in Ireland's seven-team group over the next few weeks, it's likely that we'll need just two more wins to make the quarter-finals.
Ireland will be underdogs against India, Pakistan and South Africa, but they'll fancy their chances against the UAE and Zimbabwe. They'll be confident of beating us too, however. A defeat against the UAE would be a bit of a shock — Ireland are currently 1/5 favourites — but Zimbabwe will be tricky.
They lost their opening game to South Africa by 62 runs yesterday, and the teams played out a draw at the World Cup in 2007. Ireland last played the UAE and Zimbabwe at last year's T20 World Cup and were victorious on both occasions.
The top four of the seven teams in the group will qualify.
– First published 10.52