AS THE 2016 Gaelic football championship season draws near, we're building up to another summer of comprehensive coverage.
GAA analyst Rob Carroll is joining The42 as a columnist for the season and starts today by taking a closer look at Dublin's win over Donegal in yesterday's Allianz football league semi-final in Croke Park.
***************
THERE WERE NUMEROUS snapshots from both of yesterday's league semi-finals in Croke Park, showing all outfield players in one half of the pitch.
It's something that will come up again and again this summer and while this method of defending might not have been the preserve of the traditionalists in the past, Dublin and Kerry have very much joined the club.
Aidan O'Mahony spent the entire second half as a sweeper never venturing past the 45, as did Cian O'Sullivan for Dublin in their second half.
Perhaps it was because both had sizeable leads at half-time or that they were now playing into a strong breeze, but ultimately Dublin and Kerry teams are not immune to mass defending and sweepers any more.
The key to beating a 14- or 15-man defence is to either shoot over them, which in the long run is very unlikely to carry you through a season, or move the ball quickly, probably with the foot so that you bypass as many opposition players as possible.
Paul Flynn played a magical ball in the seventh minute on Sunday; with one kick pass, he took six Donegal players out of the game.
GAA BEO - TG4 GAA BEO - TG4
It gave Dublin a four v four opportunity with Donegal's sweeper out of the picture.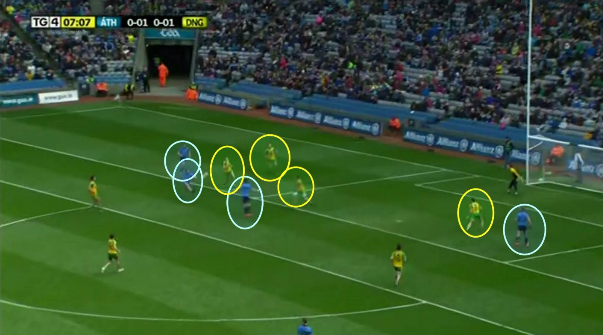 GAA BEO - TG4 GAA BEO - TG4
Donegal unfortunately had the opposite problem. They found it extremely difficult to get the ball from one end of the pitch to the other quick enough to get past Dublin.
Donegal shot 13 points from 29 shots for a 45% return; by contrast, Dublin managed 21/29 (72%).
While this will clearly disappoint the Donegal forwards and no doubt there was some wasteful shooting, Donegal were shooting from longer range and under more pressure than Dublin throughout the game. This was all stemming from their slow build-up play.
One example of this slow play is when Donegal took a short kickout with 12:11 on the clock.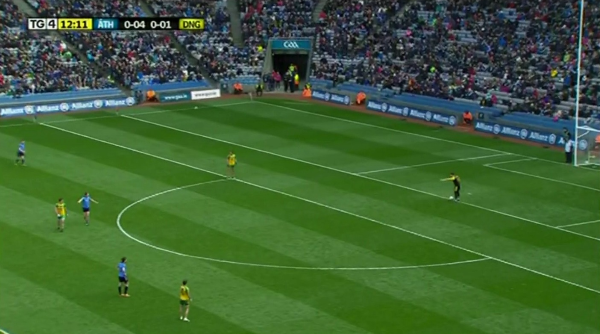 GAA BEO - TG4 GAA BEO - TG4
After 11 hand passes, Donegal are on the half-way line having barely made it into Dublin's 45. It takes Neil McGee (leaving a one v one behind him) to add some impetus to the attack.
Remember, at this point there are 25 players ahead of Neil McGee when he receives the ball. This comes after over one minute of possession for Donegal, and in that time, Dublin have 14 men behind the ball and Donegal are only at half way.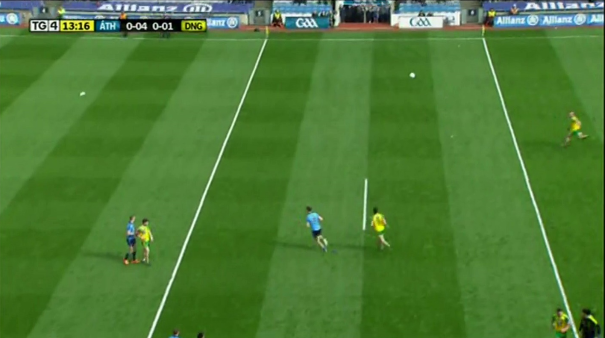 GAA BEO - TG4 GAA BEO - TG4
Not surprisingly, Donegal run into a wall of blue defenders and cough up possession.
GAA BEO - TG4 GAA BEO - TG4
Speed of Attack
There is one excellent example that starts in the 26th minute that highlights the difference between the two teams really well.
Right on the 26th minute mark, Donegal turn Dublin over at the top of the Donegal D. Although they initially break at pace, when Odhran MacNiallais picks up the ball, he looks up but sees no option inside so turns back.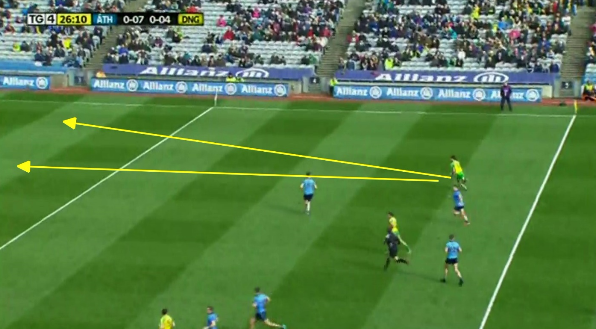 GAA BEO - TG4 GAA BEO - TG4
Ryan McHugh gets the ball a few seconds later but again is forced to turn backwards after seeing no options inside.
GAA BEO - TG4 GAA BEO - TG4
Eventually almost a minute after winning possession, Donegal are forced into a shot under pressure which goes tamely wide.
Donegal were not shy on numbers in attack. As we will see in the next image they left themselves one v one or two v two at the back a number of times, but too often, all of their men were ahead of the ball and the build-up was just too slow.
GAA BEO - TG4 GAA BEO - TG4
The ball went dead at exactly 27 minutes.
Exclusive Six
Nations Analysis
Get Murray Kinsella's exclusive analysis of Ireland's Six Nations campaign this spring
Become a Member
Stephen Cluxton then does what he does best. His kicking really is a joy to watch. His long kickout finds Paul Flynn who, rather than catch it, turn and look for a pass, sees Denis Bastick in a better position to play on quickly.
Flynn pats it down and Bastick delivers a 40-yard kick pass that completely opens up the Donegal defence who haven't had time to reset from the kickout. Paul Mannion receives the ball in a three v two situation for Dublin, with acres of space inside. Bernard Brogan makes a nice run to create even more space for Dean Rock.
Dublin don't end up scoring a goal from this opportunity, thanks to a great saving dive from Rory Kavanagh, but in total the time from the ball going dead to Brogan's attempt is just 26 seconds.
GAA BEO - TG4 GAA BEO - TG4
Counter Attack
If teams do move the ball quickly against Dublin, there are opportunities. Perhaps the only time this happened resulted in Michael Murphy against James McCarthy in a one v one scenario inside.
Dublin still like to commit bodies forward. In the second half McCarthy was sitting at home, but in the first half there was more freedom for players to venture forward without a full-time dedicated sweeper.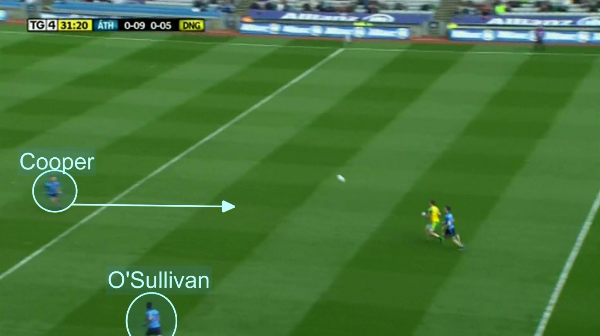 GAA BEO - TG4 GAA BEO - TG4
In the example above Dublin get turned over inside the Donegal 45. Eamon McGee breaks from defence and picks the ball up at halfway. With Brian Fenton caught behind McGee and Cian O'Sullivan coming back from the wings, it forces Jonny Cooper to come out leaving one v one inside. McCarthy is blown for a free which Murphy taps over. That's the sort of counter attack Kerry and Mayo will look to exploit later this year.
All in all, this was a fairly easy win for Dublin. Donegal might be at a very different stage in their championship preparation so perhaps it is too early to judge them. Dublin were a class apart on Sunday.
Cian O'Sullivan is very much the glue in their defence and one interesting note was that when Colm McFadden came on, McCarthy left his sweeper role and picked him up. Without him there, Dublin look a little weaker and I wonder could teams exploit this a bit more by forcing O'Sullivan into a man-marking role rather than let him play as a sweeper.
Hopefully we will see Kerry put up a sterner test in the final.
**************
Rob Carroll is a Sports Performance Consultant. He works with sports teams & organisations to collect, analyse and visualize performance data so they can make better decisions and win more often. You can find him at www.gaelicstats.com
The42 is on Snapchat! Tap the button below on your phone to add!