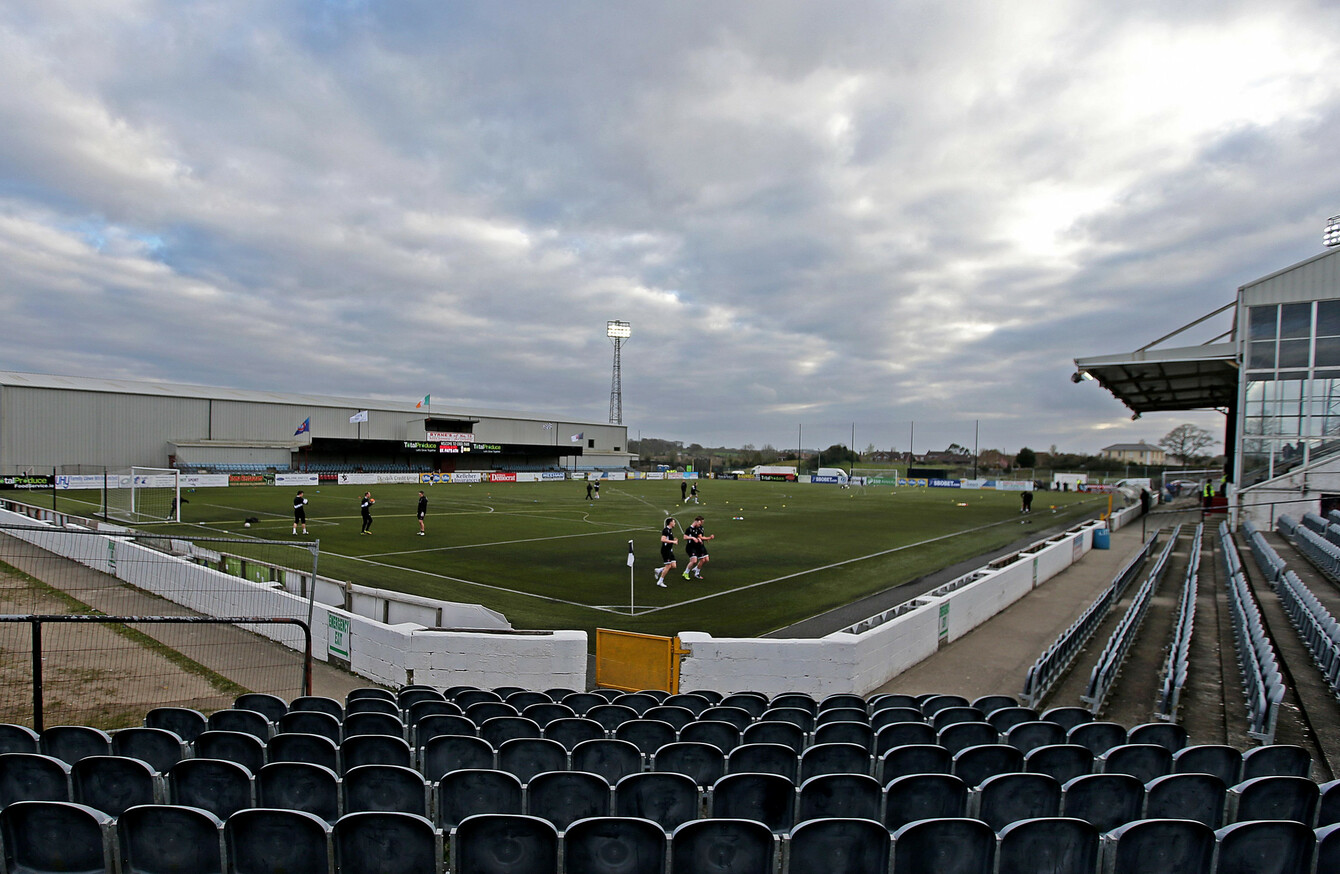 Oriel Park, home ground of Dundalk FC.
Image: Donall Farmer/INPHO
Oriel Park, home ground of Dundalk FC.
Image: Donall Farmer/INPHO
SUPPORTERS OF DUNDALK FC had their first opportunity to hear from the club's new owners at a questions and answers session last night.
Over 300 fans attended the event at Oriel Park's Youth Development Centre, as the Lilywhites begin a new era following the recent takeover from previous owners Paul Brown and Andy Connolly.
A US-led consortium, backed by Peak6 — a private equity firm which owns a stake in English Premier League club Bournemouth and Italian Serie A outfit AS Roma — took 100% control of the SSE Airtricity League club last month.
At the gathering, the new owners were represented by chief executive Mal Brannigan, chairman of the board Michael Treacy, and members of the ownership group Fred Spencer and Jordan Gardner. First-team manager Stephen Kenny was also in attendance.
While the change in ownership has understandably been met with a degree of trepidation by Dundalk supporters, the new regime sought to allay their concerns last night.
"We are 100% committed to this project," said Jordan Gardner. "All of us have various backgrounds, both in business and in football, globally and in the United States. We're not the type of people that would go into a project half-paced. This is something we're committed to in the short, medium and long term.
"I think there are so many things we look at, from the short term in terms of fielding an outstanding product on the field, to the medium and long term whether it's looking at Oriel Park, youth development, our academy.
"There's so many different facets of this organisation that we're already looking at. We are very much hopeful and confident that we'll be here three, five, ten, fifteen years down the road."
Source: Dundalk FC/YouTube
Michael Treacy said: "The plan is to win and reinvest, then win some more, build great infrastructure here, build the youth academy if that happens. That's the model we're going to go with. We're going to leverage our success and make this not only the best club in Ireland, but the most dominant club in Ireland."
As expected, the new owners fielded several questions in relation to the need to upgrade Oriel Park, Dundalk's much-maligned home ground. However, they explained that making significant improvements to the 4,500-capacity stadium isn't in their short-term plans.
After last July's agonising extra-time defeat to Rosenborg in the qualifying rounds of the Champions League, Dundalk boss Stephen Kenny expressed his frustration at the difficulty of trying to compete in Europe while based at "bloody Oriel Park with limited facilities".
Addressing the topic last night, Fred Spencer said: "Our priority is to build a first-class football side. We will look in the longer term at infrastructure. But if we don't have a good first eleven out on the pitch, coached by Stephen [Kenny], there's nothing after that.
"In time, yes, it's something we're willing to turn our attention to, but the immediate priority is to get a great team together to win the League of Ireland and compete in Europe."
During their memorable European run in 2016, Dundalk were forced to play their home games against BATE Borisov, AZ Alkmaar, Maccabi Tel Aviv and Zenit Saint Petersburg almost 100 kilometres away at Tallaght Stadium, home of Shamrock Rovers.
When asked if that's likely to occur again should Dundalk experience more success while competing in Europe, Mal Brannigan said: "If we can get Oriel Park into a state that Uefa is happy with, and if that means we have to do something temporary for it to happen, then we will do."
Dundalk begin their 2018 season this Sunday afternoon by aiming to regain the President's Cup from Cork City at Oriel Park. The game, which kicks off at 2pm, will mark the renewal of Irish football's most intense rivalry in recent years.
The Lilywhites won three Premier Division titles and an FAI Cup at City's expense between 2014 and '16, but the balance of power shifted last season when the Leesiders secured league and cup honours to win the first double in the club's history.
"The plans in the short, medium and long term are to continue to build this football club," Mal Brannigan explained. "What Andy [Connolly] and Paul [Brown] have done over the last few years is outstanding. It's amazing where this football club is and where we want to get it back to. We've lent Cork the title for the last year. We're going to take it back again next year.
"Short, medium and long term, what we're looking for is to build the product on the pitch. Around that, we'll continue to build what we can with the infrastructure. But most importantly, if we don't have a successful football team, the infrastructure is worthwhile but it doesn't have the benefit of having a successful team.
"We want to become a focal point for the town. It's very strong already but we want it to be even greater. We want to be known as the European football club that plays in Ireland, rather than the other way around. We want to be up there and competing in Europe every single year.
"You will see infrastructure happening at some point in time, but from my point of view it won't be immediate. It's all about the football club first and foremost. Around that, we will look after fans but it will be gradual and over time, rather than very instant."