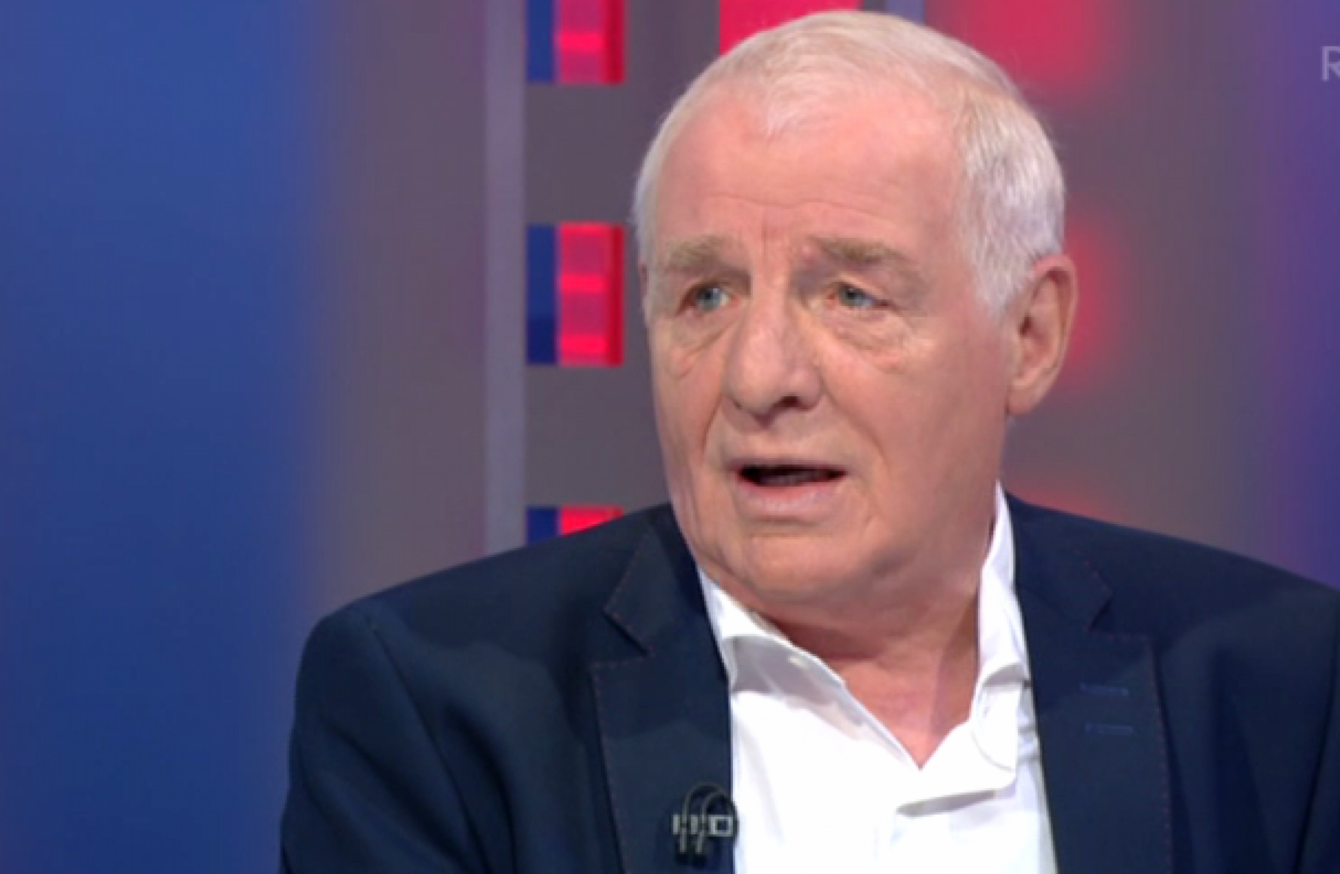 BY THE TIME Ireland's Euro 2016 fate was sealed yesterday, Eamon Dunphy had a firm  grip on a brand new axe and was happily grinding away at its edge.
While his row with Martin O'Neill simmers on his other media streams, for the most part Dunphy the RTÉ pundit has made an effort to draw a veil over the issue during this tournament.
He was calm enough in tempering his criticism of O'Neill's not-funny-not-clever 'queers' quip down to being  a 'grave disappointment' before Euro 2016 kicked off, and he was happy to use the hindsight of the win over Italy to praise the changes made for Ireland's only win.
The trouble with veils though, is that they don't really hide much. So rather than lambaste O'Neill, the 70-year-old has spent most of the last few weeks sending for a whipping boy, so James McCarthy was routinely smacked about on his manager's behalf.
Fortunately for the Everton man, a combination of a fresh Dunphy quibble and (to a much lesser extent) his own performance against the Azzurri took him slightly out of Montrose's cross-hairs. Yesterday, instead of a whipping boy, Dunphy bellowed for his champion.
Now, allow me to preface this by saying I've always been a huge (sometimes too big) fan of John O'Shea. As a Manchester United fan who grew up believing Paul McGrath would be the last ball-playing centre-half to be cultivated in Ireland, the Waterford man's arrival on the biggest of stages was a beacon of hope.
To hear Dunphy bemoan O'Shea's absence though, would make you forget that most of our hopes and dreams for Waterford's finest over the past 15 years didn't actually come to pass. He's not Franz Beckenbauer, Mattias Sammer '96 or Fabio Cannavaro '06. He's a 35-year-old who we feared for against any opponent with pace.
Once dropped, Dunphy adopted him as an emblem – his new Andy Reid – one man's panacea for all Ireland's ills, never mind that he couldn't save us from Belgium. The soon-to-be senior analyst even took on John Giles in a withering exchange that was impossible to argue against:
"Dunphy: Do you not think we'll miss John O'Shea today? With all his experience of playing top class…
Giles: We don't know Eamon. Duffy and Keogh did well…
Dunphy: Against?
Giles: Against Italy, the other night.
Dunphy: Well, we're playing France today.
Giles: I know. But we don't know. They could handle it the other night…
Dunphy: We might know in a couple of hours' time."
Though he would later pin-point Patrice Evra as a weak link for most of the same reasons O'Shea was our saviour, Eamo ended the exchange by whipping an eyebrow in the air like a prophet who was warning of some unseen French danger. We all knew France were better than Ireland, but Dunphy knew, y'know?
When full-time came yesterday, we sat watching, foolishly waiting for Dunphy's rusty old axe to fly at his favourite whipping boy. After all, James McCarthy was oblivious to the presence of Antoine Griezmann two metres behind him until  the 5′ 9″ attacker was already flexing his neck muscles to power home a devastating equaliser with a free header.
The wizened old analysts could have tracked that move, perhaps bemoaned the mistakes of Wes Hoolahan or even attempted to hone in on why Ireland couldn't escape their third of the field. But they focused almost the entirety of their time on the howler of a centre back mix-up that created the second goal.
Maybe it actually was the most egregious error. It was unquestionably avoidable. But even the great John O'Shea has made errors of judgement and lapses of athleticism down the years.