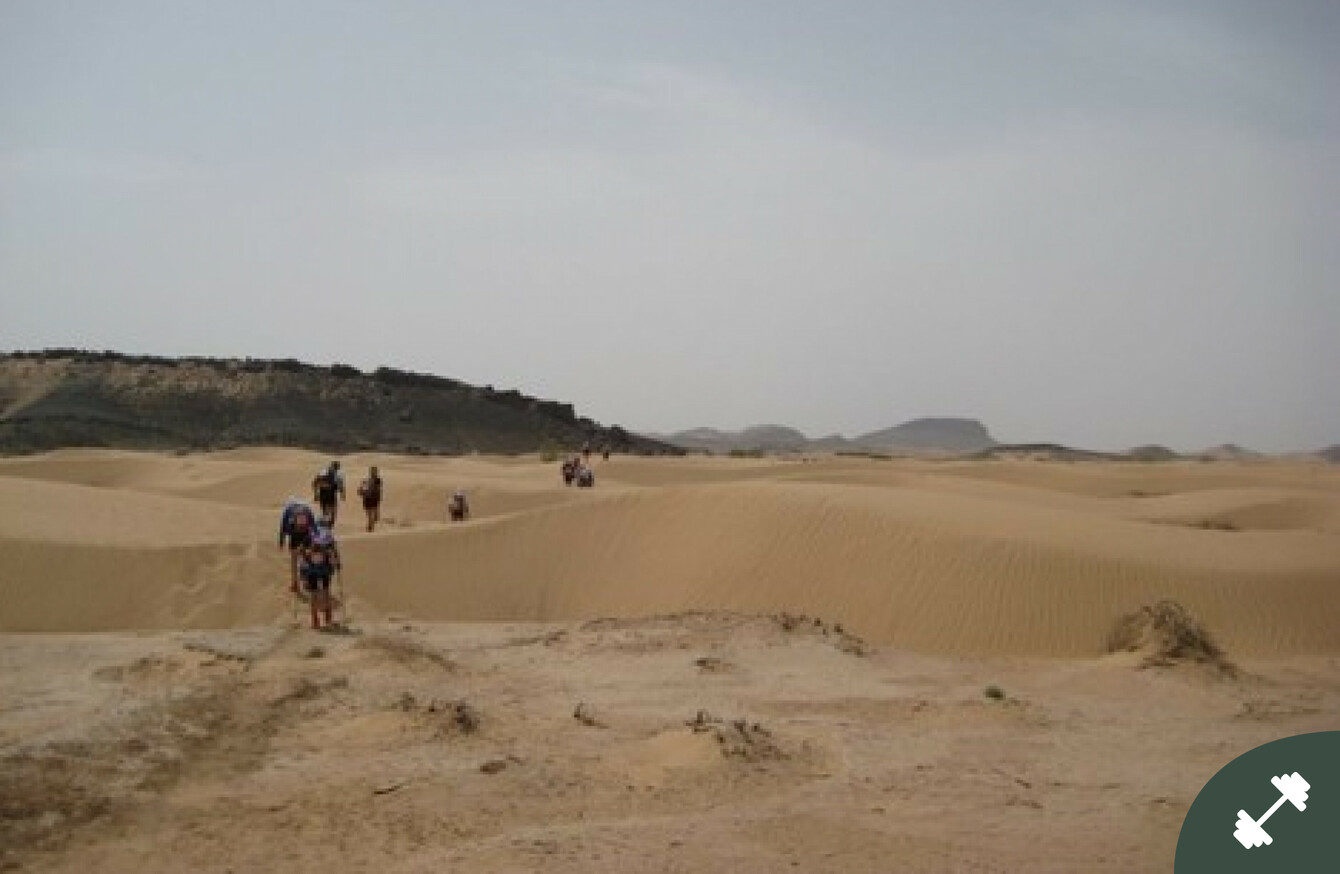 You could give the Marathon des Sables a shot.
You could give the Marathon des Sables a shot.
MARATHONS, TRIATHLONS AND adventure races are extreme tests that force participants to push themselves in new ways physically and mentally.
But the most extreme endurance races in the world take that to another level.
These competitions test the absolute limits of the human body and mind.
In some cases, participants subject themselves to crossing more than 100 miles of desert, mountains, or ocean. In others, racers plan to go days with almost no sleep, reaching the point of hallucination and breakdown. There are even some races in which participants don't even know when the race will start or what sorts of obstacles they'll have to endure.
But they know it'll be brutal.
These are the most extreme endurance competitions in the world. Finish one of these and you can say you've truly challenged the limits of what's possible.
The Brutal might be the hardest triathlon in the world
Picking a single "hardest" triathlon is almost impossible, as each race presents unique challenges. Competitors need to be able to swim, bike, and run under extreme conditions.
But the double-Ironman-distance Brutal is up there. Located in Wales, it involves a 4.8-mile swim, then a 224-mile bike ride, followed by a 52-mile run.
If that doesn't sound intense enough, the "triple" Ironman version is rumoured to return in 2019.
"If your dreams don't scare you, they're not big enough," the race website says.
Only 15 people have finished the Barkley Marathons race since it began in 1986
The Barkley Marathons has no website — the way to enter the ultramarathon is a secret.
The race begins an hour after a conch shell is blown by founder Gary "Lazarus Lake" Cantrell — which can happen anytime between midnight and noon on race day. The course is said to snake 100 miles through brutal terrain in the mountains in Frozen Head State Park in Tennessee (though some say it's closer to 130 miles long). Racers have 60 hours to finish.
The course is unknown to racers until the day before the race and is mostly off any sort of trail — many participants get lost for hours.
Up to 40 people are allowed to compete every year, though more than 200 might apply. The pool includes winners of some of the other toughest ultra-races in the world.
Yet only 15 people have ever finished the race within the time limit.
Impressively, course record-holder Brett Maune has completed it twice (his record time is 52 hours, 3 minutes, and 8 seconds). And a racer named Jared Campbell has finished the course three times.
Fun fact: If you've completed the course before and want to try again, your entry fee is just a pack of Camel cigarettes.
No one who has done the Patagonia Expedition Race can tell future competitors what to expect
Every Patagonia Expedition Race follows a unique route. Racers form teams of four and cross glaciers, rivers, mountains, forests, and plains.
They might kayak, mountain bike, or rock climb, potentially travelling hundreds of miles over multiple days.
"Why are we here time and again? What invisible force attracts all of us here?" race Director Stjepan Pavicic asked during the 2016 closing ceremony held in Puerto Natales, Chile.
The answer: "The place, the challenge, and the human endurance experience… sometimes we need to return to our original home in the wild, to reconnect with where we've come from."
In the Marathon des Sables, competitors brave sand and sun to race more than 150 miles through the Sahara Desert
If you've ever thought of crossing the Sahara Desert on foot, you're not alone.
Temperatures there top 48°C, and the sand and wind are powerful. Yet every year, people manage to complete the course, which is arguably the toughest footrace on Earth.
If running doesn't sound fun, you could always try the Vendée Globe — a solo sailing race around the world
Competitors in the Vendée Globe sail around the world alone, without stopping or receiving any help.
Sailors depart and return to Les Sables d'Olonne on the French coast. They sail down the North and then South Atlantic, go around Antarctica, cross the Indian and Pacific Oceans, then come back up the Atlantic.
The record finish time is held by François Gabart, who returned to port after 78 days.
No one knows what they're getting into when preparing for the Death Race in the Green Mountains of Vermont, since no two races are alike
Source: The New York Times/YouTube
The obstacles in the Death Race, both physical and mental, are unknown before the start. The race can last more than 70 hours and require participants to chop wood for hours or trudge around with a pack full of rocks. Some have even had to complete memorisation challenges after climbing up a hill under barbed wire and jumping into an icy pool.
The organisers write: "We provide no support. We don't tell you when it starts. We don't tell you when it ends. We don't tell you what it will entail. We want you to fail and encourage you to quit at any time."
In the Self-Transcendence 3,100 Mile Race, racers must complete 5,649 laps around one block in Queens, New York within 52 days
The Self-Transcendence 3,100 Mile Race is a true demonstration of the fact that the most extreme endurance feats in the world are mental ones.
The course doesn't offer ever-changing natural vistas. Instead, racers must complete about two marathons a day circling the same block in Queens.
The race is put on by followers of Sri Chinmoy, a spiritual leader who taught that athletics could be a form of meditation. If ultrarunning is a test against the self, this race that puts that challenge front and center.
"The serious athlete must have tremendous courage, physical stamina, concentration, and the capacity to endure fatigue, boredom, and minor injuries," the organisers write.
– Kevin Loria, Business Insider
A version of this article first appeared on The42 in November 2017.
The42 is on Instagram! Tap the button below on your phone to follow us!