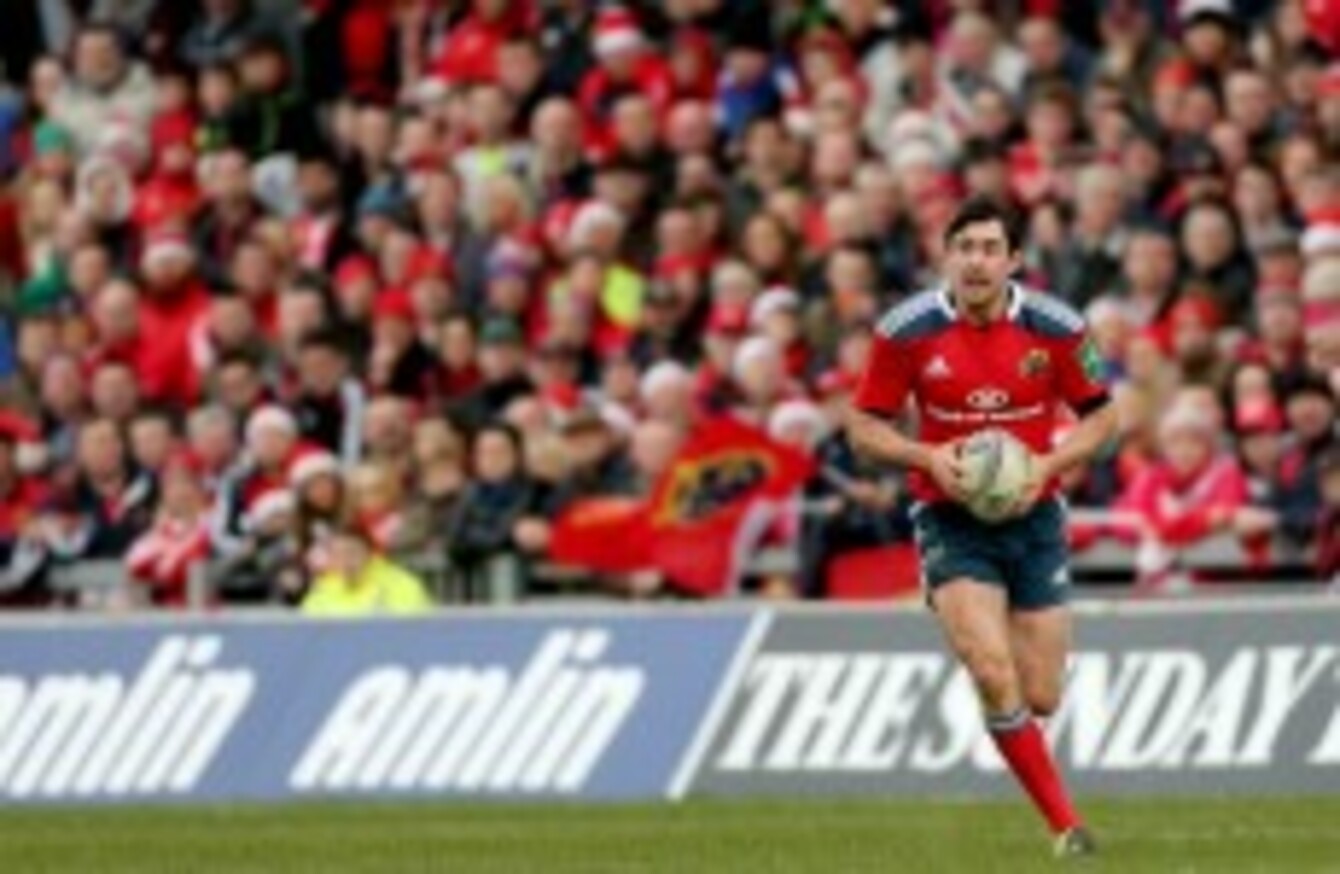 Jones first burst onto the rugby scene with Seapoint RFC.
Image: ©INPHO/James Crombie
Jones first burst onto the rugby scene with Seapoint RFC.
Image: ©INPHO/James Crombie
FELIX JONES IS one of those rare players for whom GPS data saves him from himself.
Most players fear that the technology will show them up for a lack of hard work, but the Munster fullback has an altogether different problem; Jones is the player the province's strength and conditioning staff most frequently have to ask to do less running.
The former Leinster player puts himself at constant risk of accumulative injury by covering the most distance at high speed of any player in the squad, and that's just in training. Clearly, this is a man for whom hard work is a given and selfishness doesn't enter the fray.
Winter months have meant a lack of exciting rugby in the northern hemisphere recently, but Jones is unconcerned as long as Munster continue to win.
"Some games are going to require different ways of playing to win. If that's what the game requires, I'm happy to do whatever I can to the best of my ability to move the team forward and win the game.
All I'm trying to do is do the absolute best I can. I know when I'm doing that and what concerns me most of all is that the team is going well. If my good performance is on top of that, then great."
That mature attitude has seen Jones develop into one of the back-line leaders in Rob Penney's squad, this season particularly. Tommy O'Donnell highlighted Jones' leadership skills to TheScore.ie recently, while JJ Hanrahan mentioned something similar in an interview with The Sunday Times last weekend.
Jones says he didn't make a specific decision to move into a position of influence and points out that Hanrahan has leadership qualities of his own.
"I wouldn't say it was a conscious thing; I suppose maybe some of that comes with age. I mean it was only a couple of years ago that Keith [Earls] and myself would have been the two youngest members of the squad. Now, obviously JJ's come in, he probably only thinks that because he's what? 20? [sic; Hanrahan is 21.]
Jones addresses the media in relaxed form ahead of the Gloucester clash. ©INPHO/James Crombie.
"But there's loads of guys in the squad who you could claim are leaders. The thing is that you [people outside the squad] don't get to see them every day in the meetings. So someone like JJ; you don't get to see, for a guy of his age, the knowledge that he has and the confidence that he can instill in other guys as well. He's a leader himself."
The many leaders Jones suggests Munster have will need to be present at Kingsholm on Saturday as Penney's side take on Gloucester. Like the rest of his teammates, the fullback is peddling the line that nothing can be read into the Premiership outfit's poor league form.
"It's very hard to look at team's domestic form [as a marker]. That's the beauty of the competition; it can bring out the best in teams. If you look at Edinburgh two years ago when they got to the semis, they didn't have a great domestic season.
So we wouldn't be reading into anything like that too deeply. We know what they're capable of, they're a dangerous side and we'll be aware of that."
Rugby is the exclusive, all-consuming passion in Jones' life now, meaning he has less time and energy to pursue off the field activities. An original member of the Hermitage Green group, the Dublin native admits continuing as a member of the band would have been impossible, given their traveling and performance commitments, as well as his own.
"The lads are going great. It was something that at the time, when I was injured, was a great distraction. But it's something that is hard work too. They're putting in some long hours, late night and early mornings as well. Ah, it's something you miss for the camaraderie with the lads, but it's an unfeasible thing to juggle the two."
Jones' only focus at present is helping Munster to win, whether that involves personal glory or not.
Like rugby? Follow TheScore.ie's dedicated Twitter account @rugby_ie >