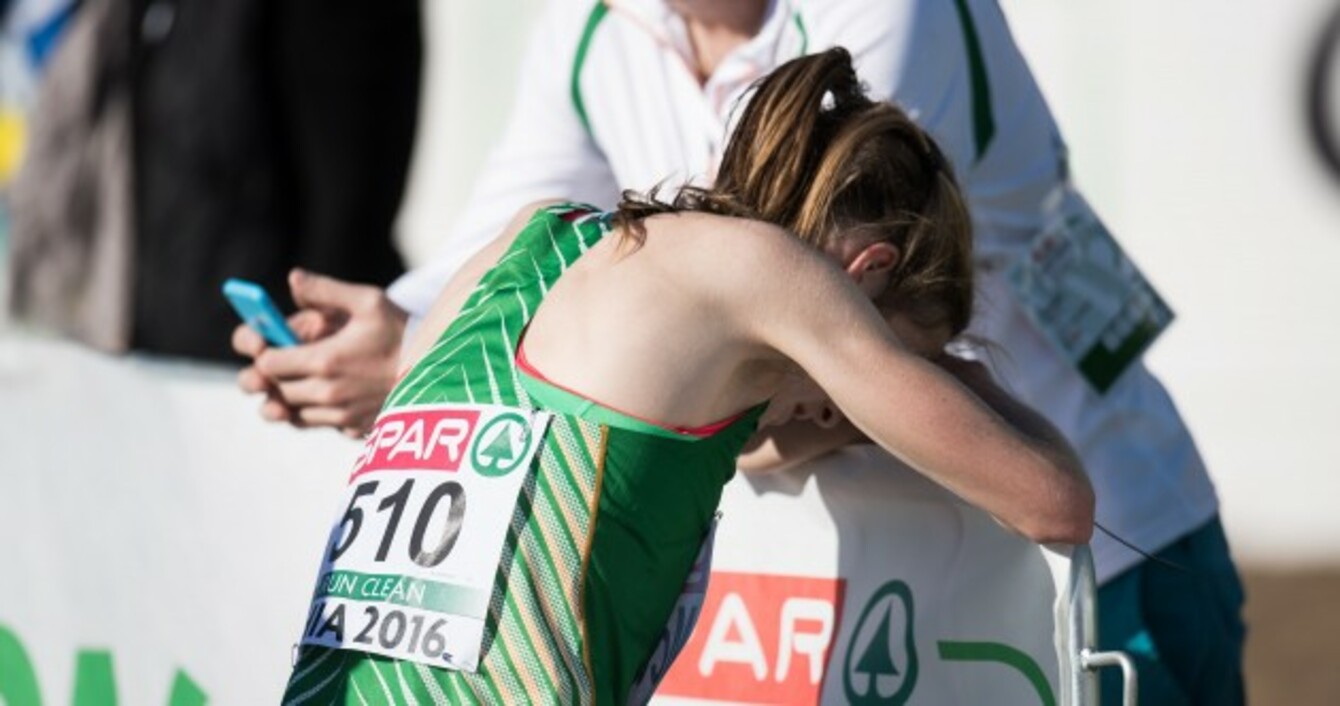 McCormack after finishing fifth at the European Cross Country last December.
McCormack after finishing fifth at the European Cross Country last December.
FIONNUALA MCCORMACK IS a long-distance runner. She is a professional athlete, who eats, drinks and sleeps athletics. She trains everyday, represents her country with pride and distinction and, nearly two decades on, still loves what she does; that will never change.
A three-time Olympian, a two-time European Cross Country gold medallist and a 3000m European Indoor bronze medallist. A medal record which speaks for itself and positions her alongside the likes of Catherina McKiernan, Sonia O'Sullivan and Derval O'Rourke as one of Ireland's most eminent athletes.
We should, in truth, be talking about an illustrious 16-year international career and a superb performance at the most recent Olympic Games, during which McCormack finished 20th in just her second championship marathon; but first we need to address the elephant in the room. We need to talk about athletics and the issues infecting the sport.
Her achievements may have placed her on a pedestal but McCormack would prefer not to be talking at all. If it was up to her, she'd just run yet there is a sense of responsibility there. A duty to speak up, raise concerns, ask questions, provoke a conversation and, in an ideal world, make a difference.
So here she is. Again.
In July of last year, McCormack gave a forthright and impassioned interview shortly after coming off the track at the European Athletics Championships in Amsterdam. She had just finished fourth in the 10,000m final, agonisingly missing out on Ireland's first medal at the event.
The Wicklow native recorded the second best time of her career over that distance but it wasn't enough as Yasemin Can, the Kenyan-born Turkish runner, stormed to gold.
Two months previously, Can – formerly Vivian Jemutai — and Meryem Akda had their switch of allegiance to Turkey approved by the International Association of Athletics Federation (IAAF). Neither had lived or trained there. It wasn't unprecedented, but the anomalies in the system were beginning to be laid bare.
In the heat of the moment, McCormack vented her frustration.
She might regret it now — "I may have said too much" — but her words provoked a response. It wasn't the way she wanted to hit the headlines that week, and the 32-year-old feels she may have been slightly misquoted, but it got people talking.
"There doesn't seem to be anything that can be done about it," she said at the time.
"Someone just needs to lay down the law and that should be the end of it. It doesn't need to be something you have a debate about. It's obvious."
Fast forward seven months and nobody has laid down the law. It remains patently unscrupulous and immoral but there's still no debate.
Yasemin Can and Meryem Akda are still running for Turkey, winning European medals for Turkey and not one thing is being done about it. Doping is inexcusable, country hopping is just wrong and the IAAF is burying its head in the sand and masquerading under false pretences.
"It's not normal what has happened and it's just not just eligibility issues I don't think," McCormack tells The42.
"To even change from one country to another like that with no connection is wrong but you also have to ask the wider question of how do you switch to one country with a questionable background and have large amounts of money involved and no eyebrows raised at the top?
"I came straight off the track at the Europeans after coming fourth and I was frustrated with myself for coming fourth. I've come fourth in a lot of Europeans in both the track and the cross country and my frustration was completely with me when I came off the track and nothing to do with what happened in front of me.
"I don't want to be seen as someone who is giving out. I know you can't win every time and that's sport. I came fourth, an issue was brought up and I gave my opinion on it. It was pushed and pushed from there. I don't want to have a go at people but sometimes athletes and coaches more often or not need to ask these questions."
McCormack has a lot of questions. By her own admission, she overthinks everything and it all stems from a genuine love of the sport. She gets so frustrated about it because athletics is her sport. It's what she's passionate about and, in her own words, all this hurts.
It doesn't hurt any more because she has been one of the athletes denied by the IAAF's rules. It hurts because those at the top, those sitting on boards who are meant to be protecting, governing and promoting the sport, are making a joke out of it.
"The fact that it's allowed to happen is part of the problem and I don't think we should not blame the individual athletes either because they're adults and they're making this decision but they shouldn't be allowed make it," she adds.
"It's purely money because it's not patronage. They don't sing the Turkish national anthem, they fly in from Nairobi for a race and warm-up separate to everyone else. The relationship isn't even frosty between them and the Europeans. There just isn't a relationship.
"The questions I want to ask are how do they improve by two minutes over 10k in one year? To me that's the massive problem. It's kind of glossed over by the fact people are changing country but that has been happening for years and it's turned into a complete farce really.
"In a way I wonder why other people don't talk about it and I wonder if it is better to keep the mouth shut. That's not really what we're there for but it is the athletes who have to say something at some point."
The issue reared its ugly head again in December last. At the European Cross Country Championships in Italy, Can and Akda stormed to gold and silver respectively. The gap between them and the rest of the field was such that it left another sour taste in the mouth.
McCormack finished fifth that day in a time of 25:28 and had been in contention for bronze for much of the race but faded in the closing stages. She crossed the line 42 seconds behind Can.
"At this stage I don't really know what else I can say about it," McCormack continues. "I can't do anything about it, someone else has to do it and it's at the top that it needs to be sorted out.
"Sometimes I see it like a TV series being played out in front of us but the only positive thing is that in a world of war and terror, the inadequacies of sporting organisations are generally not matters of life and death."
It's not, but it matters. It matters to McCormack and to those of us who want the sanctity of sport restored. Those of us who want athletics to be about athletics. Speed, power, endurance, close finishes. Sport at its purest form.
All of this is evident in the video European Athletics produced at the end of 2016 but the 'highlights reel' doesn't tell the whole story. It tells the story the governing body want to tell, or, more specifically, avoids the one they don't want to face questions about.
Source: European Athletics/YouTube
In a video titled 'the best moments of European Athletics in 2016′, the omission of a three-time gold medallist from that year speaks volumes. Yasemin Can is conspicuous by her absence.
"Is this a case of European Athletics glossing over their inadequacies or avoiding the inevitable questions about athletes rising from mediocrity to becoming world-class Europeans on the other side of the world in a matter of months?" McCormack asks.
"Would anyone other than an athlete who has been consistently denied medals by Turkish athletes even notice these anomalies? Should I even mention having noticed? Is it a sign of incompetence or just an oversight?"
These questions reverberate, but McCormack's focus remains on what she can control, and that is her training and steadfast commitment to a 'hobby' which has given her so much.
A couple of weeks ago, McCormack finished ahead of Akda, but behind Can, to claim silver at the Great Edinburgh Cross Country. It was an encouraging start to a year which includes the World Athletics Championships in London this summer.
"It doesn't put me off at all," she insists. "I try that bit harder. Last weekend [in Edinburgh] I was closer to Can and there is hope. Ideally you want to win but you want to run for enjoyment and as a passion and to represent your country even if I did have questions about who else is running.
"With all the negativity in this sport, and I can be negative about it as well, you have to put all that to one side, ignore it and run for what you want to run for.
"It's as simple as that and I don't think it needs to put you off what you're doing. Athletes from Turkey have done me out of medals a good few times so I suppose that is motivation as well but I don't really feel like I need that to motivate me."
It must be stressed that McCormack is not resentful or bitter. She isn't doing this for the publicity or the headlines. She doesn't like the spotlight and certainly doesn't like being quoted. If truth be told, she would prefer if this interview wasn't published at all.
She would be far happier if it was someone else doing the talking but this all fascinates her; the issues blighting athletics, the stench of injustice and the challenges faced by women in sport and, in particular, in minority sports.
But she is the one doing the talking and standing up. She is the one raising questions and looking for answers.
"Surely people can see that there is a problem here," she adds. "Athletes have to take responsibilities for their actions but shouldn't be aided in their amoral ways by amoral money grabbing, power-hungry federations and governing bodies.
"It's almost like a catch 22 situation. I just want to run but I think about these things a lot. You have to be so careful about what you say but then if you don't say anything you're not helping the cause or not creating the discussion.
"I never started running to be famous. When I started running I never thought I'd go to the Olympics, I never thought about it that way. It's just a hobby and one thing led to another and I'm competitive and love training so it just went from that.
"I'm not on Twitter or any of that. I just want to get away from all that yet there's time when I do recognise that I have to say things or put the questions out there or the ideas out there. To invoke an interest so the wider public can hold their own discussions and for this to be talked about."
Let's hope McCormack gets people talking and the issues she raises stimulate some semblance of change or action from those in power. Meaningful action, not mumbling excuses.
"You won't want or need to listen to me any more," McCormack adds. "But I hope my voice doesn't fall on deaf ears any longer."
Fionnuala McCormack was speaking ahead of the Great Ireland Run. It takes place on Sunday 9 April 2017. More details available here.
The42 is on Instagram! Tap the button below on your phone to follow us!