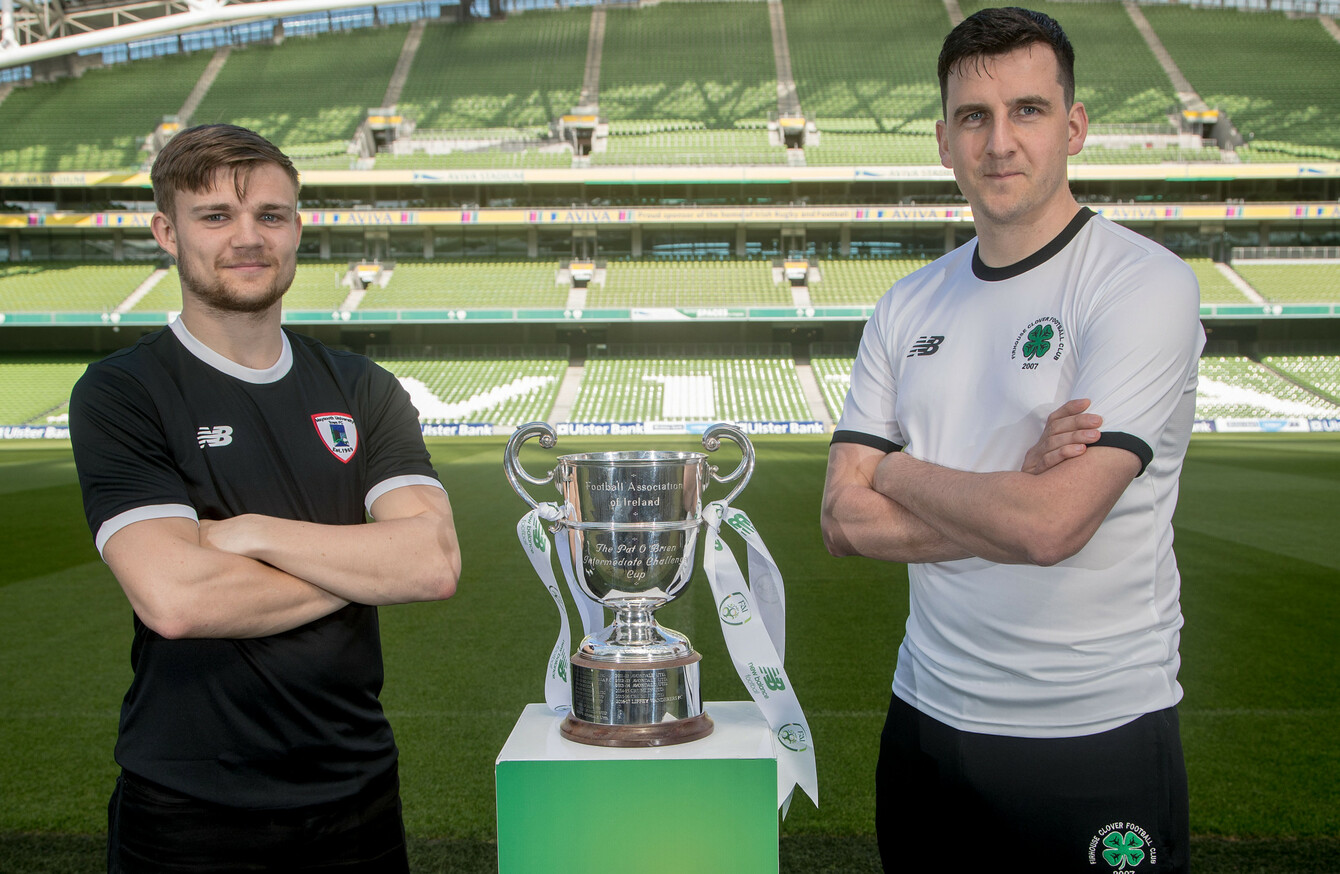 Firhouse Clover captain Darren Forsyth (right) alongside Maynooth University Town's Jake Corrigan at the Aviva Stadium.
Image: Bryan Keane/INPHO
Firhouse Clover captain Darren Forsyth (right) alongside Maynooth University Town's Jake Corrigan at the Aviva Stadium.
Image: Bryan Keane/INPHO
FIRHOUSE CLOVER MANAGER Keith Baker recalls being sat next to club captain Darren Forsyth at the 2015 FAI Intermediate Cup final.
The Tallaght-based outfit had just missed out on an appearance at the Aviva Stadium — the first year it was being held there — after suffering a heavy defeat to Crumlin United in the last four.
Martin Loughran's Crumlin were 4-0 winners over fellow Leinster Senior League side Tolka Rovers that afternoon, with Darren's brother Carl featuring for the champions.
Baker, back then on Clover's coaching staff, was gutted that they weren't involved, and he could see Forsyth wanted to be a part of it too.
"It still hurts," the Firhouse boss tells The42. "I came to the final that day, I was in the stand watching and thinking what could have been.
"I remember looking at Darren and he said to me 'I want that day out'. He's put so much into it and I'm delighted to get here for people like him."
Fast forward three years and Clover are preparing to meet Maynooth University Town in this year's showcase, having beaten Peamount United, Castleview, Leeds (replay), Crumlin and Letterkenny Rovers (replay) en route to the final.
"From hearing from the older generation and the lads on the committee, it means everything," says Baker. "It's great for the club to get here and it's massive for the area as well."
He and his assistant Ed Saul took over from Peter Flood two years ago and just avoided relegation from the LSL's top Division, Sunday Senior, in their first season.
After overhauling the squad, the aim this term was a top-four finish in the league and while they currently sit fifth, Saturday's final has inevitably taken priority.
"After the semi-final, we kind of dropped off," Baker admits. "People are saying to me 'Look Keith, it'll be hard to get the players motivated again after putting in such a good performance against Letterkenny'.
We want our club to be as high as possible and an FAI Intermediate Cup final is the Holy Grail, but we want to finish in the top four in the league. That was our goal at the start of the season.
"We only stayed up last season by beating UCD away in our second last game. This year, it's all about pushing on and bringing in new players. We've done that and they have got us here."
Skipper Forsyth has been a driving force up front. The 30-year-old striker began his senior career in the League of Ireland with UCD, before having spells at Shelbourne and Bray Wanderers.
"I loved it at UCD," Forsyth says. "I got into a couple of Ireland U19 squads and it gave me a lot of belief. Pete Mahon was the manager and there were excellent players, some are still doing well in the League of Ireland like Greg Bolger and Ronan Finn.
"Then there are a couple of others who went away like Gary Dicker and Conor Sammon, and we had experience in Tony McDonnell. It was a great place to play."
Prior to joining Clover, he spent time in Northern Ireland with Glenavon and Warrenpoint Town but, now working as an accountant at Volkswagen Bank, says he has got the work-family-football balance right.
"There was a lot of commitment involved when I played up north, but that helped me save for a house and stuff like that. Now I can relax a bit more and focus on work, having my home life and enjoying my football.
"I love my job, and I'm getting married next year so there are a couple things going well at the minute."
He calls sibling Carl a team-mate these days, while Clover can also call on the experience of former FAI Intermediate winners Paddy Brophy and Gerry Bambrick.
"Darren is a smashing lad and my heart went out to him when he got sent off in the first first game againt Letterkenny," says Baker. "I thought it was very harsh and he's not that type of player. I'm a young manager and Darren has helped me out so much in my career.
Paddy, Carl and Bambo have won it before, and I think they will play a massive part on the day — helping out the younger lads we have in the dressing room."
They met Saturday's opponents Maynooth in the Metropolitan Cup back in November, and handed the Senior 1A outfit a 5-1 beating. However, Baker believes it will be a different game this time around.
"They've had as hard a run as ourselves and played a lot of away games," he adds. "We've watched them a couple of times, and they were very good beating Everton. You don't get to an Intermediate Cup final if you're not a good side.
"We know they will have a lot of players who didn't play against us last time but we'll have several who missed that game ourselves. Either way, we won't be underestimating them at all."
Both Baker and his number two are members of Shamrock Rovers, and they are hopeful that Hoops supporters get behind the club on what is sure to be a great occasion for the community.
"We're obviously a Tallaght-based club and we wear the same colours of green and white hoops as Rovers! We're trying our best to get as many people out as possible. I think we'll have a big crowd and hopefully they can spur us on."
2018 FAI Intermediate Cup final — Firhouse Clover v Maynooth University Town, Saturday, 12 May (5pm), Aviva Stadium
The42 is on Instagram! Tap the button below on your phone to follow us!